The St. Croix River is one of eastern Minnesota's most beautiful natural features. And the river valley has many beautiful hiking and biking trails.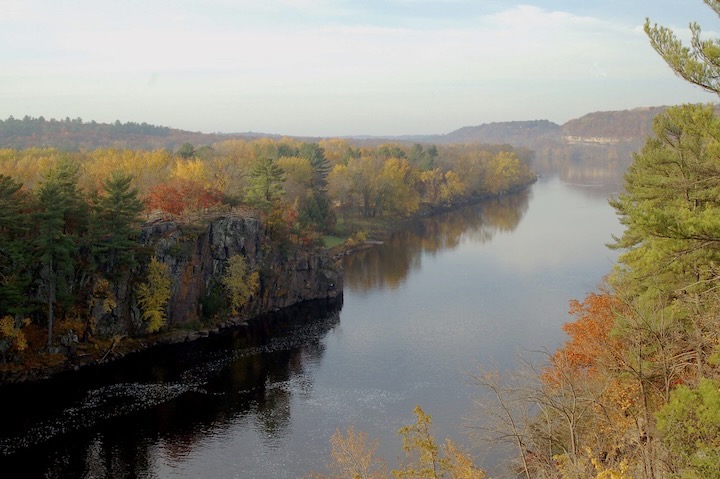 This 169-mile river forms part of the border between Minnesota and Wisconsin and is a tributary of the Mississippi River. The confluence is where Hastings, Minnesota is located.
We'll limit our trail suggestions for the best hikes and bike rides to those near the Minneapolis/Saint Paul metro, on the Minnesota side. Specifically those in Washington and Chisago Counties. About half of these trail surfaces are dirt and the other half is paved and suitable for both hiking and biking.
TIP: Most of these trails offer a downloadable trail map. Follow the links to our blog posts for that information.
1. Afton State Park
Afton, Washington County • State park daily or annual permit needed
One of several state parks along the St. Croix, Afton has 20 miles of natural-surface hiking trails: dirt, mowed grass and wood-chipped. Bikers, there are another three-ish miles of paved trails, but it's not a loop so you can easily make it six.
The North and South River Trails get you the closest to the water. They both follow the river's shoreline, meeting close to the sand beach in the park's center.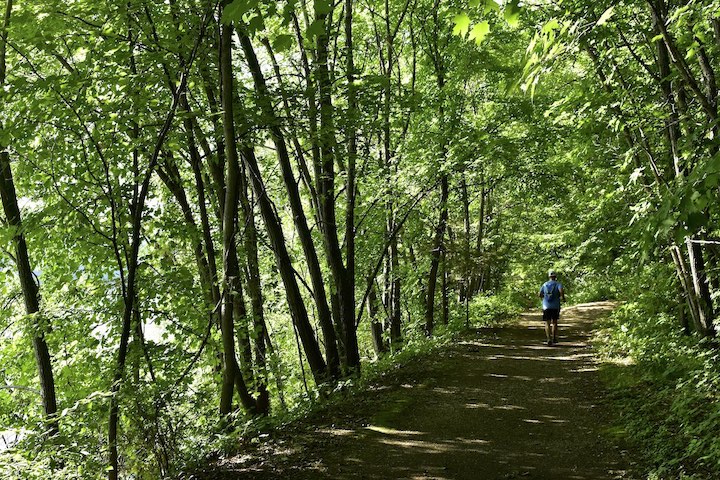 Afton has some massive hills and is therefore on our list of ideal trail systems for a great workout. But the River Trails are mostly flat, once you hike downhill from the parking lot. Hikers will park in the main parking lot in the center of the park.
Bikers will face some of the hills too, with the North River Trail being paved for some beautiful river views. If you get there early enough to get a parking spot next to the Visitor Center, you can start there and do an out-and-back trip.
Read More: Hiking & Trail Running in Afton State Park
2. Brown's Creek State Trail
Stillwater, Washington County • No vehicle permit needed
Brown's Creek State Trail attracts bikers, hikers, dog walkers, roller bladers and roller skiers. It's just six miles long, between the Stillwater trailhead near the Marina and Gateway State Trail near its Duluth Junction trailhead.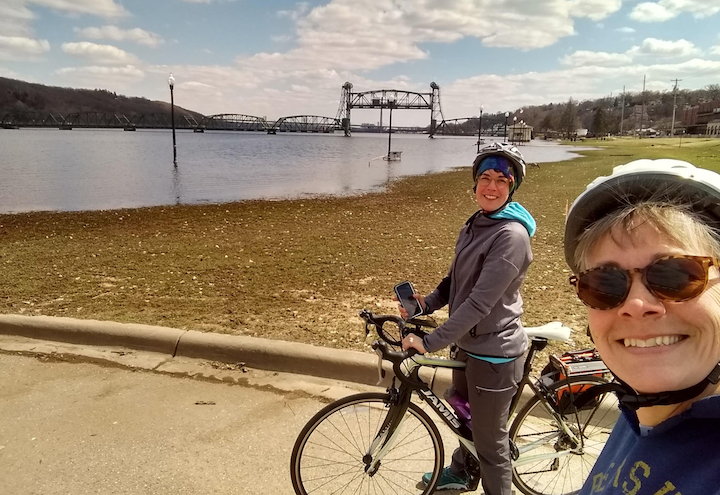 Our favorite way to do Brown's is to start and end at the St Croix River in Stillwater. You'll also see nice views of it, then, during your first and last mile. You'll also get lots of views of lovely little Brown's Creek.
The 12-mile out-and-back route isn't difficult for bikers, even though Stillwater is well known for its massive and steep hills. The trail itself manages to go around the biggest hills and has just a mild grade.
Read more: Biking Brown's Creek State Trail
3. Interstate State Park
Taylors Falls, Chisago County • State park daily or annual permit needed
Interstate is one of Minnesota's smaller state parks but is extremely popular. This is probably a combo of its easy access from the Twin Cities and its incredible beauty.
With just four miles of hiking trails—and no paved trails for bikers—an outsider might wonder what the big deal is at first glance. But geographically it's pretty cool.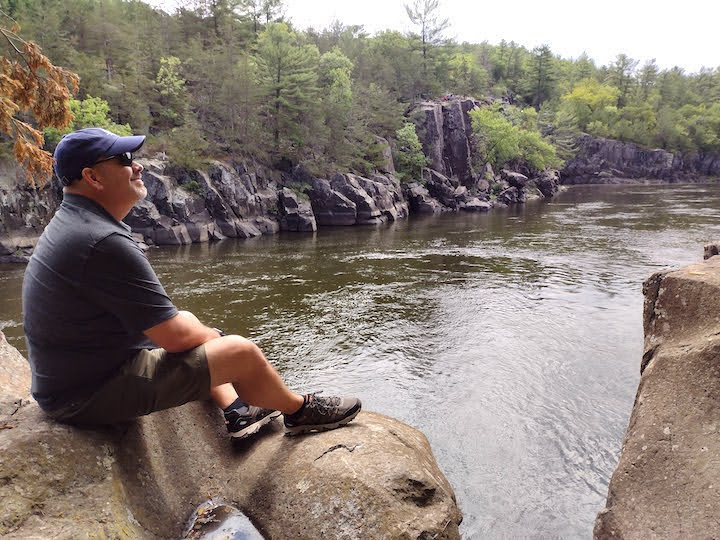 This park is known for its glacial potholes. In fact, it has the greatest concentration of potholes and the deepest known potholes in the world. [see this PDF for more fun geology info.] You can take the Interpretive Trail through them.
The four miles of trails are split into three segments: The Riverside Trail, Railroad Trail and Sandstone Bluffs Trail (for the park's highest point). It's very possible to hike the entire loop in half a day including time to meander through the Potholes.
Sandstone cliffs, basalt cliffs, towering white pine and maple (which are especially noticeable in the fall season!)—it's just plain gorgeous.
Read more: Hiking in Minnesota's Interstate State Park
4. St Croix Bluffs Regional Park
Hastings, Washington County • Washington (or Anoka) County daily or annual permit needed
As of this writing, the riverside hiking trail at St Croix Bluffs is closed, with plans to improve it as a future trail. That's according to the park map. (I've emailed the Parks Office to find out more details and will update this when I know something.)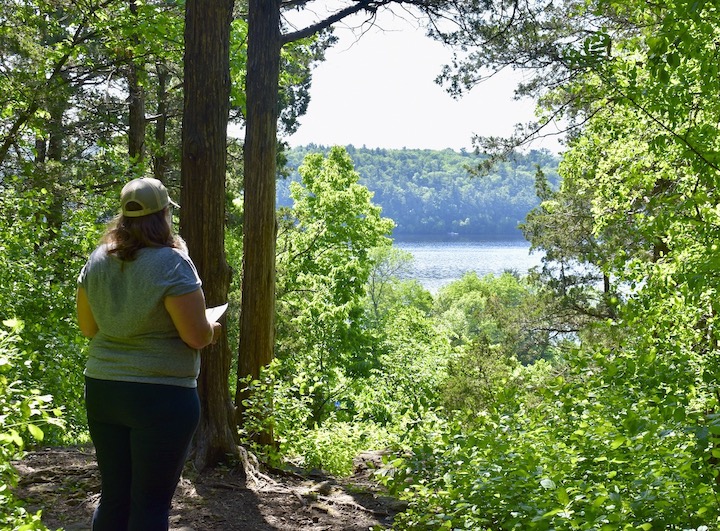 Once that trail is complete there will be various loop options that include a nice stretch along the river.
Bikers, not much for you there unless you're a family with young children. In that case, there's a paved mile stretch from the campground to the Visitor Center that's perfect for you (for a 2-mile out-and-back journey).
Read more: Hiking in St Croix Bluffs Regional Park
5. St Croix Crossing Loop
Stillwater, Washington County • No vehicle permit needed
This 5-mile loop is all paved, so suitable for both hikers and bikers—as long as you don't mind big hills! No matter which direction you take it, you'll be going up one big hill and going down another.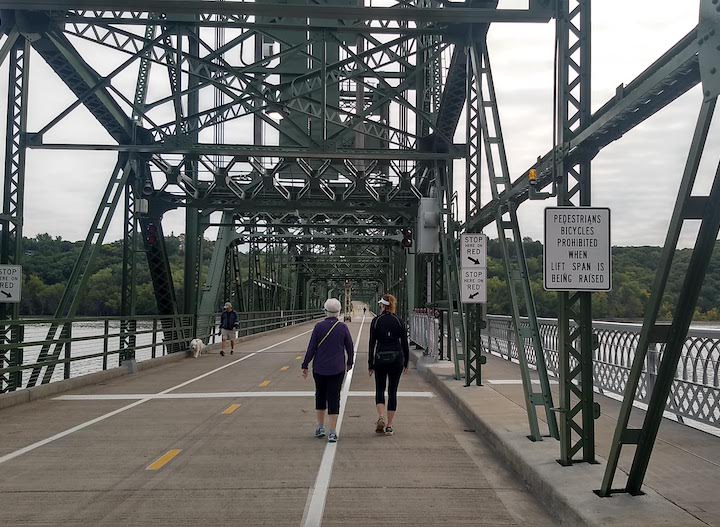 Talk about scenic St Croix River views, though! And you get to cross two awesome bridges: Stillwater's Historic Lift Bridge and the Highway 36 bridge. The Lift Bridge is for human-powered traffic only. The Hwy 36 bridge (which I still think of as "the new bridge") has a dedicated bike/hike lane that's separated from the vehicle traffic by concrete.
It's called "Crossing Loop" because half the loop is across the river in Wisconsin. The Trail was developed in partnership between the two states.
Read more: St Croix Crossing Loop Trail: Hike It or Bike It
6. Stillwater's Historic Stairs Route
This isn't an actual trail but rather a hiking route that takes you up and down Stillwater's interesting and historic stair segments in town.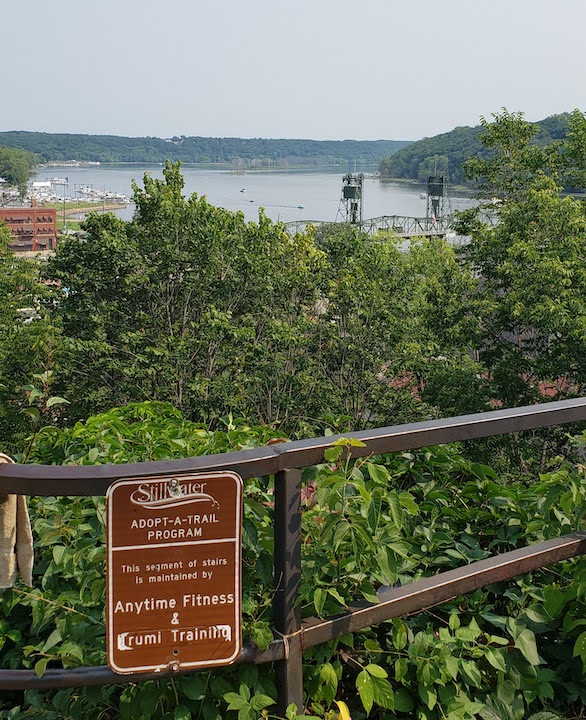 While there are various routes you can take, the one we cover is about 3.5 miles long. It includes several of the town's other historical landmarks, a couple of parks and sweeping views of the St Croix River and downtown Stillwater.
It's one of the more unique hiking routes around! Fun fact: A lot of runners train on these stairs because there are so many of them!
Read more: Hiking Stillwater's Historic Stairs Route
7. William O'Brien State Park
Marine on St Croix, Washington County • State park daily or annual permit needed
Of O'Brien's 12 miles of natural-surface hiking trails, almost all of them are upland away from the St Croix River. But take advantage of the lovely Riverside Trail that takes you alongside a couple of campgrounds and the river.
If you leave your vehicle in the main parking lot by the Interpretive Center, you'll get a half-mile hike downhill along the road to Riverside Campground. You'll see the trailhead there. Your hike around the loop and back up to your car will be almost three miles.
Bikers, the park doesn't have paved trails for you, sorry!
Read more: Hiking in William O'Brien State Park
More Tips
You can get your Minnesota State Parks vehicle permit in one of two ways:
Buy one at the park entrance of Afton, Interstate or O'Brien during their business hours
Once you've enjoyed all these trails, here are more suggestions for you:
Wisconsin's Interstate Park—the two interstate parks are across the river from each other. They're in such close proximity, in fact, that you could hike both parks in one day if you feel especially energetic!
Wild River State Park (about 45 minutes from downtown Saint Paul)
St Croix State Park (1.5 hours from downtown Saint Paul)
Every season is beautiful along the St Croix River. Most of us think of fall being the best, but each time of year has its own beauty.
Fall is certainly gorgeous with the extent of deciduous forest around us. But the winter months have their own beauty, along with far fewer people.
In the spring you have better views of the river before the trees grow their new leaves, along with the lovely spring wildflowers. And the summer months are, well, summer! That's when these parks and trails see most of their visitors.
Take advantage of this local beauty and enjoy the trails!
Do you have a favorite bike or hike trail along the St Croix River we missed? Email me at: sharon@twincitiesoutdoors.com and tell me about it!
You'll like these too…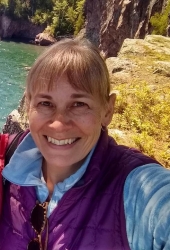 Latest posts by Sharon Brodin
(see all)