Dakota County has six regional and county parks. It offers among the most natural surface hiking trails of any metro county. That means a much more relaxing hike or run than when you constantly have to be alert for traffic on wheels!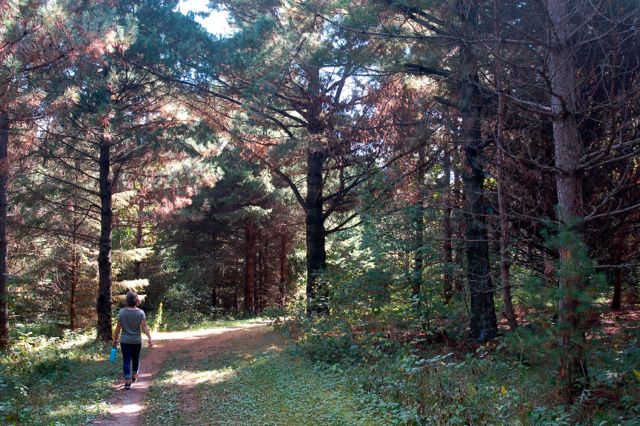 Dakota County uses Avenza PDF Maps app for several of their trails. It's free to use and you don't need to have cell service to access the maps once they're on your phone.
Lake Byllesby Regional Park (Cannon Falls)
The folks here at Lake Byllesby managed to fit over 3 miles of hiking trails in this small Park, plus another 2/3 mile paved trail if you feel more ambitious. Here's the summer map.
Winter hiking is encouraged on the park's unmaintained, multi-purpose trails as well. Here's the Lake Byllesby winter map.
Lebanon Hills Regional Park (Eagen/Apple Valley)
Lebanon Hills, at 2,000 acres, is one of the largest regional parks in the Twin Cities and offers a fantastic hiking trail system, including over 20 miles of hiking trails, 8 lakes and a couple ponds.
The Park is divided between an east and west section, with Pilot Knob Road splitting the two. Here's the summer map. The first page shows the west side with its 5+ miles of trails in the single-track bike park (also open to hikers).
Scroll down and you'll find the map for the east side with an additional 15 miles in woods, some open prairie, all on rolling hills and among the lakes.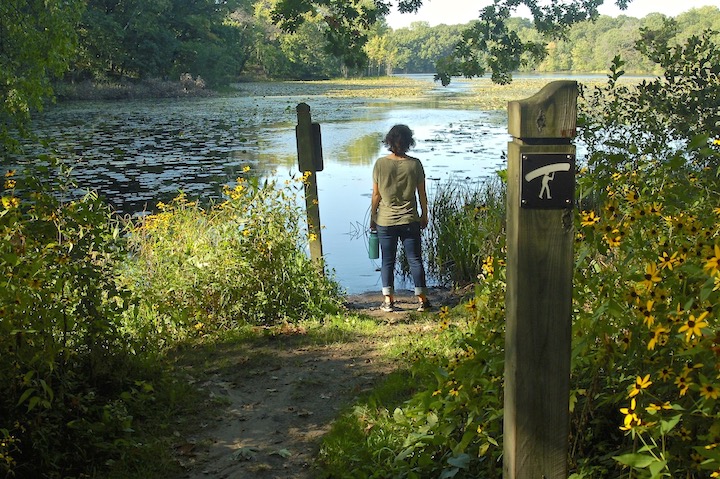 And here's another map—a topographical, high-resolution map of both sections (be patient as it takes a while to load!).
There are 10 miles of winter hiking trail options, too, which you'll share with snowshoers. These are unplowed. Here is Lebanon Hills' winter map.
Miesville Ravine Park Reserve (Miesville)
1,600-acre Miesville has a small section with 2-1/4 miles of hiking trails along either Trout Brook or the Cannon River. Here's the Miesville summer map. These are open to winter hiking in our snowy months. Here's the Miesville winter map.
Spring Lake Park Reserve (Hastings/Rosemount)
This Reserve offers 4.39 miles of hiking trails with another 6 miles of paved trails. Here's the summer map. There are lots of winter hiking options, either on the unmaintained snowshoe trail or the plowed paved trail. Here's Spring Lake's winter map.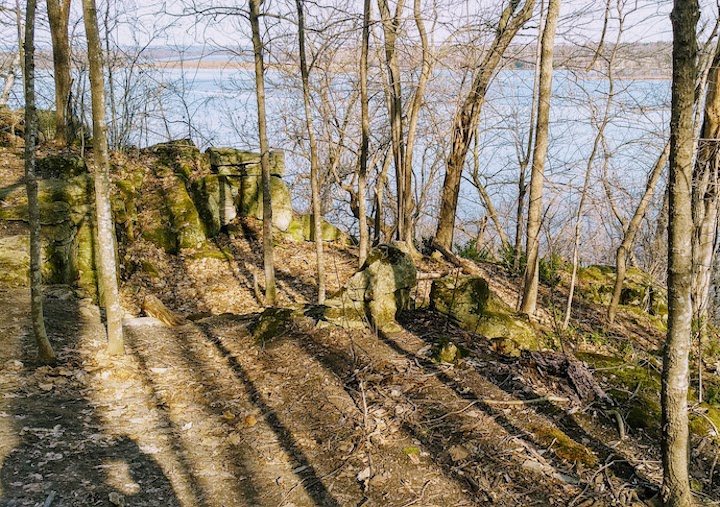 Thompson County Park (West St. Paul)
This little 57-acre park is great if you're looking for a shorter run or hike. Thompson has just under 3 miles of trails if you combine the hiking and paved trails together. Here's the summer map. These trails are for winter hiking and snowshoeing, too. Here's Thompson's winter map.
Whitetail Woods Regional Park (Farmington)
Whitetail Woods, a 456-acre park, offers over 20 miles of hiking trails. That includes the 10.6 mile Lone Rock Trail that has a "lane" for horses, too. You'll walk through wetlands, woods, rolling hills and around Empire Lake. Here's the Whitetail Woods summer map.
During the winter, hikers are welcome on the snowshoe trails, but please stay off the groomed ski trails. Here's Whitetail Woods' winter map.
Dakota County's Regional Paved Trails
Dakota County is home to several paved multi-use trails that are open to hikers and runners. Great for out-and-back hikes and longer training runs. These are in various stages of completion:
Big Rivers Regional Trail—6 miles along the Mississippi and Minnesota Rivers
Mississippi River Greenway—Once completed, 27 miles along the Mississippi River between Saint Paul and Hastings, with several trailheads.
Minnesota River Greenway—3ish miles along the Minnesota River, with a proposed connecting section along Fort Snelling State Park
North Creek Greenway—3 miles along Lebanon Hills and the Minnesota Zoo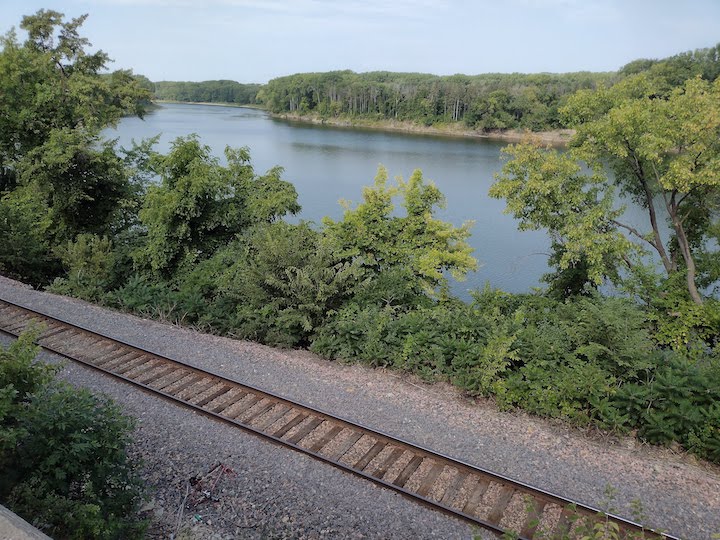 See Dakota County's park page for more information about these trails and for maps.
Twin Cities Hiking & Trail Running Guide
Published in 2020 and updated in 2023, our 48-page digital Hiking & Trail Running Guide is the easiest way to find hiking and running trails in all seven counties of the Twin Cities metro area.
---
Other Resources: