Hennepin County is absolutely loaded with multi-purpose paved trails that are perfect for biking. The City of Minneapolis alone has a vast network of bike trails, lanes and shared roads that's far beyond what we'll cover here.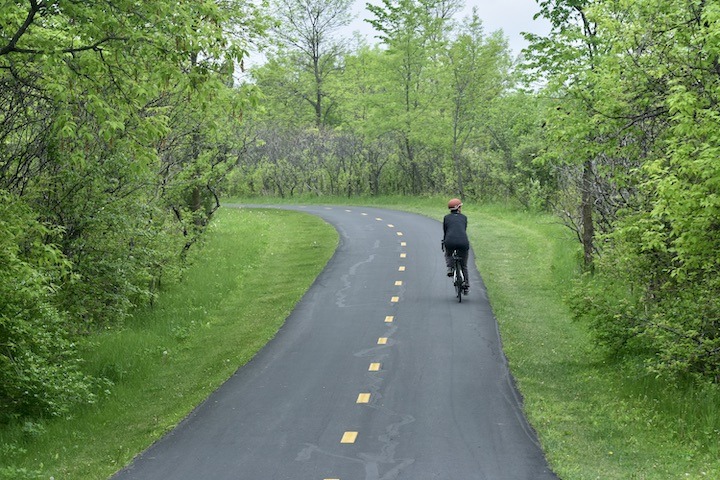 Here's a great resource: An Interactive Bike Map for Hennepin County that gives you a bird's-eye view of the possibilities. There's a clickable Legend and Layer List at the top (right, on a desktop computer).
OK, let's get started with Hennepin County biking:
Baker Park Reserve (Maple Plain)
Baker Park Reserve is almost as far from urban as you can get in Hennepin County! This 2,700-acre Reserve hosts 12.5 miles of paved multi-use trails. These trails are directly accessed from Baker Campground, including the large loop around Lake Katrina and the south end of the Reserve.
You can even rent a child bike trailer at the Campground office during the camping season. The trail runs parallel to the horse trails here in places, so be aware.
The Reserve's trails hook up with Lake Independence Regional Trail at the northwest corner, and the Luce Line Regional Trail at the southeast corner. Here's the Baker map.
Bryant Lake Regional Park (Eden Prairie)
There are some discrepancy between the summer map for Bryant Lake and what it says under the biking icon on the website. The website says 12.5 miles, the map says 2.2 miles—that's quite a difference! Since the park is only 160 acres (and sight-unseen by for now) we're going with 2.2 miles.
At any rate, the Park's trails connect to the Minnesota River Bluff LRT Regional Trails on the north side to get you some more miles. Here's the Bryant Lake map.
Eagle Lake Regional Park (Plymouth)
The 1-mile paved trail here at Eagle Lake Park is basically a scenic thoroughfare to city trails on the south, east and north sides of the Park. It's great biking for young children and others who can't or don't want to ride for miles, but would love to get off the streets and into nature for a bit. Here's the Eagle Lake map.
Elm Creek Park Reserve (Maple Grove)
Elm Creek is Hennepin County's crown jewel of trail systems in a natural area. It's gorgeous here, with a diverse landscape, lots of forest and plenty of rolling hills.
4,900-acre Elm Creek has 29 miles of paved multi-use trails. If that's not enough for you, the trail system connects to Rush Creek Regional Trail and Medicine Lake Regional Trail, as well as city trails in Maple Grove, Champlin and Dayton.
Elm Creek has a great mountain bike park, too, with over 14 miles of single-track trails. Most of those are open in the winter for fat bikes. Here's the Elm Creek single-track map. Here's the Elm Creek summer map of the entire park reserve.
Fish Lake Regional Park (Maple Grove)
3 miles of paved multi-use trails loop around Fish Lake Regional Park, including along the edge of a peninsula, giving you great views of Fish Lake. These trails connect to Medicine Lake Regional Trail. Here's the Fish Lake map.
French Regional Park (Plymouth)
French Regional Park offers 4 miles of paved multi-use trails. While that's not overly extensive, the scenery is lovely and diverse. The trails link to Medicine Lake Regional Trail and Bassett Creek Regional Trail for many added miles. Here's the French map.
French Park has one of the most amazing playgrounds in the Twin Cities! A combo bike-and-play with young kids would be an amazing way to spend a few hours.
Gale Woods Farm (Minnetrista)
A 2+ mile gravel hike-and-bike trail circles around the property of Gale Woods Farm, a real working farm. The trails take you through fields, forest, wetlands and along undeveloped lakeshore. It connects to the Dakota Rail Regional Trail. Here's the map.
Grand Rounds National Scenic Byway (Minneapolis)
Grand Rounds is a paved multi-use byway that's over 100 years old! In fact it's been nominated to be included in the National Register of Historic Places. It encompasses 50 miles of parkway, 51 miles of hiking/running trails and 51 miles of biking trails. Here's a page with the map.
The trails pass through both urban areas and undeveloped natural areas, giving you one of the most varied landscapes in the metro area. You'll bike around several urban lakes and the Mississippi River. Rather than a trail per se, it's a system of connected parks and parkways.
Hyland Lake Park Reserve (Bloomington)
Hyland Lake Park Reserve offer 8.7 miles of paved multi-use trails for biking. The trails wind through both forest and prairie. It links to 9-Mile Creek Regional Trail at the north tip of the Park. Here's the Hyland map.
Lake Minnetonka Regional Park (Minnetrista)
Just right for families with younger children, Lake Minnetonka Regional Park, has 3.3 miles of paved multi-use trails for biking. Here's the map.
Lake Nokomis Park (Minneapolis)
Lake Nokomis Park has an almost-3 mile paved multi-use trail around the Lake. A great Park for families with children that includes the trail, the beach and paddling opportunities. It's very busy, especially in the summer and on weekends, just heads-up. (No map available)
Lake Rebecca Park Reserve (Rockford)
Lake Rebecca Park Reserve has 8 miles of paved multi-use trails for biking that circles around the Park. The trails take you through varied landscape including woods, wetlands and the south side of Lake Rebecca. While the loop is on the long side for hiking, it's great for a bike ride. For the map, go to Lake Rebecca's park page and scroll down to PDF maps.
This Park has one of the metro's mountain bike parks, too, accessed by the Recreation Entrance on the northwest side. Over 13 miles of single-track trails weave over hills and through woods, much of it next to the Lake. It's also open to hikers year-round, so be aware of foot traffic. Here's the Single-Track map.
The single-track park is open to fat bikes during the snowy months. To keep up-to-date on trail conditions, go to the Lake Rebecca Singletrack Facebook page.
Luce Line State Trail (Plymouth)
The Luce Line State Trail is 63 miles long on both paved and crushed gravel surfaces. It starts in Plymouth and heads west as far as Meeker County. Take either in one chunk for an extra long day trip, or ride a section at a time. See the map and brochure for parking and trailhead information.
Minneapolis Chain of Lakes Regional Park (Minneapolis)
1,555-acre Minneapolis Chain of Lakes includes 7 parks, 5 lakes and 15 miles of lakeside trails. Besides bikers, hikers and runners, the park also draws multitudes of swimmers and paddlers.
The multi-use paved trails here are well-populated, especially in the non-snowy months. After all, it's in the middle of Minneapolis! But it's a beautiful, well-maintained area, with lots of mature trees and takes full advantage of the lakes.
The Chain includes the following trails:
Cedar Lake Regional Trail (3.5 miles)
Bde Maka Ska/Lake Calhoun (3.1 miles)
Lake Harriet (2.7 miles)
Lake of the Isles (2.6 miles)
Bike rentals are available at Lake Harriet through Wheel Fun Rentals.
Minnehaha Regional Park
The Minnesota Valley State Trail follows roughly the path of Minnehaha Creek through Minnehaha Regional Park. It then turns northeast to follow along the Mississippi River, roughly 1-1/2 miles through the park.
It's also possible to connect with the Fort Snelling State Trail from the southern tip of the park. Here's the Minnehaha map.
Bike rentals are available at Minnehaha from Wheel Fun Rentals from mid-April to mid-October. Their unique pedaled contraptions aren't your ordinary bikes! Great for families.
Minnesota River Bottoms (Bloomington)
The River Bottoms isn't a park, but a network of natural trails stretching from Bloomington to Fort Snelling State Park. The trails aren't maintained by any local or regional government entity, and are often rugged and muddy after lots of rain or in the spring.
The trails are used by bikers, hikers and runners. There's lots of fat biking in the snowy months, too.
This map shows all the bike trails in Bloomington, including the River Bottoms, although it's not labeled. Scroll down to page 3 for the citywide map. You'll see the dotted yellow lines along the north side of the Minnesota River that indicate off-road unpaved trail.
Minnesota Valley State Trail (Hennepin County and west)
The Minnesota Valley State Trail is a multi-use trail that's both paved and unpaved in stretches. 27 miles of the trail is open to bicycles. Parts of the trail are prone to flooding, so check the site link for current info. Here's the map. (The segment sections are fine, but the overview is hard to read.)
Mississippi Gateway Regional Park (Brooklyn Center)
Technically, the bike trails in Mississippi Gateway Regional Park run along the west perimeter of the Park, not through it—on West Mississippi River Regional Trail.
But if you leave your car here, you have bike access to several other Regional Trails, too: Shingle Creek, Rush Creek and across the Mississippi River to Anoka County's Mississippi River Regional Trail. The bike across the Dam is a cool experience in itself. Here's the Mississippi Gateway map.
Mississippi Gorge Regional Park (Minneapolis)
This Park follows the west bank of the Mississippi for a few miles, with paved multi-use trails leading to Minnehaha Regional Park to the south.
We couldn't find a good PDF map of just this Park, but here's MNDOT's (75 page) PDF map of the whole Mississippi River trail system (US Bicycle Route 45). Page 46 and 47 cover Mississipi Gorge.
North Mississippi Regional Park (Brooklyn Center)
A 1.6 mile of paved multi-use trail in North Mississippi Regional Park follows the Mississippi River. You'll have great views of the River, although lots of traffic noise. This trail runs parallel to Highway 94!
Head south out of the Park and you'll join up with Grand Rounds (see above). Head north and you'll reach Coon Rapids Dam Regional Park in a few miles. Here's the North Mississippi map.
Silverwood Park (St. Anthony)
Silverwood has a 1-mile paved multi-use trail for biking. It's perfect for families with young children since it's short and off-road. After your bike ride you can take the short hike out to the island for a little exploring. There's a coffee shop here at the park, too. Here's the Silverwood map.
Sochacki Park (Robbinsdale)
Another little urban park, Sochacki Park has a 1.3 mile trail that's part natural surface and part paved. Park at the north end and you'll have a nice little out-and-back ride. Great for families with young children. Here's the Sochacki map.
Theodore Wirth Regional Park (Minneapolis)
The best biking at Theodore Wirth is on the (single-track) mountain bike trails. There are 5 main loops open to biking, running and hiking with a total of about 8 miles. Trail difficulty goes from intermediate to expert, with one half-mile extreme-difficulty section in the Brownie Lake Loop.
These trails are popular with fat bikers (bikers on fat bikes, that is!) and snowshoers in the winter. The most useful map out there is from MTB Project. You can keep an eye on trail conditions on this Twitter page.
Twin Cities Biking Guide
Published in 2020 and updated in 2023, our 54-page digital Biking Guide is the easiest, most convenient way to find bike trails in all seven counties of the Twin Cities metro area.
---
Other fun outdoor activities in Hennepin County: