There are plenty of miles of paved bike trails in Carver County, including parks and several regional and state trails. Mountain bikers, there's a spot for you, too!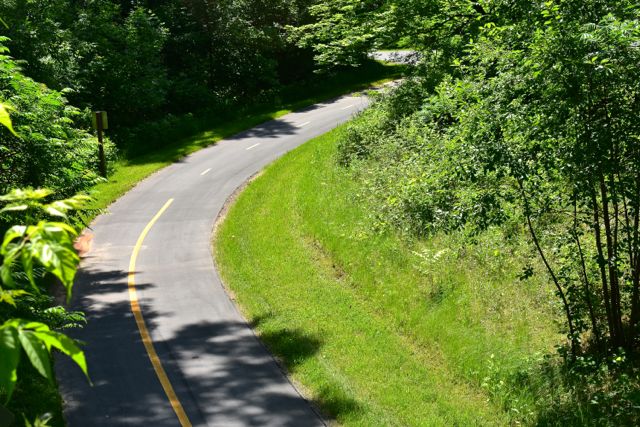 Carver Lake Park (Woodbury)
Carver Lake Park has 5 miles of mountain bike trails that can be used by fat bikes in the winter months. Be aware these trails are also open to hikers and snowshoers. Here's the map.
Carver Park Reserve (Victoria)
Carver Park Reserve has 9 miles of well-maintained paved trails that can be accessed from both the east and west ends of the reserve. You'll bike through woods, across prairie and along marshland. There's also bike access to Lowry Nature Center. The paved trail hooks up with Lake Minnetonka Regional Trail on the east side. Here's the Carver Park Reserve map.
Dakota Rail Regional Trail
The 44-mile Dakota Rail Trail is built on an old railroad bed. 12.5 miles of the trail passes through Carver County on the north end. The trail is maintained by the Three Rivers Park District, and passes through various terrain including woods and along several lakes. This trail connects with the system at Gale Woods Farm. Click here for the Dakota Rail trail map (scroll down to the map; it's spread over 4 pages).
Lake Minnewashta Regional Park (Chanhassen)
Lake Minnewashta Regional Park has some paved multi-use trails that are suitable for biking. Neither the website or the PDF map are a fount of information, and the brochure doesn't mention biking as a feature of the Park. But there are definitely bikers out there!
Luce Line State Trail
The Luce Line State Trail is 63 miles of both paved and crushed gravel surfaces. There are several trailheads and parking areas along the way. It runs between Hennepin and Meeker Counties, with a portion here in Carver County. Here's the map.
Minnesota River Bluffs LRT Regional Trail
Minnesota River Bluffs Regional Trail is a multi-use 19.9-mile trail with a couple of segments in Carver County. Please visit that link periodically, as there are updates about closures due to the Southwest Lightrail Transit construction.
Mn River Bluffs connects with Cedar Lake Regional Trail and North Cedar Lake Regional Trail. For the trail map (4 pages total showing various segments), go to the River Bluffs Trail page and scroll down to PDF map.
Minnesota Valley State Trail
The Minnesota Valley State Trail is a multi-use trail that's both paved and unpaved in stretches. 27 miles of the trail is open to bicycles. A portion of the trail runs along the southern border of Carver County. Here's the map.
Twin Cities Biking Guide
Published in 2020, our 54-page digital Biking Guide is the easiest, most convenient way to find bike trails in all seven counties of the Twin Cities metro area.
---
Other fun outdoor activities in Carver County: