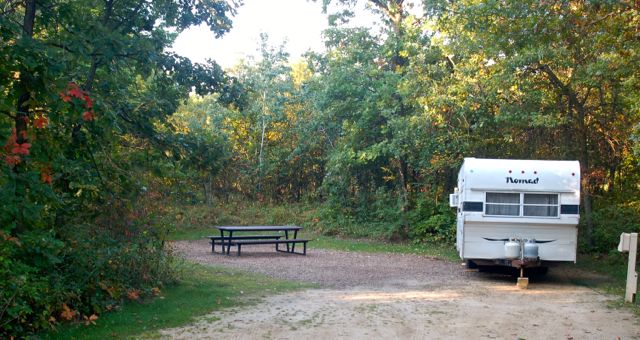 There are two public campgrounds in Anoka County. One of the area's most popular campgrounds (and the only private one), Ham Lake Campground, has been sold and won't be open to the public anymore.
Bunker Hills Campground (Coon Rapids/Andover)
Nestled in 1,600-acre Bunker Hills Regional Park. Bunker has 72 spacious campsites, a group site and two camper cabins. Many of the sites are surrounded by mature trees, giving you plenty of shade and privacy.
Also within Bunker Park is Bunker Beach Water Park and Bunker Park Stable. There are many miles of both natural surface and paved multi-use trails for hiking, running and biking, too.
So there's plenty to do here for all ages, whether you want to be active or relax—or both!
Rice Creek Chain of Lakes Campground (Centerville)
Anoka County's other public campground, Rice Creek Campground is surrounded by even more natural preserve with 5,000 acres total. Nature-based activity options include swimming, biking, hiking and paddling the Rice Creek Chain of Lakes Water Trail. Canoe and kayak rentals are available at Wargo Nature Center, or you can bring your own boat, of course.
---
Other Resources: