What's the difference between hiking on dirt versus paved trails? (Other than that dirt feels more like hiking!) Let's look at some of the advantages of dirt.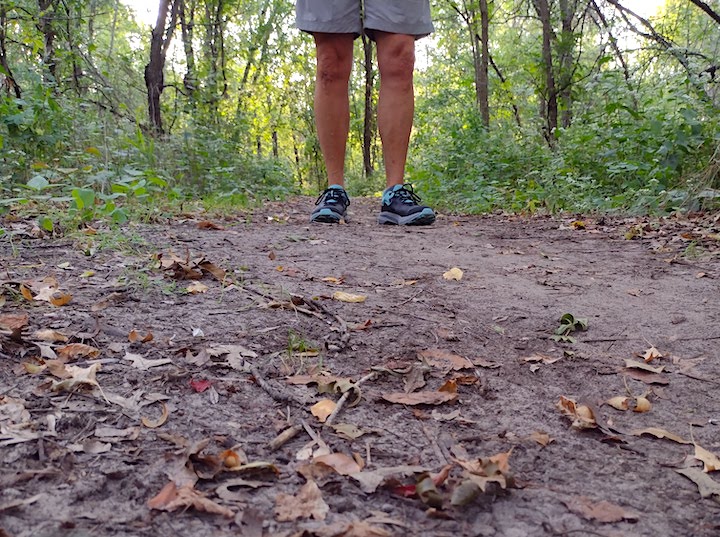 Here in the Twin Cities, almost all our regional parks have a trail network that includes both paved and natural-surface trails—usually dirt or mowed grass.
When I'm out in the parks, by far the majority of hikers stick to the paved trails. But there are several reasons why you may want to consider getting off the paved surfaces and onto dirt and grass trails instead…or at least in addition to.
Easier on Your Body
My first point could be up for debate! Hiking on dirt trails does add an element of risk due to tripping, especially if your balance is compromised in some way.
On the other hand, getting your daily steps in over a soft surface like grass or dirt has to be easier on our body than those same steps on surfaces that have very little give to them—like pavement and cement.
I couldn't find any studies that have been done on this topic—only other blog posts—so I have no stats to give you. But I personally believe my hips, back, knees and feet thank me for getting off the pavement occasionally.
Natural Surfaces Give You a Great Workout
Compared to pavement, natural surfaces like dirt and grass trails are much more uneven. That means there's more muscle and motor engagement as we navigate those uneven surfaces.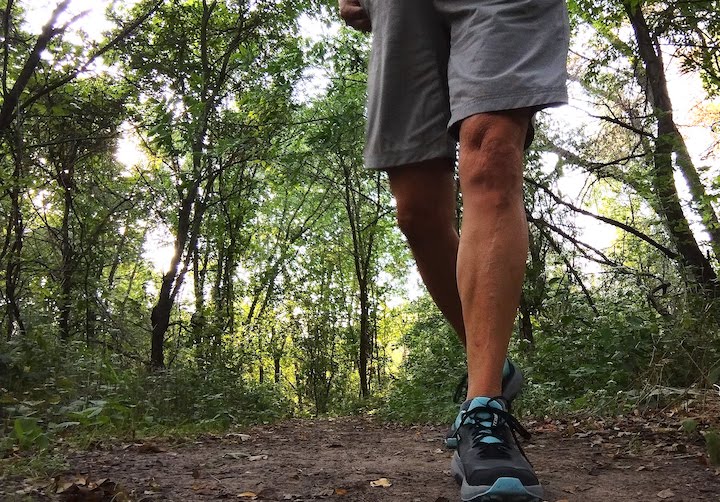 Add the extra give to the ground and we have conditions that give us a better workout than simply hiking over smooth pavement.
This I can tell you from personal experience:
Back in college I distinctly remember the first time I tried running on grass vs the outdoor track, which was aggregate.
I had been averaging three miles for my daily runs, and got talked into running an intramural cross-country race. It was SO much harder running those three miles over grass than on the track!
Between the softer ground, the more uneven ground and the small sloping hills I was gasping for breath like I never had before.
If you'd like more bang for your buck on your hikes, go for the dirt trails!
Fewer People and (Almost) No Bikes
I'm thrilled that so many people are out in our local parks and on our local trails—paved or otherwise.
But sometimes it's fun to get away on trails that are less traveled. Unless you're in a park like Afton or Lebanon Hills that only have dirt trails, you're likely to meet far fewer people when you leave the paved system behind.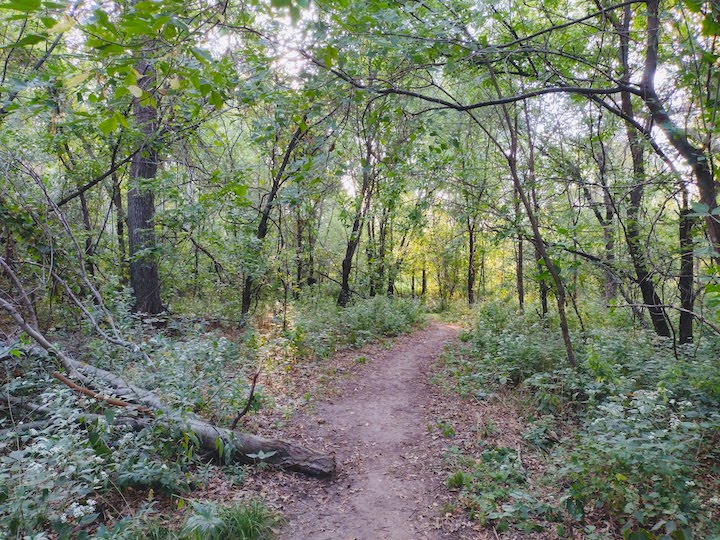 And while I have absolutely no problem sharing the paved trails with bikers, skateboarders and others on wheels, sometimes it's nice to be on trails where they're unlikely to be.
The exception are the local mountain bike parks. These single-track trails are designed for biking, but most of them also welcome hikers. In fact, these offer some of the best local dirt hiking because they're designed to be a challenge. You'll encounter plenty of hilly, meandering trails.
More Intimate with Nature
Another advantage of heading to the dirt trails is that they're often more narrow, which is more intimate with the natural world around us.
The trees are closer, the wildflowers are closer…and if we're fortunate we'll see some wildlife while we're out (be sure to look around you!).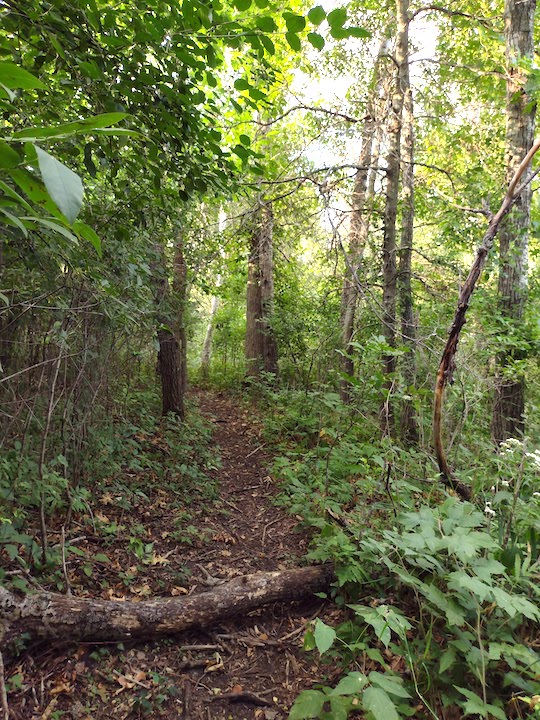 Not all the natural-surface trails are narrow. Some are wide and kept mowed because in the winter these are the trails groomed for skiing. But many of them are single-lane through the woods or meadows, and are truly lovely.
What to Look Out For on Natural Surfaces
There are a few hazards to look out for when you venture onto dirt and grass trails:
Mud, especially in the spring and after heavy rains. Wear waterproof footwear and be careful—mud can be super slippery.
Tree roots, rocks, fallen trees and other tripping hazards—While our trails in the Cities are nowhere near as rocky and tree-rooty as in other parts of Minnesota, it still pays to watch the trail every few steps so you don't trip over something.
Poison ivy, stinging nettle, rose bush thorns, ticks and other nasties. These are seasonal and your proximity to them will depend on each trail's width.
You may encounter more mosquitoes on the dirt trails in the right season, especially early and late in the day.
Isolation—The benefit of fewer people on dirt trails can add some safety risk. Hiking with a friend is always a good idea. If you head out alone, let someone know where you're going and when you expect to be back.
Because our local parks' dirt trails aren't always on the trail maps, consider getting to know the paved system at a particular park first before venturing off onto these spur trails. Then you won't get lost!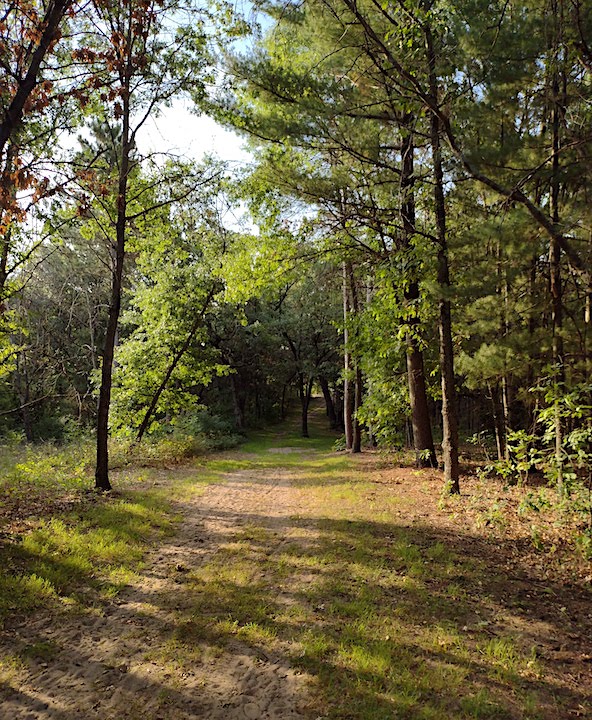 My Favorite Footwear for Dirt and Grass Trails
The trails around the metro aren't hardcore, so while good quality footwear is always important, it doesn't need to be super hardcore like you might use in more strenuous environments.
My choice for dirt is either sports sandals or trail running shoes.
Sports Sandals
In hot weather, I love wearing my Chacos because my feet stay cooler. I always say I like to give my toes breathing room!
But my feet also get dirtier on natural-surface trails. And like with any sandal, pebbles, sand, twigs and other loose material from the ground can get lodged in the straps or on the footbed.
That can get pretty annoying…although not annoying enough to stop me from wearing them!
Trail Running Shoes
Trail running shoes are great because they're lighter and more comfortable than hiking shoes but their tread is more aggressive than road running shoes. Better traction equals better footing on sketchy surfaces.
My newest trail shoes are adidas' Terrex Trail Rider (and no, that's not a typo…adidas likes their brand in lower-case). They offered to give me a pair in exchange for my honest opinion of them.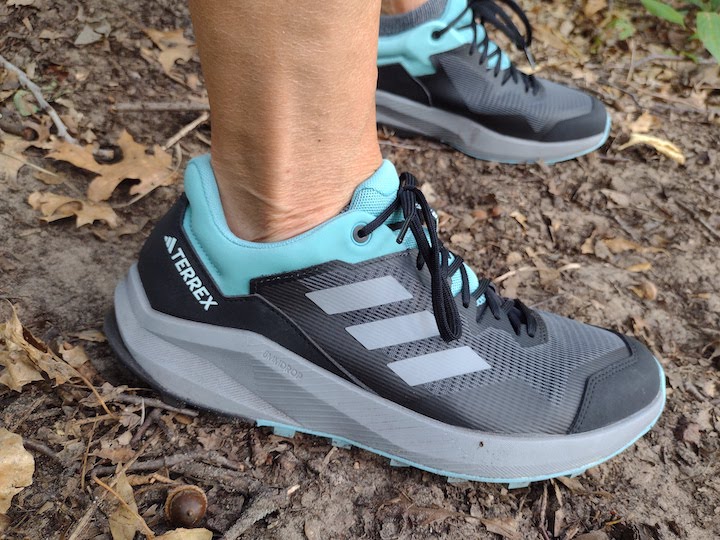 I wore them this morning for the first time for my dirt-trail hike. Here's what I love about these Terrex trail runners:
They were comfortable from the moment I put them on. They offer plenty of support (which there should be in a running shoe).
I love the colors—Not overly bright but not blah. Since they'll get dirty on the trails, I like the option of a dark color.
I have bunions on my feet so shoes that are too narrow pose a problem for me. Even though these aren't labeled as Wide, I have plenty of room in the toe box.
This particular model isn't outrageously priced. Retail is $120 (2023 price) which is pretty average for a good running shoe. Get on their mailing list though and adidas will offer you deals fairly regularly.
adidas is one of the apparel brands that uses recycled materials in some of its products, including these shoes. The description says at least 50% of the upper of this shoe is recycled content.
Anything I didn't like?
I opted to NOT get the waterproof version, mainly because I wanted a trail runner I could wear in hot weather. Waterproof running shoes don't breathe very well. These breathe well, but also let dust in so my feet were a little dirty after my hike (this would be true for any non-waterproof trail runner). They're a dry-weather trail shoe. Here's the waterproof version.
That's really it.
(NOTE: There's a men's version of the Terrex Trail Rider, too.)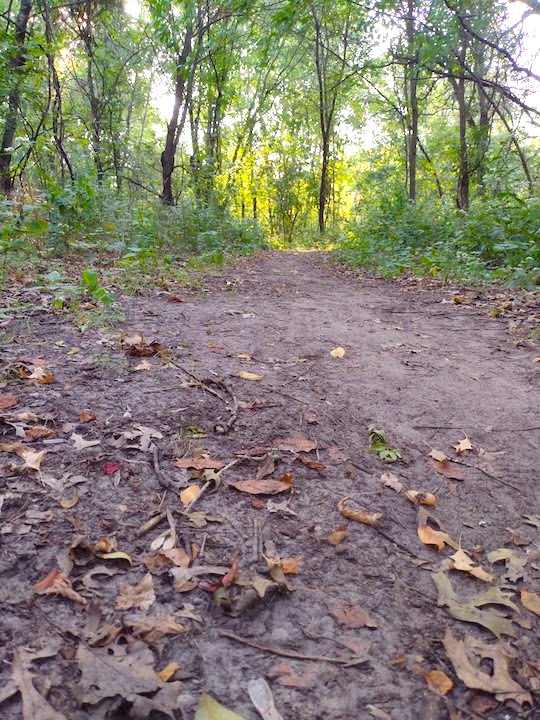 Have you discovered some great dirt trails near you? If not, maybe it's time to do some more exploring!
You'll like these, too…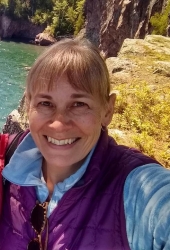 Latest posts by Sharon Brodin
(see all)