Several of Scott County's parks offer ungroomed cross country skiing and snowshoeing, while two of them have groomed ski trails, too.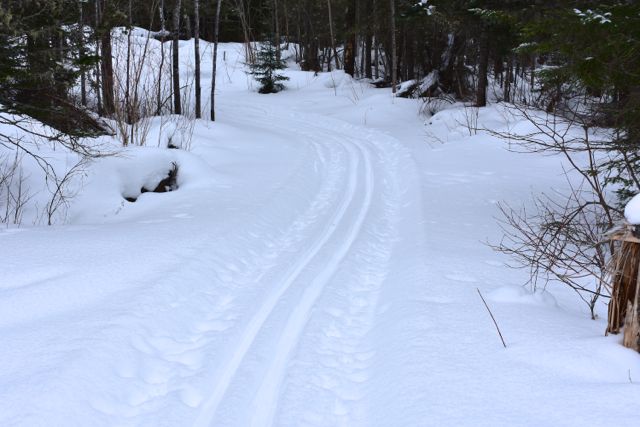 Those with the groomed trails are part of the Three Rivers Park District, so you'll need a Three Rivers Ski Pass. You can buy one online by clicking here (scroll down).
Cleary Lake Regional Park (Prior Lake)
Popular Cleary Lake Regional Park grooms 6 miles of cross country ski trails that are good for all skill levels. The terrain is rolling, wooded hills. There are also 1.5 miles of skijoring trails. You'll need a Three River ski pass for both. Rental equipment is available at the Visitor Center (bring your own dog!).
Snowshoers are also allowed on the golf course ski trail as long as there isn't a ski event happening (no ski pass needed). Otherwise, snowshoe off-trail throughout the park (except on the other groomed ski trails), including on Cleary Lake once the ice is thick enough. You can rent equipment from the Visitor Center. Here's the Cleary Lake winter map.
Minnesota Valley National Wildlife Refuge (Shakopee)
Minnesota Valley National Wildlife Refuge comprises 14,000 acres from Bloomington to the Carver/Jordan area. There are trails throughout, including a section in Scott County. These trails aren't maintained in the winter, but are open all year around. They're great for snowshoeing.
Go to this page for trail maps (Wilkie and Louisville Swamp Units) and go to this page for trail conditions.
Minnesota Valley State Trail
Found within Minnesota Valley State Recreation Area, the Minnesota Valley State Trail is a 27-mile multi-use trail from Shakopee to Belle Plain.
The trail is ungroomed during the winter, and open to cross country skiers and snowshoers. Snowmobiles are also allowed on the trail, so consider wearing bright clothing so you can be easily seen! Here's the Minnesota Valley year-round map.
Murphy-Hanrehan Park Reserve (Savage)
Murphy-Hanrehan is a super destination for advanced cross country skiers, both classic and skate. 9 miles of challenging hills await you! A Three Rivers ski pass is required.
Skijoring? You and your pooch can head out on over 5 miles of multi-use trails. There are almost 6 miles of snowshoe trails here, too, some of which are multi-use. No pass is needed for these two activities.
No rental equipment is available. Here's the Murphy-Hanrehan winter map.
Spring Lake Regional Park (Prior Lake)
Though there are no designated snowshoe trails at Spring Lake Regional Park, there are 374 acres of hardwoods and wetlands you can explore off-trail on snowshoes all winter long. Here is Spring Lake's year-round map.
Check Ski Trail Conditions:
Twin Cities Ski & Shoe Guide
Published in 2021, our 55-page digital Ski & Shoe Guide is the easiest way to find cross country ski and snowshoe trails in all seven counties of the Twin Cities metro area.
---
Other fun things to do in Scott County: