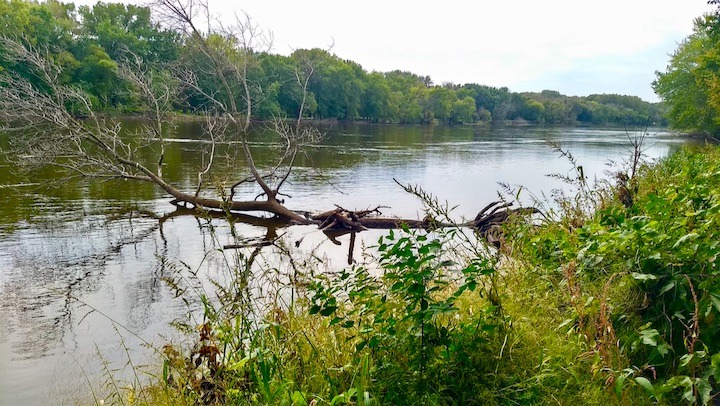 Even though Ramsey County has the fewest lakes of any of the Twin Cities metro counties, there are still 111 lakes here. Not to mention Minnesota's two largest rivers—the Mississippi and the Minnesota.
Any lake or river with a public access and open to boating is fair game for paddling. But here we'll focus on those waterways in the park system—national, state, regional and county.
There are no fees unless noted.
Como Regional Park (St. Paul)
Much-beloved Como Park is full of family-oriented activities. One of your options is paddling on Como Lake. You'll need to bring your own canoe, kayak or paddleboard on your car top (trailers aren't allowed in the parking area).
68-acre Como Lake is a non-gas motor lake, so your time out there will be peaceful. Here's the Como Park map.
Fort Snelling State Park (St. Paul)
Fort Snelling State Park on the confluence of the Mississippi and Minnesota Rivers has a few paddling options. The big Rivers themselves have boat launches for trailers in a few spots. Then there are carry-in trails to tiny Blackhawk Lake, into larger Gun Club Lake and on Snelling Lake.
Rentals are available here, and you'll need a daily or annual Minnesota State Park Pass. Here's the Fort Snelling map.
Hidden Falls Regional Park (St. Paul)
Hidden Falls is on the east bank of the Mississippi River (or north bank, as the River is flowing from west to east here). There's a boat launch along the river bank, presumably for paddle craft as well as motor boats.
You can either use your own boat or rent a kayak through the Mississippi River Paddle Share program. Here's the map.
Keller Regional Park (Maplewood)
Keller is Saint Paul's oldest park, and includes three connected small lakes. The boat launch is on the northern-most, Spoon Lake. Paddle through down to Keller and then down Keller Creek into Round Lake at the south end. Keep going into Phalen Lake for more paddling.
Or from the Spoon Lake launch, head north to Gervais Lake. It's not part of the park, and will be busy with motor boats on summer weekends, but it gives you more paddling options. Kohlman Lake is also connected, on the northeast side of Gervais if you'd like to complete the entire chain. Here's the map of Keller.
Mississippi River State Water Trail
About 17 miles of the Mississippi River make up the southern border of Ramsey County. You can access the river for paddling at Hidden Falls Regional Park or Harriet Island. That stretch is 6.5 miles.
If you'd like a longer trip, continue on to launches in Dakota and Washington Counties, or start further upstream in Hennepin County and paddle down. Here's the map of the Ramsey County section.
Phalen Regional Park (Saint Paul)
Phalen is a very popular park, welcoming half a million visitors each year. Lake Phalen is one of Saint Paul's largest lakes at 198 acres. The lake is limited to electric motors only, so you'll enjoy a quiet paddle.
You can stay on Lake Phalen, or paddle the chain up Keller Creek into Round Lake, then Keller, then Spoon and up out of the park system into Gervais Lake. There will be plenty of motor boat action there on nice summer weekends, so an early start will mean a more peaceful paddling experience if that's important to you. (Thanks to LakeLubbers.com for that tip)
Rentals are available at the swimming beach, as are kayak and canoe skills classes. Here's the Phalen map.
---
Other Resources: