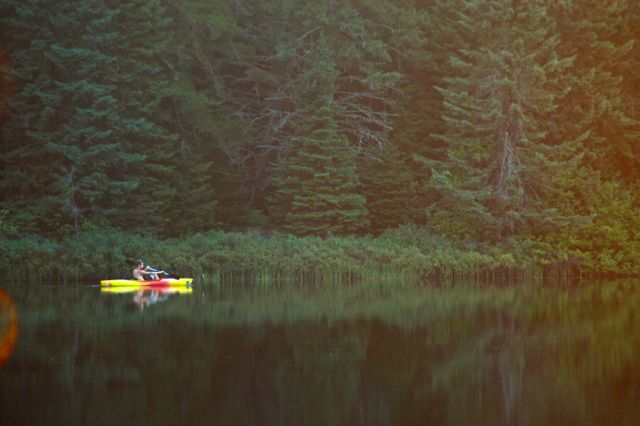 Even though Ramsey County has the fewest lakes of any of the Twin Cities metro counties, there are still 111 lakes here. Not to mention Minnesota's two largest rivers—the Mississippi and the Minnesota.
Any lake or river with a public access and open to boating is fair game for paddling. But here we'll focus on those waterways in the park system—national, state, regional and county.
There are no fees unless noted.
Como Regional Park (St. Paul)
Much-beloved Como Park is full of family-oriented activities. One of your options is paddling on Como Lake. You'll need to bring your own canoe, kayak or paddleboard on your car top (trailers aren't allowed in the parking area).
68-acre Como Lake is a non-gas motor lake, so your time out there will be peaceful. Here's the Como Park map.
Fort Snelling State Park (St. Paul)
Fort Snelling State Park on the confluence of the Mississippi and Minnesota Rivers has a few paddling options. The big Rivers themselves have boat launches for trailers in a few spots. Then there are carry-in trails to tiny Blackhawk Lake, into larger Gun Club Lake and on Snelling Lake.
Rentals are available here, and you'll need a daily or annual Minnesota State Park Pass. Here's the Fort Snelling map.
Hidden Falls Regional Park (St. Paul)
Hidden Falls is on the east bank of the Mississippi River (or north bank, as the River is flowing from west to east here). There's a boat launch along the river bank, presumably for paddle craft as well as motor boats.
You can either use your own boat or rent a kayak through the Mississippi River Paddle Share program. Here's the map.
Phalen-Keller Regional Parks (St. Paul)
It's hard to tell if this is one park or two! Since there are two PDF maps available, we'll go with two. Keller has boat access to Spoon Lake to the north. From there you can paddle south through a chain of lakes and rivers into Phalen Park.
Or you can launch right into Phalen Lake, which is the largest of the parks' lakes. No gas motors are allowed on the Lake, so you can enjoy a quiet paddle. Rentals are available at the swimming beach. Here's the Keller map. Here's the Phalen map.
---
Other Resources: