Cross Country Ski & Snowshoe Trails in the Twin Cities
Take advantage of our famous winters and get out on the hundreds of miles of cross country ski and snowshoe trails in the Minneapolis/Saint Paul metro area.
Contrary to widely-held belief, we do NOT need to hibernate inside through our Minnesota winters! We have loads of great places here in the Twin Cities to get outside and be active in the winter.
We can enjoy the crisp air, the beautiful snow and the bug-less environment thoroughly.
The key to loving outdoor winter activity—besides the right mindset—is the right gear. (Here's a post about winter gear on our sister site, Active Outdoor Women…)
Cross-country (or nordic) skiing and snowshoeing are two of the very best exercises we can do. Why? Because we have to work hard (especially when hills and/or deep snow are involved), they involve all the major muscle groups (assuming you're on some hills and use poles), and they're low-impact.
If you've never tried cross country skiing, you're missing out! It's a fraction of the cost of its alpine cousin, much more peaceful, far fewer people and super exercise. And if you need the thrill of big hills, there are plenty of them to be found, too.
Snowshoeing is almost as easy as walking. There's really no skill required—just a pair of snowshoes and some snow.
When you get to the individual county pages, there are links to get the latest trail conditions. Keep in mind these aren't always updated over the weekends, even when we've had fresh snow.
NOTE: Cross country ski distances are traditionally measured in kilometers (km) rather than miles for some reason. However, some of the parks use miles instead. So be sure you check which is which on the maps before you head out!
You don't want to end up going twice as far than you thought…or only half the distance you thought. (A kilometer is roughly .6 of a mile)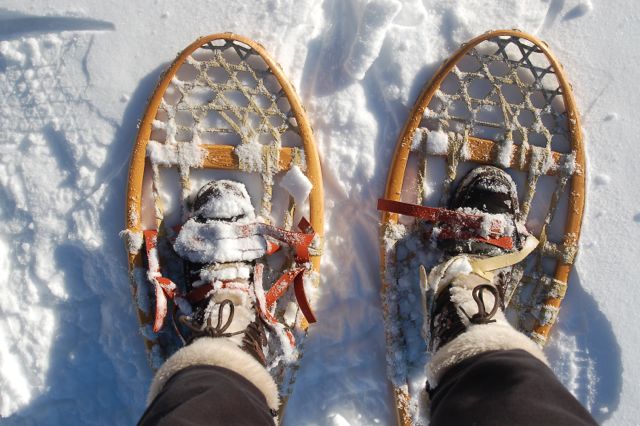 In this section we'll point you to places in your county where you can cross-country ski and snowshoe…
Anoka County—North
Four of Anoka County's 18 parks and reserves maintain groomed cross country ski trails during the winter months. While there aren't official snowshoe trails anywhere, snowshoeing is allowed practically everywhere in the parks except on the ski trails. Rental equipment for both sports is available on the weekends at some of them, too.
Head to Skiing & Snowshoeing in Anoka County…
Carver County—Southwest
Carver County has two regional parks that maintain groomed trails, plus Carver Park Reserve, which is maintained by the Three Rivers Park District. There are several more miles of ski trails there. Generally snowshoeing is allowed anywhere in the parks except on the ski trails, although there are a few miles of designated trails, too.
Head to Skiing & Snowshoeing in Carver County…
Dakota County—South-Southeast
Three of Dakota County's parks groom cross country ski trails for the winter months. They, plus two more, also offer snowshoeing and winter hiking trails.
Head to Skiing & Snowshoeing in Dakota County…
Hennepin County—West-Central (includes Minneapolis)
15 of Hennepin County's parks maintain cross country ski trails. Three of them make artificial snow when necessary, and so are open even when there isn't enough natural snow for grooming. Whether in downtown Minneapolis or on the outskirts of the metro area, you'll find many miles of trails for winter fun.
Head to Skiing & Snowshoeing in Hennepin County…
Ramsey County—East-Central (includes St. Paul)
Ramsey County hosts many miles of trails for cross country skiing in nine of its regional and county parks plus Fort Snelling State Park. There aren't as many designated trails for snowshoeing, but you'll find a few spots here, too, plus lots of off-trail options.
Head to Skiing & Snowshoeing in Ramsey County…
Scott County—South-Southwest
Two of Scott County's three regional parks groom trails for cross country skiing. While only two, there are many miles here for a good workout. Snowshoe trails are here for you, too.
Head to Skiing & Snowshoeing in Scott County…
Washington County—East
Washington County has some of the best skiing in the metro area with two state parks and six regional parks and reserves. If you're an advanced or adventurous skier, some of the best and biggest hills can be found here. Snowshoeing is available here, too, with some designated trails and some off-the-beaten-path shoeing.
Head to Skiing & Snowshoeing in Washington County…
Twin Cities Ski & Shoe Guide
Published in 2021, our 55-page digital Ski & Shoe Guide is the easiest way to find cross country ski and snowshoe trails in all seven counties of the Twin Cities metro area.
Other Resources
SkinnySki.com is a private website dedicated to the cross country ski world in the Upper Midwest. You'll find all kinds of info from gear to races to snow reports. Bruce Adelsman of New Brighton runs the show with help from lots of volunteer contributors.
The Great Minnesota Ski Pass is used for trails maintained by the Minnesota DNR (Department of Natural Resources). For us here in the Twin Cities that includes Afton State Park, Fort Snelling State Park, William O'Brien State Park and the trails in the Anoka County Park system. Click here for a map of trails statewide.