Interstate State Park is less than an hour's drive from most of the Twin Cities metro area. It's definitely a local gem of a park.
This park is small but mighty! Just 293 acres, its location in the St. Croix River Valley means gorgeous scenery, dramatic cliffs, lots of access to and views of the river, and beautiful hardwood forest, especially in its autumn glory.
According to a StarTribune article earlier this year, Interstate Park is Minnesota's 7th most-visited state park. That's no surprise considering all the above along with its easy access from the Cities and wide variety of things to do.
Just 4 Miles of Hiking, but Well Worth It
There are only about 4 miles of hiking trails altogether at Interstate. They can be done quite easily in a single day, especially if you take a break in-between hikes for some ice cream in Taylor's Falls!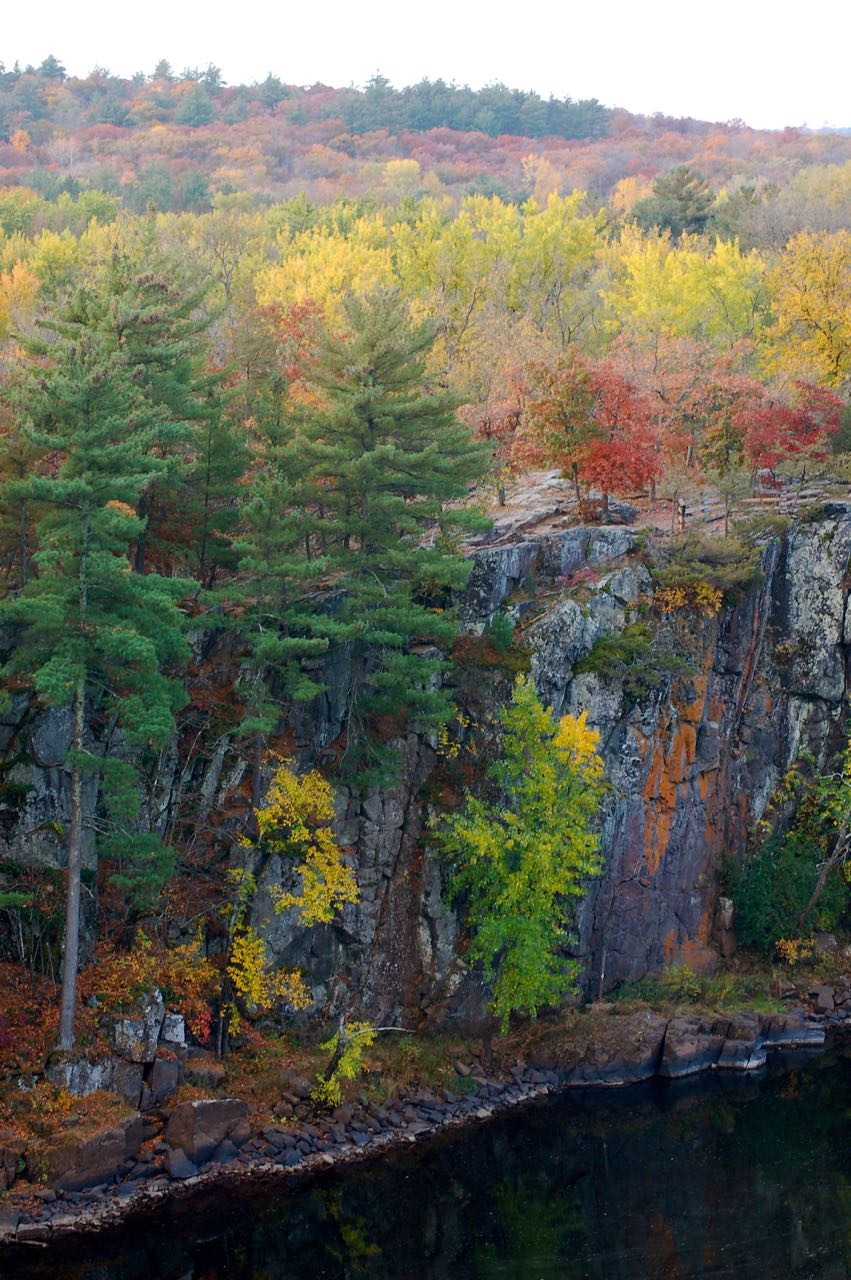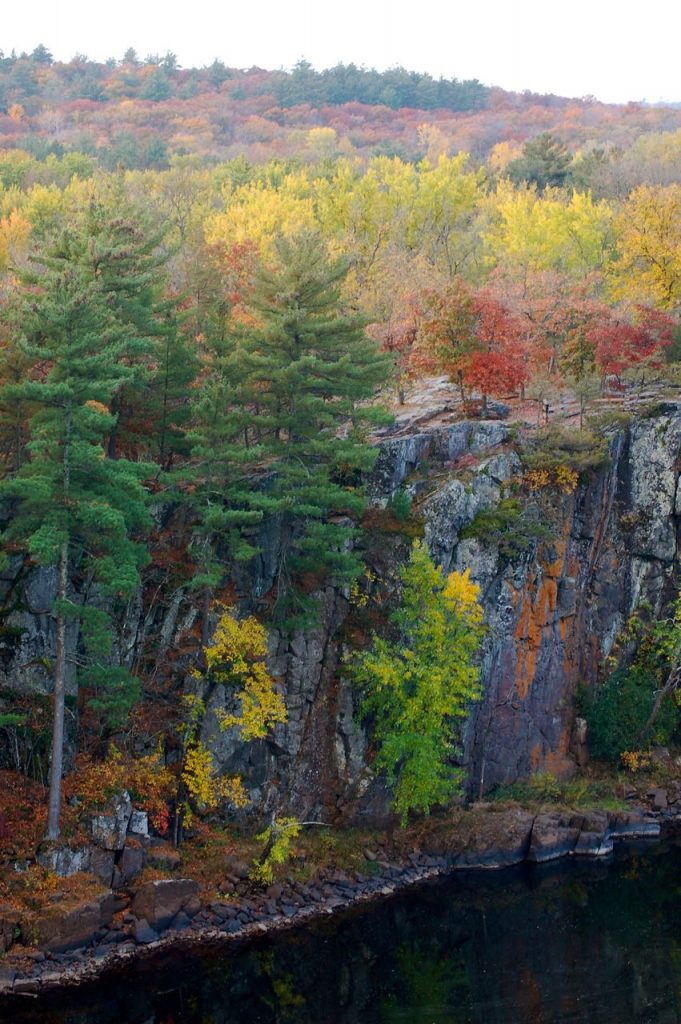 (Keep this map handy as we go over each trail so you can see where it is.)
The best way to hike the three longer ones—Sandstone, Railroad and River—is in one loop. Parking is less busy and more abundant by the campground and canoe rental area (just before reaching Taylor's Falls) then near the Potholes area. We recommend leaving your car there.
Sandstone Bluffs Trail

Make your way through the tunnel that goes under the highway (it's near the Ranger Station). You'll see signs for the Sandstone Bluffs Trails. This trail is the steepest of the three, so do it while you're fresh! Prepare for about 200 steps along the way.
You'll reach an overlook high above the river valley before coming back down again to connect with the Railroad trail.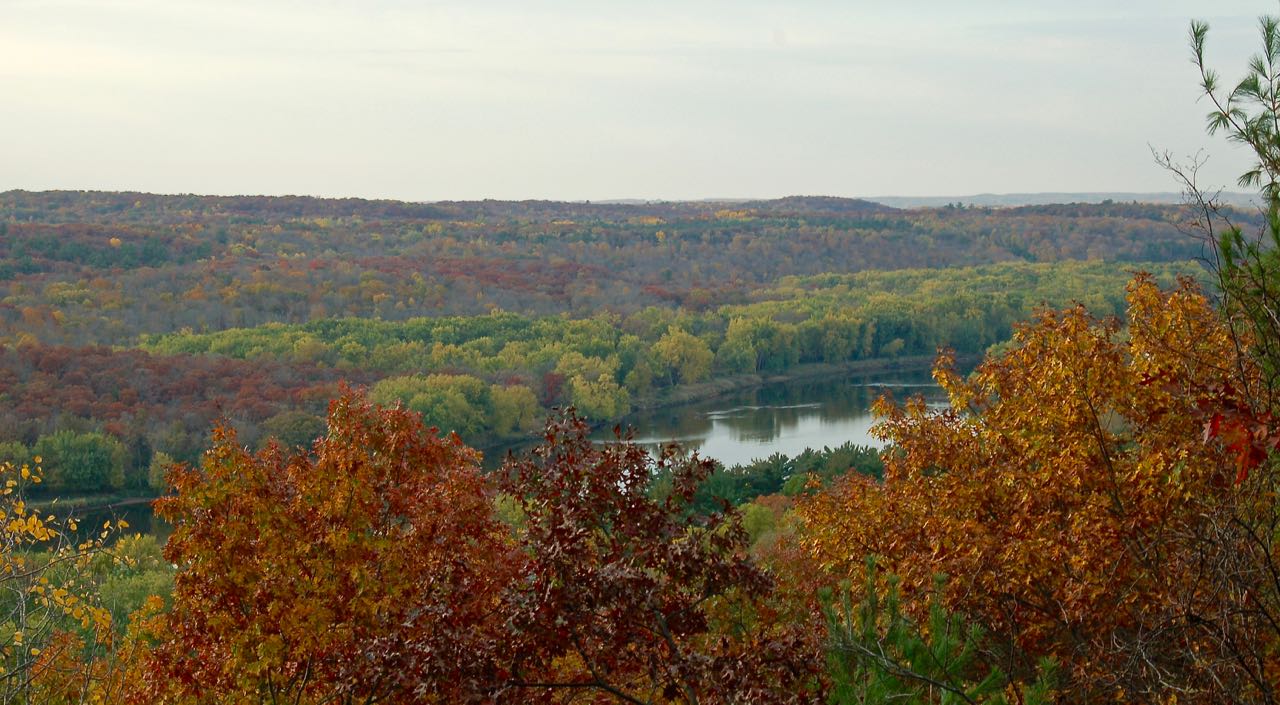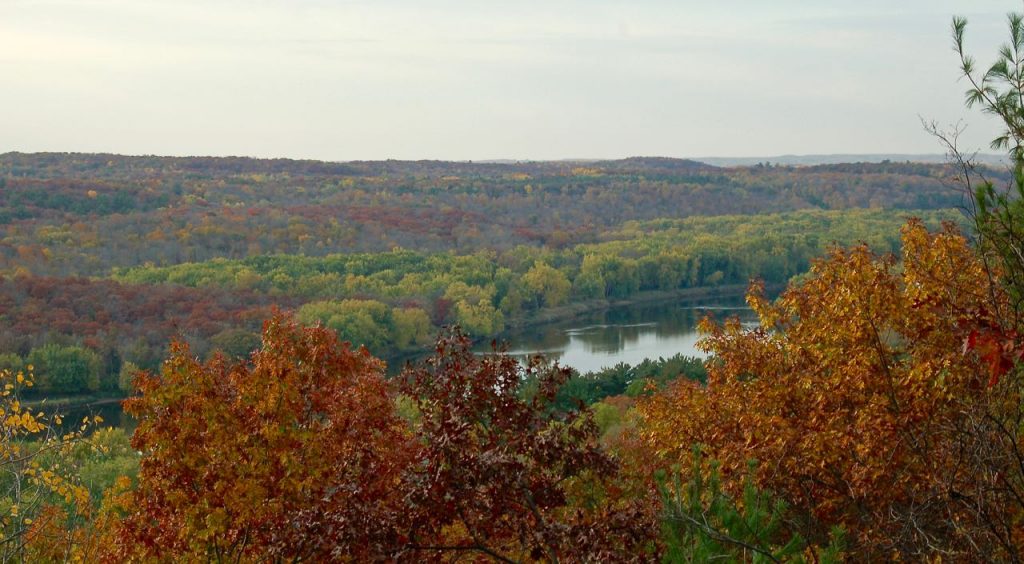 Railroad Trail

Hike the Railroad Trail east towards Taylor's Falls. As its name suggests, it follows an old railroad bed, so it's a pretty flat and easy hike. Pretty, though, with a canopy of mature trees above you.
This trail will take you right into town. You'll need to cross the highway at the lights and make your way through the parking lot of the Potholes area.
From there you can either hike around the Potholes right away, or leave that for later and continue onto the River Trail.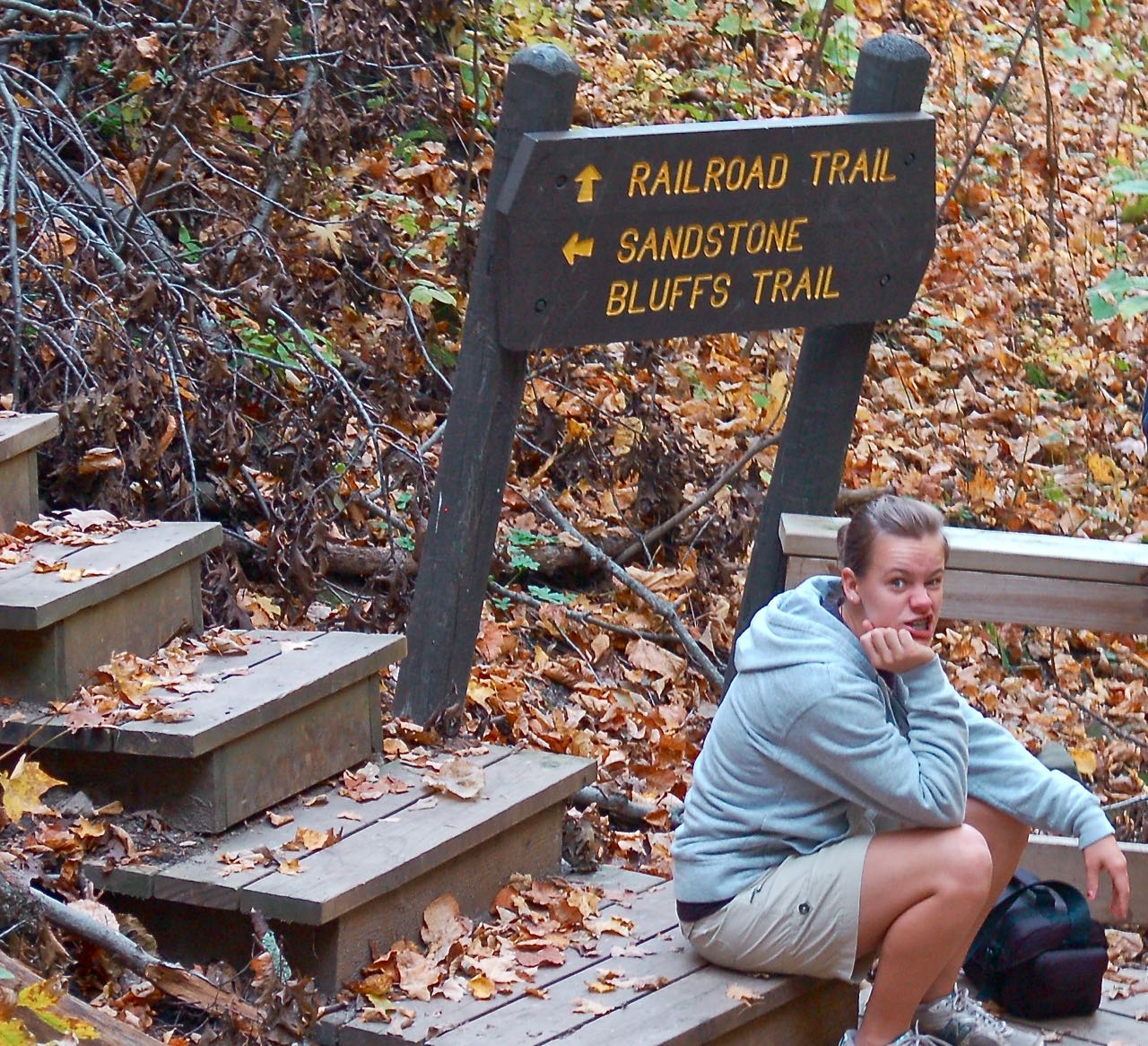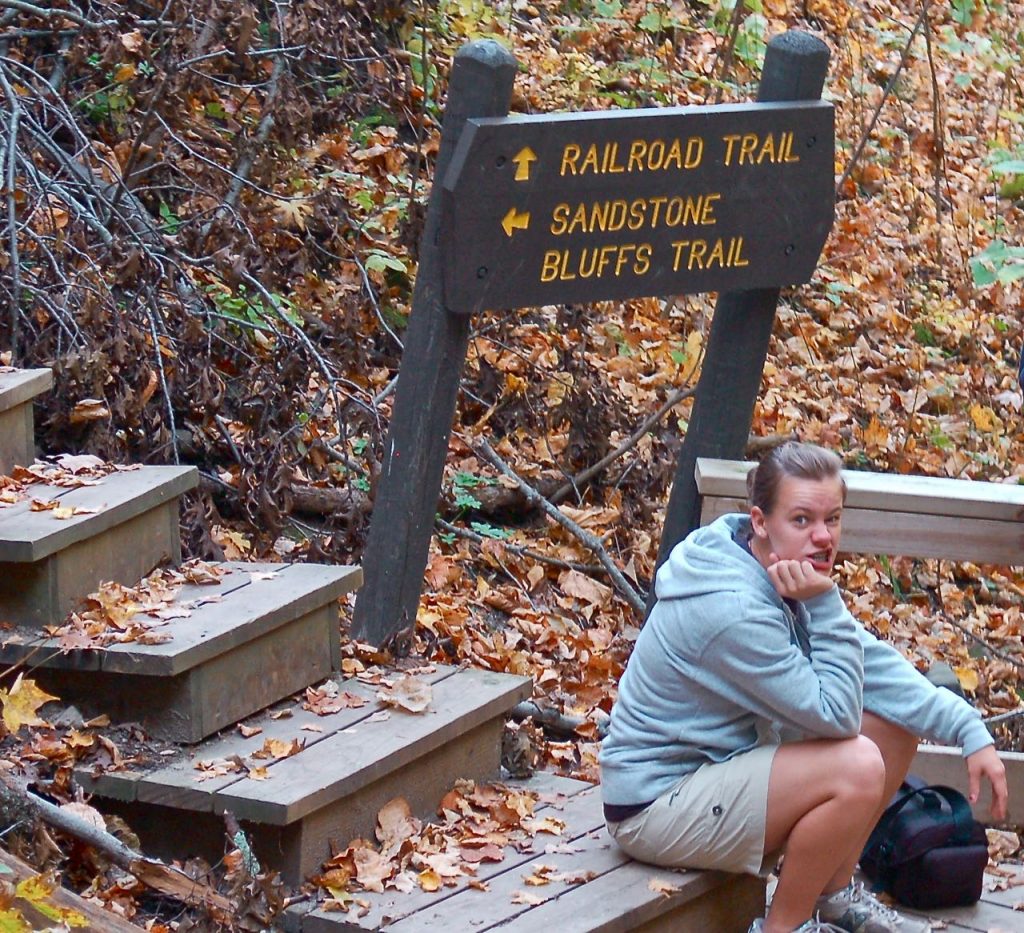 River Trail

As you can see from the map, the River Trail begins in a couple different spots off the parking lot by the Potholes. You'll head uphill and back west along the river bank—sometimes at the tops of high cliffs, sometimes closer to the water.
For just a little bit you'll have to hike next to the highway, but it's a short stretch. You'll get back into peace and quiet of the woods very soon.
Be sure and take advantage of the several benches and overlooks with great views. Don't rush it! There's plenty of beauty here to soak in while you hike.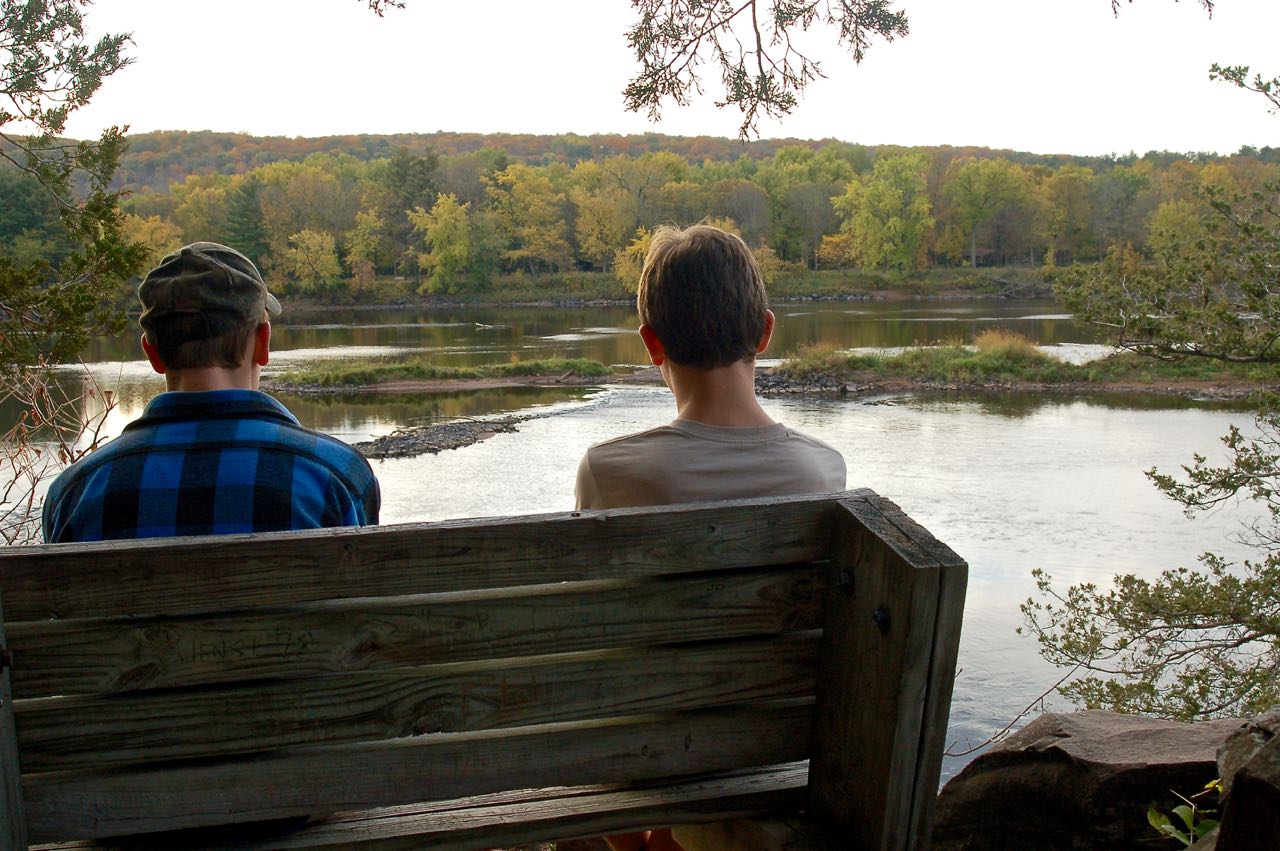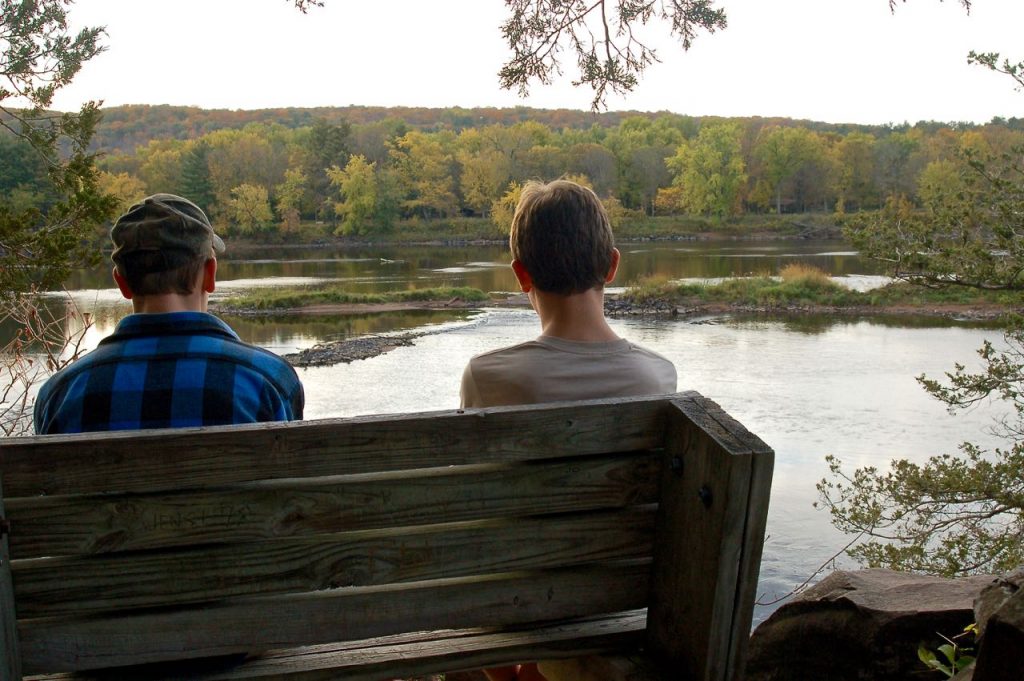 This trail brings you back to the parking lot by the Ranger Station where you left your car.
Potholes Trail

The Potholes Trail is by far the most popular in the park. In fact, if you decide to visit during a summer weekend, plan to get there early to find a parking spot!
We can't really call this a hiking trail—it's a complex of paved loops that take you among dozens of glacial potholes carved out in the rock. The DNR brochure says "the world's deepest explored pothole" is along the trail.
There are lovely places to sit along the rocks along the river here, too. Watch the riverboats and enjoy the dramatic views of the cliffs, river and river valley.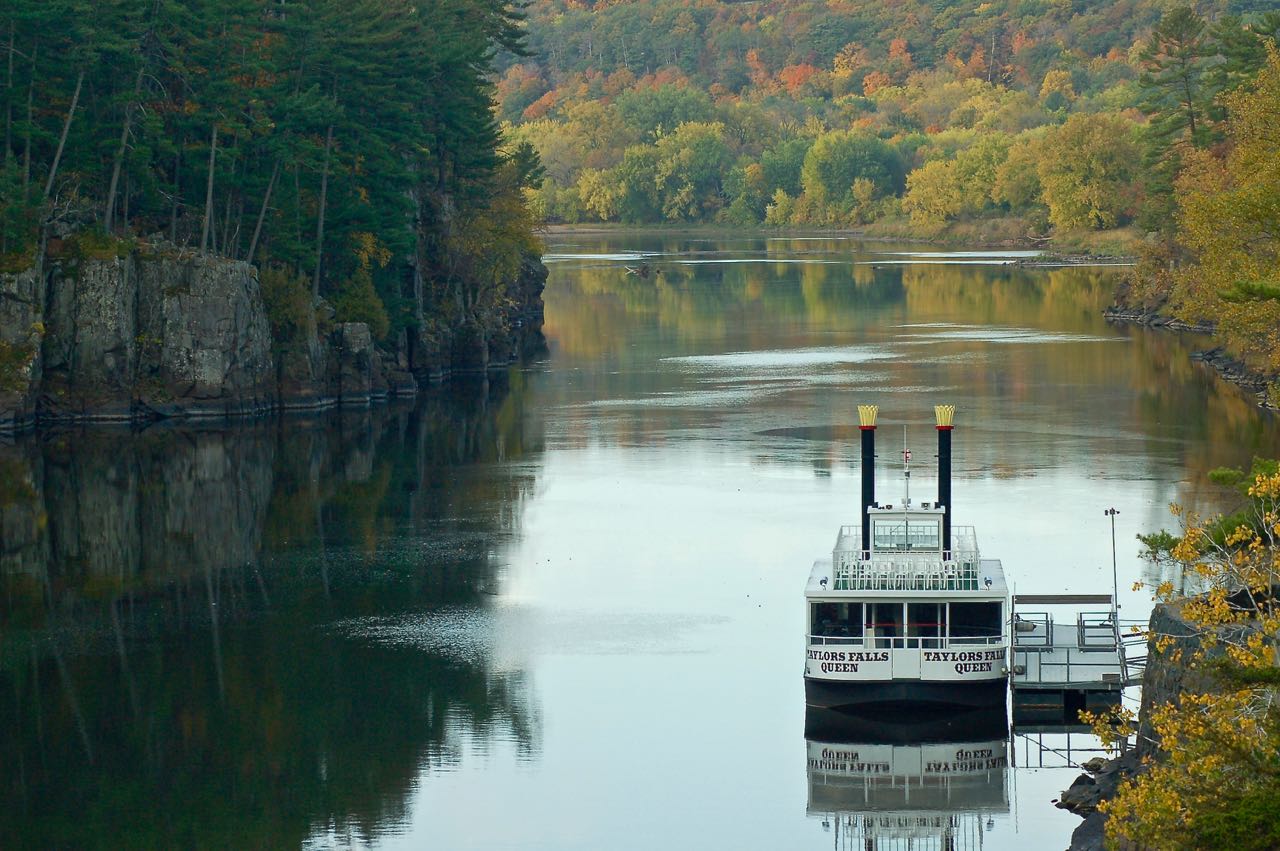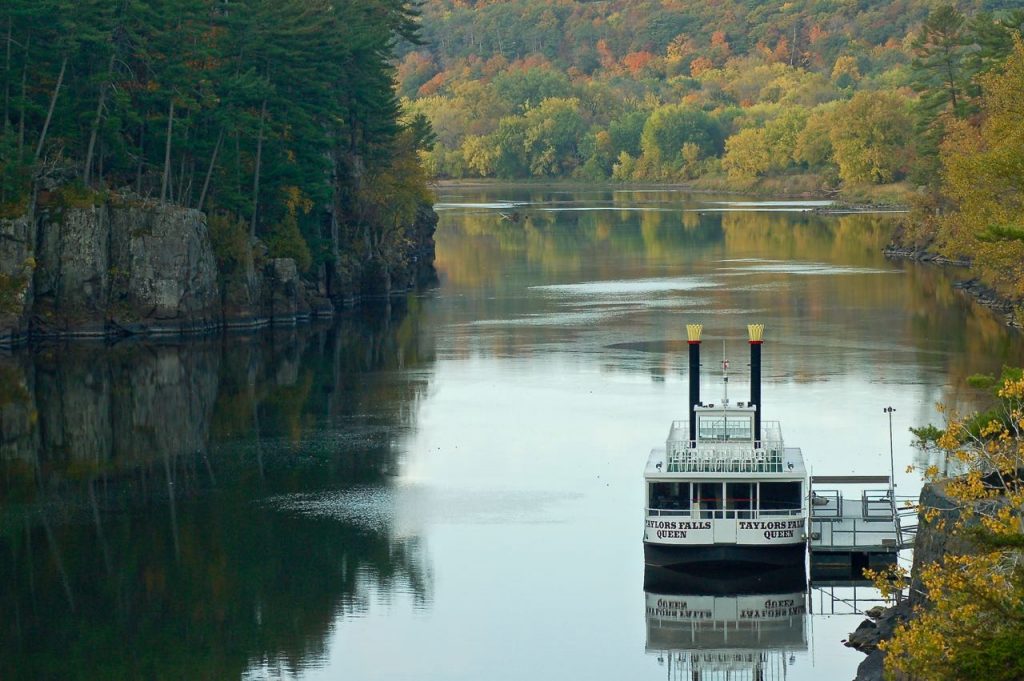 Summer Weekends are VERY Busy
As I mentioned above, Interstate Park gets super busy in the summer, especially the weekends and holidays.
Here are ways to avoid the crowds:

Stay away from weekends and holidays! Visit during the week instead.
Come early. The park technically opens at 8:00, but I've gotten there earlier to begin hiking. (Self-check-in for your park pass, in that case)
Stick to the Sandstone and Railroad Trails—a lot fewer people make there way there.
Bypass summer crowds altogether and hike in the off-season instead.
Autumn is Stunning
Fall weekends, especially during peak color season, are also very busy, but well worth it. This whole area is jam-packed with bright yellow maples and rusty red oaks, plus a smattering of aspen, birch, evergreen and smaller foliage that turns color, too.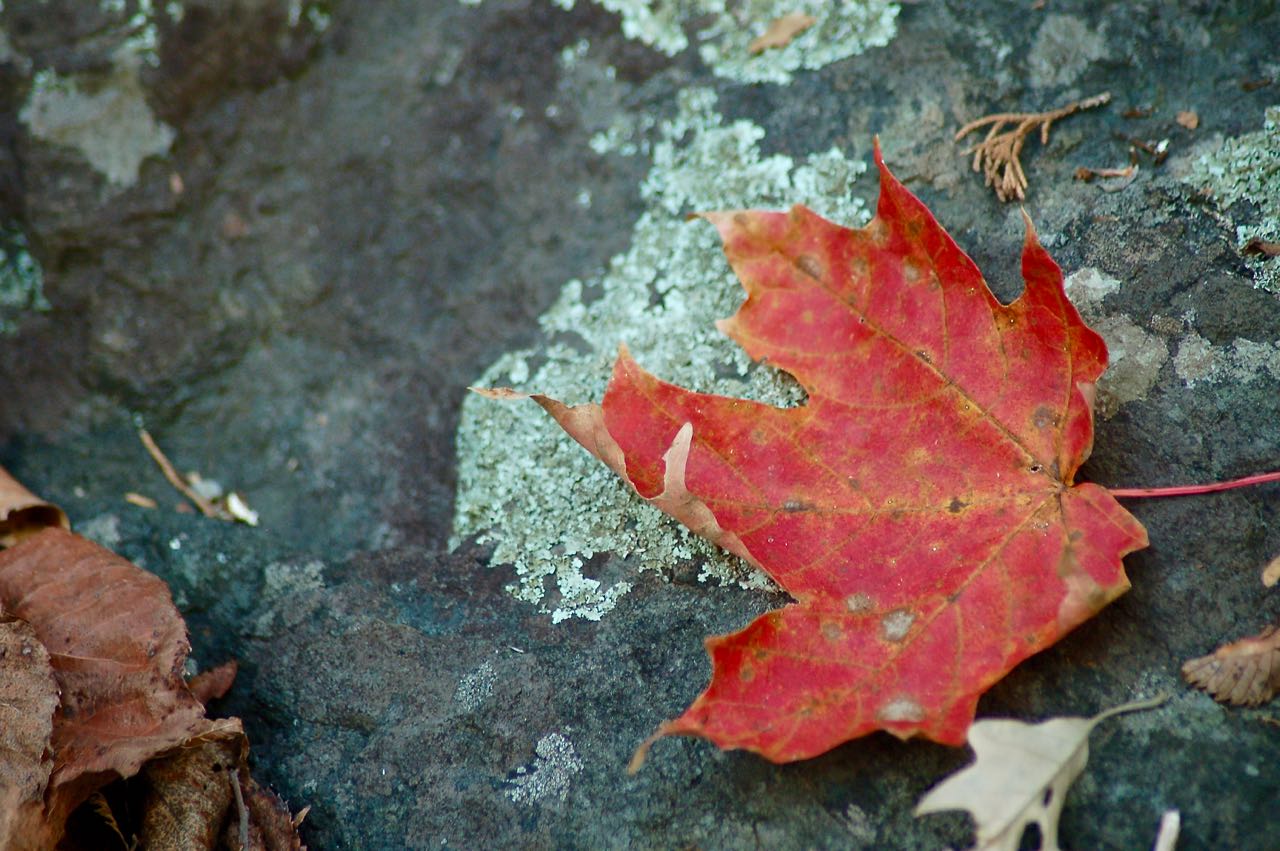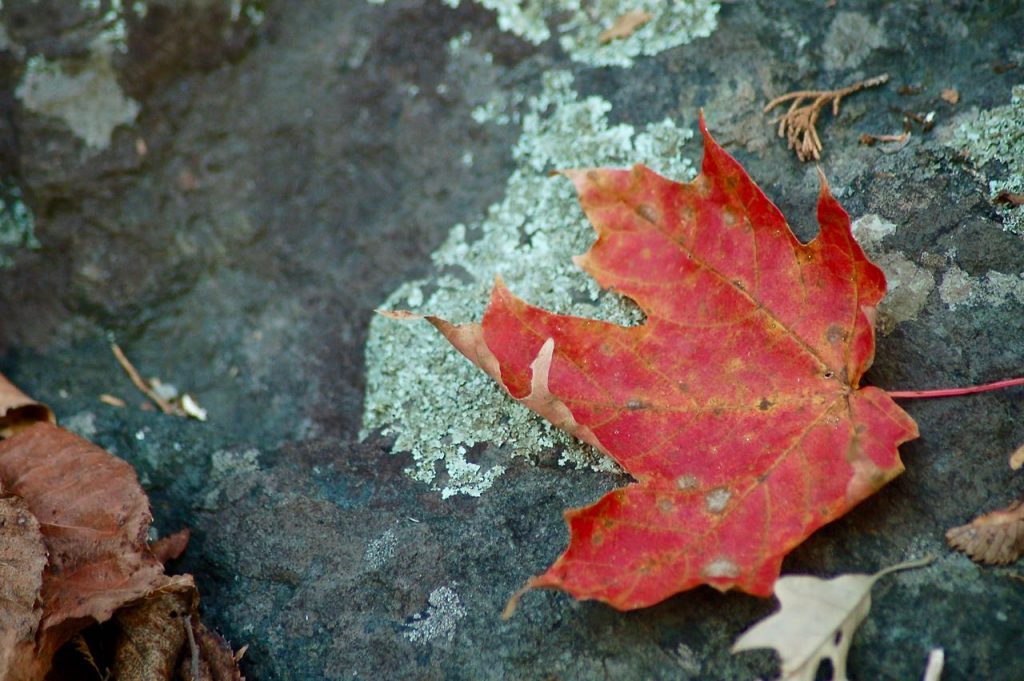 It's really amazing! It's close enough you can keep your eyes on the DNR's Fall Color Map and head out when the colors are peaked. You won't be sorry.
Personally, autumn is my favorite time here.
What about Winter Hiking?
Interstate Park hibernates during the winter! The Potholes parking lot is closed and none of the trails are maintained during the snowy months.
But, while it may not be plowed immediately after a snowfall, the larger parking area a mile this side of town stays open. Snowshoes with crampons would work on most of the trail system, although you'll want to watch for ice.
The Sandstone Cliffs Trail could be downright treacherous with its couple hundred steps, so be prepared to be flexible.
What Else is There to do Here?
Besides hiking, Interstate Park is a great place for camping and paddling from spring through fall.
By the Potholes area the river is quite deep. But as it flows down past the campground and canoe/kayak rental area it widens and gets much shallower. In a normal summer (meaning there hasn't been a ton of rain and high water conditions) it's quite easy to canoe or kayak upstream and back down in that area.
There's a small but beautiful campground (just 37 sites) for both tents and RVs in the campground. Great river views and access with lots of mature trees.
We've done plenty of family picnics here, too, combined with paddling and hiking.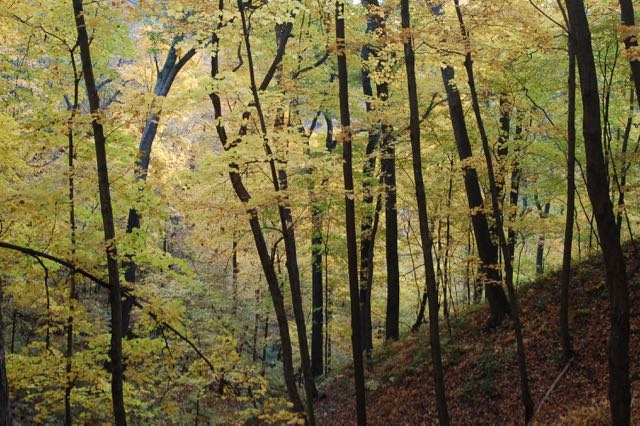 How to Get There
Interstate State Park is off Highway 8 leading to Wisconsin. As previously mentioned, there's one entrance before you reach Taylor's Falls and another (the Potholes) just before you cross the bridge over the river. Both are on the right turns if you're heading towards Wisconsin.
Twin Cities Hiking & Trail Running Guide
Published in 2020, our 48-page digital Hiking & Trail Running Guide is the easiest way to find hiking and running trails in all seven counties of the Twin Cities metro area.
You'll like these, too…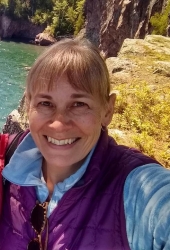 Latest posts by Sharon Brodin
(see all)