Our Twin Cities parks offer many wonderful winter hiking opportunities no matter which county you live in.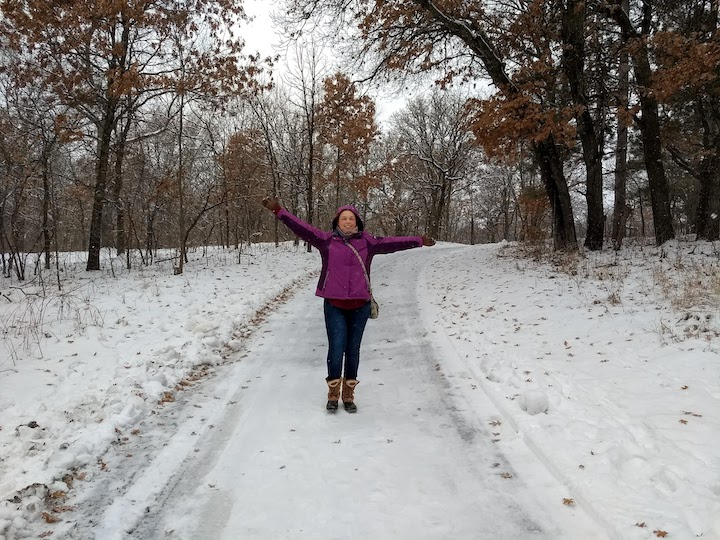 Even for those of us who love to cross country ski or snowshoe, winter hiking is just one more way to get outside and enjoy our wonderful winters! And sometimes conditions aren't right for skiing or snowshoeing—but they're almost always fine for hiking.
When the skies are blue and the sun is sparkling on fresh snow…or when the skies are dropping huge snowflakes—we can enjoy the winter beauty at a slow pace. Seeing our local parks during the winter is a different experience than in the other seasons.
One of the most fun things about hiking in the winter in the parks is seeing all the animal tracks. We realize how often our furry and feathered neighbors cross the same paths we do!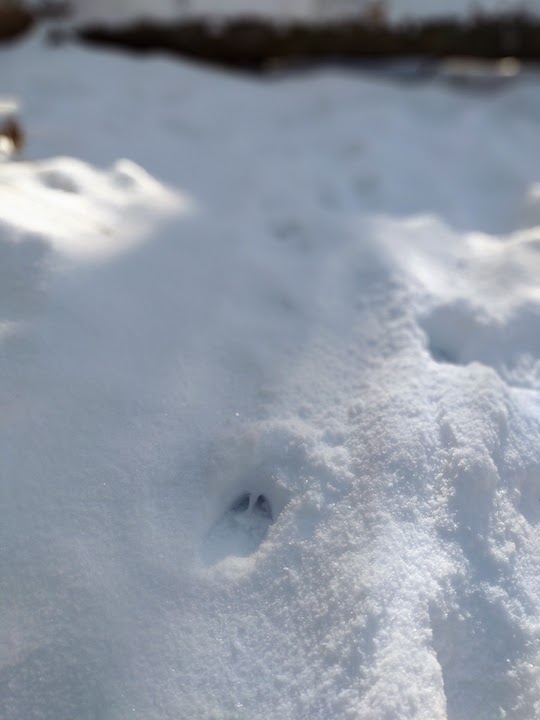 Three Types of Trails for Winter Hiking
There are three different types of trails available to you for your winter hiking:
Plowed Trails
Most of our local regional parks plow some of their paved trails throughout the winter for winter hiking. These trails aren't always shown on their maps, though, so it may take a few times of getting out there before you know where they are.
And in many parks, some or most of these paved trails become groomed cross country ski trails in the winter. So what you're used to hiking in the other three seasons may be different in the winter.
The plowed trails are the easiest to hike in the winter because the ground underneath any packed snow is level. But it's always a good idea to either wear or have along some kind of traction for your boots, like Yaktrax or Stabil. When there's been a thaw and re-freeze you'll encounter icy patches that can be downright treacherous.
Dirt Trails
The dirt and grass trails in our Twin Cities parks are either unmaintained in the winter, used as snowshoe and hiking trails, or groomed for cross country skiing.
You'll need to check each park's winter map to know which is which. The groomed ski trails are almost always off-limits for winter hikers (for good reason—hiking boots tear up the ski trails!).
We recommend getting to know these trails in the summer so you know good ones to hike in the winter.
When can you hike vs. snowshoe? When there's less than 8-12 inches of snow. Again, it's not a bad idea to wear traction on your boots in case there's icy spots.
Because of the unstable footing on these unmaintained trails, you'll have to work harder, your heart rate will be higher, and you'll probably get warmer during your hike. Add some hills and you've got yourself a great workout!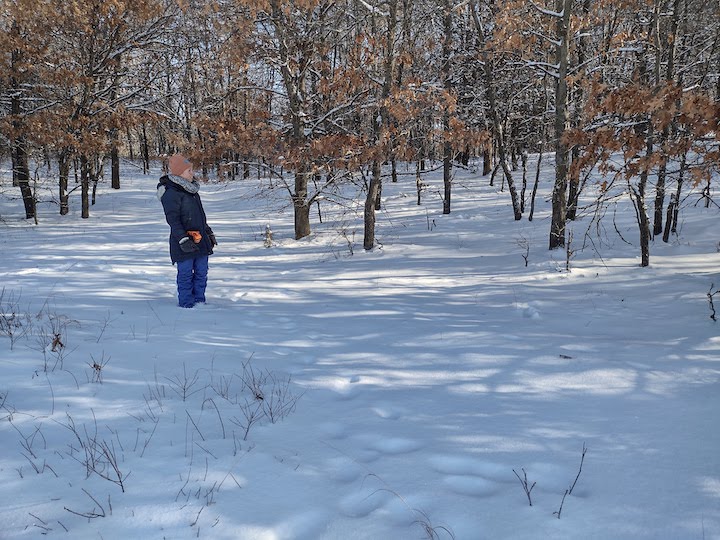 Off Trail
Here in the Twin Cities we normally don't get so much snow that winter hiking off-trail is a problem, especially early in the winter. Anytime we have under 8ish inches, winter hiking is going to work just fine.
With the leaves of the brush and trees we can get into the woods, follow deer trails, explore the lakes and marsh. It's fun to get out on the ice (see ice safety tips below) when it's impossible to hike these areas every other time of year.
Here, again, you'll give yourself a great workout as you scramble over downed trees, through brushy areas, and up and down hills.
Again, please don't hike on the groomed ski trails unless that park specifically says it's OK. Skiers have to buy a pass to use these trails, and it's really frustrating to have them torn up by hikers (speaking from experience!).
Winter Hiking Basics
Winter hiking is the most economical and easiest way to get outside in our Twin Cities winters. It's a super way to enjoy the beauty, to stay active, and to get some fresh air and sunshine…and there are dozens and dozens or places to go.
What to Wear Winter Hiking
As with any other winter activity, it's important you have the right gear to stay warm enough but not too warm. You'll want gear that protects you from head to toe from both cold and wind.
What works for you may be different than what works for me. Your own body thermostat will make a difference. The temperature and wind speed will be a major determining factor, too.
For example, when it's in the single digits or below zero I bring out my warmest down coat, snowpants, snow boots, my warmest mittens, etc. When it's in the 20s and I know I'll be doing some hills, I can usually get away with a fleece pullover and my Marmot shell, winter hiking boots and lighter gloves.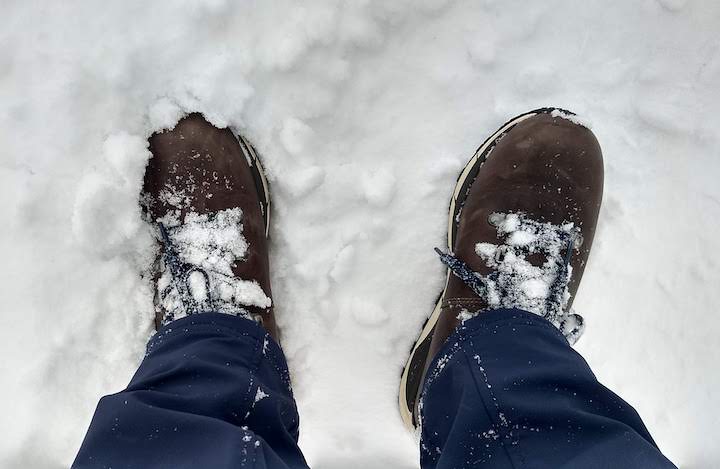 You'll get to know what works for you the more you get out there.
(Read Cold Weather Gear That'll Get You Outside More This Winter for more on that. We have some gear reviews for winter items, too.)
Sunglasses are really important on sunny days. The sun's reflection off the snow can be blinding! I often wear sunglasses even on bright cloudy days.
It's a Little Harder than Hiking in Spring, Summer or Fall
Unless you're on a plowed paved trail that's been cleared of snow and ice by the sun, hiking in the winter is going to be a little harder than in the other seasons.
When you're on the unmaintained dirt trails or off-trail, you'll be on unstable footing—both uneven and often slippery. Walking in snow is a lot like walking on a sandy beach! It's slower and harder.
So if you're going for a workout, you won't need to hike as far as you would on even, stable footing. And if you're going for mileage, plan for your trail to take a little longer in the winter than it does in the other seasons.
(And if you're anything like me, you'll add time to your hike due to taking a few pics of the winter beauty!)
Know the Weather Forecast
Before you head out, or even dress for your hike, know the current temperature and the forecast for the rest of the day. Are the temps going up? Going down? Is snow in the forecast? Or even rain?
You don't want to dress for zero degrees with a heavy down coat and snowpants if the temperature is 32º. And you don't want to look outside, see the sunshine and assume it's a warm day, only to get out there and find out it's -15º with a 40-below wind chill!
The other thing about winter hiking—our short winter days mean the sun goes down much earlier than other times of the year. A good weather app will tell you when sunup and sundown are. Pay attention to that so you don't get caught out in the woods somewhere after dark.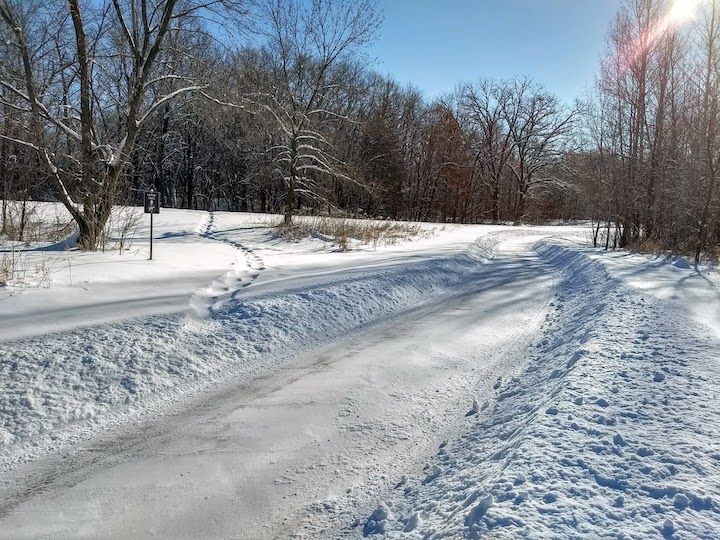 Get a Trail Map
If you're not familiar with the park you'll be hiking in, be sure to get a trail map before you head out. Even if you are familiar with the park, chances are there are some changes to your normal trails—like, they're ski trails in the winter instead of hiking trails.
You can either download and print a PDF map ahead of time, download or view the map on your phone (remember, though, cold weather will zap your phone's battery pretty quickly!), or pick one up at the park office, if there is one.
If you plan to be out for more than an hour, bring water and snacks along like you would in any other season. Dehydration is still a thing in the winter.
Safety on Marsh, Lake and River Ice
It's fun to be able to cross frozen areas in our parks that aren't accessible other times of year.
But, remember, there's extremely cold water under that ice, and as the DNR reminds us, ice is never 100% safe. Temperatures, snow, currents, even fish movement can all affect ice thickness and safety. River ice can be especially hazardous because of moving currents underneath.
Ice thickness guidelines say that four inches of new, clear ice will support a person. Once you see snowmobile tracks all over the lakes, there are 5-7 inches of good ice. The DNR doesn't measure ice thickness on our lakes, though, so take care.
Your safety is your responsibility!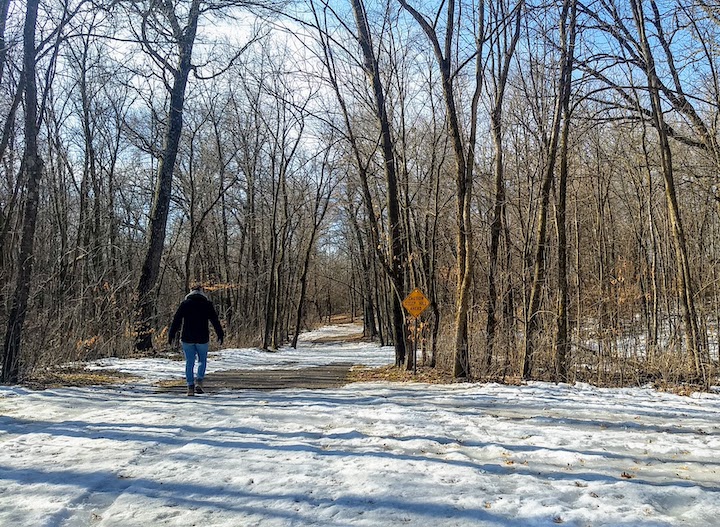 The Best Winter Hiking in the Twin Cities
In the winter, it's often true that the best winter hiking trails are the ones closest to you! Sometimes we don't want to drive across town when the roads are snowy or it's frigid out there.
Here's our pick for the best winter hiking in parks of the Twin Cities metro area;
Anoka County
Bunker Hills Regional Park (with entrances in Andover and Coon Rapids) has some great winter hiking, both plowed trails and not. Several miles are available.
Rum River Central Regional Park (Ramsey) doesn't have as much mileage to offer, but tons of beauty between the woods, the many hills and the Rum River. When the snow isn't too deep, there's plenty of off-trail hiking to keep you busy.
You'll need an Anoka County (or Washington County) Parks vehicle sticker for either of these parks. You can buy one at the Campground Office at Bunker, but there isn't anyone manning the gate at Rum River during the winter (you can still self-purchase a day pass, but not the annual one).
More info about Anoka County Parks, hours, rates and more.
Carver County
Carver Park Reserve (Victoria) grooms most of its hiking and multi-use trails for cross country skiing in the winter. But there's still some great winter hiking by Lowry Nature Center, about 4.4 miles total in the park. Plenty of off-trail options, too, when the snow isn't too deep.
Dakota County
Lake Byllesby Regional Park (Cannon Falls) has just over 3 miles of winter hiking on its multi-use winter trails. You might encounter snowshoers, skiers, skijorers and dog sledders!
Lebanon Hills Regional Park (Eagen/Apple Valley) has some of the best winter hiking in the metro—10 miles of unplowed trails. These trails are wooded with plenty of ups and downs to make it interesting.
Whitetail Woods Regional Park (Farmington) has a little over 3 miles of winter hiking trails, which you can check out when you rent one of their camping cabins!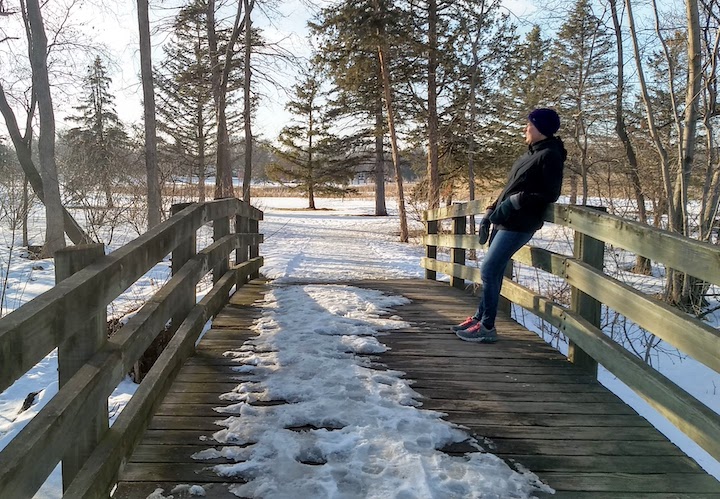 Hennepin County
Baker Park Reserve (Maple Plain) has 7.5 miles of winter hiking trails, including near the dog park. These are on the southern half of the park.
Crow-Hassan Park Reserve has 10 miles of winter hiking trails that serve as unmaintained multi-use trails. This is a great choice if you'd like to get away from the crowded urban trails.
Elm Creek Park Reserve is a top-notch winter hiking park with over 7 miles within the park and another 14+ in the Singletrack Park. There's a wide variety of terrain from woods to open prairie, plenty of rolling hills.
Hyland Lake Park Reserve (Bloomington) has a couple of different winter hiking/snowshoe loops plus some plowed trails for a total of 8.5 miles. Plenty of hills here (after all, the park hosts a downhill ski/snowboard are, too).
Lake Rebecca Park Reserve (Rockford) is super for long-distance hikers. Their ungroomed multi-use trail system includes 15 miles, including long loops. Many more miles are available in the Singletrack Park.
Minneapolis Chain of Lakes Regional Park offers several miles of paved trails for winter hiking in urban Minneapolis. Very beautiful, but action-packed! If you love people and city life, this is where it's at.
Ramsey County
Battle Creek Regional Park (Saint Paul/Maplewood) has several miles of both plowed paved trails and unplowed multi-use trails for winter hiking. Note that many of these unplowed trails criss-cross the groomed ski trails, which are not open to hikers.
Crosby Farm Regional Park (Saint Paul) has almost 7 miles of trails open to winter hiking. This park is alongside the Mississippi River and has some huge trees, so it's very picturesque. The trail system connects with Hidden Falls Regional Park to the west if you're looking for more miles close to the river.
Fort Snelling State Park is a beautiful and popular winter hiking destination, especially Pike Island. Most of the trail system is multi-use and open to hikers, but please stay off the ski-only trail on Pike Island! Great views of the Minnesota and Mississippi Rivers. You'll need a Minnesota State Park vehicle sticker.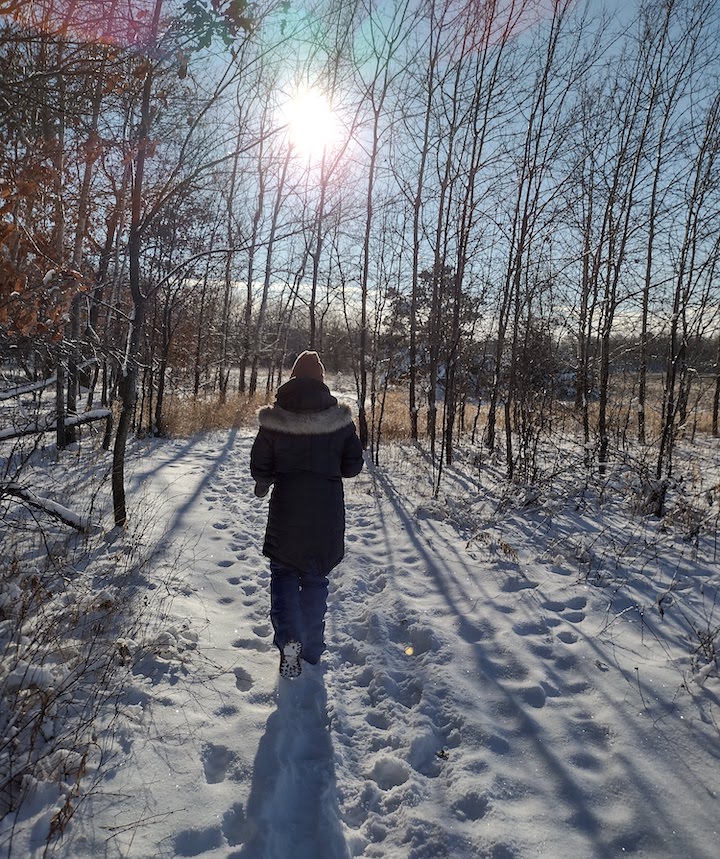 Scott County
Minnesota Valley State Trail (Shakopee to Chaska section) is ungroomed and open to skiers, snowshoers, hikers and snowmobiles in the winter. Super for an out-and-back trek or for long hikes.
Spring Lake Regional Park (Prior Lake) welcomes winter hikers on its 4.5 miles of paved trails in the snowy months, with a couple of different loops.
Washington County
Cottage Grove Ravine Regional Park (Cottage Grove) has almost 4 miles of packed multi-use trails for winter hiking. Plenty of hill action here for a good workout, especially on the south end!
Lake Elmo Park Reserve (Lake Elmo) is a wonderful winter hiking destination with over 10 miles available. There are both packed and plowed trails with a wide variety of terrain and scenery.
Pine Point Regional Park (Stillwater) has about 4 miles of winter hiking trails over varied terrain, including rolling hills. Pine Point is also the east end of the Gateway State Trail if you'd like an out-and-back trek on an unmaintained paved trail.
You'll need a Washington County (or Anoka County) Parks vehicle sticker for these parks.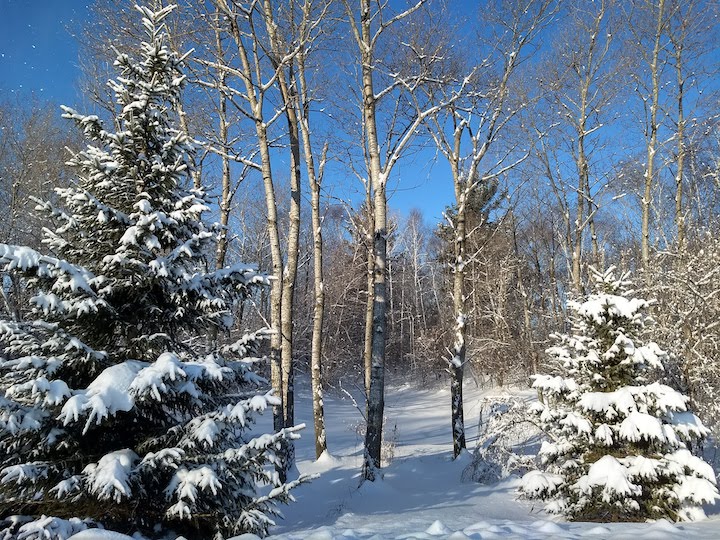 Wrapping Up
We have plenty of winter hiking opportunities in our local Twin Cities parks!
We can hike as an alternative to cross country skiing or snowshoeing when there isn't enough snow…or we can hike as another way to get outside in our wonderful winters without needed extra gear.
Whatever the reason, winter hiking is available to all of us. This list here includes just our favorite places. You can head to each county page under the Hiking/Running tab above for even more winter hiking spots.
Enjoy!
Twin Cities Hiking & Trail Running Guide
Published in 2020, our 48-page digital Hiking & Trail Running Guide is the easiest way to find hiking and running trails in all seven counties of the Twin Cities metro area.