Though there two large public campgrounds in Dakota County, both large and beautiful. There are also some camping cabins in another regional park.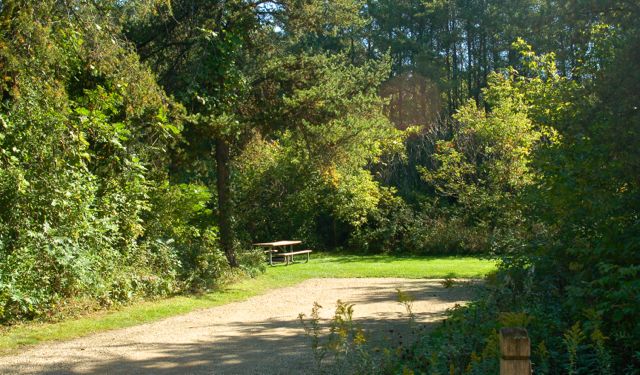 Lake Byllesby Campground (Cannon Falls)
Lake Byllesby Campground is on 1,400-acre Lake Byllesby, and it offers many lakeside and lakeview campsites. Located in the Cannon River valley, it has 83 sites, all with electric and some with water.
There's great kayaking, canoeing and paddle boarding here, with a boat launch on Lake Byllesby right in the campground, and the Cannon River State Water Trail right there, too.
There are 3 miles of hiking trails that can be accessed right from the campground. There's a short paved trail in the campground that connects to the Cannon State Trail and the Mill Towns State Trail.
Lebanon Hills Campground (Apple Valley)
Located within 2,000-acre Lebanon Hills Regional Park. Lebanon Hills Campground has 93 tent and RV sites. There's an $8 fee for online reservations, which will be worth it if you want to camp over a summer weekend. The camping season is early May through mid-October.
There are sites with full hookups, sites with electric, tent-only sites and a handful of pull-throughs. Showers and laundry facilities on on-site, too. Not a common sight at a public campground!
This campground is in a great location if you're looking for hiking, mountain biking and paddling opportunities while you camp. All are within the park's borders, although some will require a short drive since Lebanon Hills is large. This campground also happens to be next door to the Minnesto Zoo.
Read: Lebanon Hills Campground
Whitetail Woods Camper Cabins (Lakeville)
Located within Whitetail Woods Regional Park are three sort-of rustic camper cabins. Rates are under $100 per night. Weekends book fast for months ahead so it's well worth the $8 online registration fee to book far ahead. Mid-week dates are often available if that works for you, though.
These cabins can sleep up to 6 people. They have heat, electricity, a deck, picnic table…some even have Wi-fi and air conditioning. There are showers and restrooms nearby. Like all camper cabins, bring your own sleeping bag or linens.
The cabins are open year-round, but are very popular. So be flexible or book early!
---
Other fun things to do in Dakota County: