Scott County has kayak, canoe and paddle board opportunities in several of its parks as well as a section of the Minnesota State Water Trail.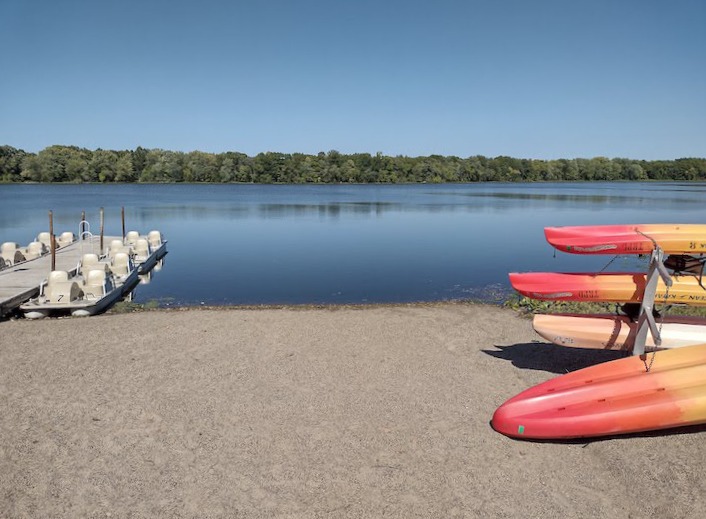 NOTE: There are no vehicle fees unless noted.
Cedar Lake Farm Regional Park (New Prague)
Cedar Lake is large—780 acres, which means there's a LOT of shoreline and lake to explore. You can portage your boat from the parking lot to the beach area (refer to the map for the launch spot there). Canoe, kayak and paddle board rentals are available there at the beach. Here's the Cedar Lake Park map.
Cleary Lake Regional Park (Prior Lake)
Cleary Lake Regional Park provides a quiet kayaking, canoeing or paddle boarding opportunity on Cleary Lake. No gas motors or wake are allowed on this 137-acre lake. Rentals are available at the beach, which is also where you would launch if you have your own boat.
There's also some great hiking, biking, golf and camping at this park if you'd like to spend a few days. Here's the Cleary Lake Park map.
Minnesota River State Water Trail
The Minnesota River forms the border between several counties, including the entire west/north border of Scott County. All 318 miles of the river is a State Water Trail. Find the Segment 6 section for all the info. The river's gentle current passes through varied landscape from marsh to bluffs. Here's the map for the Scott County segment.
Murphy-Hanrehan Park Reserve (Savage)
70 acres of paddling are available on Murphy Lake in Murphy-Hanrehan Park Reserve. The shoreline offers a lot of nooks and crannies to explore, and with no gas motors allowed, will be nice and quiet. There are no rentals available here, so you'll need your own canoe, kayak or paddle board. You'll need to pay a parking fee if your vehicle has a trailer. Here's the Murphy-Hanrehan map.
Spring Lake Regional Park (Prior Lake)
While Spring Lake Park is used mostly for its paved trails and dog park, there's access to Spring Lake for kayaking, canoeing or paddle boarding via a short trail, as well as a lot to park your vehicle. Here's the Spring Lake Park map.
Twin Cities Paddling Guide
Published in 2020, our 52-page digital Paddling Guide is the easiest way to find local lakes and river trails in all seven counties of the Twin Cities metro area.
---
Other fun activities to do in Scott County: