Hennepin County has the best of both urban and rural waterways for kayaking, canoeing and paddle boarding. If you love the action of the City with lots of people and activity, there are lakes for you. If you prefer quiet and solitude, there are lakes and rivers for you, too.
While any lake or river with a public access is available to paddle, we'll focus here on those that are in the parks systems and the state water trails.
NOTE: While there are no park fees unless indicated, there may be parking fees at the boat launches if you have a trailer. Rentals are available at some of these locations.
Baker Park Reserve (Maple Plain)
Baker Park Reserve has 945 acres of water to paddle, including Lake Independence and two smaller lakes within the Reserve's borders. Rentals are available for use on Lake Independence, or bring your own watercraft for Half Moon or Spurzem Lakes.
There's camping at Baker, so one option is a camping-and-paddling combo trip. Here's the Baker Park map.
Bryant Lake Regional Park (Eden Prairie)
Paddling is popular on 178-acre Bryant Lake. There are a couple large American lotus patches that bloom during mid-summer, which is worth seeing. Canoe, kayak and paddle board rentals are available during the summer season. Here's the map.
Crow-Hassan Park Reserve (Hanover)
There's canoe access to the South Fork of the Crow River State Water Trail here at Crow-Hassan Park Reserve. Either start here and continue paddling to where the South Fork joins the North Fork, or put in south at Lake Rebecca Park Reserve and paddle to this park. Here's the map.
Eagle Lake Regional Park (Plymouth)
Carry-in canoe and kayak access is available on the 63rd Avenue entrance on the west side of Eagle Lake Park. 290-acre Eagle Lake gives you plenty of paddling space, although you'll be sharing the water with motor boats. Here's the map.
Fish Lake Regional Park (Maple Grove)
Though not a large park, Fish Lake offers 244 acres of paddling. Bring your own watercraft or rent a canoe, kayak or paddle board at the Park. There's a fee to park your vehicle with a trailer. For the map, go to Fish Lake's park page and scroll down.
French Regional Park (Plymouth)
886-acre Medicine Lake is prime paddling territory. French Park gives you access and rental boats on the north side of the lake. You'll share the lake with plenty of motor boats, so be aware. Canoe and kayak rentals are available. There's a fee to park your vehicle if you tow a trailer. For the map, go to French Park's park page and scroll down.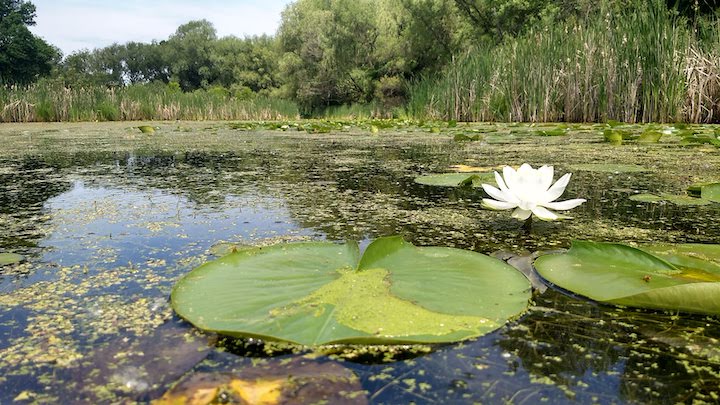 Gale Woods Farm (Minnetrista)
If you're up for a half-mile portage to the non-motorized boat launch, Whaletail Lake here at Gale Woods is great for paddling and exploring the shoreline. Canoe are available for rent. Here's the map.
Hyland Lake Park Reserve (Bloomington)
Enjoy little Hyland Lake for a paddling spot you won't share with motor boats. Canoe and kayak rentals are available. There's a fee to park your vehicle with a trailer. Here's the map.
Lake Minnetonka Regional Park (Minnestrista)
Minnetonka Regional Park gives public access to 14,100-acre Lake Minnetonka, one of the few places that do. If you're up for paddling a very large lake, here's your spot. More than 100 miles of shoreline should keep you busy for awhile!
Be prepared to encounter motor boats and waves, especially if it's windy. There's a fee for parking vehicles with trailers. Click and scroll down for the Minnetonka map.
Lake Nokomis Park (Minneapolis)
Lake Nokomis is just minutes from downtown to the north and the Mall of America to the south. This 210-acre lake is a great urban paddling spot. Either bring your own boat or rent a canoe, paddle board or sit-on-top kayak there. Nokomis is also open to sailing, so be aware of those around you!
If you own your own boat, seasonal storage next to the lake is available for a one-time fee. Very handy! Sorry, no PDF map available.
Lake Rebecca Park Reserve (Rockford)
Lake Rebecca Park Reserve has both lake and river paddling. There's carry-in access to the Crow River on the northwest end of the Reserve. And you can paddle 254-acre Lake Rebecca. Canoe rental is available. There's a fee for parking vehicles with trailers. For the map, go to Lake Rebecca's park page and scroll down.
Minneapolis Chain of Lakes Regional Park (Minneapolis)
The most popular park of the City's park system, the Minneapolis Chain of Lakes includes five lakes, all of which are open to paddling. There are designated canoe launches on Brownie Lake, Cedar Lake, Bde Maka Ska (formerly Lake Calhoun), Lake of the Isles, and a boat launch on Lake Harriet.
Canals connect four of the lakes, so you can spend the day paddling them, or just go out for an hour or two. No gas motors are allowed on any of the lakes, so you won't need to dodge water skiers or jet skis…just sail boats on Bde Maka Ska.
This chain is a wonderful paddling oasis just outside the heart of downtown Minneapolis!
There are canoe & kayak storage racks available for seasonal rental at each of the lakes. If you don't have your own boat, you can rent one at Bde Maka Ska and Lake Herriot. Storage details here. Sorry, no PDF map available.
Minnehaha Creek (Lake Minnetonka to Hiawatha Falls in Minneapolis)
Though not an official water trail, Minnehaha Creek is a popular kayak and canoeing destination when the water is at the right level. The Creek begins on the east end of Lake Minnetonka and winds its way through forest, wetlands and neighborhoods into Minneapolis.
It eventually pours over Hiawatha Falls and then joins the Mississippi River (you'll be getting off the river before the falls!)
The Creek is often to high or too low for safe paddling. This page has some good overall information about the creek as well as a link to check river flow status. Here's a map for Minnehaha Creek.
Minnesota River State Water Trail
The Minnesota River forms the border between several counties, including Hennepin County on its south side. All 318 miles of the Minnesota River is a State Water Trail. It's gentle current passes through varied landscape from marsh to bluffs. Here's the water trail map.
Mississippi Gateway Regional Park (Brooklyn Park)
Mississippi Gateway Regional Park (formerly known as Coon Rapids Dam Regional Park West) has direct access to the Mississippi River for canoes and kayaks. This stretch of the river is part of the Mississippi National River & Recreation Area (more on that below).
Kayak rentals are available on-site through a Paddle Share station. Rent online, go kayaking and drop off at another Paddle share station downriver. How easy is that?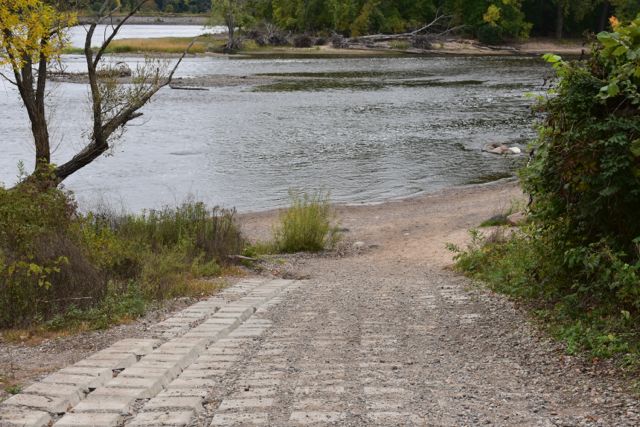 Mississippi National River & Recreation Area (Minneapolis)
Mississippi National River & Recreation Area stretches for 72 miles from the northwest, through both Minneapolis and St. Paul, down southeasterly to a few miles past the St. Croix River confluence. It encompasses several of the County and Regional Parks we discuss here on Twin Cities Outdoors.
There are paddling opportunities all along this national riverway. To paddle-through means taking on the dams, locks and other man-made constructions. But by paddling sections of it you'd have a great taste of the varied landscape—both rural and urban—of this section of the Mighty Mississippi.
Here's a great resource page if you'd like to plan an extended kayak or canoe trip on the Mississippi River, or want to paddle several of its local segments.
Silverwood Park (St. Anthony)
49-acre Silverwood Lake is open to paddling. This park is a small natural haven nestled between neighborhoods and busy highways. This would be a great place for beginners to practice, or for paddling with young kids. Rentals are available. Here's the map.
Twin Cities Paddling Guide
Published in 2020, our 52-page digital Paddling Guide is the easiest way to find local lakes and river trails in all seven counties of the Twin Cities metro area.
---
Other fun things to do in Hennepin County: