Paddle North is a Twin Cities-based company that makes solid and inflatable paddle boards, kayaks, utility docks and more.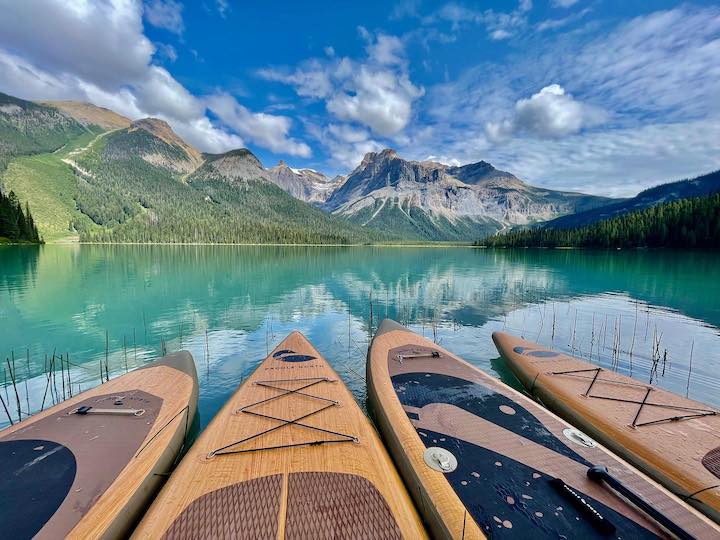 "We sell water products to Minnesotans," said co-founder Peter Mogck during an interview I had with him and Digital Marketing Manager Brennan Mogck (yes, they're related—cousins). "It's not really a hard sell. That's where a lot of us naturally want to be."
Here are the products Twin Cities Outdoors readers will love the most:
Paddle Boards
Paddle Boards were Paddle North's first products. They still make their original solid board, the Loon, (with a few minor design variations) ten years later. When the inflatable boards started to come on the scene, the team jumped into that, too. In fact, now they're mainly known as an inflatable company even though they still offer solid SUPs.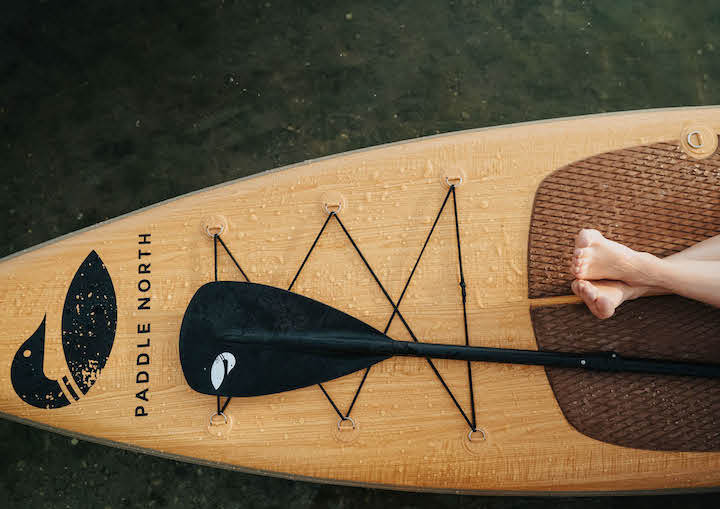 We know a family who owns their Paddle Ship, an inflatable board big enough for both parents and their four boys to use at the same time. They love it!
One thing you'll notice with their boards and other products is the intentional color design intended to blend in with nature instead of popping out. And their signature loon image is on each one of them somewhere.
Kayaks
Paddle North makes the inflatable Karve Kayak series, another line they've tweaked and improved over the years. There are a couple of solo models as well as a tandem.
Two of them are described as sit-on-top, but the foot deck is lower than the seat—much more comfortable! And the sit-inside model has low sides making for easier in-and-out compared to other models with higher sides.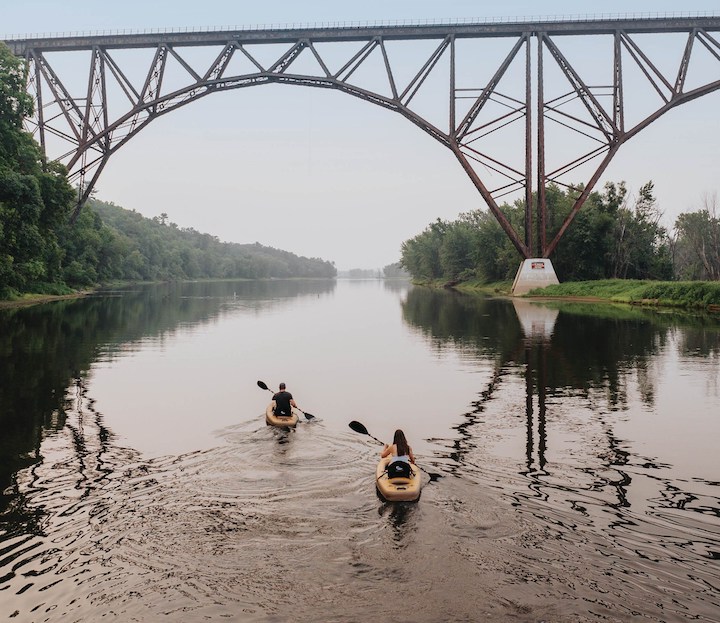 Some of the unique features (especially for inflatables) are cup holders, universal mounts for rods, cameras and other accessories, a comfortable seat and detachable fin.
New for 2024 is their pedal drive polyethylene fishing kayak.
Cold Weather Paddling Gear
I love that the Paddle North team has developed their own line of cold-weather paddling gear. This makes it safer for us to get on the water earlier in the spring and stay on it later in the fall.
Neoprene wet suits, pants, jackets, gloves, caps, water shoes and socks for men and women are all available and reasonably priced.
Other Paddle North Products
A kind of surprise hit for Paddle North is their line of Utility Docks—three sizes of an inflatable platform plus a few related items.
"It took a while for people to understand that it isn't a cheap inflatable that only lasts for one season," said Peter. "It's a dock our customers are leaving in the water season after season. Once that reputation was established [the market has] grown pretty substantially in both the cabin and boating markets."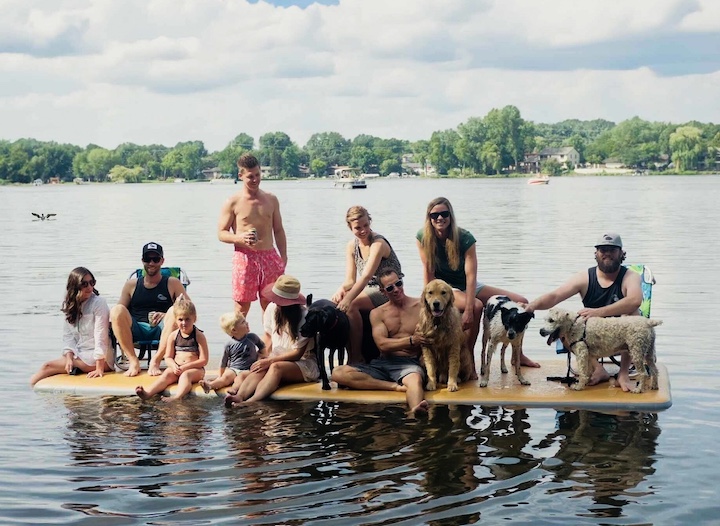 They work better than a traditional dock for entering and exiting a kayak or SUP because they sit right on the water instead of above it.
Paddle North has also gotten into the wakesurf board market. And they sell a bunch of accessory items for their paddle boards and kayaks, as well as some apparel.
The Paddle North Story
How They Started
Co-founders Peter Mogck (the business and sales mind) and Matt Frakes (the engineering mind) started Paddle North in Pete's garage in 2014. They've moved a handful of times since, including to South Minneapolis and Columbia Heights, as they've needed more space. They landed in their current New Brighton building in 2022.
Peter said, "The name of the game for us has just been getting people outside and having fun. The idea started when paddle boards were starting to come on the scene. The culture around the Midwest—and especially the Minnesota water culture with its "going up north"—was really strong, but underrepresented.
"There are big players in the canoe realm, but there was nothing much then in the paddle board and kayak realm. Our first product was the Loon. We said if it worked, it'd be fun to do every day. And now ten years later we're doing it with people we like to be around and having fun with it."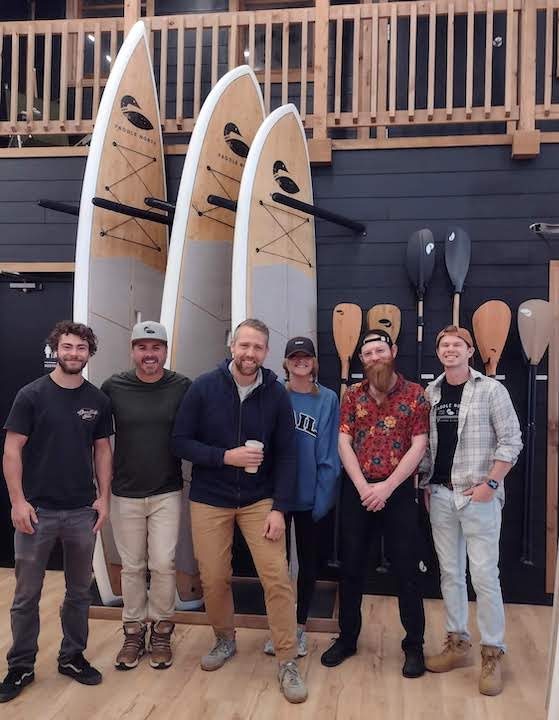 While they ship to all 50 states, the bulk of their business is here in the Midwest.
You may remember seeing Paddle North stores in places like the Mall of America and Rosedale in the past. The core of their business has remained direct-to-consumer, though, and they've since pulled out of retail except for their own shops—the one here in Minnesota and another physical shop in western Michigan.
Now they have their offices, warehouse, production and retail space all in one building.
The Customer-Centric Business Model
Customer feedback from the couple dozen of live trade shows they attend each year drives much of their innovation.
"A lot of our core team who are in the office doing the day-to-day are the same people doing those events. So we're hearing firsthand feedback from hundreds of thousands of people in conversations we have," Peter said. "It's kept us on the cutting edge of what the customer wants."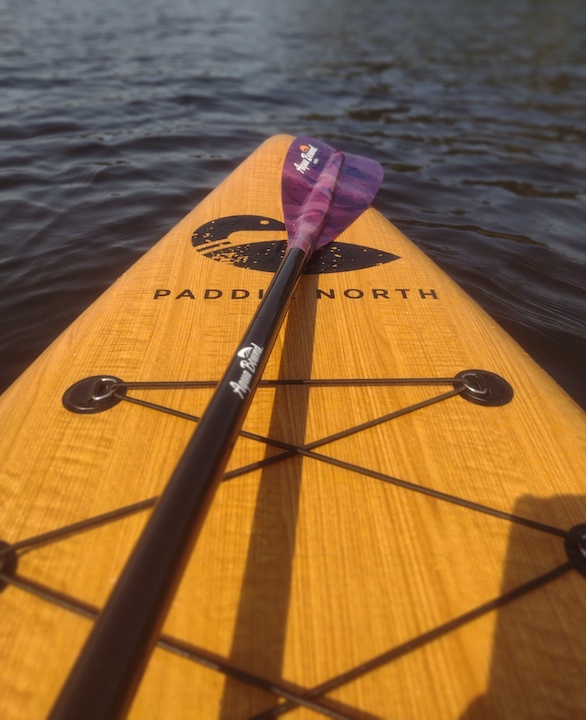 Where to Find Them
Paddle North's website is thorough and easy to navigate. You can order online. But you'll want to visit their physical location if possible.
It's one thing to see one of their boards or kayaks in a photo. It's a very different thing to see their design and feel how well-made these water products are in person.
Their shop includes Paddle North accessories and apparel plus select items from partner brands.
You'll find them at 401 W County Rd E2 in New Brighton.
You'll like these too…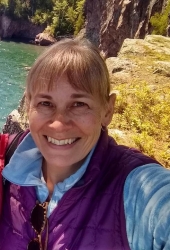 Latest posts by Sharon Brodin
(see all)