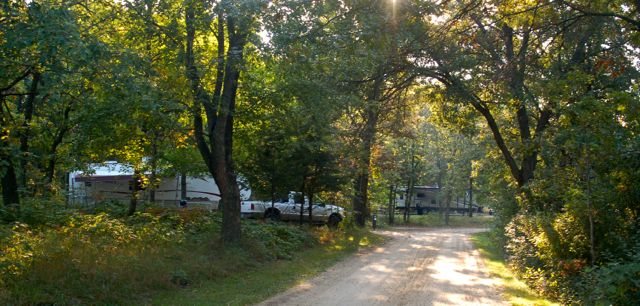 Minnesota has amazing State Parks with campgrounds, and hundreds of private campground in many gorgeous parts of our state. But sometimes you don't want to go that far from home. Or maybe you're visiting for a few days, or passing through on your way somewhere else.
Whatever the reason, you'll find many beautiful campgrounds in the 7-county Twin Cities area.
PETS: Be sure to check each campground's pet policy before assuming you can bring yours!
First, we'll give some definitions to beginning campers to help you clarify what you're looking for in a campground:
What's the difference between public and private campgrounds?
Good question! Here are the basic differences…
PUBLIC CAMPGROUNDS (owned by a county or state) are generally less expensive, but with fewer amenities. There are usually flush toilets (at least the ones near the Twin Cities), but often no showers. Most of the activities available will be nature-based—hiking and biking trails, maybe a swimming beach and paddling if it's on a lake. There's often a stay limit of 7-14 days, depending on the campground.
PRIVATE CAMPGROUNDS (owned privately as a business) usually have more activity options like a swimming pool, game room, laundry facilities, wi-fi, even cable TV. Because of that the rates are normally higher, and they often charge for extra people, extra vehicles and for pets. Many private campgrounds offer weekly, monthly and full-season rates.
What's a camper cabin?
A camper cabin is a great option if you don't have a tent or RV or if you want to "camp" off-season (they're usually available year-round). They're rustic, usually with no bathroom facilities. Most have electricity and heat for winter use. They'll offer bunks, but expect you to bring your own sleeping bags or other bedding.
The camper cabins in Minnesota's state and regional parks are usually open all year round—perfect for a winter getaway. Especially when combined with cross country skiing and snowshoeing.
Winter Camping in the Twin Cities
If you love winter, why not go camping year-round?
Here's what you need to know about winter camping in the Twin Cities.
OK, let's take a look at campgrounds in the Twin Cities…
Anoka County (North)
Anoka County has two public campgrounds. Unfortunately, the only private campground in the County—Ham Lake Campground—has been sold, and won't be open to the general public anymore.
See Campgrounds in Anoka County…
Carver County (Southwest)
Carver County has two campgrounds, although one of them is currently for horse camping only.
See Campgrounds in Carver County…
Dakota County (South-Southeast)
Dakota County has one full campground at one park plus camper cabins in another of their parks.
See Campgrounds in Dakota County…
Hennepin County (West-Central)
Hennepin County has a large public campground and a private KOA. Both are well out of the downtown Minneapolis area.
See Campgrounds in Hennepin County…
Ramsey County (East-Central)
Ramsey County has no campgrounds! You'll just have to venture to one of the other counties.
Scott County (South-Southwest)
Scott County has three campgrounds, all private. That usually means it'll more expensive, but they'll also have more amenities.
See Campgrounds in Scott County…
Washington County (East)
Washington County has the most campgrounds of the Metro Area—5 total, both public and private. Two of them are State Parks. One of them has backpack-in sites only.