There are plenty of cross country ski and snowshoe opportunities in Carver County, including three regional parks, one park reserve and the Minnesota Landscape Arboretum.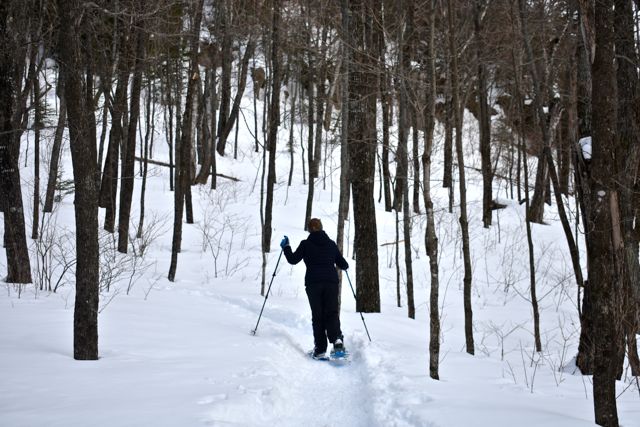 You don't need a vehicle permit for any of Carver County's parks.
NOTE: You'll notice some of the distances below are measured in kilometers and some in miles. This is not a mistake! If the map or website measures its distances in miles, then it's listed here in miles—and the same for kilometers (km). Confusing? Yes! Which is too bad. But, oh well.
Baylor Regional Park (Norwood Young America)
Baylor Regional Park grooms it's trails for cross country skiing (both classic and skate) in the winter, for a total of about 4.5 km in several different loops. You can snowshoe anywhere in the park except on the groomed ski trails.
Ski and snowshoe rental equipment is available at the Park Office on most January and February weekends as well as Martin Luther King Jr. Day and Presidents Day. Here's Baylor's winter map.
Carver Park Reserve (Victoria)
Carver Park Reserve is maintained by Three Rivers Park District and offers both ski and snowshoe trails. There are 4 miles of designated snowshoe trails at Lowry Nature Center, as well as snowshoe rentals available there. You can snowshoe off-trail, too, as long as you stay off the groomed ski trails.
Over 11 miles of groomed cross country ski trails are maintained in the west side of the Reserve, for both skate and classic skiing. Ski through beautiful terrain including woods, prairie and lakeshore. Here's the Carver Park Reserve winter map.
Three Rivers Park District does their ski passes differently than the regional parks. The Minnesota Ski Pass doesn't work here—you'll need the Three Rivers daily or annual pass. Here are the details.
Lake Minnewashta Regional Park (Chanhassen)
340-acre Lake Minnewashta Park keeps about 6 miles of cross country ski trails groomed during the winter. There are several loops you can pick from or combine to go the distance you like. Here's the Minnewashta winter map.
The park office rents both ski and snowshoe equipment on the weekends and a couple holidays. Snowshoeing is allowed in the Park everywhere except on the ski trails.
Lake Waconia Regional Park (Waconia)
Lake Waconia doesn't offer skiing or snowshoeing, but does have an 80-foot sledding hill! Provide your own sled and energy getting back uphill 🙂
Go to Carver County's Winter Recreation page for more details.
Minnesota Landscape Arboretum (Chaska)
The Minnesota Landscape Arboretum is "a research center and extension of the University of Minnesota's College of Food, Agricultural and Natural Resource Sciences." It's known for its gorgeous flower gardens, hiking trails and natural areas. 

The Arboretum grooms 8 miles of classic cross country ski trails throughout its 1,200 acres. Most of them are best for intermediate and advanced skiers, although there's a short beginner section, too.

They also have 11 miles of snowshoe trails—one of the most extensive trails systems in the Twin Cities. As elsewhere, please no snowshoeing on the groomed ski trails.

All the info is here, including trail conditions and a link to the winter map. You'll need to make reservations to visit the Arboretum, even the trails (at least as of winter 2021). Rental snowshoes are available.
For ski trail conditions call: 952-466-5237 or follow their Facebook page.
Twin Cities Ski & Shoe Guide
Published in 2021, our 55-page digital Ski & Shoe Guide is the easiest way to find cross country ski and snowshoe trails in all seven counties of the Twin Cities metro area.
---
Other fun things to do in Carver County: