Stillwater/Washington County • Free parking either in Stillwater or Wisconsin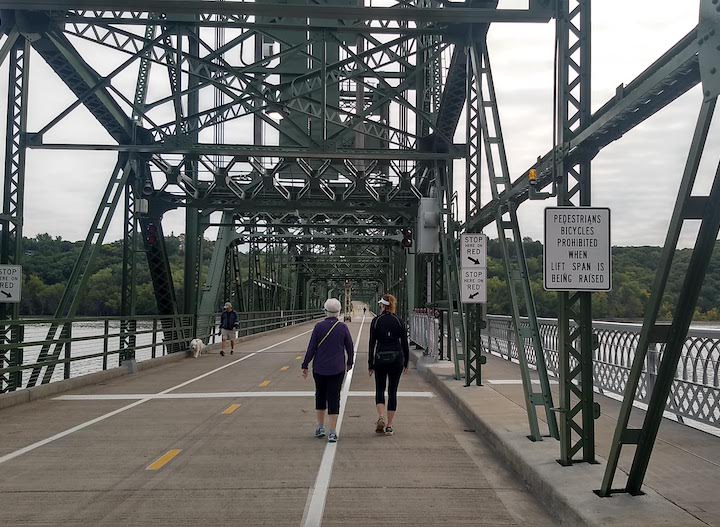 The St. Croix Crossing Loop Trail—newly completed this spring for foot and bike traffic only—is a wonderful partnership between Minnesota and Wisconsin. The 5-mile Loop Trail takes advantage of downtown Stillwater, the St. Croix River, Stillwater's historic lift bridge, rural Wisconsin and the new Highway 36 bridge over the St. Croix.
I hiked it on a beautiful September morning with my mother-in-law LaNea, and sister-in-law Rochelle. We loved it! Here's why:
What We Loved about this Loop Trail
Lots of Parking Options, and More
Because Stillwater can be CRAZY busy on summer weekends, you'll want to plan your outing strategically…or you'll spend way too much time inching your way through town or trying to find parking. I suggest weekdays or early mornings on the weekends for easy parking.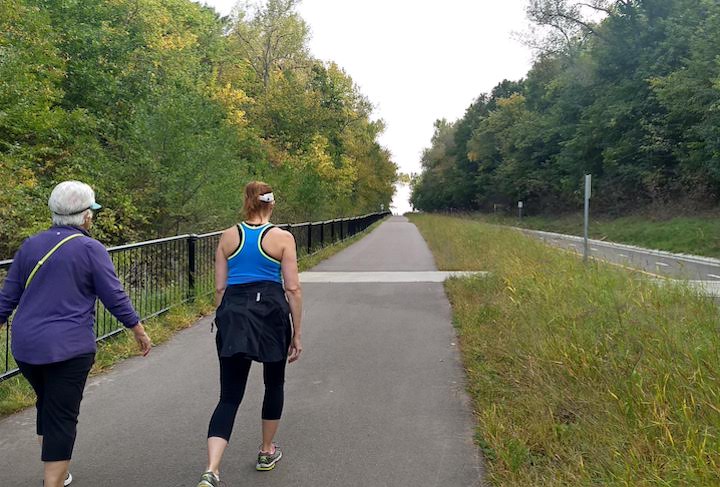 This is a loop so it's easy to start your hike or bike from many different spots. There are parking lots all along the riverfront in downtown Stillwater, or street parking just a couple blocks away. There's a parking lot near the Hwy 95/Hwy 36 interchange just south of Stillwater. There's a parking lot on the Wisconsin side just northwest of the intersection of Hwy 64 (MN 36) and Hwy 35.
There are restroom options, too. A block from the Stillwater side of the lift bridge is a public restroom. Then on the Wisconsin side there's a public restroom building next to the parking area. Both are open, clean and welcome sights.
There's even a self-serve bike repair/tire fill station at the parking lot in Wisconsin. They've really worked hard to make this trail user-friendly!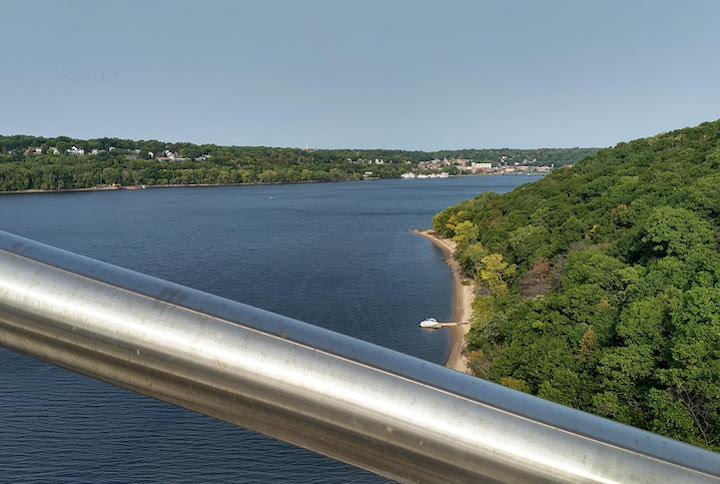 Huge Variety of Scenery
This paved trail is both urban and rural, hilly and flat. Since the river valley is comprised of large hills, it's no surprise there are long uphill and downhill portions. The sections that run parallel to the river are flat, though, for a nice change.
The scenery is both urban—in Stillwater—and rural—the Wisconsin section. You'll cross the St. Croix twice, with great views up and down the river. Unless the river is in flood stage, a short section of the Minnesota side goes right down along the river itself, through mature trees and along 20-foot cliff embankments.
Two Very Cool Bridges
Stillwater's historic Lift Bridge, built in 1931, is now open only for foot and bicycle traffic. Kudos to whoever made the decision to re-purpose this popular icon instead of tearing it down! This trail loop is now another reason to visit this lovely town.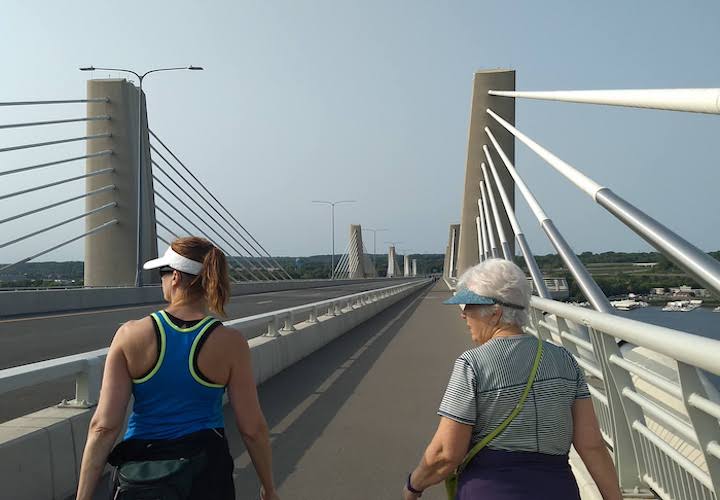 And the new bridge over Hwy 36 is just plain cool. The modern design matches the majestic river it spans. There's a designated lane for bikes and pedestrians that's separated from the rest of the traffic by a cement wall, with several overlook areas.
It's loud though! Even on a weekday morning there was plenty of traffic buzzing back and forth on Hwy 36. If you're walking with others or listening to earbuds, you'll need to turn up the volume for a couple miles.
The Beautiful St. Croix River
The Wild & Scenic St. Croix River is the third of the Big Three rivers in the Twin Cities metro area. It's beautiful no matter what season with its wooded shoreline, lots of water birds, raptors and boat traffic. Both shorelines are lined with mature trees.
And we really get a sense of the size of this river walking across it.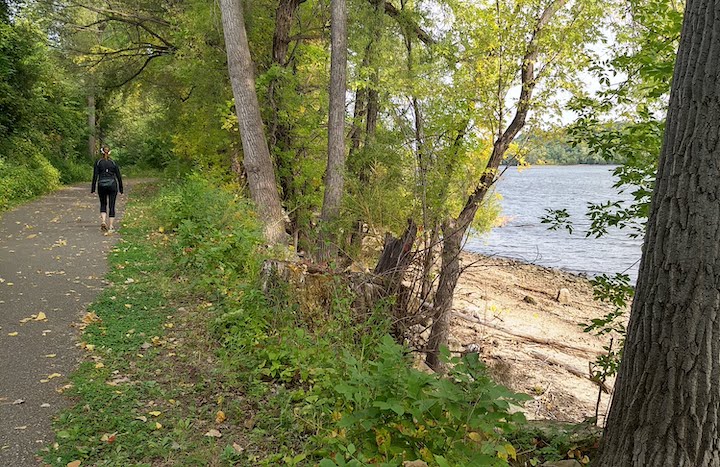 Clockwise or Counter-Clockwise?
On the Wisconsin side, the uphill from the lift bridge is shorter and steeper, while the uphill from the new Hwy 36 bridge isn't as steep but is much longer.
So keep that in mind when you choose which direction you decide to head out. We opted for clockwise, and were happy with that decision.
The one thing the trail planners could've done to make it easier on newcomers is mark the trail intersections better (or at all!). On our clockwise route, when we hit this intersection (Wisconsin side) the trail crosses the street at a 90º angle and continues on, but there's no signage: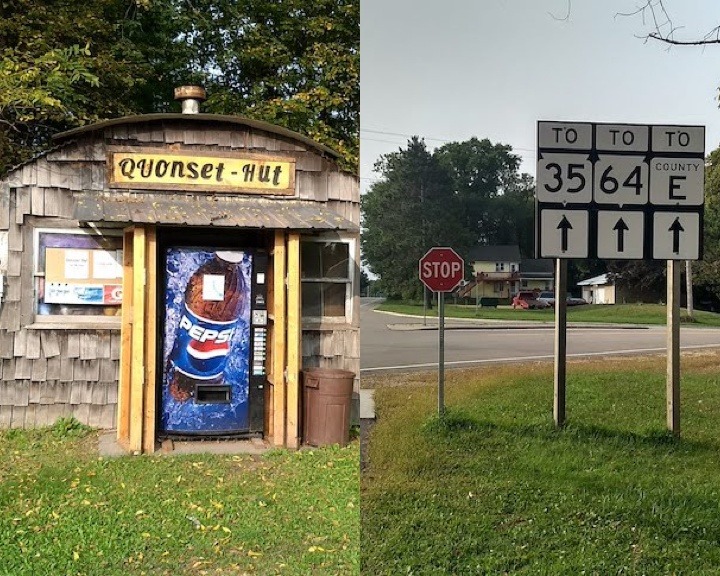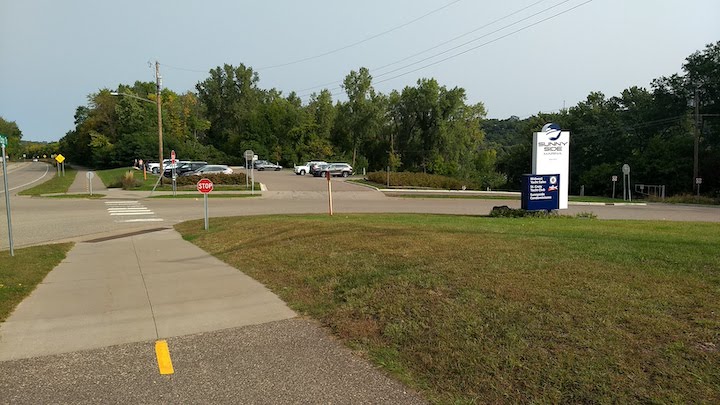 For More Details about St. Croix Crossing Loop Trail
I'm pretty sure I saw a sign by the Lift Bridge that indicates the Wisconsin side won't be maintained during the winter, FYI.
The City of Stillwater does a marvelous job with the waterfront areas. Plan to picnic before or after, enjoy some shopping or get a bite to eat while you're in town.
Rochelle recommends the Daily Grind Coffee Shop for coffee and breakfast sandwiches. I recommend the Oasis Cafe for great burgers and fries for lunch 🙂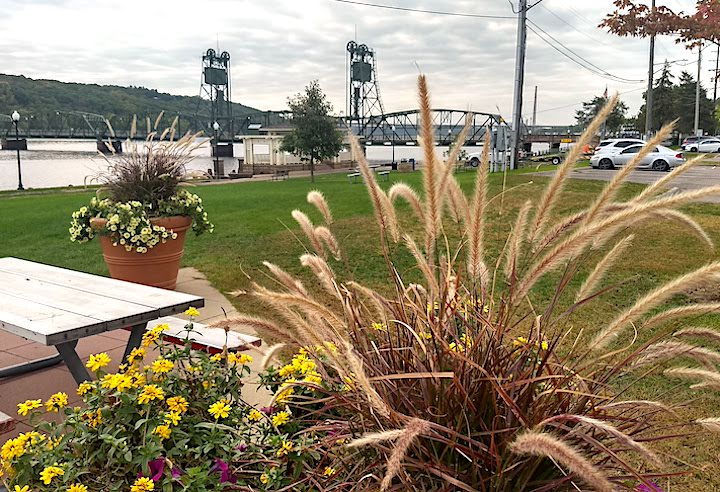 You'll like these, too…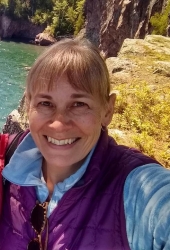 Latest posts by Sharon Brodin
(see all)