Cross country skiing and snowshoeing trails can be found at three of Anoka County's Regional Parks. They may be few, but they're top notch!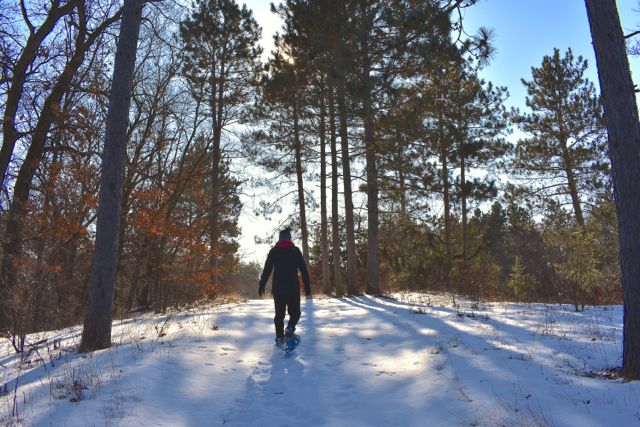 Big news for the 2022/2023 ski season: You'll no longer need a Minnesota ski pass to use the groomed the trails listed here. Along with that change, the Parks department will no longer groom trails at Coon Rapids Dam Regional Park.
While there aren't really any designated snowshoe trails in the county—even at the largest regional parks—snowshoeing is allowed practically anywhere in the parks except on the groomed cross country ski trails.
There's a vehicle fee at all Anoka County Regional Parks. The permit also gets you into Washington County Regional Parks. A great deal!
NOTE: Anoka County measures its ski trails in kilometers (km), not miles.
Here's a look at each:
Anoka Nature Preserve (Anoka)
Just west of the intersection of Bunker and Highway 7 (and the Rum River Library) is the Anoka Nature Preserve. It's tucked between a neighborhood and the Rum River, and the City grooms 3 miles of multi-use trails in the winter.
There are no classic tracks set, but skate skiers are welcome to share the trail with hikers and snowshoers. Details for skiing at Anoka Nature Preserve (scroll down).
Bunker Hills Regional Park & Golf Course (Coon Rapids)
Bunker has, without a doubt, the best skiing in Anoka County. The park grooms 20 km of ski trails (over 12 miles), twice that of the other Anoka county parks. Not only are there many trails through the wooded park itself, but several kilometers are groomed on Bunker Hills Golf Course when the snow base is deep enough.
Trails are groomed for both classic and skate skiing, and there's a skijoring section on the west side of the park (skijoring is when your dog pulls you on your skis). The terrain varies from flat to rolling hills, a small portion of them quite steep.
Snowshoeing and hiking aren't allowed on the ski trails, but you can snowshoe in the park everywhere else. They keep some of the paved trails plowed through the winter for walking and running, too. See the Bunker winter map.
You can rent both ski and snowshoe equipment at the Campground office on the weekends. If you're going to ski and don't have an annual ski pass, you'll need a daily pass which you can buy at the Activity Center Monday-Friday. No pass is needed for snowshoeing.
Chomonix Golf Course (Lino Lakes)
There are 10 km of groomed cross-country ski trails at Chomonix Golf Course (pronounced "Shaw-moh-nee"), part of Rice Creek Chain of Lakes Park Reserve. Terrain is mostly flat, but varied—over the golf course, through the woods, through and alongside prairie with views of frozen George Watch Lake.
Snowshoeing is allowed on the multi-use trails as well as off-trail. And there's plenty of off-trail snowshoeing in the rest of the park reserve (see more below), including the wetland areas once the ice is thick.
Rental equipment is available at the Clubhouse on the weekends. Here's the Chomonix winter map.
Coon Rapids Dam Regional Park (Coon Rapids)
The Park keeps a small portion of their trails plowed for hiking and running during the snowy months. Snowshoeing is allowed anywhere in the park, plus you can walk across the dam and head into (Hennepin County's) Mississippi Gateway Regional Park for more.
Here's the Coon Rapids Dam winter map (which still shows ski trails, as of early January, 2023).
Coon Rapids Dam no longer grooms cross country ski trails.
Green Haven Golf Course (Anoka)
The City of Anoka grooms trails for both classic and skate skiing for 3.2 miles over the hills of Green Haven Golf Course when conditions are right. They ask you not ski there unless the signs are up indicating the trails are open, and then to stay on the groomed trails. Here's more info about skiing at Green Haven and here's what the trail looks like (except, of course, in snow!).
Since they request even skiers to stay on the trails, please don't snowshoe at Green Haven.
Rice Creek Chain of Lakes Park Reserve, Centerville
5,500-acre Rice Creek Park Reserve is adjacent to Chomonix Golf Course (see above), and the Park maintains 10 km of groomed cross country ski trails there. Parking is at the Clubhouse, via Aqua Lane.
While there aren't "official" snowshoes trails, there are many hundreds of snowshoe-able acres waiting for you. Much of the Reserve is wooded, and once the ice is thick enough, there are the lakes and wetlands, too.
Snowshoes and ski equipment are available to rent at the Golf Course Clubhouse on the weekends.
Rum River Central Regional Park, Ramsey
Rum River maintains 8 km of cross country ski trails that wind through mostly wooded terrain with moderate hills. Mature trees tower above the trails—very beautiful! The ski trails criss-cross trails for other foot traffic as well as horses, so be aware.
A small section of their trails are designated for multi-use during the snowy months, including snowshoeing and skate skiing. No foot traffic is allowed on the grooming ski trails. Snowshoeing is wonderful in this park with lots of quiet, plenty of hills for a good workout, and wooded terrain.
You'll see from the Rum Central winter trails map that the ski trails here are "more difficult." Expect some hills with twists and turns.
No rental equipment or ski passes are available here, so you'll need to buy your pass at another location and have your own gear.
Ski Trail Conditions
You can check ski conditions here on the website or on the Anoka County Parks Facebook page.
Twin Cities Ski & Shoe Guide
Published in 2021, our 55-page digital Ski & Shoe Guide is the easiest way to find cross country ski and snowshoe trails in all seven counties of the Twin Cities metro area.
---
Other fun things to do in Anoka County: