Washington County is home to some great canoeing, kayaking and paddle boarding, including several lakes and the beautiful St. Croix River.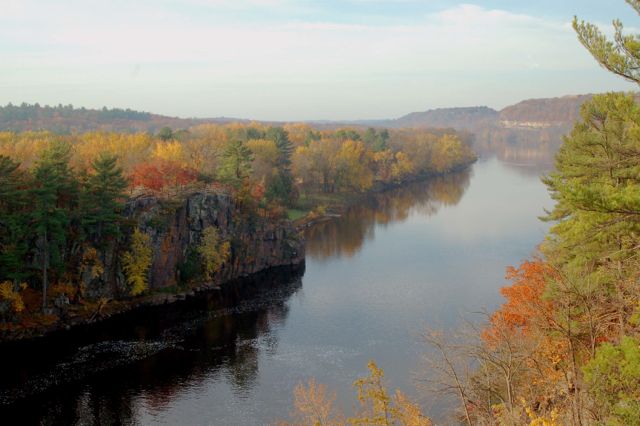 Washington County's Parks & Rec website isn't a fount of information about their parks, including paddling opportunities. But they have a downloadable brochure that's very helpful.
You'll need a daily or annual park pass for all of these state and regional parks. A Washington County Park Pass is also good in the Anoka County parks, so that's a plus. And the Minnesota State Park Pass is, obviously, good for all the state parks.
Afton State Park (Hastings)
In the southeast corner of Washington County is Afton State Park situated on the St. Croix River. There are either one or three watercraft campsites along the River (the website says one, the map shows three!). You can reserve one if you'd like to take an overnight trip—a very cool experience.
There's no boat launch in the Park, but there's a marina in Afton you can use for a fee. Find other area launches here (scroll down to "Boat Access"). Or if you have an inflatable paddle board, you can pack it down to the beach via the hiking trail, a maybe 1/2-to-3/4-mile hike.
You'll need a Minnesota State Park daily or annual pass to get in the park. Here's the Afton State Park map.
Big Marine Park Reserve (Marine on St. Croix)
Big Marine Lake is a popular boating and fishing lake. There are two DNR public accesses (north and south ends) plus the one at Big Marine Park Reserve. Because of a lot of natural shoreline and very clear water it's a great kayaking, canoeing and paddle boarding lake.
Because of its popularity with motor boats, for a quieter paddle and less boat wake, visit early in the day on the weekends or during the week. Keep in mind the bigger boat always has the right of way.
There's a very nice boat launch with two docks and a large parking area at the park. You may have to compete with motor boats to get in and out! Here's the Big Marine map.
Lake Elmo Park Reserve (Lake Elmo)
Lake Elmo Park Reserve has two lakes open to paddling: Lake Elmo (which has a general boat launch) and Eagle Point Lake (canoe and kayak access only). Eagle Point Lake will offer you quiet paddling since there isn't a motor boat launch. Here's the Lake Elmo map.
Lower St. Croix River State Water Trail
The entire St. Croix River is part of the Saint Croix National Scenic Riverway, which also includes the Namekagon River in Wisconsin. The Lower St. Croix is one of two Minnesota state water trails on the river (the other, aptly enough, being the Upper St. Croix State Water Trail).
There's some discrepancy on the Minnesota DNR website as to where this Lower portion starts—one page says at Highway 70, another page says at Taylor's Falls (Highway 8).
Regardless, this designated Wild & Scenic River portion is super scenic. It includes the 200-foot palisades just downstream from Taylor's Falls (which you'll portage around unless you're a whitewater paddler!).
It's relatively easy to paddle upstream on the St. Croix, so you have a couple paddling options: You can choose a one-way trip with a vehicle at your exit point, or paddle upstream from your launch point and float back down for an out-and-back trip. The palisades near Minnesota and Wisconsin's Interstate Parks is especially scenic, and some of our state's best paddling.
Square Lake County Park (Stillwater)
Square Lake has some of the best water quality in Minnesota, so this small county park is focused on water activities: kayaking, canoeing and stand-up paddle boarding. The lake is open to motor boats, too, but there are wake restrictions. A nice boat launch next to the beach makes it entry easy, although you have to park up the hill a bit and walk back down. Not a biggie.
This lake and beach is very popular, so visit during the week if you can, or get there early on summer weekends so you can find a parking space. There's no PDF map available, but here's the Square Lake park Google map.
St. Croix Bluffs Regional Park (Hastings)
St. Croix Bluffs Regional Park has a boat launch into a protected inlet that takes you right onto the beautiful St. Croix River. Be aware of water levels and the force of the current, as it'll vary depending on the time of year and amount of recent rainfall.
There are rustic campsites along the shore, which get heavy use during summer weekends. Reservations are recommended! Here's the St. Croix Bluffs map.
William O'Brien State Park (Marine on St. Croix)
The other state park in Washington County, William O'Brien, is also on the St. Croix River and offers wonderful paddling.
The Park has one of the longest rental seasons around, from mid-May to mid-to-late-October. In the summer they even offer shuttle service on the weekends. Here's a short video from the Park Service that gives you a glimpse: Paddling the St. Croix (scroll down a bit).
Here's the William O'Brien map.
Twin Cities Paddling Guide
Published in 2020, our 52-page digital Paddling Guide is the easiest way to find local lakes and river trails in all seven counties of the Twin Cities metro area.
---
Other fun things to do in Washington County: