Marine on St. Croix/Washington County • State Park Pass needed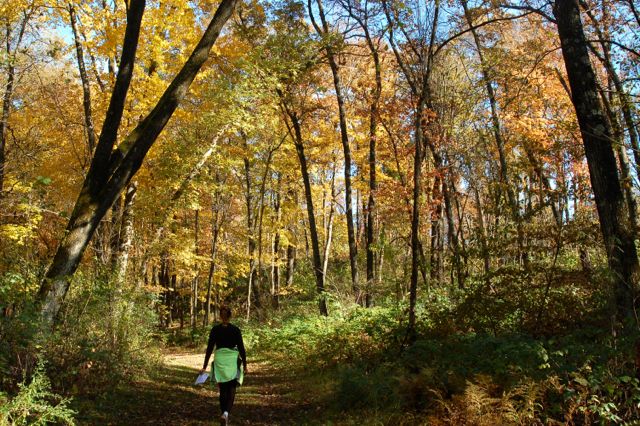 Hiking at William O'Brien State Park offers a wide variety of scenery and terrain, as well as a great workout. There are some good-size hills out there!
From flat marshland to rolling prairie to tall hardwood forest, past a beaver pond and a small lake. We went on a gorgeous fall day and enjoyed a gorgeous hike. Since it was a weekend there were just a handful of other folks out there.
Hiking the Woodland Edge Trail
My tour guide for our hike, my sister-in-law Rochelle, knows this park well, as it's practically in her backyard. She's spent hours here over the years trail running and cross country skiing. (You'll understand what a feat that is when you come here—it's those hills again!)
She chose the Woodland Edge Trail for us—a good 5-mile hike in this 2,200-acre State Park.
The trailhead starts at the Interpretive Center (see the map) not far from the park entrance off Highway 95. You can see on the map the dotted trail overlaid with gray—that's the route we took.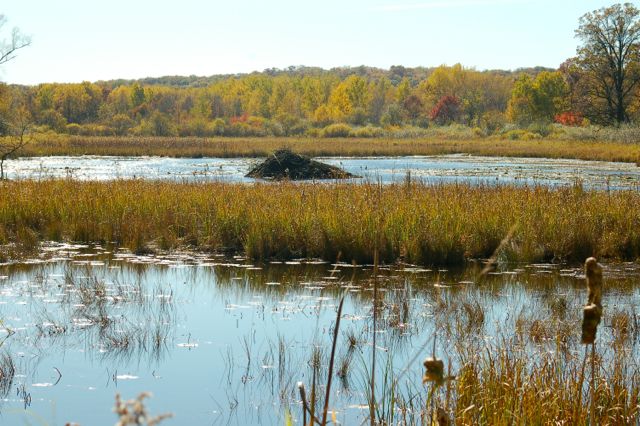 The Wetlands Trail passes the well-known beaver lodge and unites with the Woodland Edge Trail for a full circle around. Much of the trail is mowed grasses, some out in the open, some alongside and amidst woods.
The autumn colors were rich and varied. Sometimes it's fun not just to notice the grandeur of everything, but also the little details. Like this birds' nest, now abandoned for the season: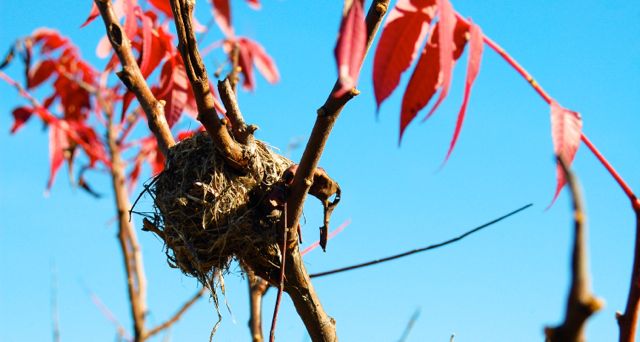 As you get to the far west side of the trail loop, the elevation gains until you reach the highest point of the trail. Turn, and you'll overlook William O'Brien. That's got to be a beautiful sight any season of the year.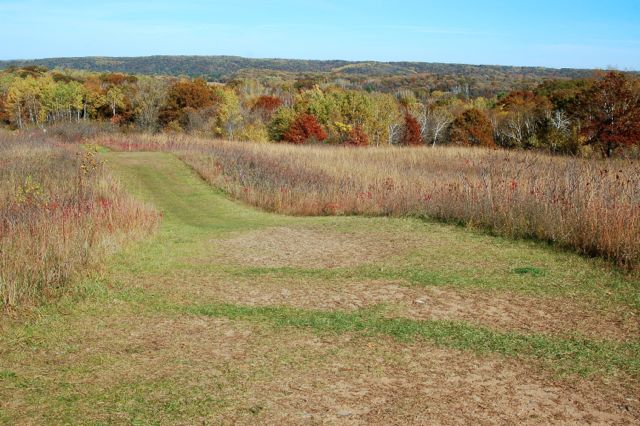 Coming back down and then east, we gradually entered my favorite part. I like to think of it as the "magical canopy section" (see the header photo at the top). Tall trees with their mostly-golden leaves bent over the trail on both sides forming a canopy of color. The trail below was covered with leaves, too, with a few more wafting gently down in the light breeze. The epitome of fall.
What Else is at William O'Brien?
These great hiking trails are well-maintained and challenging cross country ski trails in the winter. And there's a lovely campground right on the St. Croix River on the other side of 95 (that's on the map, too).
From the same parking area by the Interpretive Center, you can hike Riverside Trail. It loops through the campground and follows the shore of the river for quite a ways. Very beautiful, too.
There aren't that many natural-surface hiking trails this long with this variety in the Twin Cities area. William O'Brien offers some of the best.
Click here for more hiking trails in Washington County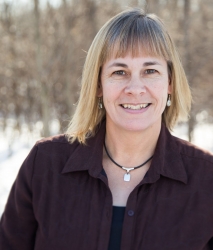 Latest posts by Sharon Brodin
(see all)