The best paved-trail biking in Washington County are its two state trails—and those are very nice. The county's parks offer some limited biking, with Lake Elmo sporting the best mountain biking in the county.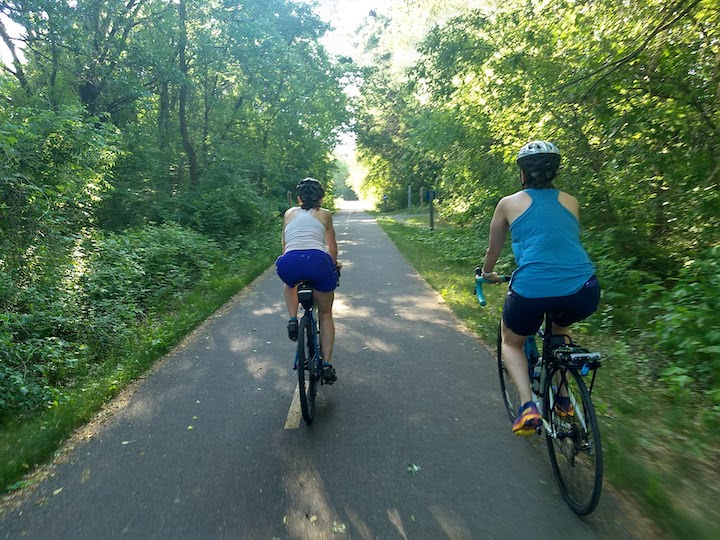 Washington County doesn't have a ton of information on their website about their parks, but they have this brochure which has some good info. Biking isn't a thing at either Afton or William O'Brien State Parks, which is why they're not listed here.
NOTE: You'll need a Washington County vehicle permit for the regional parks (which is also good for Anoka County's regional parks).
Big Marine Park Reserve (Marine on St. Croix)
There's very little biking at Big Marine Park Reserve, as most of it is designated for preservation. The 1.5 mile paved trail would be great for families with young kids, though. Make a day of it with a bike ride, beach time and a picnic. The trail isn't maintained during the winter. Here's the Big Marine map.
Brown's Creek State Trail (Grant to Stillwater)
Lovely 6-mile Brown's Creek State Trail is a paved trail that's open to foot and bike traffic. The trailhead on its west end intersects with the Gateway State Trail. Its east trailhead is next to the Stillwater Marina.
Much of this trail goes through mature forest so there's plenty of shade for hot summer days. The lower half runs alongside Brown's Creek before turning alongside the St. Croix River and heading into Stillwater. It's not maintained during the winter months. Here's the Brown's Creek map.
Cottage Grove Ravine Regional Park (Cottage Grove)
There are 4 miles of paved bike trails in 515-acre Cottage Grove Ravine Park, and since it's not a loop it's easy to make it 8 miles. There are plenty of hills here, and a mix of forest and open prairies. You might get snatches of St. Croix River views, depending on what time of year you're there. The trail is not maintained during the winter. Here's the Ravine map.
Gateway State Trail
18-mile multi-use Gateway State Trail runs through Ramsey and Washington Counties. Alongside runs 10 miles of unpaved trails for horses. One trailhead is in Pine Point Regional Park near Stillwater and the other is in urban Saint Paul.
It connects up with the Brown's Creek State Trail at Duluth Junction if you'd like a detour into Stillwater. Here's the Gateway map.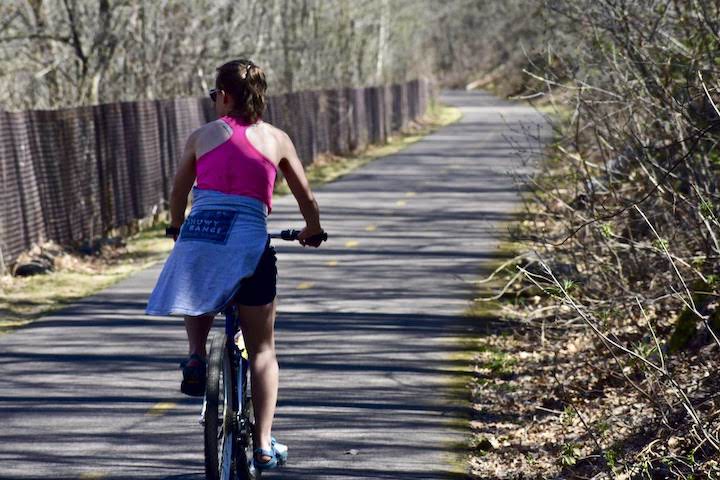 Hardwood Creek Regional Trail (Hugo, Forest Lake)
While not the most peaceful trail you'll ride as it's right next to Highway 61 the entire 10 miles, it's better and much safer than riding on the highway's shoulder!
This is a multi-use and pretty heavily-used trail, so you'll be sharing it with others. It's not maintained during the winter. Here are the details.
Lake Elmo Park Reserve (Lake Elmo)
Lake Elmo Park Reserve has 5.4 miles of paved trails in its 2,000+ acres with lots of lakes views and hills. Then there are 14 miles of shared turf trails that are open to mountain bikers. Again, plenty of lake views and hills, along with open prairie and forest.
Lake Elmo is one of the few parks in the county where biking is open during the winter. A little over 3 miles of the paved trail is kept plowed while 7 miles of the turf trail is packed for fat bikes and other uses. Here's the Lake Elmo summer map and here's the Lake Elmo winter map.
Pine Point Regional Park (Stillwater)
Pine Point Regional Park is a peaceful natural area with forest, lakes and marshes. There's just 1.5 miles of mountain biking in the park (great for kids starting out?). The main draw for bikers here is that's it's the east trailhead for the Gateway State Trail. Here's the Pine Point summer trail map.
The singletrack trail on the park's east side is open to fat tire biking in the winter. Snowshoers and winter hikers are welcome there, too. Here's the winter map.
Point Douglas Regional Trail
Point Douglas Regional Trail is a 2.5-mile paved trail (5 miles out-and-back) that starts in Point Douglas Park, at the confluence of the St. Croix and Mississippi Rivers. It runs into downtown Hastings. From there you can connect with the Dakota County Regional Trail system. You'll get lovely views along the Mississippi River. It's a great trail for families! Here's the map.
St. Croix Bluffs Regional Park (Hastings)
St. Croix Bluffs Regional Park isn't a great biking destination. There's just 1 mile of paved bike trail from the entrance to the campground. That might be a draw for families who want to camp there with young kids! In the winter that trail is groomed for cross country skiing. Here's the summer map.
Twin Cities Biking Guide
Published in 2020 and updated in 2023, our 54-page digital Biking Guide is the easiest, most convenient way to find bike trails in all seven counties of the Twin Cities metro area.
---
Other fun outdoor activities in Washington County: