Stillwater/Washington County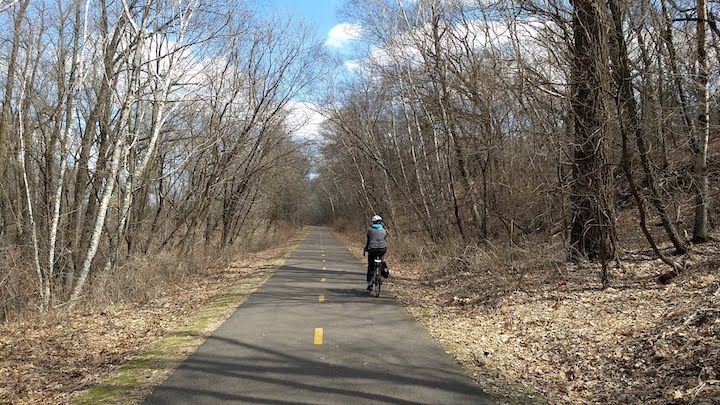 Brown's Creek State Trail is a 6-mile paved multi-use trail with trailheads at Gateway State Trail near Grant, and in downtown Stillwater.
This trail is a great example of why Twin Cities Outdoors exists: There are so many wonderful outdoor places in the Cities that most of us know nothing about! Or if we've heard of it, we haven't taken the time to check it out.
I've lived in the Twin Cities since 1978 and rode this trail for the first time 4 days ago. I've been missing out all these years!
This 6-mile stretch (making a 12-mile out-and-back ride) on the east side of the metro is well worth your time and effort. My sister and I met at the Grant trailhead with our bikes to try it last week.
What's to Love about the Brown's Creek Trail
I don't know about you, but when I hear "Stillwater" I instantly think of long, steep hills. I was a bit worried I'd have to tackle one of these to use this trail. Thankfully, this isn't the case!
I'm a fair weather biker—I enjoy it if it's a beautiful route, without much wind and I don't have big hills to contend with. I'm happy to report that this trail is entirely doable for someone who's in reasonable shape.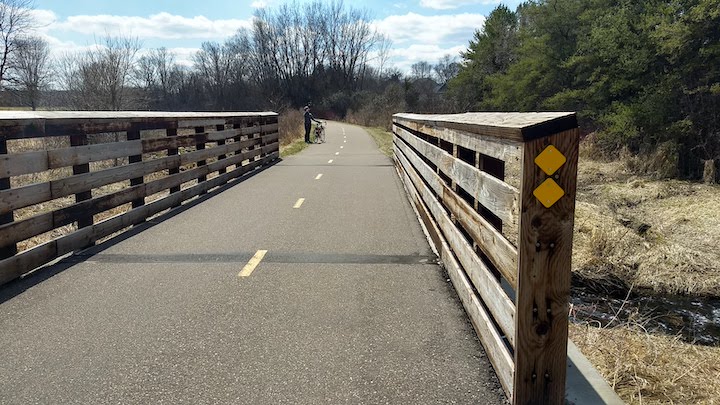 This Trail is Super Scenic
Keep in mind our ride was last week: mid-April, no leaves on the trees, the grass just starting to green up, even patches of snow here and there. Lots of brown everywhere. I used to think there was no beauty in this early spring season.
One thing I've learned about spring outings, though, is that we can really see into the woods to get the lay of the land. Since there are no leaves to cover things up (and very little pine or evergreen) we could see the hills, Brown's Creek and the St. Croix River in Stillwater.
I've learned to appreciate this time of year more than ever in the past few years.
Trees line almost all of this trail. Summer would be mostly shaded. I can imagine how beautiful it is in the fall, riding through large tunnels of autumn color.
It's especially dramatic the couple of miles closest to Stillwater. The creek is way below the trail in a ravine while the hills on the other side either rise steeply up or steeply down. But the whole 6 miles is lovely.
The Perfect Length for a Recreational Bike Ride
For serious bikers, 12 miles is just a short jaunt. But for those of us who are purely recreational riders, 12 miles is a nice length.
If 12 miles seems way too long, consider parking at the Coldwater Stop, mid-way through (here's the map). Then pick a section for a shorter out-and-back. If you have younger children or simply don't want to go as far, this is a great option.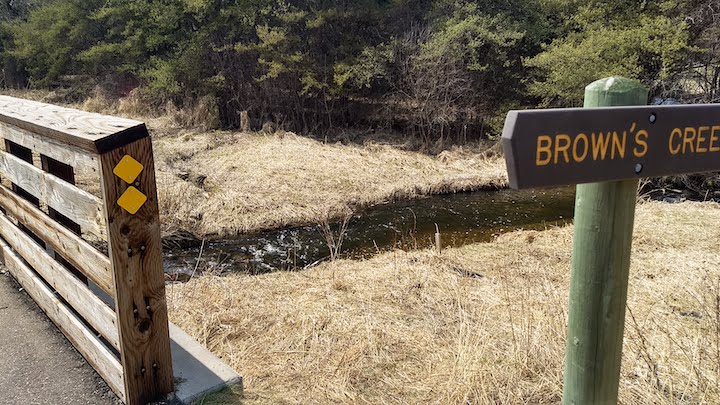 A Few Things to Consider
Which end to start on? It DOES make a difference!
Which Half Do You Want for Your Uphill?
As I already mentioned, there are no intimidating hills on this ride. However, you should know that from Duluth Junction (the west trailhead) to Stillwater (the east trailhead), the entire trail is a gradual downhill. That was easy to tell from the amount of coasting we could do!
And, of course, that means the entire trail from Stillwater westward is a gradual uphill.
(Here's the map for reference, although it doesn't show topography.)
So you'll need to decide whether you want the first half of your ride to be uphill, or the second half.
That said, we didn't know that and started at Duluth Junction. My sister bikes a lot more than I do, but even I was able to handle the second half as our uphill portion. Yes, my legs felt like Jello when we were done! But it was easily manageable for me. (I walk/hike 3+ almost every day, strength train a couple days a week, and bike occasionally…FYI.)
If you park in Stillwater and head up from there, then you'll ride the hardest part first, and be able to coast most of the way back. You'll also be able to hang out in this great little town when you're done.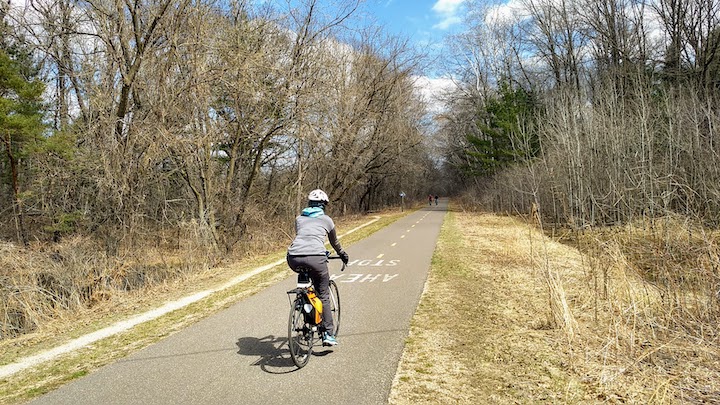 This Trail is Too Pretty to Fly Through
One of the reasons I love hiking is because it's slow and you can take your time and really see the beauty around you.
Biking is a different animal. You can fly down the path to get your workout or get to your destination, but there's a lot of things we're missing on the way!
There are several areas along the trail with a bench or pull-off that are worth stopping even if you don't need a breather. A quaint old stone bridge…deep ravines on either side (when you really can't pull your eyes off the trail for too long!)…Brown's Creek meandering along…a little waterfall over the rocks.
This is a good trail to take your time on so you don't miss seeing these things and enjoying them.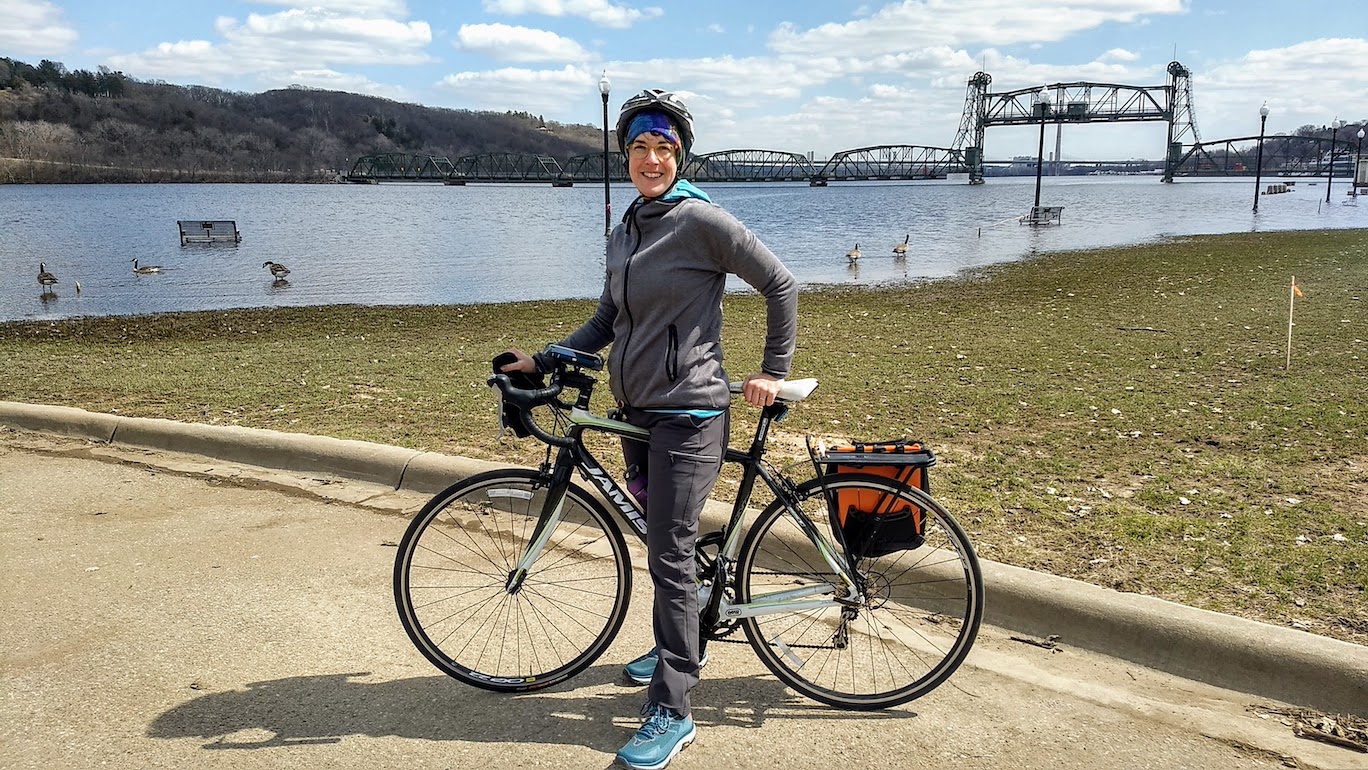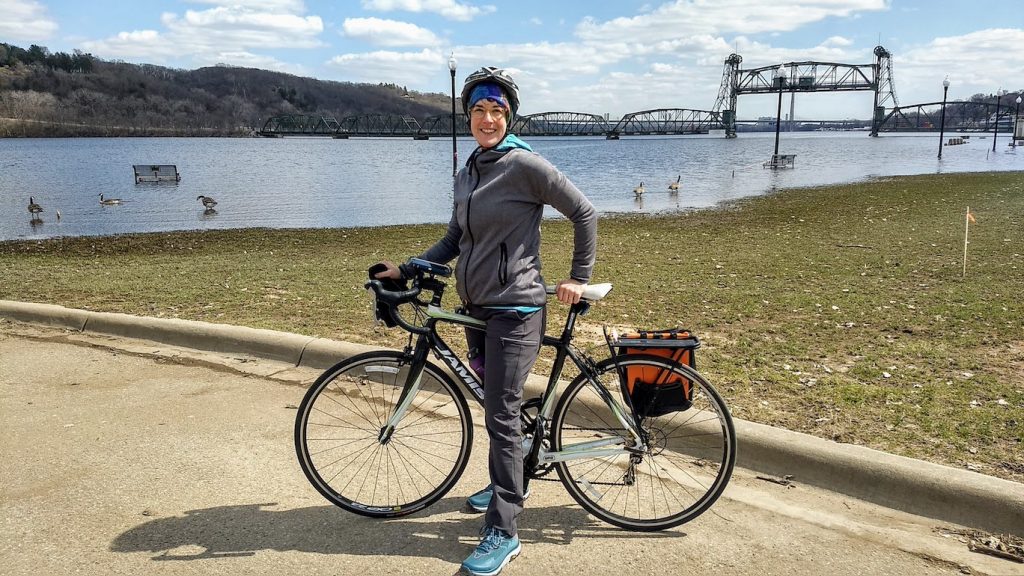 This is a Multi-Use Trail
It could've been because we're still under the coronavirus isolation season, but this trail was very busy on a Friday afternoon. Lots of bikers, hikers, runners, a couple roller skiers. And there's a horse trail next to the paved trail on the west end—literally next to it, in portions.
Be courteous and aware of those around you!
How to Get There
If you decide on the west trailhead, use the small parking area at Highway 96 and Dellwood Road in Grant (labeled Duluth Junction on the map). You'll hop on a teeny section of the Gateway Trail to get to the trailhead, just up the hill.
Coldwater Stop is off Neal Avenue at Brown's Creek Park. It's slightly closer to Stillwater than halfway.
The east trailhead is at Stillwater Connection, right by the marina on the north end of town. There's parking there, too, lots of it.
If you don't frequent Stillwater, this town is BUSY on weekends throughout our late spring, summer and fall seasons! Highway 95 going through downtown gets super congested, down to a crawling pace with all the traffic and pedestrians.
Consider approaching Stillwater from the north end instead of via Highway 36. Also consider coming earlier in the morning if you'll be biking this trail on the weekend during the busy season.
That way you're sure to find a parking spot close to the trailhead.
Happy biking!
You'll like these, too…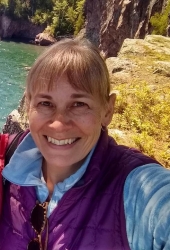 Latest posts by Sharon Brodin
(see all)