The goal of Twin Cities Outdoors is simple:
To be the go-to source for Twin Cities residents and visitors to find parks, trails, waterways and campgrounds for nature-based, human-powered outdoor recreation.

What We Believe
We believe being in nature often—and especially being active in nature often—adds a wonderful dimension to whole-person health.
We believe it's important that families spend time together in nature—building memories, having fun things they do together. Of course, this can go beyond nuclear families to extended families, friends and co-workers. The bottom line is:
Human relationships are strengthened when we build memories and have fun together in healthy ways.
We believe it's important for the older generation to pass on the love of the outdoors to the next generation. That can mean children, grandchildren, nieces, nephews, neighbors, friends or students.
We believe learning is a life-long privilege and pursuit. So there will be lots of educational content here on TCO.
And we believe in connecting people to places and organizations that might be meaningful for them. There will be some local independent small business profiles on TCO, too—businesses and non-profits that are in the outdoor industry or use the outdoors to serve people.
About Sharon
Hello there, I'm Sharon Brodin and I'm the founder and publisher of Twin Cities Outdoors.
The idea seeds for TCO were planted in me in July of 2017. For six months I researched, wrote, went on field trips, recruited my daughter, sister-in-law and future daughter-in-law to go with me to check out parks, took pictures and wrote and researched some more.
The TCO website officially launched on January 31, 2018. (And I still recruit my family plus a bunch of friends—many of them are in the photos on this website!)
Twin Cities Outdoors is under the banner of my business: Brodin Press LLC: BrodinPress.com—My "day job" site. I write and design marketing content for small businesses and non-profit organizations. Things like blog posts, newsletters, ebooks, websites, press releases and brochures.
I've been married to my husband Nick since 1992. We have three grown children, one son-in-law and one grandson with another grandchild on the way. They all live within 10 miles of us which I'm extremely grateful for! We get to see them all often.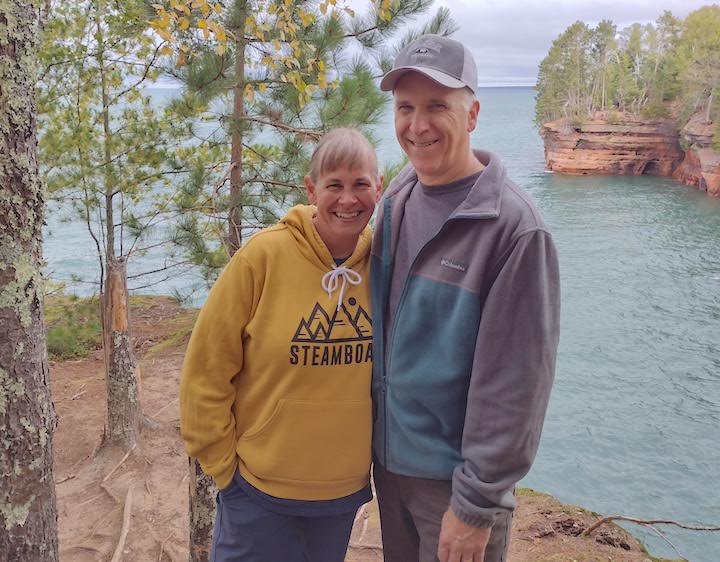 I followed—for these days—a rather unorthodox career path over my adult life. My college degree was in music, but my first full-time job experience was with the Billy Graham Evangelistic Association when their headquarters was on Hennepin Ave downtown.
I worked in a few different roles there over five years, with my final position in the marketing area of their film branch where I started to learn graphic design and copywriting on-the-job.
I raised our kids full-time at home which included homeschooling all three of them from K-12. That was an incredibly fulfilling time of my life. During those years I kept up with some freelance writing and design work, taught piano lessons in our home for 22 years and served as our local church's worship director for 18 years.
I started to pursue independent content writing and design again when our youngest was in high school, about 2014.
When I'm not working or with family or friends, I'm probably reading, playing my piano, at my local church (often playing their piano!), outside doing something fun or traveling.
Thanks for checking out Twin Cities Outdoors!