Dakota County offers many miles of both cross country skiing and snowshoeing. A lot of the terrain here is wooded with rolling hills, so it's a beautiful destination, too!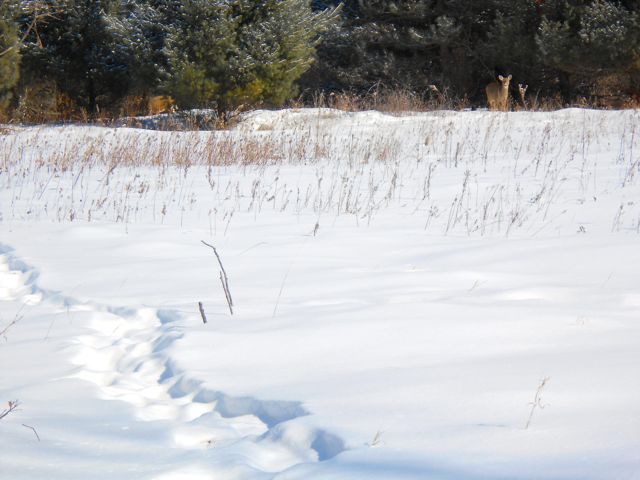 There's no fee to get into the parks or to snowshoe, but Dakota County has its own ski pass for use in its parks. The Minnesota Ski Pass isn't necessary or valid. Get info for your Dakota County ski pass here…
NOTE: Dakota County measures its skiing in miles, not kilometers.
Lake Byllesby Regional Park (Cannon Falls)
This little park in the Cannon River valley and next to Lake Byllesby has 3 miles of multi-use trails for snowshoeing, winter hiking, skijoring, dog sledding and skate skiing. Here's the winter map.
Lebanon Hills Regional Park (Eagen/Apple Valley)
2,000-acre Lebanon Hills maintains 12 miles of groomed cross country ski trails.
Trails for classic skiers start from three different trailheads: Jensen Lake, Holland Lake and the Visitor Center. These trails wind through mature woods and along several lakes on moderately hilly terrain. 

Skate skiers, your spot is the West Trailhead, where you'll find groomed skate trails amid the hilly, wooded mountain bike trails.
10 miles of snowshoeing and winter hiking trails also run through this East Sector of the park and another 4+ miles in the West Sector's singletrack (mountain bike) park. This makes Lebanon Hills one of the best snowshoe destinations in the metro area if you like to stick to trails. Of course you're also welcome to snowshoe off-trail.
Rental equipment for both skiing and snowshoeing is available at the Visitor Center. You can buy your ski pass there, too. Here's the Lebanon Hills winter map.
Lone Rock Trail (Rosemount)
The Lone Rock Trail is part of the Vermillion Highlands—2,822 acres in Rosemount that's owned and managed by the U of M. Ski trails for both classic and skate are groomed in cooperation with Dakota County. No ski pass is needed. Here's the Lone Rock map.
Ritter Farm Park (Lakeville)
Ritter Farm Park offers about 10 km of groomed cross country ski trails for both classic and skate skiing. here's a map of the trails. Here's the map of Ritter Farm's trails. Note that some of the trails are for snowmobiles, not skiers.
Spring Lake Park Reserve (Hastings/Rosemount)
Spring Lake maintains both classic and skate cross country ski trails in the winter, about 5 miles total. There are also another almost 3 miles of snowshoeing/winter hiking trails in the Reserve. Here's the Spring Lake winter map.
Whitetail Woods Regional Park (Farmington)
Whitetail Woods is another great place to ski or snowshoe—over 5 miles of trails for snowshoeing and over 6 miles of groomed cross country ski trails. The terrain is rolling hills with a mature oak forest and frozen wetlands. The trail system can be accessed directly from their camping cabins, fyi for you winter campers! Here's the Whitetail Woods winter map.
Thompson County Park (West St. Paul)
This little bitty park has almost 2 miles of snowshoeing and winter hiking trails if you can get away for a quick jaunt. Thompson winter trail map here.
Miesville Ravine Park Reserve, Miesville
1,600-acre Miesville Park Reserve has a small section with a little over 2 miles of wooded snowshoeing trails in two separate loops. The north loop follows Trout Brook, which stays open most of the winter. The south loop follows the Cannon River a little ways. A very picturesque winter setting! Here's the Miesville winter map.
---
For more winter trails information, see Dakota County Parks ski page and Dakota County Parks snowshoe page.
Ski Trail Conditions: Call 651-438-4636 or check online.
Twin Cities Ski & Shoe Guide
Published in 2021, our 55-page digital Ski & Shoe Guide is the easiest way to find cross country ski and snowshoe trails in all seven counties of the Twin Cities metro area.
---
Other fun things to do in Dakota County: