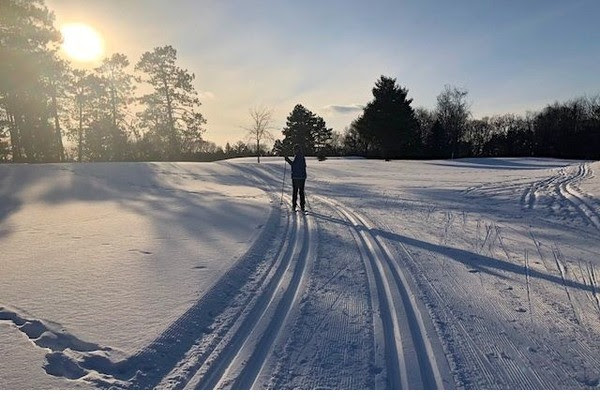 We have snow! I hope this means it's going to be a snowy winter, because good snow gives us so many fun reasons to get outside:
Snowshoeing…skiing…winter hiking…fat biking…even winter camping for the truly hardy types!
Where to go here in the Twin Cities?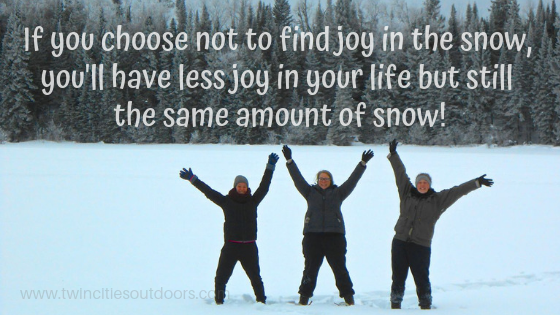 A friend of mine posted this on Facebook (with a different background). I laughed out loud, and couldn't resist borrowing this line to use here, with my own fun photo.
I was born in the middle of January in a prairie town in Saskatchewan, almost 54 years ago. It was 42º below zero that night (Fahrenheit). I've always said that's probably why I love winter so much!
In my experience, Minnesotan's either love snow or hate it. I've found the more fun things you do outside in the winter, the more you look forward to it!
Our snow-based outdoor rec options here in the Twin Cities are many:

1. Cross County Ski

Also called nordic skiing, cross country is downhill skiing's more affordable cousin! It's also quieter, more peaceful, is a super workout and can be just as adventurous, depending where you ski.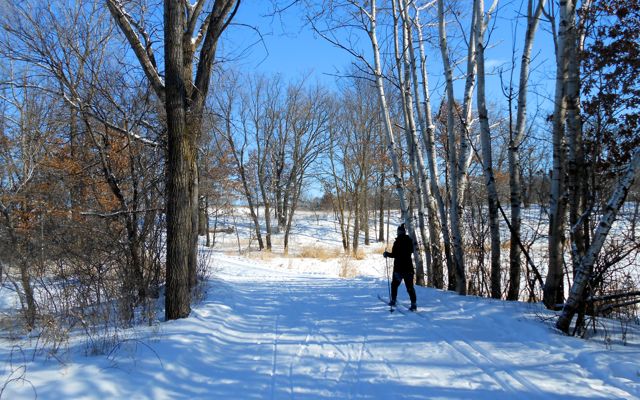 The Cities' regional parks that have groomed trails also rent equipment, at least on the weekends. And it's cheap—less than $10 per person for a full package. You'll also need a ski pass (which kind depends where you ski) and maybe a park pass.
The maps of each park's ski trails will be coded so you'll know the difficulty level of each trail.
If you have your own equipment, you're not limited to just groomed trails. A friend of mine skis on her lake every day in the winter.

2. Snowshoe

Honestly, we don't get enough snow here in the Cities to warrant using snowshoes on groomed trails. (Hopefully this winter will prove me wrong!)
So this is the perfect time to head off-trail into areas you can't go the rest of the year. Marshes, lakes, open prairie (no worries about damaging plant life), woods.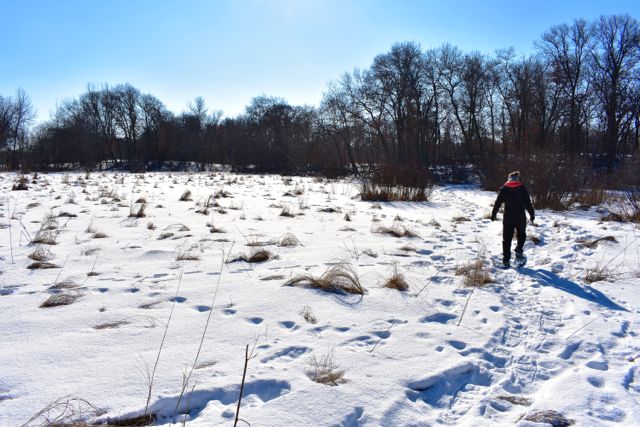 Of course you always want to be sure the ice is safe before stepping out. Here are the MN DNR's ice safety guidelines. (We're at about 6 inches here already.)
Again, many of the parks are starting to rent snowshoes as it's gaining popularity. And if you head over the the Visitor Center at Minnesota Valley National Wildlife Refuge (across the road from the Mall of America), you can use a pair for free!
3. Fat Bike

Lebanon Hills and Elm Creek open their single-track bike trails to fat tire biking all winter long.
If you haven't heard of it yet, fat bikes have tires that are really wide and great in snow. It's another way to get outside in the snow for some invigorating exercise!
(In fact, my mountain-biker brother in Colorado loves fat bikes so much he uses his all year around!)
Pilot programs are starting to pop up (like this one in Anoka County) and more and more places will have them available for rental, too.

4. Winter Hike

Of course you can hike without snowshoes in the winter, too, especially in normal snowfall years.
Lots of the parks keep some of their trails open for hiking all winter. As long as you have the right winter gear, you'll stay plenty warm.
I recommend YakTrax for the bottoms of your boots or winter running shoes—they work!
5. Winter Camp

There are also a few "real" winter camping options around. I'm saving this topic for another time!
I did this once in 7th grade. That was enough for me! I like to be warm when I sleep. Of course a camping cabin with heat is different story, and there are those in the area.
Read: Winter Camping in the Twin Cities
Have fun out there!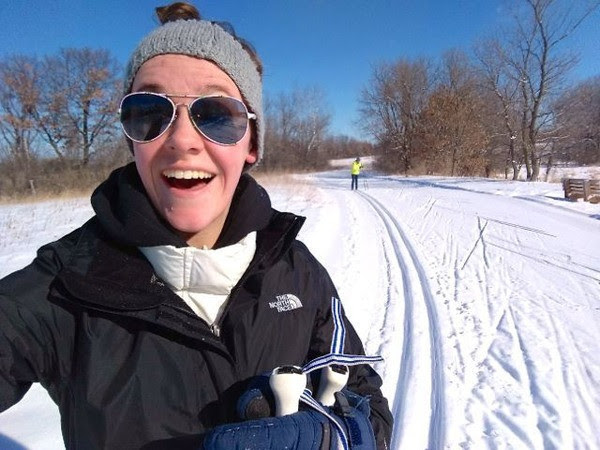 Twin Cities Ski & Shoe Guide
Published in 2021, our 55-page digital Ski & Shoe Guide is the easiest way to find cross country ski and snowshoe trails in all seven counties of the Twin Cities metro area.
You'll like these, too…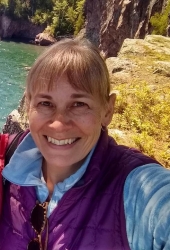 Latest posts by Sharon Brodin
(see all)