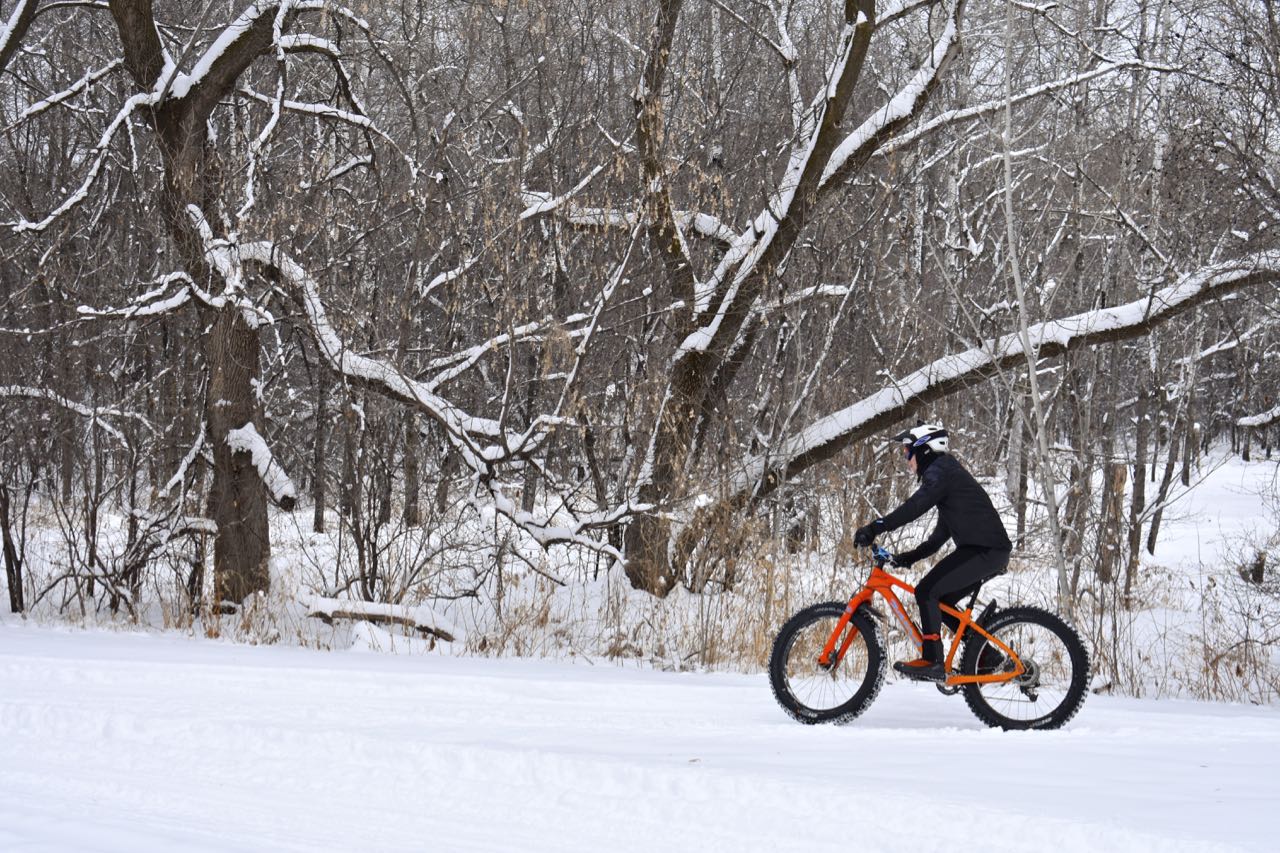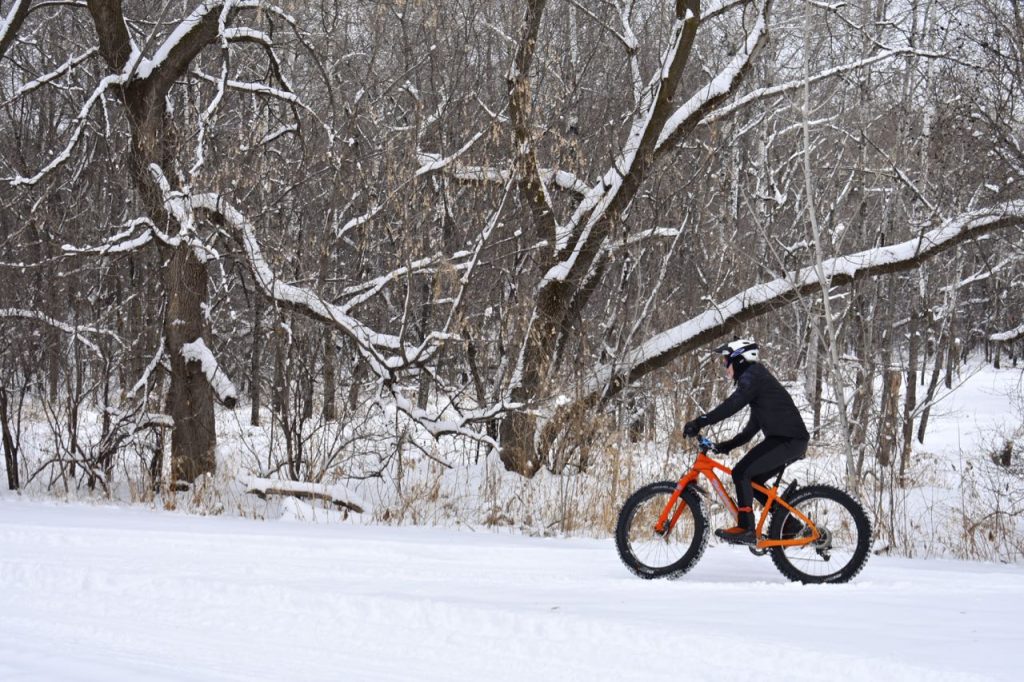 There's no need to hibernate during our wonderful Minnesota winters! There's so much great cold weather gear out there that'll keep you warm, even in our next Polar Vortex!
When you buy from reputable brands, you can be sure your gear will last for years—especially jackets, coats and pants. In fact, you'll probably be tired of the style and color long before it wears out.
For that reason, buying used is always a great way to start. We've found amazing deals on top-quality brands at garage sales, thrift stores and Ebay.
The Two Most Important Factors in Staying Warm in the Cold
There are two main things to think about when we talk staying warm in our cold winters:
Insulation
I'll admit it, my favorite type of insulation is down. It's just so light. These days we can find down jackets and coats for about every temperature level, from 30s down to minus-whatevers.
There are other insulations too, though, both natural and synthetic—with more synthetics being developed all the time.
How much insulation do you need for which temperatures? It depends on your internal thermostat. I can get by with my lightest "packable" downs from the 30s down into the teens. I'll change my base layer as the temps change.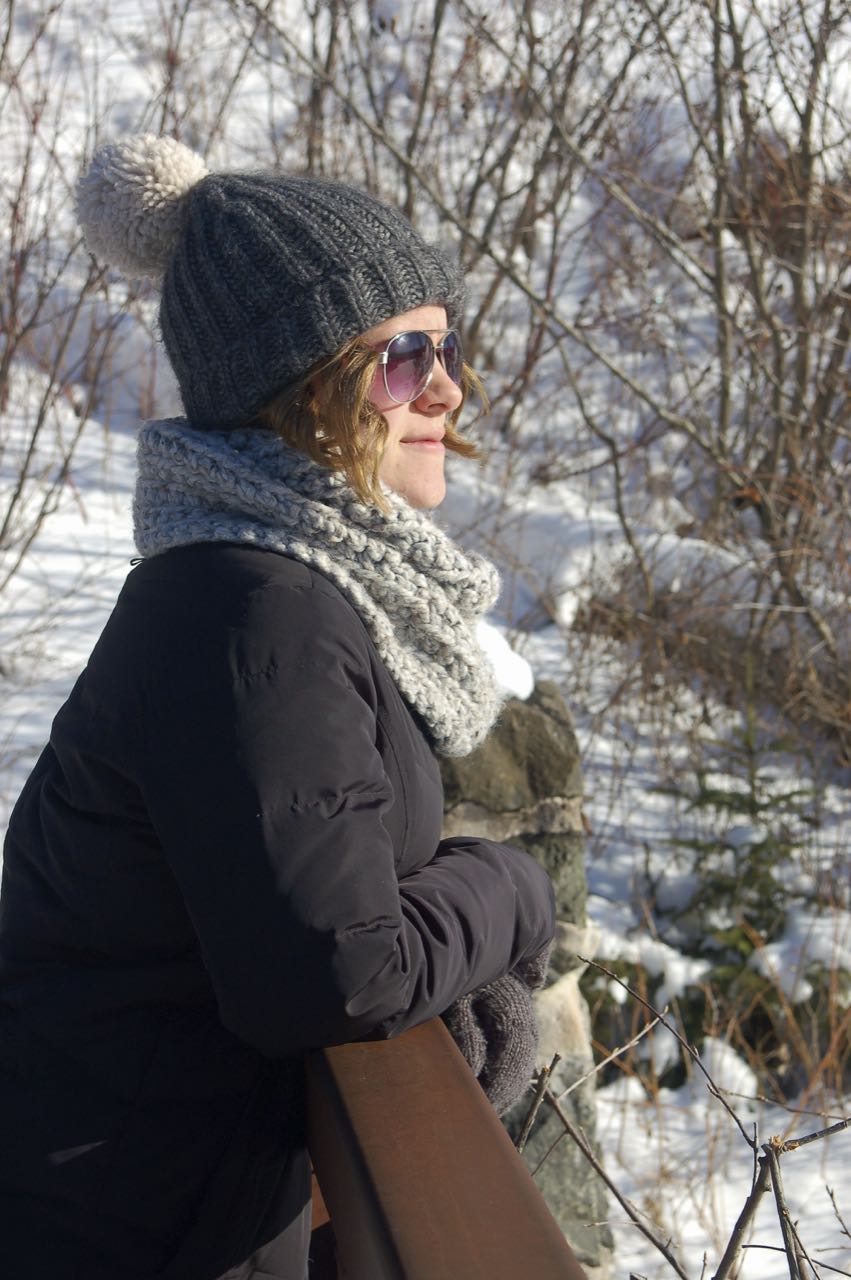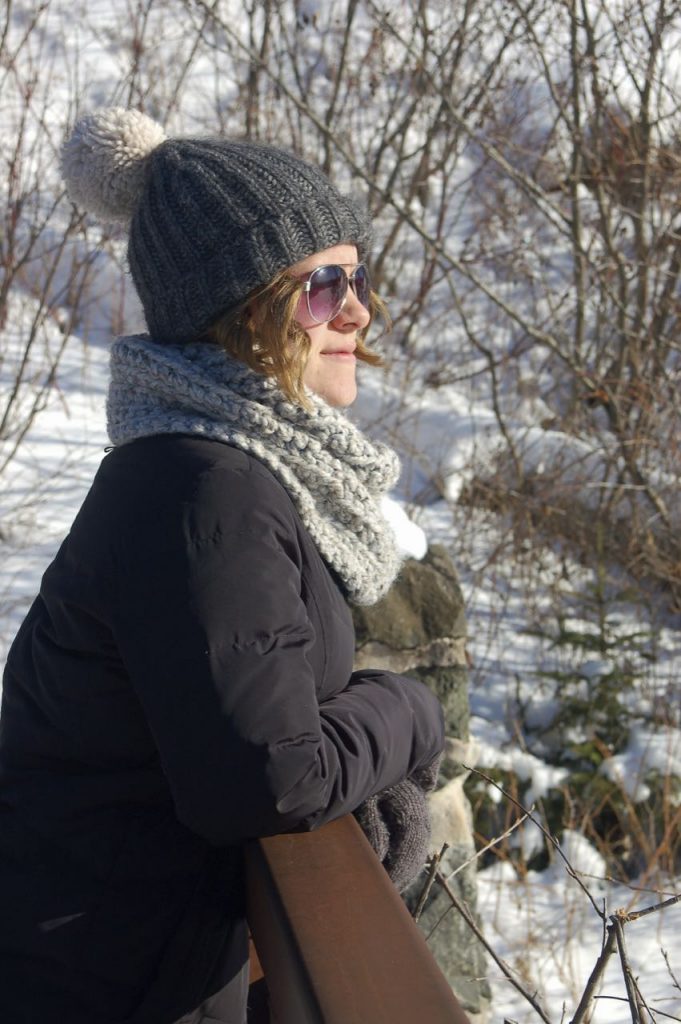 Wind Resistance
The second main factor in dressing for the cold is wind resistance. The reason the weather folks talk about wind chill around here is because it's a big deal, especially on exposed skin. Combine a 20º day (a nice winter day for us) with a 15 mph wind and your face will be COLD!
Wind resistance needs to come either from the insulation (for example, down is naturally wind resistant, but fleece isn't) or from the outer shell.
If the shell is wind resistant, it'll also have some water resistance. That's important when it's snowing.
For me, wind resistance is most important for my face, head, hands and thighs. For you, it might be different. Again, it's your personal inner thermostat. You'll need to experiment!
Wind-resistant gear will say so on the tags.
When Do You Need to Layer for Cold Weather Activity?
The simple answer: when you're going to sweat.
I've found layering is necessary for high-intensity activities:
Running
Cross country skiing
Snowshoeing hills
Biking (maybe)
Since I stopped running a few years ago and took up walking instead, I don't have to layer for that because I don't sweat when walking during cold weather. If you do, then layer up a bit.
Keep Your Head and Neck Warm
There's an amazing variety of hats and headbands available these days. I highly recommend getting at least one that's wind resistant or even windproof. Keep those ears warm!
My #1 top gear pick for our coldest days is the Seirus Neofleece Combo Scarf. I can wear it over my face and neck in the coldest weather (way below zero) in combo with a warm hat and sometimes hood. My face is never cold.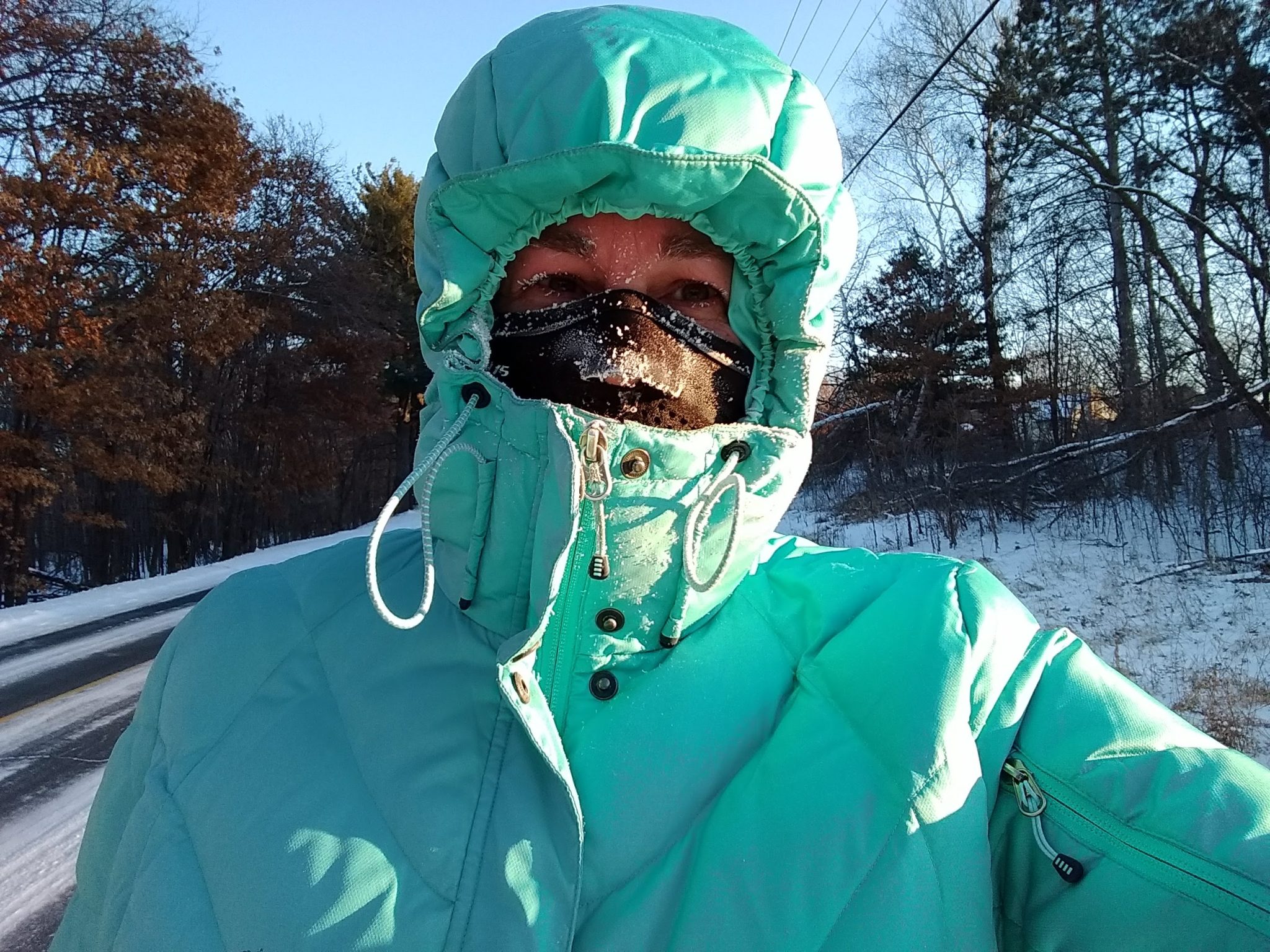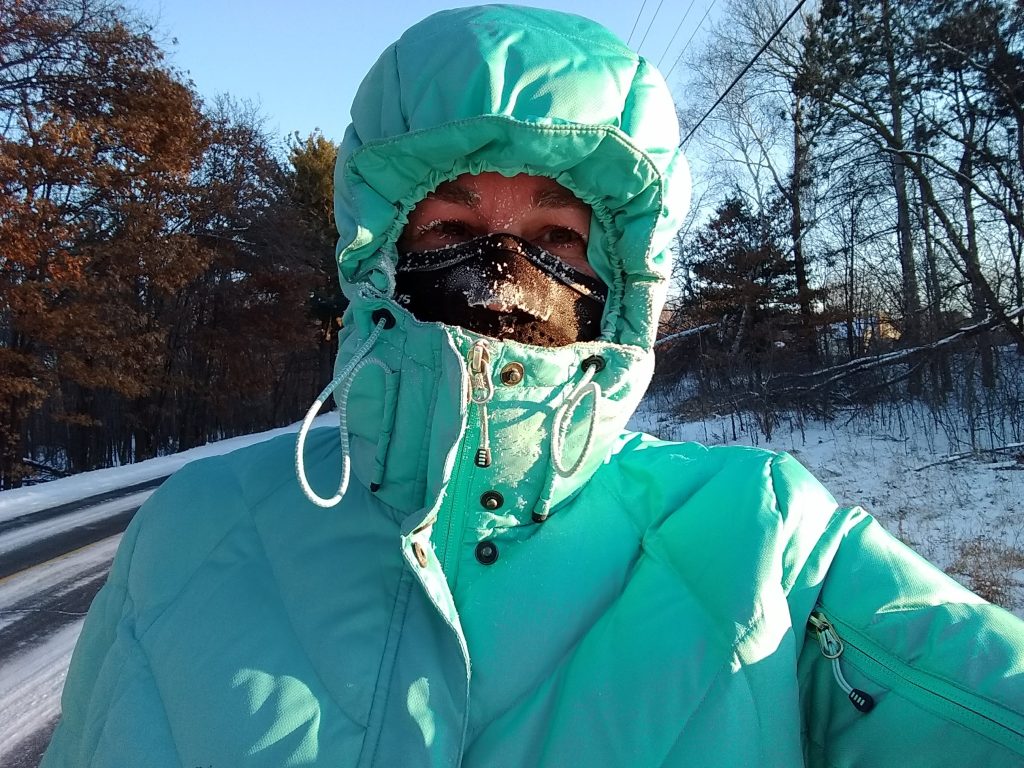 Speaking of hood—a hood will keep the wind from blowing across your face. So a hooded jacket is really handy, especially if you don't like things across your face or if you need to wear sunglasses.
Keep Your Upper Body Warm
I can't even begin to narrow down the options for jackets and coats for our winters. My recommendation is to buy quality—not from Walmart or Target.
You'll always be good to go with the big brands like The North Face, Columbia, Marmot and Patagonia. But there are other brands with comparable quality: Duluth Trading Company, LL Bean, Lands End, Storm Creek (which is a local company!) and Carhartt.
Everyone starts putting their stock on sale around Thanksgiving, and start to clearance a lot of it out starting right after Christmas and into January.
So while you can break the bank outfitting yourself with good cold weather gear, you don't have to!
For high-intensity activities like running and cross country skiing, I've loved my Marmot Precip rain jacket. It's windproof and waterproof, and together with a light insulating layer underneath it's just right for a wide range of temps.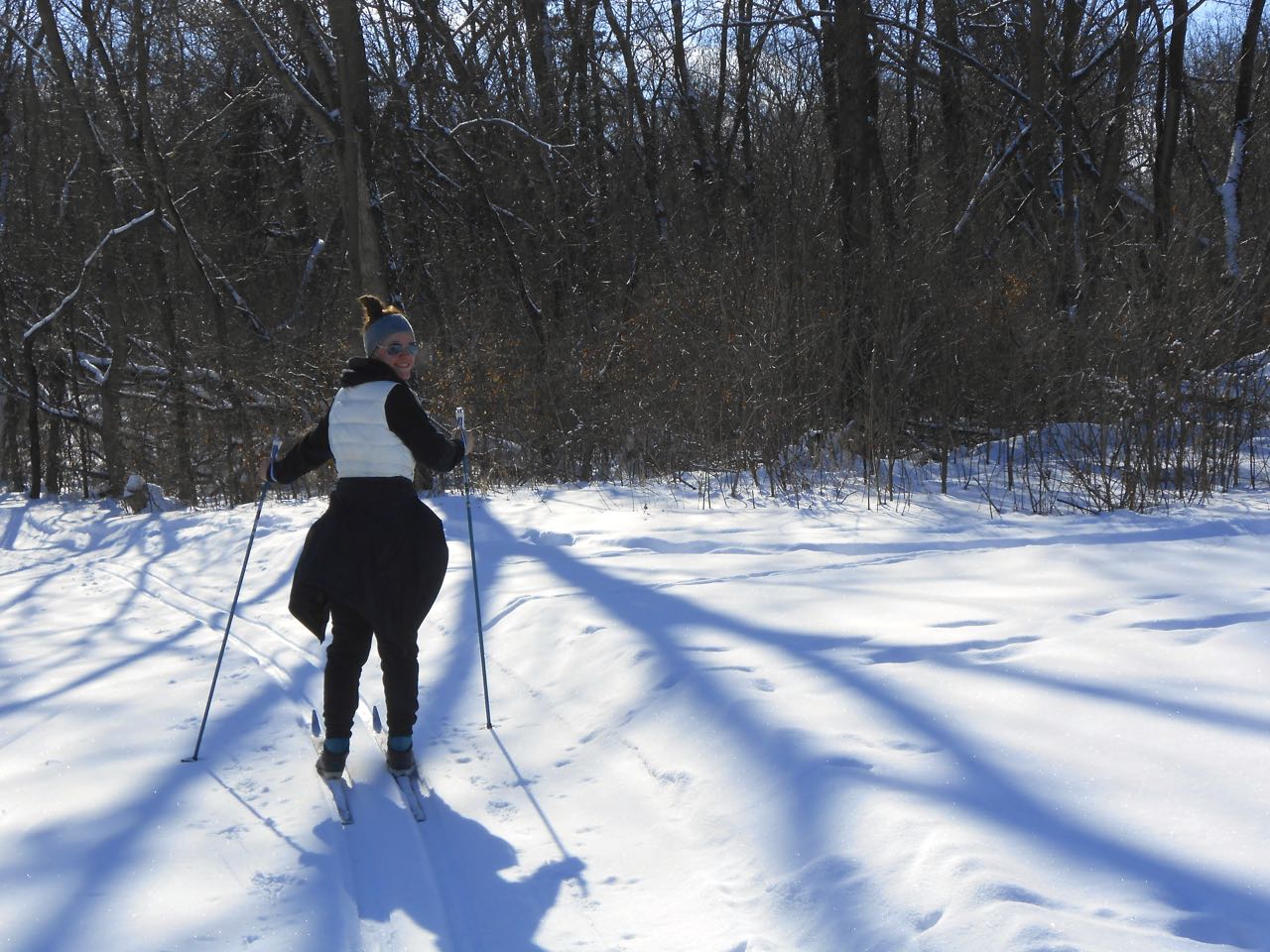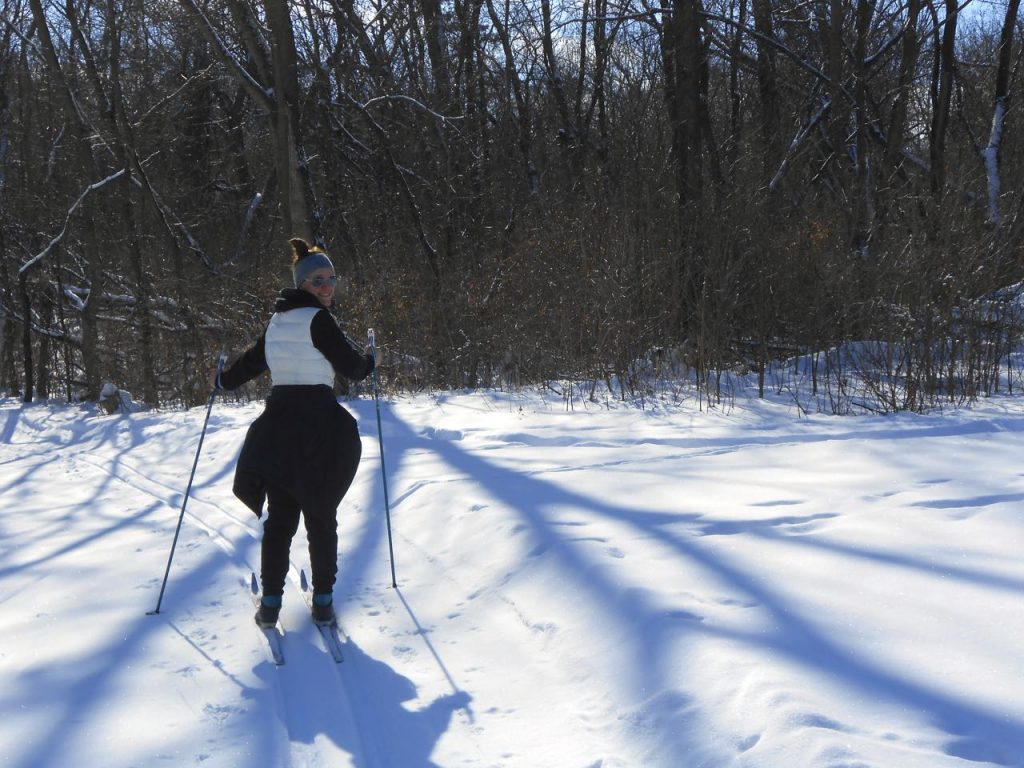 Keep Your Lower Body Warm
A layer or two of insulation, like wool or fleece, along with a windproof shell is the ticket for your legs.
I've worn all kinds of combinations, and they all work:
Again, what you wear and how much you layer will depend on the temperature, the wind and your personal thermostat.
Keep Your Feet Warm
No one likes cold feet. It can ruin an otherwise wonderful winter outing. Here are the biggies:
Wool socks!!
I have lots of them and wear them all winter. Merino wool is really warm and isn't itchy at all, so go for that if you can. Be sure and check the wool percentage though—lots of brands label their socks "merino wool" when there's less than 10% wool in them.
Let's talk brand a little here. I will never intentionally buy SmartWool socks again. I've had several pair, and none of them has lasted for more than two seasons (we're talking just the winter months here) without getting holes in them.
They're cute as can be—but I won't spend $25 for a pair of socks that won't last for more than a season or two. I don't care how cute they are.
Brands I like include:
Icebreaker—I've found several pair at Marshalls, but they're even worth their full price tag. They're very comfortable, warm and durable. Going on 3 or 4 years with them with no signs of wear yet.
Believe or not, I bought some wool socks from Sam's Club at least 10 years ago that are still in perfect condition—and they're as warm as any of my SmartWool socks were. I think they were $15 for three pair. Not nearly as cute, but a much better value!
Hunting brands like Browning and Carhartt make quality wool socks, too.
Trail Shoes, Hiking or Winter Walking Boots and Snow Boots
Waterproof trail running shoes are a great option for winter activities, unless you're going to be getting into snow over your ankles. Waterproof also means windproof, which is a big plus, even with wool socks.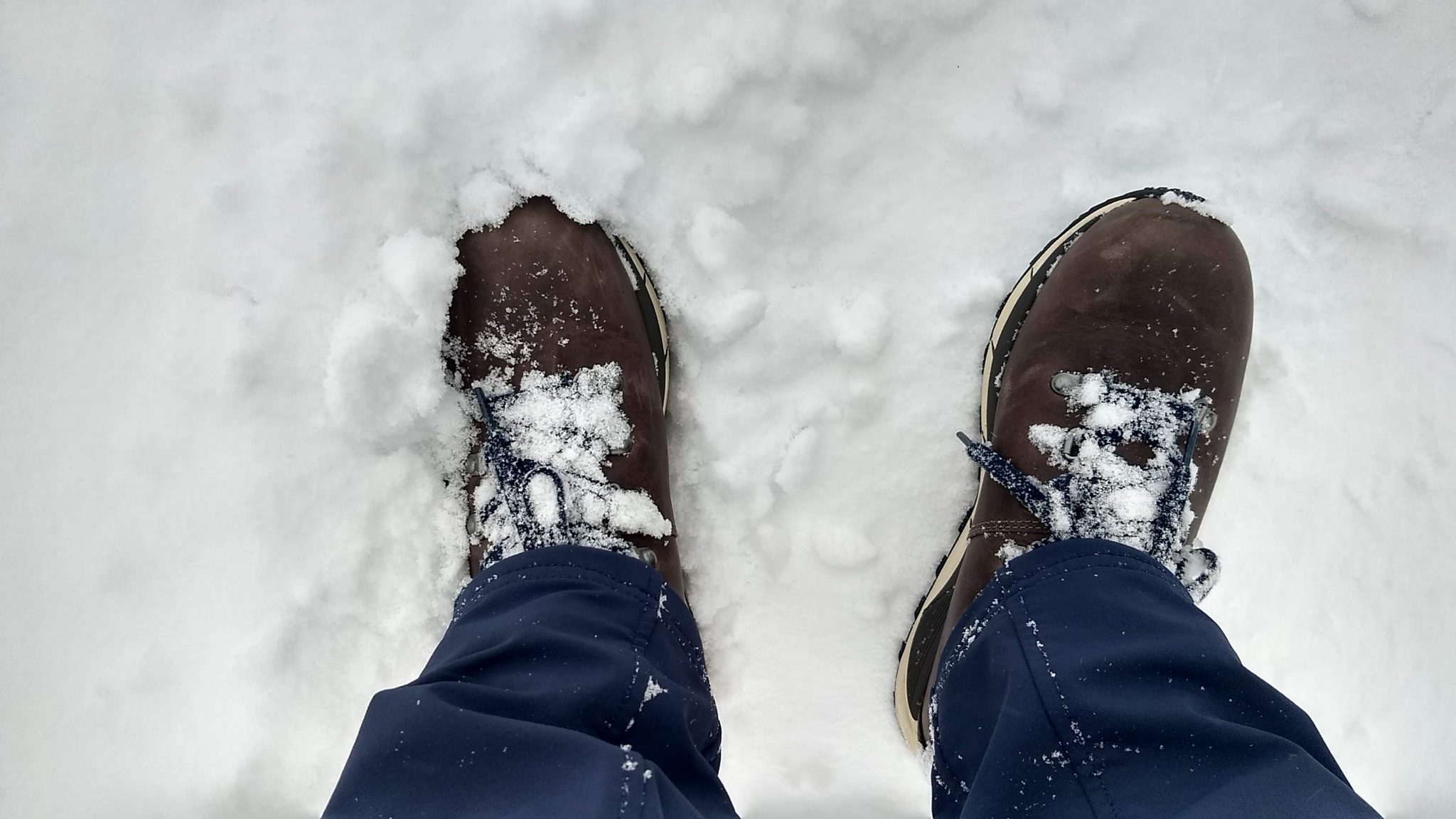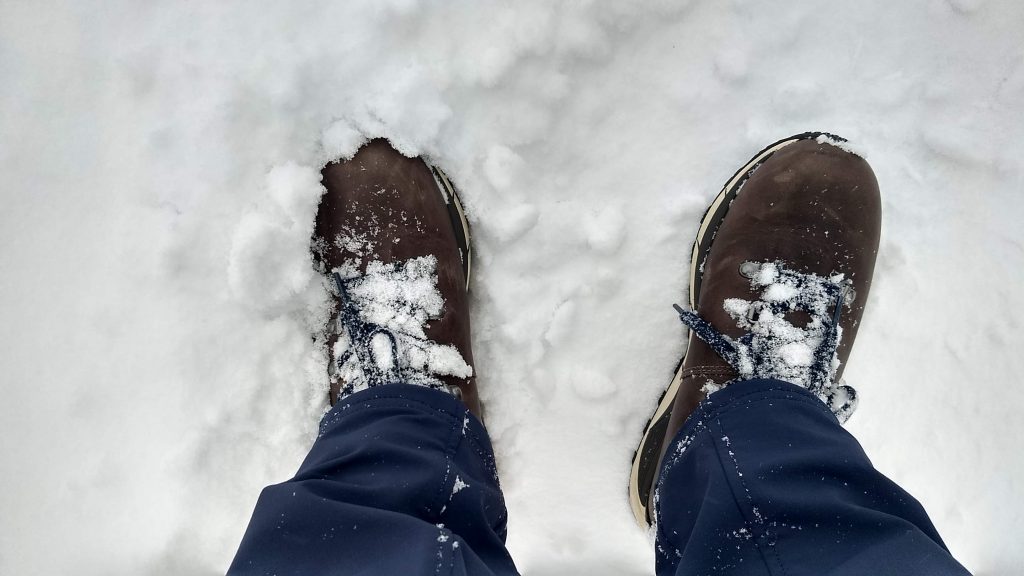 (11/2022 update) I wore Altra's Lone Peak NeoShell trail shoes for both running and walking for a lot of years, and loved them. But now they're SO pricey ($170 retail) that I decided to try LLBean's Mountain Classic Hiking Shoe. I got them in the mail the day before our October snowstorm, so had a chance to test them out right away. They're super comfy and definitely waterproof. Score!
This winter I'm trying LL Bean's Alpine Hikers. They're great! Almost as comfortable as my running shoes, very light and waterproof leather. Because they're ankle-high, they work great for either road walking or snowshoeing (in snow that isn't too deep).
So far my feet haven't gotten cold in them, although we haven't had below-zero weather since I got them.
(11/2022 update) I love these Alpine Hikers! I've worn them through two winters now and they still look almost new.
Pretty much any waterproof hiking boot will perform just as well. If your feet get cold easily be sure to wear wool socks and maybe look for a boot with some kind of light insulation.
For serious cold, I bought a pair of Baffin snow boots last winter, on a good sale at REI. Wow—light, comfortable, high enough to keep out deep snow and very warm.
In Conclusion…
We have long, cold winters here in the Twin Cities. The best way to deal with them is to find outdoor activities you love doing that you can only do in the winter!
To ensure you enjoy those activities, gear yourself and your family up with a few strategic items and you'll be good to go.
Have fun out there!
You'll like these, too…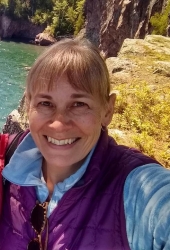 Latest posts by Sharon Brodin
(see all)