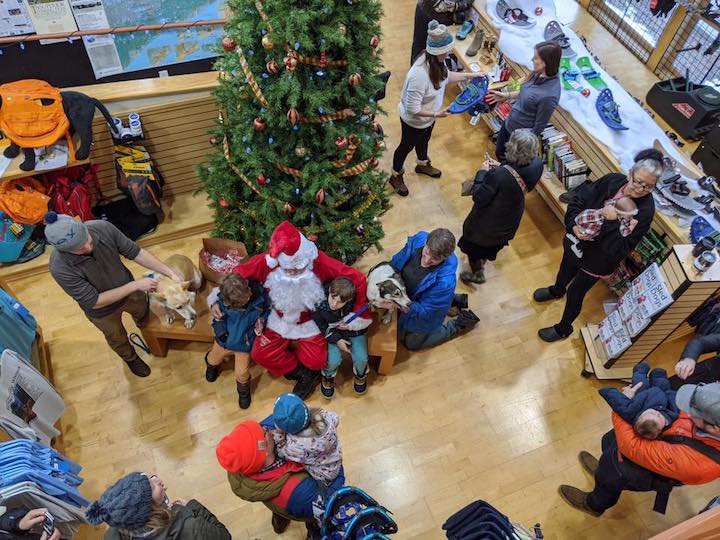 Stone Harbor Wilderness Supply isn't a Twin Cities outdoor business—but so many of their customers come from the Twin Cities that it makes perfect sense to feature them here on Twin Cities Outdoors.
And for you snow lovers and would-be winter adventurers, the folks at Stone Harbor can give you a fabulous winter experience in their corner of Minnesota.
Even when there's no good snow in the rest of the state, select parts of the Arrowhead (i.e., the Gunflint Trail, which begins in Grand Marais) are usually covered with it.
Winter's too long and too beautiful to stay inside. But more on that in a minute. First, a little background…
About Stone Harbor Wilderness Supply
Stone Harbor was founded by current owner, Jack Stone. I had the opportunity to meet him last summer, along with General Manager, Beth Poliquin.
I describe the store to people as a mini REI. But they're not just a retail store offering high-quality gear and clothing from top outdoor brands. They offer local tours, along with outfitting, for every season.
The Grand Marais area—the North Shore, Gunflint Trail and other roads that head inland—is packed full of outdoor opportunities. For those of us who love self-powered activities, it hosts amazing places to hike, trail run, snowshoe, cross country ski and paddle.
Not only will the Stone Harbor folks sell or rent you the gear you'll need, they'll guide you on the trails and waterways. Or if you can self-guide and have your own gear, they'll offer suggestions for places you maybe haven't discovered yet.
This small town business is also heavily involved in their community. They're active in local festivals and events (we took advantage of using their kayak equipment for free in the harbor last summer during the North Shore Water Festival).
One of their ideas to benefit their town is an annual canoe raffle. The proceeds from the raffle are donated to a fund for local citizens to create "small great places" for the community. 2019's raffle canoe was handcrafted by the Stone Harbor staff in partnership with North House Folk School, also in Grand Marais.
Winter Adventures with Stone Harbor in the Grand Marais Area
Whether you're a die-hard winter fan or would like to be, the Stone Harbor folks can hook you up with some rental gear and get you out on a trail, with or without a guide. (Hint: with a guide will be more fun if you're a winter rookie!)
The Arrowhead is a snowshoeing and cross country skiing bonanza, with trails criss-crossing the entire region. The ski trail system gets a little confusing with which ski pass you need where, but they can help you out with that, too.
Snowshoeing is amazing on any of the summer hiking trails with a couple major advantages: Far fewer people (if any) and NO BUGS!
Experiencing this beautiful area of our state in the winter is unforgettable. Cold, sure…but unforgettable!
And don't worry if you don't have experience. Take a look at this under-1-minute video of first-time skiers enjoying some easy trails:
Other guided winter tours include: ice climbing, ice fishing and winter river skiing.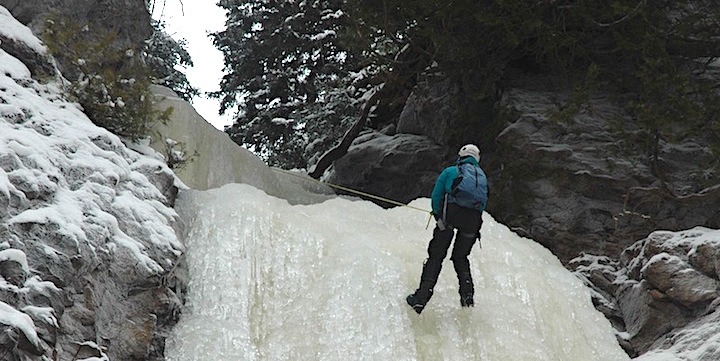 Spring, Summer and Autumn Adventures with Stone Harbor
Of course the rest of the year holds lots of chances for outdoor recreation, too—especially summer and fall.
Guided tours include: hiking, kayaking on Lake Superior or an inland lake, canoeing in the Boundary Waters, fly fishing, rock climbing and paddle boarding.
Don't need a guide but don't have all the gear you need, maybe for others you're bringing along? They have lots of gear to rent for camping, paddling, hiking and fishing…and the winter sports, too.
I'm completely biased because I've spent so much time in the Arrowhead region, but I think it's the best part of Minnesota. The friendly folks at Stone Harbor can help you get out and explore it yourself.
How to Connect with Them & How to Get There
To learn more about Stone Harbor, their retail store and the tours they offer, go to their website. You can also visit them on Facebook, Instagram and YouTube.
Want to visit their store next time you're in Grand Marais? They're right on the East Bay, between Cook County Whole Foods Co-op and East Bay Suites. Their front door faces the big public parking lot, just down the hill from the only traffic signal in town.
(All photos and videos courtesy of Stone Harbor Wilderness Supply)
You'll like these, too…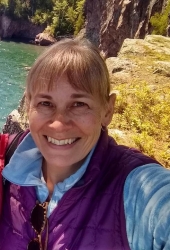 Latest posts by Sharon Brodin
(see all)