Winter camping seems to be one of those activities lots of people talk about and few people actually do!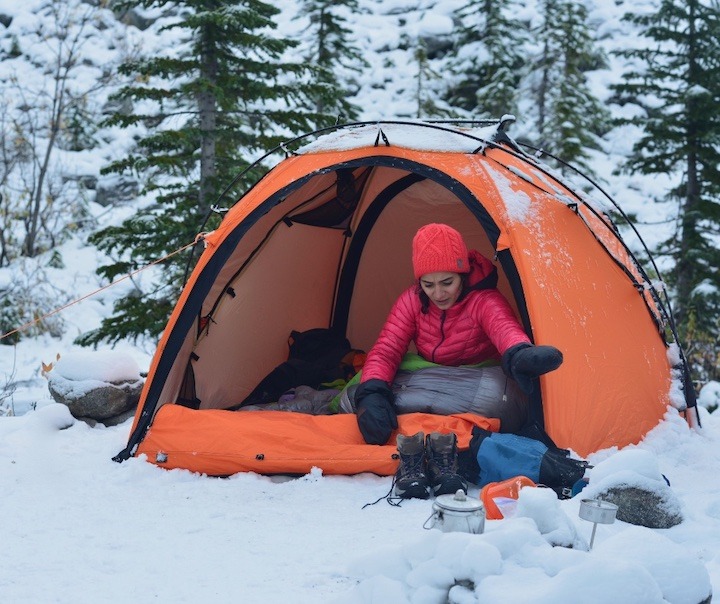 If you've always wanted to try it, we have some suggestions for you…
Camping locally, especially in the winter, has one very big advantage: you can escape easily if things aren't going as well as you'd hoped!
On a more positive note, it also means being able to squeeze in a camping trip in a limited time frame easier than if you have to drive a few hours.
Let's look at our options for winter camping in the Twin Cities:
Tent or Cabin…or Yurt?
True winter camping involves a tent, or even a snow shelter—called a quinzhee (see this YouTube video from The Dusty Boot to see how to build one). You hard-core folks won't regret trying it, at least once…and some of you will even think it's fun!
Using a tent will mean all your warmth will come from your sleeping bag, sleeping pad, clothing and body heat.
If you're like me—older and less hard-core—a heated camping cabin is a way to get into the parks during the winter and be warm when you sleep.
A yurt is another type of one-room heated shelter—round instead of square.
Where to Tent Camp in the Winter in the Twin Cities
If you want to winter camp with a tent, your options are Afton State Park or William O'Brien State Park. These parks are both adjacent to the St. Croix River, on either end of Washington County.
Beauty and solitude will be yours if this is the option you choose. While you need to reserve a site, you'll likely have your pick.
All of Afton's backpack sites are open year-round, 28 of them. You'll park, then pack in your gear up to a mile—much of it uphill! Yaktrax, Stabilicers or snowshoes with crampons may be helpful, depending on the conditions.
There are also a few tent sites for winter camping in the Group Camping area at Afton.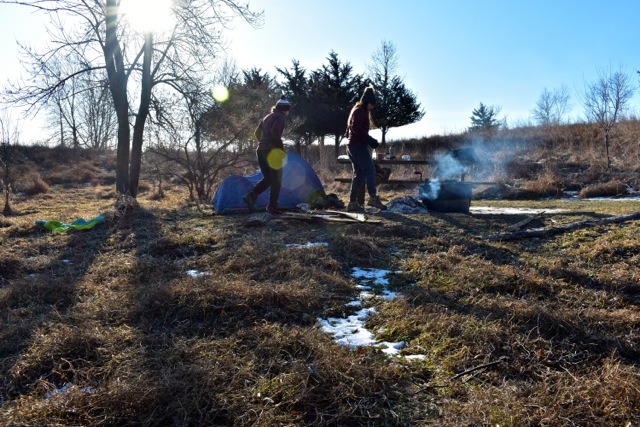 If you choose William O'Brien, winter camping is available in the Savanna Campground.
Neither park has showers or flushies during the winter. But both have water available (to haul) and firewood.
For more information:
Where to Find Camper Cabins for Winter Use
Both Afton and O'Brien have camping cabins, and Afton has two yurts. These are great alternatives for families. You can cross country ski or snowshoe during your stay, assuming we have enough snow. If not, you can still hike the trails.
(See the above links for more information)
Besides the two state parks, a few of our regional parks have year-round camping cabins, too:
Again, these are very popular, so plan ahead! You can reserve up to a year in advance.
Some Differences about Camping in the Winter vs. Summer
Other than the obvious—the weather—there are some major differences to keep in mind:
No bugs. This is a biggie for us in Minnesota! No flies…no mosquitoes…no spiders.
No crowds. You may see a few trail runners, skiers or snowshoers. But all-in-all you can plan on some solitude and quiet.
Much shorter days. Unless you want to set up camp in the dark, you'll want to arrive at your site by late afternoon. If you choose Afton's backpack sites, leave time for the hike, too. On the upside, the sun won't wake you up at 5:30 in the morning!
Different landscapes. Every season is special in Minnesota. Winter can be stunningly beautiful.
Winter camping locally is a great way to:
See if it's something you'll like enough to try a more ambitious expedition, say to the Boundary Waters.
Test your gear to be sure it'll handle the temps and conditions you'll face if you'd like to camp somewhere in the winter that's more remote.