We surveyed our Twin Cities Outdoors' newsletter and Facebook readers to get their top picks for the best bike trails in the Minneapolis/Saint Paul metro area.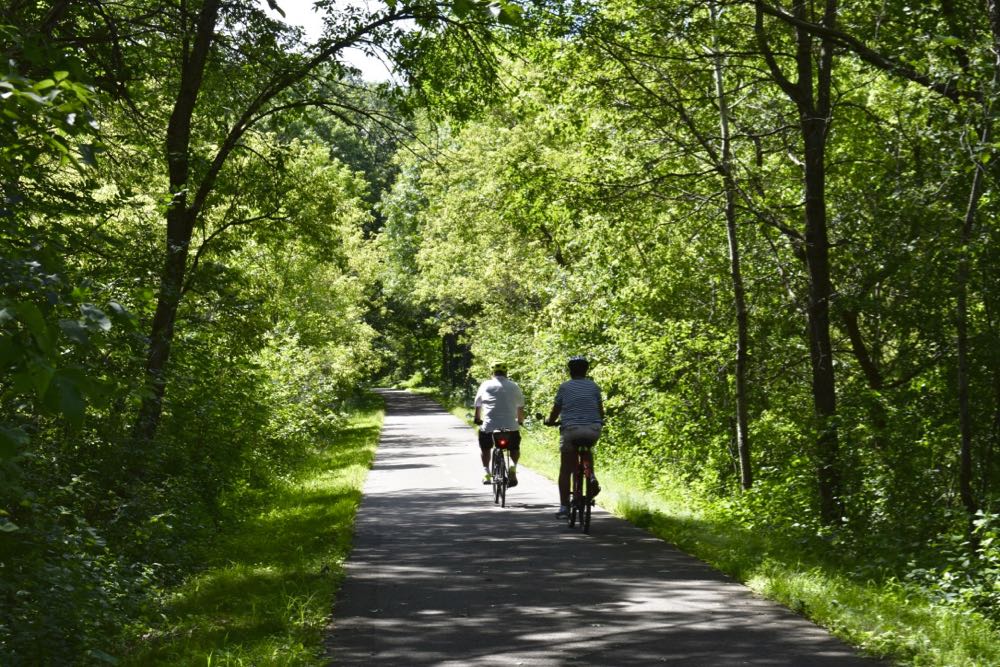 We're blessed to have hundreds of miles of off-road, paved multi-use trails in the 7-county area that are top-notch for bicycling. Some are in county and regional parks, some are regional trails and some are state trails.
Despite our famously frigid winters, these trails are accessible most months of the year. (A handful are maintained during the snow and ice months, too, but most are not.)
Here are the local trails our readers like best (in alphabetical order):
1. B'dote Trail
Hennepin & Ramsey Counties
The B'dote Trail isn't an official trail at all, but a collection of trails and local parks that make up a wonderful urban loop of 13ish miles.
Start at any of the parks—Minnehaha Regional Park, Hidden Falls, Crosby Farm—and go from there. Sights include Fort Snelling, the Minnesota/Mississippi River confluence, lots of river views and some skyline views, too. You'll cross the Mendota Bridge and Ford Bridge over water.
Because this loop is in the heart of the Cities, these trails and parks are BUSY, especially on the weekends. Start early so you can get a parking spot if you have to commute with your bike, especially late spring through mid-fall.
2. Brown's Creek State Trail
Washington County
Though not a long trail, 6-mile Brown's Creek State Trail is super scenic. It includes lots of woods, lovely views of Brown's Creek and the St. Croix River, some open areas and a golf course. The trail connects the Gateway State Trail to downtown Stillwater.
The way we like to do it to start on one end and do a 12-mile out-and-back, preferably starting in Stillwater so the gradual uphill portion is first.
Like the B'dote, we highly recommend starting your ride very early on summer weekends as Stillwater gets extremely busy.
If you want more miles, it's easy to add the north segment of Gateway State Trail to your Brown's Creek ride.
3. Dakota Rail Regional Trail
Hennepin County
The Dakota Rail Trail is one of two on this list that are part of a a nation-wide effort to convert former railway routes to multi-use trails. As these rail beds are already level and any uphill/downhill portions are limited to a mild grade, they're ideal for human-powered recreation like biking.
The Dakota trail's east end starts at Lake Minnetonka in Wayzata and runs southwest for about 26 miles.
Cindy L. loves this trail because it has…"Beautiful scenery and a great restaurant on the trail in Mound called Dakota Junction. Free parking ramps in downtown Wayzata to park in the shade, and of course what's not to love about multiple views of Lake Minnetonka?"
4. Elm Creek Park Reserve
Hennepin County
Elm Creek Park Reserve has one of the most extensive paved multi-use park trail systems in the Twin Cities with almost 30 miles of interconnected trails. The advantage there is you can park your vehicle and ride for miles. You can eventually loop back to your car.
Elm Creek has very diverse terrain with rolling hills, woods, several lakes, open prairie and wetlands. There are picnic areas to take advantage of, a nature center, even a swimming pond if you're there on a hot summer day.
If 30 miles still isn't enough for you, the Elm Creek trail system connects with both Rush Creek and Medicine Lake Regional Trails.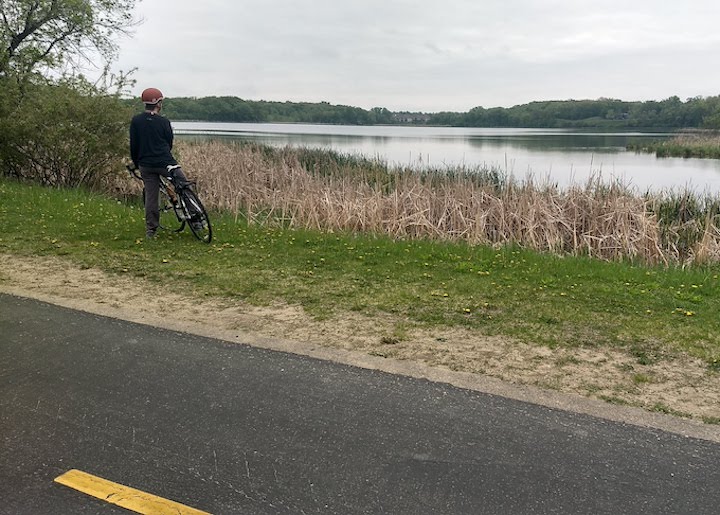 5. Gateway State Trail
Ramsey & Washington Counties
Several of our readers nominated Gateway as their favorite local bike trail. It starts in urban Saint Paul between Como and Phalen Lakes. This mostly-level trail travels 18 miles through urban neighborhoods and park into the more rural areas of Washington County. It ends at Pine Point Regional Park, just north of Stillwater.
There are several parking areas adjacent to the trail so you can get on and off where you like. It connects with Brown's Creek State Trail on its east side and with Bruce Vento Regional Trail on its west side.
Becky, a Twin Cities Outdoors reader, said that's one of her favorite things about Gateway—its connection with other local trails. She also loves the varied terrain. Lynne, another reader, states that she loves that the east end "is lovely and natural."
6. Luce Line State Trail
Hennepin & Carver Counties
Luce Line is another rail trail and the longest one on our list, at 73 miles. The eastern-most 30 miles are in the Twin Cities metro area. This portion—different from the rest on our list—is crushed gravel rather than paved, which makes it a different riding experience.
Most of the terrain in this section of the trail is urban/suburban/then rural through woodsy areas, alongside several lakes and through smaller towns. The east end begins in Plymouth and heads west to continue into Carver, McCleod and Meeker Counties.
As with Gateway, Luce Line offers many options for parking and there are also several restroom options along the way.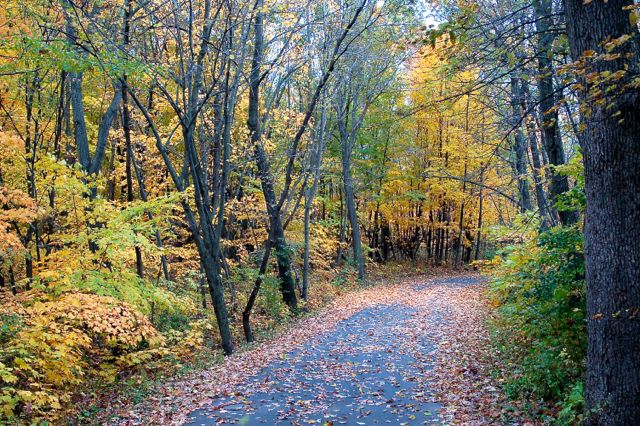 7. Rice Creek West Regional Trail
Anoka County
Renee is one of our readers who loves Rice Creek West Regional Trail. She said it's "pretty all year long, uncrowded, laid back and easy access." Sounds pretty inviting, doesn't it?
Rice Creek West is the shortest trail on our list, just 4 miles from its beginning in Ramsey County, through Locke County Park and to its end at Manomin County Park on the Mississippi River. An 8-mile out-and-back is a great ride for families, a great challenge for young biking enthusiasts.
If you'd like to ride this scenic trail but 8 miles doesn't do it for you, Rice Creek West connects with Mississippi River Regional Trail for many more miles, either north or south, along the big river. It also connects with Rice Creek Trail in Ramsey County.
8. Rush Creek Regional Trail
Hennepin County
Rush Creek is another paved, multi-use trail that can either be ridden as a destination in itself or as as a connecting trail for a longer ride. It's just under 10 miles, starting at Mississippi Gateway Regional Park and heading west to Elm Creek Park Reserve.
At Elm Creek it joins the intersection of Crystal Lake Regional Trail, Medicine Lake Regional Trail and Elm Creek's trail system within the park reserve. That gives you a lot of potential miles!
TCO reader, Eddie, loves Rush Creek: "Great parking, 10 miles of curves, not straight and boring. Some hills but only one leg-burner on the Hwy 169 overpass, but lots of fun on the descent. Not overcrowded with peds [pedestrians]."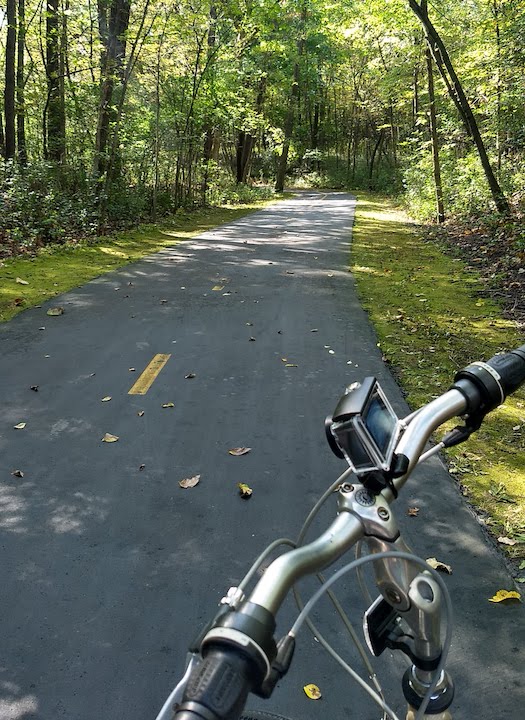 That's a Wrap
So bikers, which of these trails is next on your list? Maybe make it your goal to bike at least sections of all of them over this biking season.
Thanks to the readers who shared their opinions on Facebook or through our Outdoorsy Stuff newsletter!
Happy biking!
Twin Cities Biking Guide
Published in 2020 and updated in 2023, our 54-page digital Biking Guide is the easiest, most convenient way to find bike trails in all seven counties of the Twin Cities metro area.
Here's more…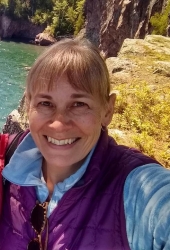 Latest posts by Sharon Brodin
(see all)