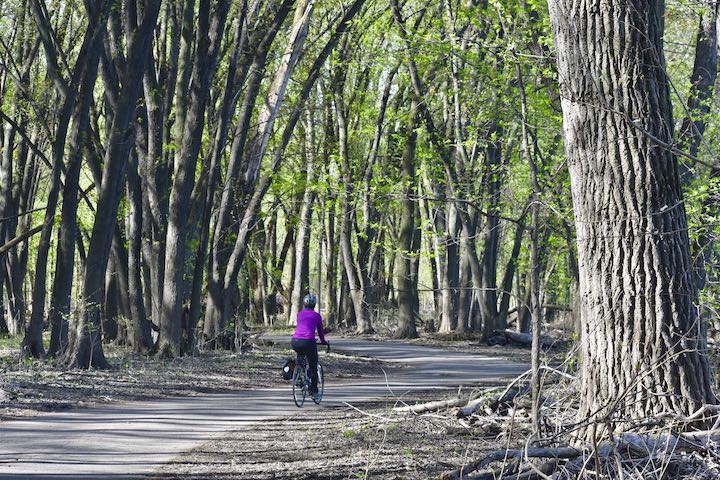 This 13ish-mile paved loop is a superb way to tour one of the most beautiful areas of urban Minneapolis/Saint Paul.
About the Name: B'dote Trail
You won't find information anywhere else about the B'dote Trail—because it's not a real trail! It's a combo of several trails and parks that surround the confluence of the Mississippi and Minnesota Rivers.
My sister, Katy, who took me on this loop just over a week ago, dubbed it the B'dote Trail because this river junction was called B'dote by the Dakota people.
That's good enough for me!
What's Included in This Route
Katy was able to get this map from her iWatch after our ride: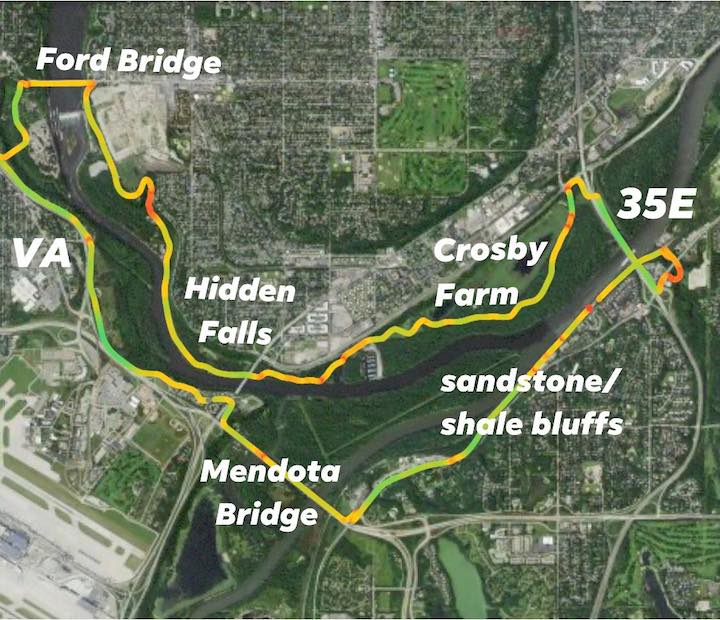 There are many different places you can park and start. We met at Minnehaha Park and left from there. Either of the other parks are also options (and may be less crowded).
Here are some of the landmarks you'll see along the way:
Fort Snelling
From Minnehaha we biked past the Veterans Hospital and slightly southeast. We turned right into the Fort Snelling area and biked amid the buildings.
Since it was just after 8:00 am, that wasn't a problem. If you were later in the day (or not during a worldwide pandemic shutdown) you'd be more restricted there.
The Mendota Bridge
There's a (narrow) bike lane on the north (east?) side of the Mendota Bridge that keeps you separate from the cars. Nice!
Take your time biking across because there are gorgeous views of Fort Snelling State Park and Pike Island below. We stopped a couple times to take pictures and enjoy the bright greens of the early spring leaves.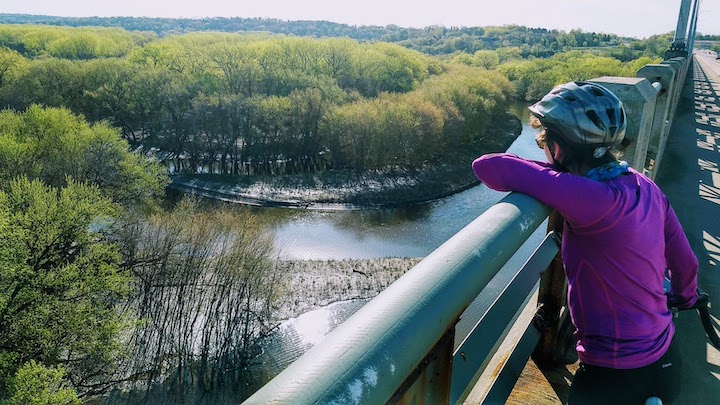 Katy and I had cross country skied on Pike Island last winter and I remembered seeing the bridge from below. It was cool to be up above the park on the bridge this time, looking down!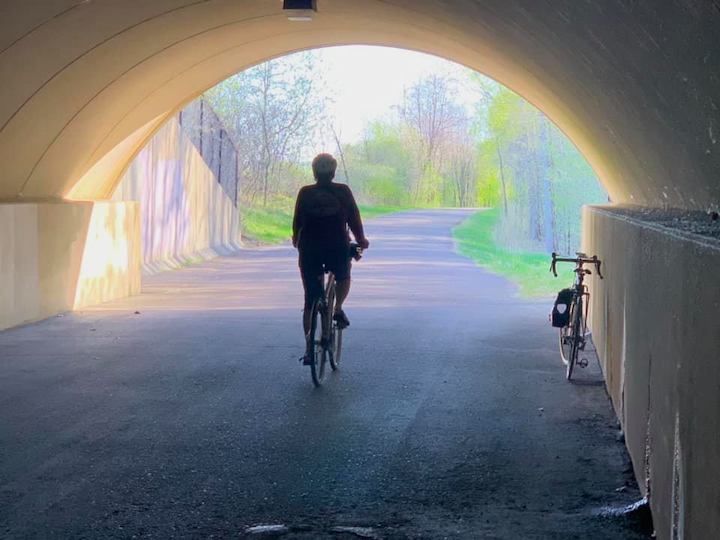 Big Rivers Regional Trail
Once across the Mendota Bridge this loop hooks up with the Big Rivers Regional Trail. A railroad bed and the Minnesota/Mississippi Rivers are in plain view on the west side. The sandstone bluffs (or shale? not a rock expert) are on the east side.
This section is very beautiful—again, if you don't race through it you have time to look around you and enjoy the view!
Our first big hill was where we took the ramp up to the bike lane on 35E across the river. It was long enough where we walked our bikes up. I'm not ashamed to admit it 🙂
More beautiful views of the river from the bridge!
Crosby Farm Regional Park
This was my favorite part of the trail. I hiked in Crosby Farm last September, but didn't make it to the east end of the park.
It was magical.
At least on this early spring day with the leaves budding their bright green and the sun streaming through the trees!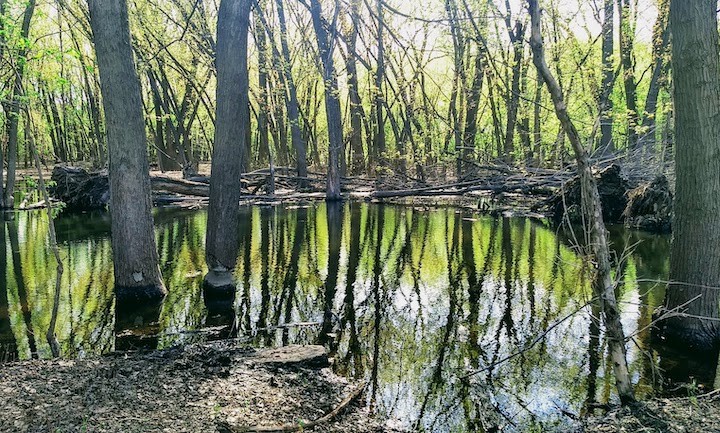 Crosby Lake is quite large, despite what it looks like on the map. And it was high, as all the water is in the spring. It was touching the trail at one point: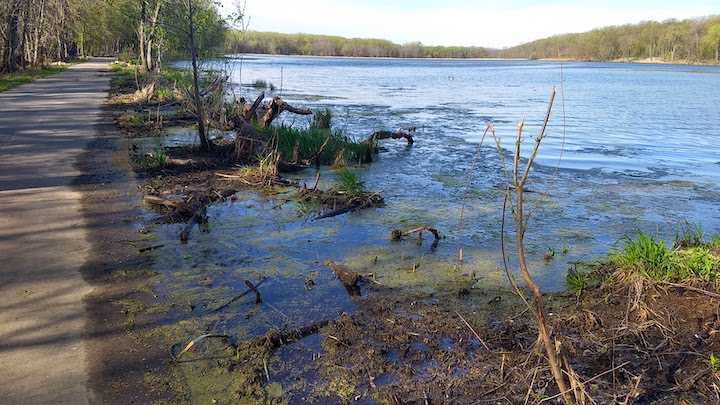 I absolutely love big trees, and Crosby Farm has lots of them. As usual, I make whoever is with me hug the biggest one we see. Here's Katy with the Grand-daddy tree: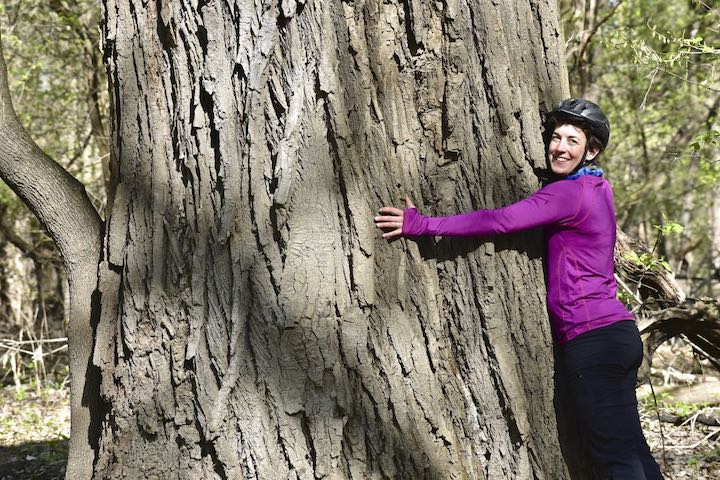 I definitely want to come back here to hike this section of the park. It's so beautiful. There's a parking lot on the far east end and on the west end.
Hidden Falls Regional Park
To the west of Crosby Farm is Hidden Falls. We left the paved trail for a bit to get right up to the river for a short stop and snack. There's some cool tree root things going on there. As these parks are both in the river's floodplain, the sandy soil gets washed away each spring. Or any other time the water is high, as it was late last summer, too.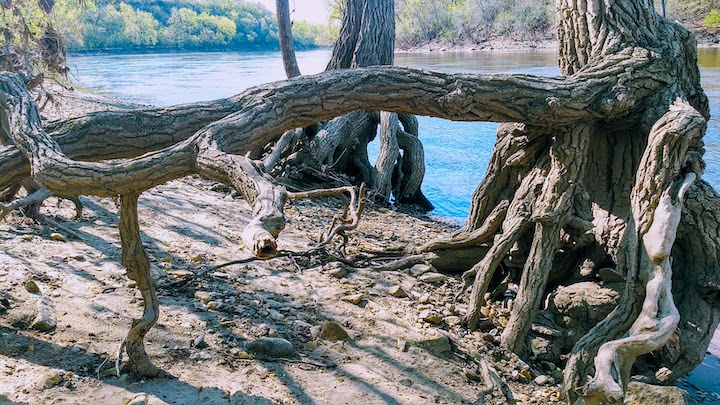 The hill heading out of Hidden Falls Park and up to East River Road is looooong and steep. We had to walk our bikes again.
Twin Cities Outdoor's reader, Nita H. offered some smart advice: "It's a much easier ride going the opposite direction. The climb out of Crosby Farm Park is much less steep than climbing out of Hidden Falls."
Good to know, Nita! We'll do that next time.
Mississippi River Gorge Regional Trail
This is the trail between East River Road and the Mississippi River. It's way above the river with some nice views.
Ford Dam and the Ford Bridge
You have great views of the Ford Dam from this trail.
We took the Ford Bridge back over the river, and headed back to Minnehaha Regional Park.
Minnehaha Falls
Before ending our ride, we went over to see the Falls. By this time it was mid-morning. Lots of people were out enjoying the park on this beautiful day already.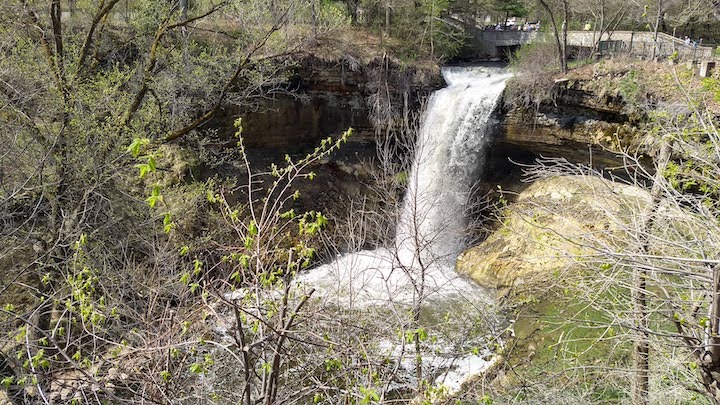 It took us 2-1/2 hours to bike this loop. We were very relaxed—stopped several times to enjoy the views and didn't rush while we were riding.
Other than the two mega hills—which you'll avoid if you go the opposite direction—it was an easy route. A few rolling hills with lots of flat.
How to Get There
Again, you have several options for where to park and start this trail since it's a loop:
Wabun Picnic Area off Hiawatha and 46th Street (free parking).
Minnehaha Regional Park. You do have to pay to park here now, it's so popular.
If I remember right, there's a small parking area to access Big Rivers Regional Trail near the 35E ramp.
Crosby Farm Regional Park has parking on both the east and west ends.
Hidden Falls Regional Park has parking areas.
You'll have to be strategic about your starting time if you want to find a parking spot easily. This area is super popular. We recommend before 9:00 am on the weekends.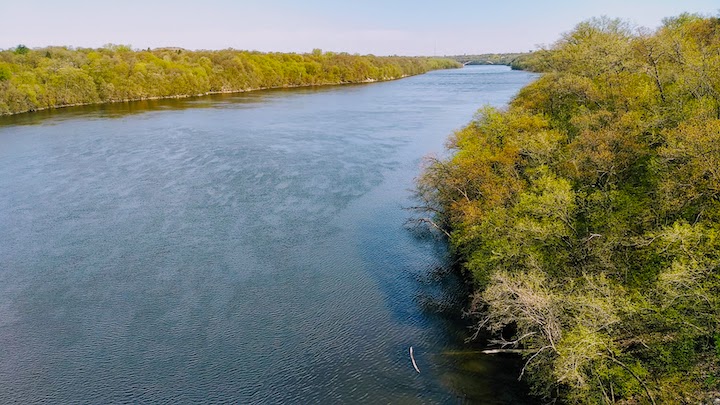 You'll like these, too…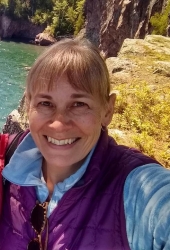 Latest posts by Sharon Brodin
(see all)