[Updated 8/23]
The Twin Cities is loaded with bike trails. There are many options for bike rentals for both residents and visitors. Here are some of them…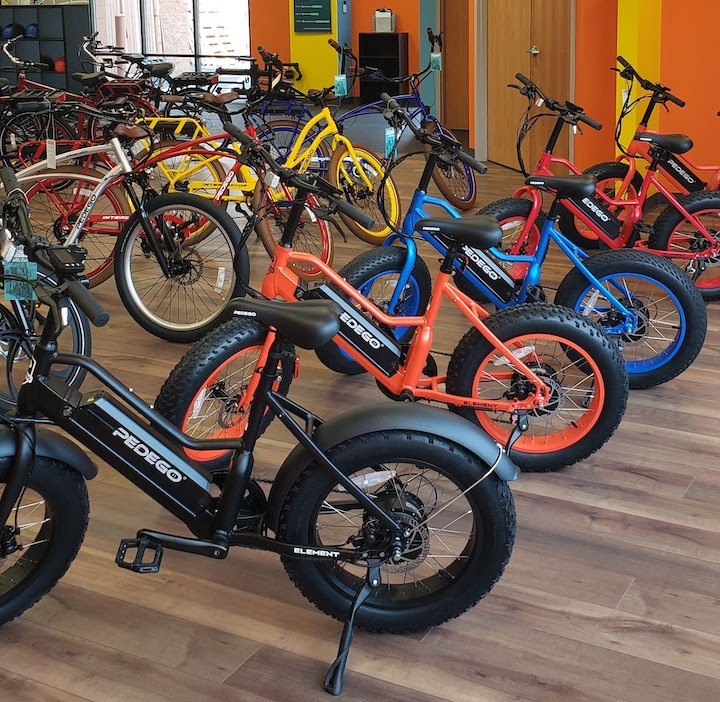 The Twin Cities has extensive bike trails (on and off-road) that many people are unaware of. Many locals are missing out on beautiful scenery that is practically in their own backyards.
When I first began biking, I was amazed at how much I had been missing in my hometown, state and county parks, and even downtown St. Paul and Minneapolis.
I was able to enjoy views and have experiences I never knew existed. Biking allowed me to cover a much larger area than on foot.
Many people entertain the idea of biking, but either don't own a bike or have other reasons that prevent them from having the experience. Maybe physical limitation or lack of endurance.
Renting a bike (whether manual or electric) can be a great option if you don't own a bike, or have a limitation that prevents you from biking alone or keeping up with a group. Or maybe you have a bike, but would like to try a different style bike or biking experience?
Rental Bike Options
The right size bike—whether manual or electric—determines the comfort and quality of your ride. Your height and inseam need to match the size of the bike to enjoy a comfortable ride.
There are many styles of bikes to pick from to enhance your experience. You can bike year-round if you choose the right bike.
Manual bikes rent for significantly less than electric bikes, and each option provides its own benefits. Rental outfitters rent by the hour, day or month and some are even willing to transport bikes to a desired location. These open up a larger variety of riding options.
NOTE: Whether you rent a manual or electric bike, beware of leaves, loose gravel, sand, dirt, wetness or standing water. Slow down in these conditions so you don't end up with unnecessary medical expenses!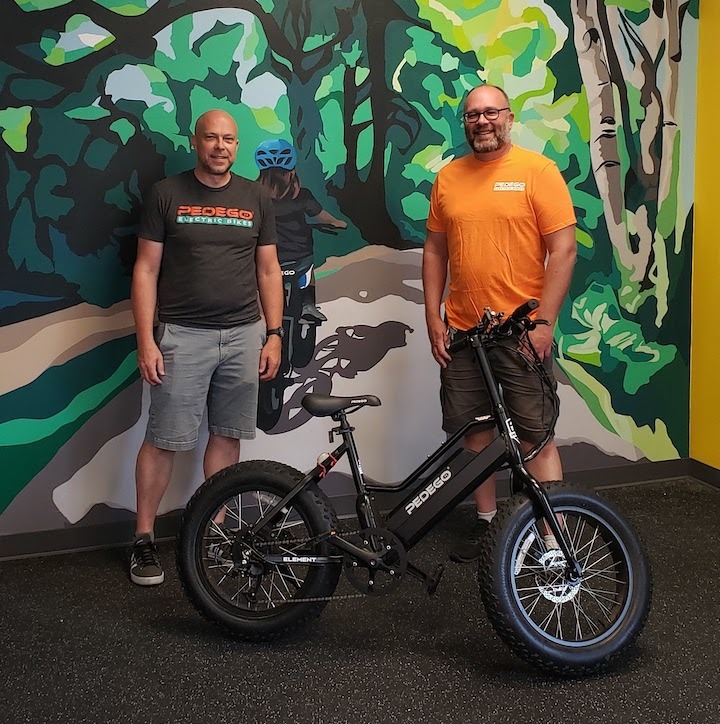 There are several different types of bikes to choose from:
Cruiser/City Bike
Cruiser bikes are heavy and bulky, but super comfortable! The rider sits upright and is best used for flat routes, like much of the city of Minneapolis.
Road Bike
Road bikes have skinny tires meant for faster speeds and covering more ground with less effort. They're designed for smooth, paved roads and trails and aren't stable on dirt or other natural surfaces.
Mountain Bike
Mountain bikes have a heavy-duty frame but are lighter in weight than cruiser bikes. They usually have wide tires and are ideal for narrow trails and very rugged terrain.
Hybrid Bike
A hybrid is a cross between a road bike and a mountain bike. They usually allow the rider to sit more upright and on a larger seat than the typical road bike, for more comfort. They have medium-width tires that allow you to ride on a paved surface but also have the option to explore unpaved wide paths. They're not meant for narrow rugged trails.
Fat Tire Bike
Fat tire bikes demand more physical effort but can be ridden on uneven terrain, sand, grass and snow. This is a great option for packed snow terrain or a scenic, sandy shoreline.
Electric Bike
Electric bikes have a battery that lasts for about 100 miles, give or take. They have various levels of assist to help the rider with hills, distance, etc. Most bike types are becoming available in an electric model.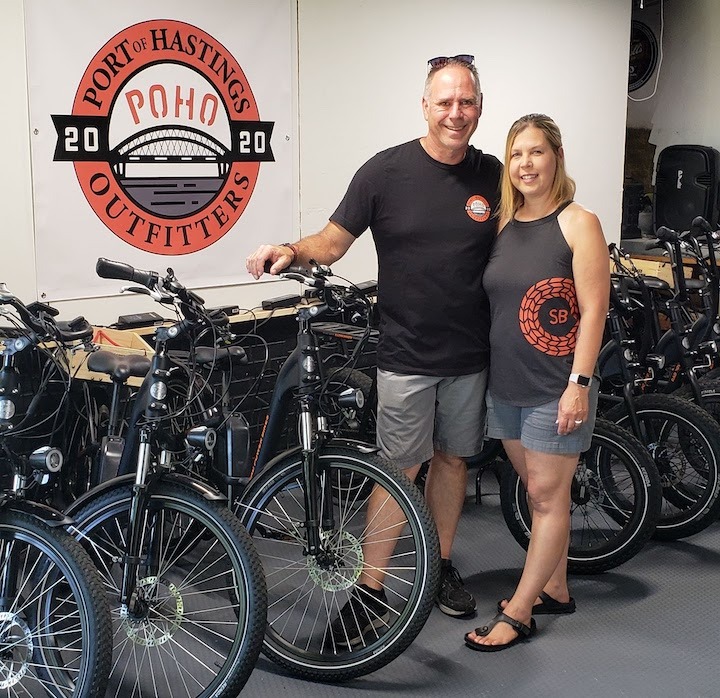 More About Electric Bikes
Minnesota law states a rider has to be 15+ years old to ride an electric Class II bike. The law also allows only Class I and II bikes on the state trails, with a max speed of 20 mph. Most local regional and city trails have the same rules.
Most of the local electric bike rental outfitters require riders to be 16+ AND accompanied by an adult to rent a Class II electric bike. Riders must have a valid ID and will need to sign a waiver to ride.
Electric bikes typically have these gauges:
Battery level
Pedal assist—adds power to each pedal rotation, determined by the rider
Regular bike gears
Throttle—aids in starting up from a dead stop, or provides power up a hill
Electric bikes are versatile. You can get an incredible workout by limiting the electric assist, or you can allow the bike to do all the work. The battery will wear down accordingly to the load requested, meaning the battery will last longer with less "demand."
If you're not looking for a workout, but rather an experience outdoors with friends or family, you can allow the bike to do more of the work. That way you can do your sightseeing or stop to shop and dine without worrying about sweating.
Electric bikes weigh around 50-60 pounds and require a heavier-duty bike rack to transport. They can be slightly more cumbersome to start up from a dead stop…but that's when the throttle comes in handy! I got the hang of it pretty quickly.
Outfitters say, "If you can ride a 'normal' bike, you can ride an electric bike." Riding either style of bike just requires balance, a proper fit and an understanding of the bike itself.
[NOTE: Make sure you can read the gauges on the bike, which I learned the hard way! I forgot my sunglasses with readers, and had to wear my readers (no sunglasses) the entire way. The more you ride, the less this may be an issue. (Walmart is a great option for affordable sunglasses with readers.)]
Dress in appropriate layers for the weather or bring extra layers with you. This may include a hat and gloves in cooler weather. If you allow the bike to do most of the work, your heart rate will not increase much and you may get cold.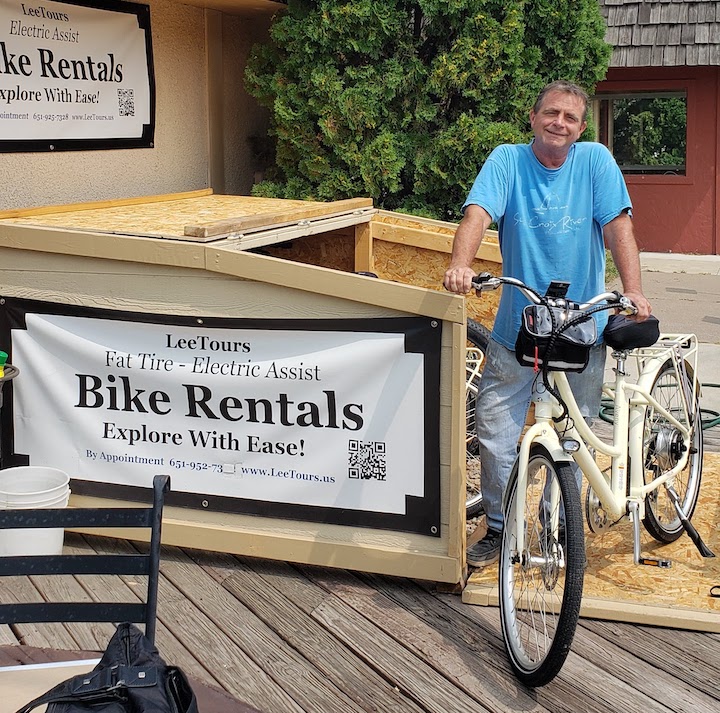 Where You Can Rent an Electric Bike
A quality rental company will provide:
Proper maintenance of their bikes
Bike safety instruction and orientation, and will confirm the rider is knowledgeable and capable of operating the bike
Bike sizing according to each rider—size, style, set adjustment for height and inseam
Helmet, a lock and maybe a map of the local area (either print of by app)
Assistance if a malfunction happens and the rider becomes stranded
Stillwater Area Electric Bike Rentals
PEDEGO—Opened July/Aug 2021. I met Carl and Justin, who manage this location. They were very friendly and knowledgeable, and provide all the necessities and local maps for trails and destinations. 1650 Market Dr. Stillwater • 651-342-0310 • www.pedegoelectricbikes.com
HERMAN ELECTRIC BIKE RENTAL—Bike rentals and coffee shop. 209 Main St. Stillwater • Reservations by phone only: 651-342-1914 • hermanelectricbikes.com
"We rented e-bikes from Mike Herman in Stillwater last fall and he was awesome. I would rent from him again in a heartbeat!" ~ Kathy O., (Twin Cities Outdoors Reader)
Mendota/Lilydale Area
LEE BIKE TOUR RENTALS—In a prime location just one block off the Great River Trail near Lucky 13 Restaurant and Axels in Mendota Heights. Riders can easily access trails to The Great River Trail, Harriet Island, Minnehaha Falls/Park, Ford Parkway and Hidden Falls. 651-925-7328 • leetours.us
GATEWAY CYCLE—Gateway is a bike shop that also rents electric bikes, especially for use on the Gateway State Trail, just across the street. The Brown's Creek State Trail is close by, too. Daily and half-day rates. 651-777-0188 • gatewaycycle.com
Hastings Area
PORT OF HASTINGS OUTFITTERS—Has direct access to the 10-mile loop trail encircling the beautiful and historic river town of Hastings. You can also access the Simon-Ravine Newport Trail, Prescott and Spring Lake Park. They may be open to transporting bikes to an offsite location per prior arrangement. 651-219-0422 • mypoho.com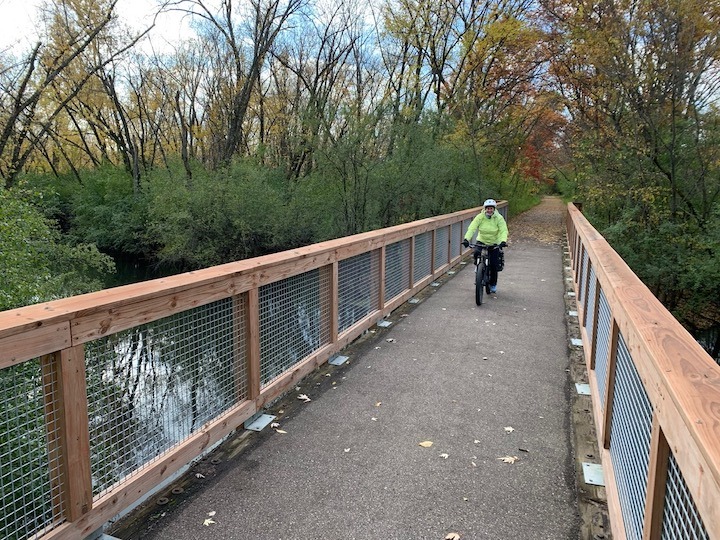 Where You Can Rent a "Regular" Bike
If you're not interested in an electric bike, you can still opt to rent a non-battery-powered "regular" bike. Here are some options I've gathered:
TONKA CYCLE AND SKI—Rent a mountain bike, hybrid or fat tire bike by the day or week • 952-938-8336 • www.tonkacycleandski.com
TANGLETOWN BIKE SHOP—Year-round bike rentals including fat tire bikes. Explore Minnehaha Parkway, Grand Rounds Bike Trail and the Minneapolis Chain of Lakes. 612-259-8180 • www.tangletownbikeshop.com
DIRO OUTDOORS—A self-rental station in downtown Stillwater. It can only be accessed via your smartphone • www.dirooutdoors.com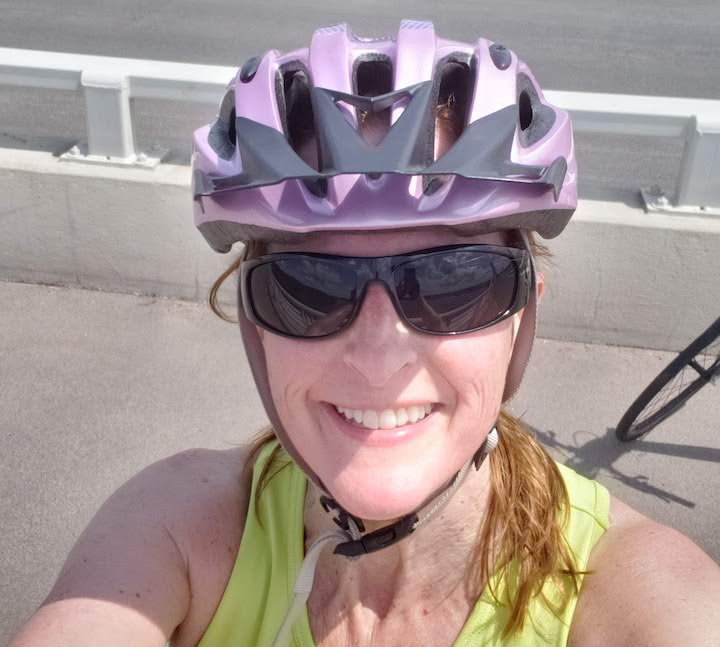 You'll like these, too…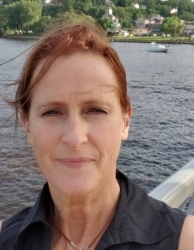 Latest posts by Rochelle Kaehne
(see all)