I've used my TAHE 10′-6″ Beach SUP-Yak for one season so far, and am happy with my purchase. This inflatable paddle board doubles as a kayak so you get a lot of bang for your buck.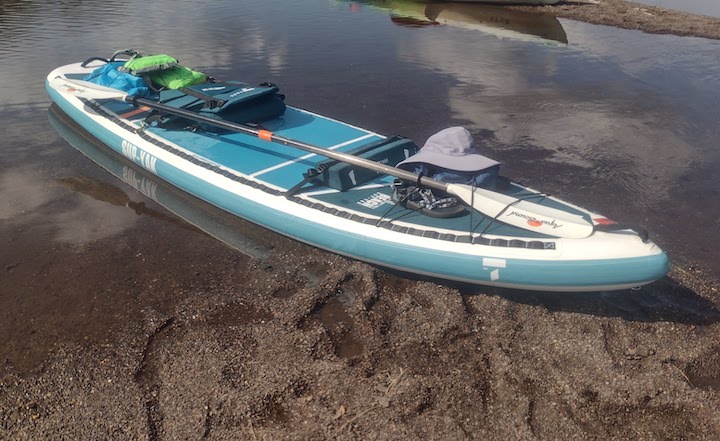 I tried paddle boarding (also known as stand-up paddle boarding or SUP) three years ago now for the first time. I found I love it!
It's a superb whole-body workout. And I especially enjoy being able to get in the water for a swim right off the board. You can't do that with a kayak or canoe (at least I can't, haha!).
When the chance came to buy my own, I opted for a SUP/kayak hybrid so I could sell one of my recreational kayaks to help pay for it (turns out my son-in-law wanted it, so yay! Win-win).
I was limited to REI because I had a gift card that would need to cover quite a lot of the cost. I decided on the 10-foot 6-inch inflatable Beach SUP-Yak by TAHE.
Here's what I love about it:
A True Inflatable Paddleboard
There are various types of hybrids out there, but I wanted one that was a true paddleboard, not just a kayak I could stand on.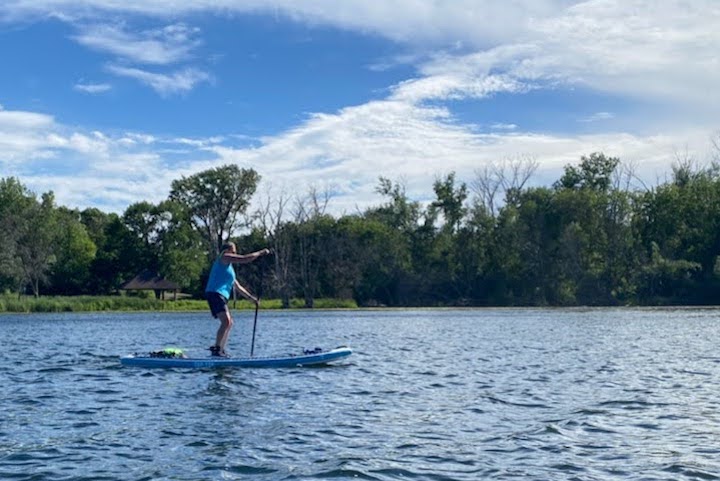 Why? Because, as I already mentioned, one of my favorite things about paddle boards is the ability to swim while I'm out on a lake and climb back on my board without too much trouble. Some hybrids have low sides on them that are more like a kayak. Nope!
Very Stable
The Beach Sup-Yak I have is a recreational board that's wide and stable. I see now they make one that's got a narrower nose for more speed. It's a trade-off.
When I took my friend out last summer with another friend's narrower, faster board, she immediately noticed the difference in stability. She preferred mine because she felt more relaxed.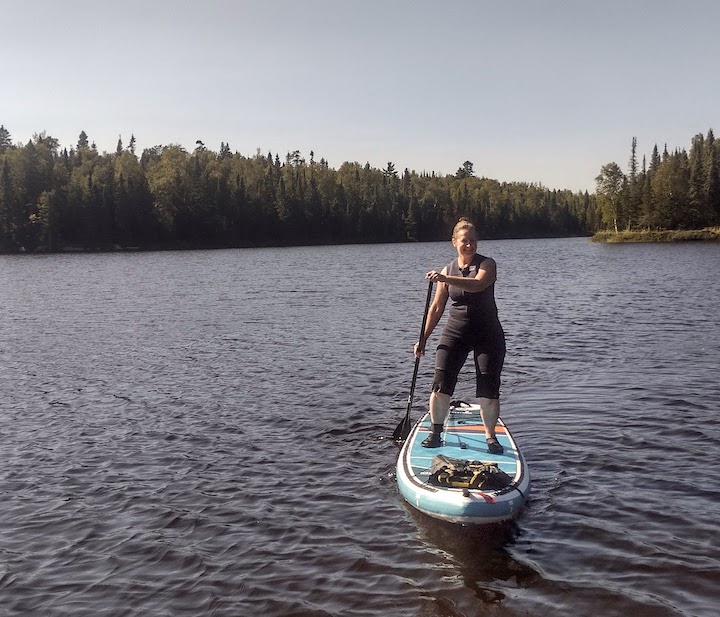 Because of its width you won't win any races on this board! But if you're out for fun and like the idea of a wide, stable platform, this one will work well for you.
As a kayak it's pretty sluggish—again, because it's wide. So you may have to paddle harder to keep up with other kayakers, especially those in hardshell models. One huge advantage, though—it's easy to get on and off!
Comfy Kayak Seat & Adjustable Foot Brace
I really like that, when attached, this seat sits me a few inches off the board itself. It's a more natural sitting position than sitting flat on the surface (or flat on the bottom of a kayak). The seat is a pad that's 3-4 inches thick.
And I LOVE having a foot brace. It takes a bit of adjusting to get it the right distance away from the seat. But once you have it set, it's great having that pad for your feet to rest on. Again, it's a more natural sitting position.
I've only used it once as a kayak so far, but it was a 7-mile paddle down the St. Croix River, so I gave it a good test.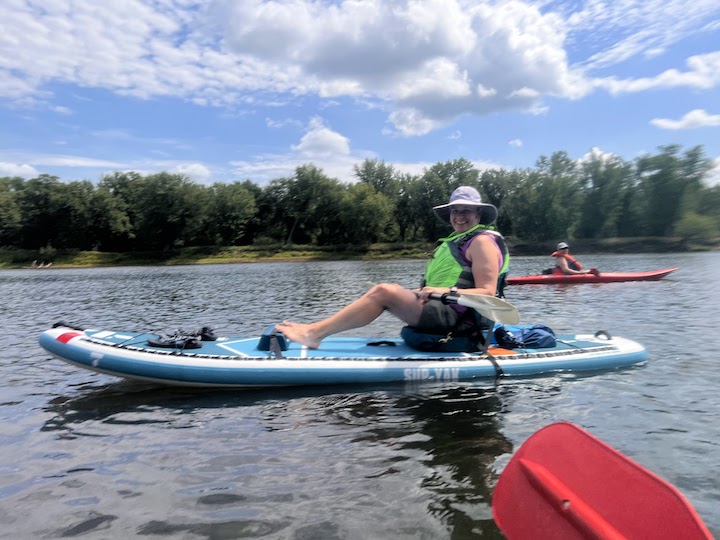 I liked the ability to change leg position when I wanted to—either stretched out using the foot brace or sitting cross-legged. Both were comfortable for paddling.
About Inflating a SUP
I quickly discovered inflating a SUP is an entirely different animal than inflating a kayak! (At least my Advanced Elements Sport kayak.)
I could easily inflate my kayak with a hand pump in 5 minutes or less to get it to its recommended PSI (pounds per square inch).
When I did my test-run SUP inflation it took me 11 or 12 minutes, with the last half of it being very hard pumping! Right then and there I decided I needed an electric pump.
When I was in my 20s I would've considered 11 minutes of hard pumping a great pre-paddle workout. But I'm in my late 50s now, and I want to save my arm strength for paddling! And I don't want to be drenched in sweat on an 85º day before I'm even on the water.
So I invested in Aquaglide's 12V electric pump. No regrets! It still takes 11 or 12 minutes to inflate (plugged into the car), but I can use that time to get everything else ready for my paddle. It automatically shuts off once it reaches the desired PSI.
(NOTE: Be sure the valve on your board is "up" before you attach the pump nozzle. If it's "down," you'll lose half your air—literally—as soon as you remove it! I speak from experience, haha!)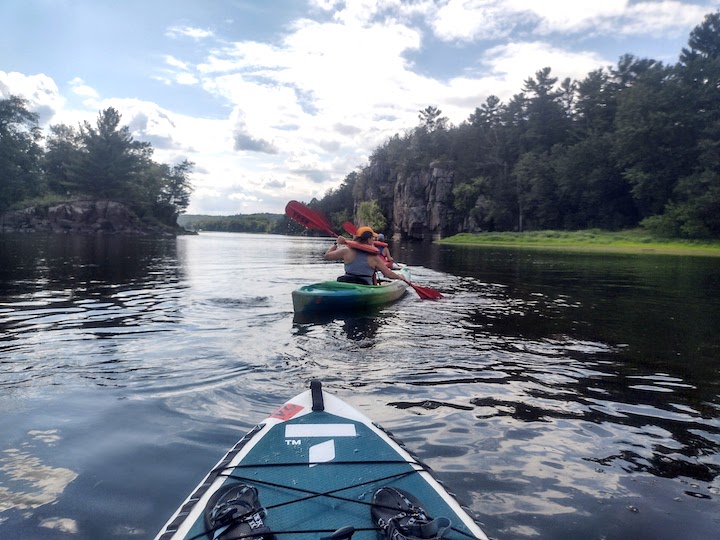 Handy Carrying Bag & Accessories
Like most inflatable SUPs, the Beach SUP-Yak comes with a carrying and storage bag. Your deflated and rolled-up board fits back inside with room to spare, along with the seat, foot rest, leash and even the hand pump, if you use it. The bag has backpack straps to make it easy to carry.
The board weighs just over 20 pounds and has a 300-pound weight capacity.
The kit comes with the kayak seat and foot brace, a hand pump, leash and SUP/kayak hybrid paddle.
And speaking of paddle…
Replace the Included Paddle
The paddle included with the SUP-Yak is also a hybrid—intended to be used either as a SUP paddle or a kayak paddle.
The first thing I did (even before the electric pump) was replace this heavy, clunky thing with a quality SUP paddle!
Your paddle is your motor, and it's the tool you use for your connection with the water. You want one that's comfortable on your hands, durable and as light as possible.
I opted for the Aqua Bound Malta. You can hardly tell it's in your hands, it's so light. It's got a carbon shaft and grip, and a gorgeous fiberglass blade.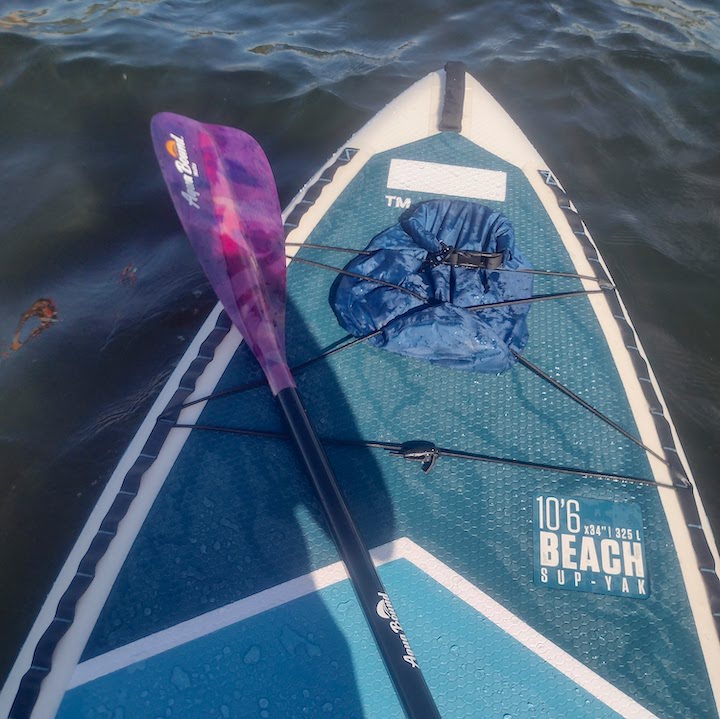 A good paddle can be pricey, yes. But I took advantage of Aqua Bound's factory second stock at 20% off (the blemish is aesthetic-only), plus their 3-day Black Friday deal last year for an additional 20% off. That amounted to almost $100 off this paddle. I love it!
When I use this SUP as a kayak, I use my not-quite-as-fancy kayak paddle, which is also an Aqua Bound model.
Where to Buy
Other brands sell hybrid SUP/kayaks, too. So do some research to decide what accessories are most important to you and what fits your budget. (Don't forget to include in your budget a decent paddle, PFD and an electric motor if you want one).
As long as you buy from a reputable paddle shop or outdoor retailer like REI, you should be able to trust the quality. And definitely look at online reviews for the brands and models you consider.
NOTE: Even inflatable boats need to be licensed in Minnesota if they're over 10 feet long. Once you buy, take your sales receipt to your local DMV to register it and get your adhesive tabs (that don't stick very well to this board!).
You'll like these, too…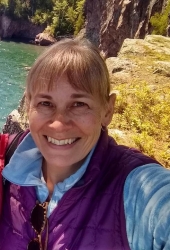 Latest posts by Sharon Brodin
(see all)