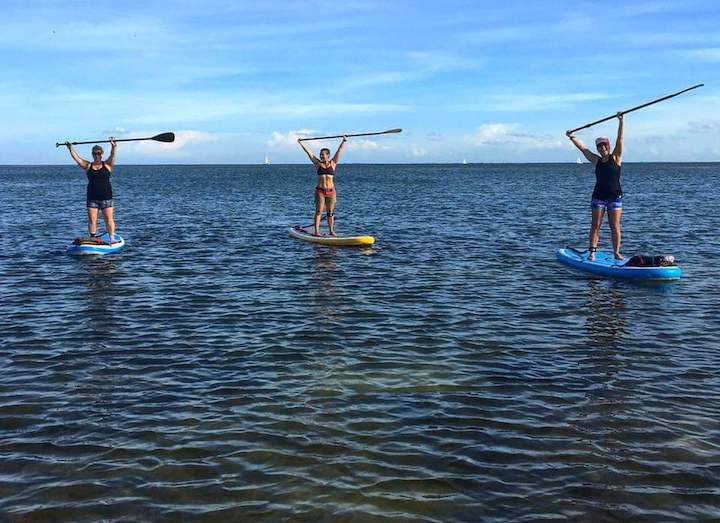 Kelly Konopliv of EnjoySup has been teaching people of all ages to find their joy on the water through stand-up paddling, SUP fitness and SUP yoga instruction since 2017.
She loves SUP for several reasons: "It's a whole body workout from the bottom of your feet, through your core, legs and arms. You get all your muscle groups involved as well as your mind. SUP makes you shut off everything else but what you're doing in that moment.
"It's non-impact, great for cross training and just getting into fitness. SUP challenges anyone experienced in yoga to get to a new level. The unstable environment forces every muscle to engage."
How EnjoySUP Began
Kelly discovered this core-building paddle sport on a trip to Hawaii ten years ago. After a few surfing lessons, she saw those standing on their boards with a paddle and thought that looked like more fun.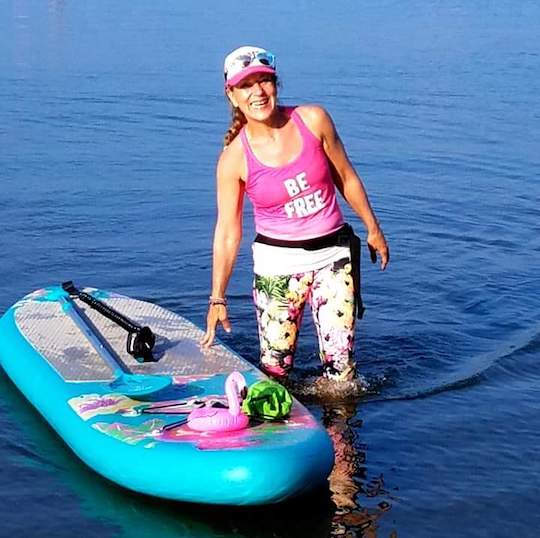 She was hooked! After returning to Minnesota, Kelly bought her own board and paddle and hit the local lakes. She often got queries from people wondering what she was doing, since SUP hadn't reached the Midwest yet.
A long-time instructor at local YMCAs, Kelly approached her boss with the idea of a SUP yoga class. In order to teach, she went down to Florida to get certified (since that hadn't caught up to Minnesota yet), bought eight boards with grant money and started to promote it to Y members.
"Most Y pools have four lanes, and these 10-foot boards took up three of those lanes. We went down to shorter, 6-foot inflatable boards instead to adapt to the schedule and still allow lane swimmers in the pool at the same time."
Kelly's classes started to fill up and the interest spread to other Ys around the area. She developed a certification program so more instructors could teach SUP fitness and yoga.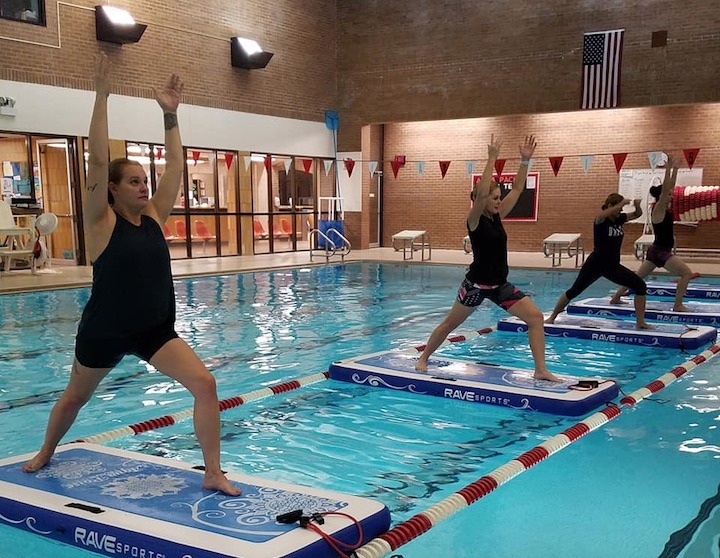 But the YMCA wasn't able to take their SUP program outdoors. So Kelly decided to start her own business in addition to her YMCA work. EnjoySUP was born.
What You Can Learn through EnjoySUP
Kelly offers two main classes through EnjoySUP: Just Paddle and SUP Fitness with a Touch of Yoga.
As its name suggests, Just Paddle is for those who want to learn the basics of SUP. The group classes are suitable for all ages, from 18 and up, and you don't need any paddling experience to enjoy them.
These classes are for "anybody who's willing to try something new who wants to learn the fundamentals in a non-threatening, non-judgement zone. It's a small group size—just 6 per class—so you'll get attention."
SUP Fitness with a Touch of Yoga uses the paddleboard as a base for stretches, lunges, even jumping jacks! It's a perfect way to challenge yourself with the added instability of moving water and wind.
Because conditions on the water change daily, even hourly, your SUP experience will be different each time.
Kelly recommends everyone try SUP at least three times. "Then you'll develop comfort and are willing to try other things than just standing. Three seems to be the magic number. You'll start to relax and not panic in waves."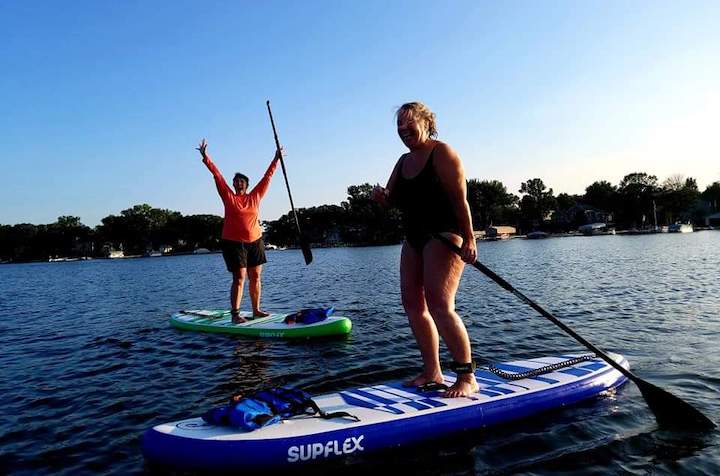 Kelly welcomes private parties, too, for one or more people, including children. One of her favorite private groups was a grandma with her 12-year old granddaughter. The granddaughter loved it so much they've already booked a private lesson this year, too.
Inflatable or Solid SUP Board?
Stand-up paddle boarding has grown in popularity by leaps and bounds. There's a wide variety of gear available, with the boards narrowed down to two types: inflatable and solid, or rigid.
Contrary to what you may think, inflatable boards made by reputable SUP manufacturers are virtually indestructible! Their lighter weight and softness make them a popular choice. They're also a bit more stable due to their thickness
And of course, the ease of storage and transporting inflatables is unbeatable. Kelly can fit eight inflatables in her Ford Focus! One can roll up to the size of a sleeping bag and be checked on an airplane.
Kelly point out that solid boards have their advantages, too, though. There's no set-up involved—tie it to your rack, drive to the lake or river, take it down and you're ready to go. They're faster and smoother in the water, cutting through the waves rather than bouncing on top of them.
Before buying, Kelly recommends trying as many out as you can. Many retailers have demo days, or rent a few types and paddle them to get the feel for how they perform.
How EnjoySUP has Adapted in a COVID-19 World
The great thing about paddling is it's so easy to keep a 6-foot distance when you need to. Not only that, you're outside in the fresh air, you're working your body and you're having fun!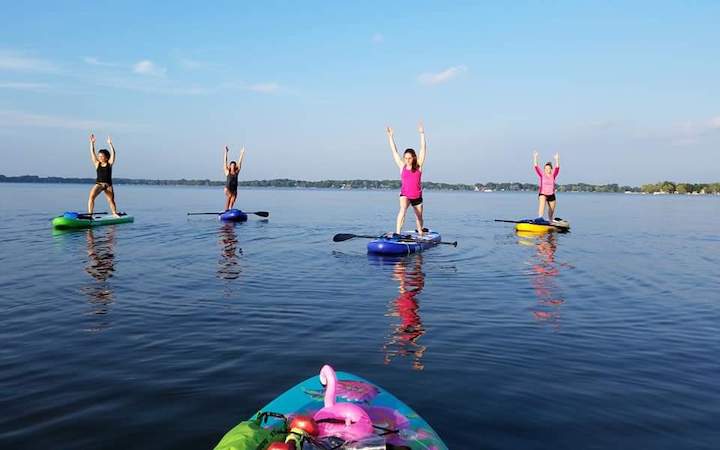 Kelly has opened registration for classes starting in June. She plans to have her students wipe down their paddle themselves to ensure proper sanitation. The boards are continually washed in lake water anyway, but any student who wants extra sanitation on the board is free to do that, too.
While each class normally begins on-shore with simple instruction, this summer Kelly may begin right in the water instead to ensure the proper distancing.
Where EnjoySUP is Located
Kelly teaches her group classes and most of her private classes at Lakeside Memorial Park in Forest Lake East Rush Lake (she moved in 2022), about an hour's drive from downtown Minneapolis.
She'll also attend events and is open to private lessons or parties at other lakes around the Twin Cities metro.
For more information and to schedule your SUP class or lesson with Kelly, go to the EnjoySUP website. You can follow them on Facebook and Instagram.
You'll like these, too…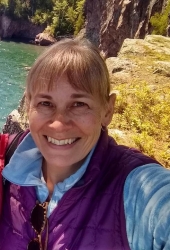 Latest posts by Sharon Brodin
(see all)