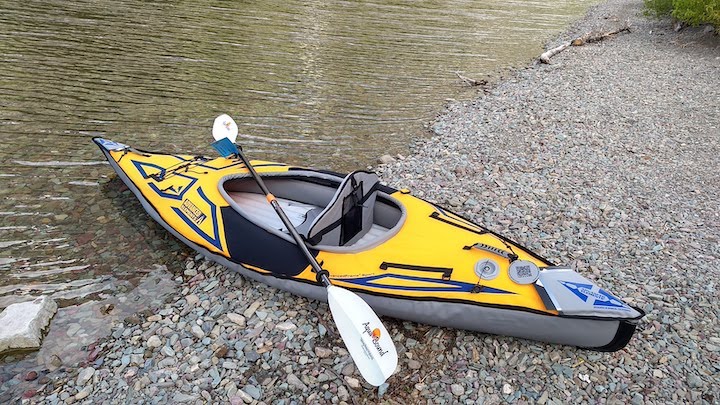 Advanced Element's Sport inflatable kayak is a super-easy-to-use, light and very maneuverable recreational kayak.
I bought mine a year ago and absolutely love it!
You won't win any speed records. But this little kayak has many great advantages over a solid recreational kayak:
Much Lighter than a Solid Kayak
As an older woman, this is important to me. I want to be able to tote it around by myself when necessary. At 26 pounds, it's much lighter than my 42-pound Old Town Otter, which is very close in size. This is nice when carrying it anywhere—for storage or to the water.
Can Transport it in Your Backseat
I can fit the Otter inside our Ford Expedition, and have many times. But our other car is a Honda…without a roof rack. And even if it had a roof rack, the Otter is too heavy for me to throw it up there myself.
My Sport fits inside its carry case and in the backseat or truck easily. Or I can take both the Otter and Sport inside our Expedition without a problem when I'm meeting a friend.
This is why I bought it in the first place—we were headed out to Glacier National Park last summer and I wanted to be able to paddle on Two Medicine Lake at our campground (how could I be there and not paddle on it?!). We needed our car top carrier on the luggage rack, which didn't leave room for the Otter.
The Sport stuffed right inside our popup camper without a problem.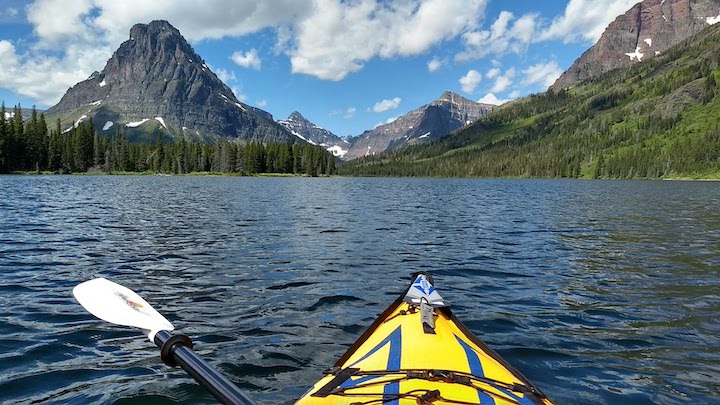 Can Store It in a Closet
If you live in a condo or apartment and storage is an issue, it isn't an issue with an inflatable kayak. I like that I can store this inside our house during the winter to help protect the material. The carry bag is about the size of a large duffel bag.
Less Than 10 Minutes from Car to Water
The pump for this kayak doesn't come with it, I bought Advanced Element's pump. It's plastic, which I'm not excited about, but it comes with several different nozzles that are attached to the hose. The pressure gauge is easy to read, and with just a bit of practice the whole process is simple.
I haven't timed myself pumping this up, but I'm going to guess 3-4 minutes.
As far as deflation—release all the "plugs" as soon as it's back on the launch or next to your vehicle. By the time you've unlocked your car or brought it down to the launch, the air is out and it's ready to get folded up.
Solid Construction & Quality Materials
I don't worry about babying this kayak. The materials are heavy duty and the construction is solid. The main inflating valve is also heavy duty and easy to use once you get the hang of it.
As I already mentioned, it's the pump that doesn't seem so heavy-duty. I keep it in the box and am careful using it. Maybe it's tougher than it looks—but no pump, no kayak!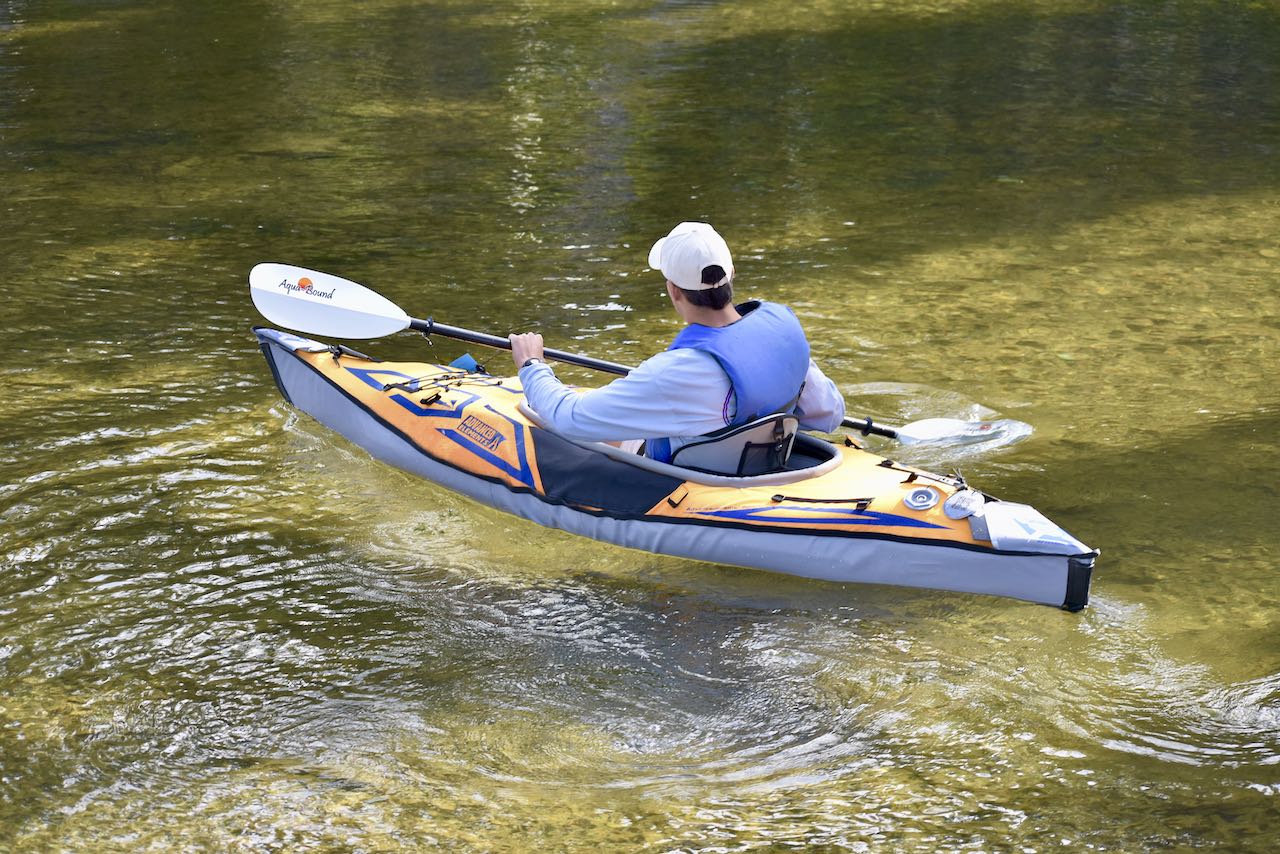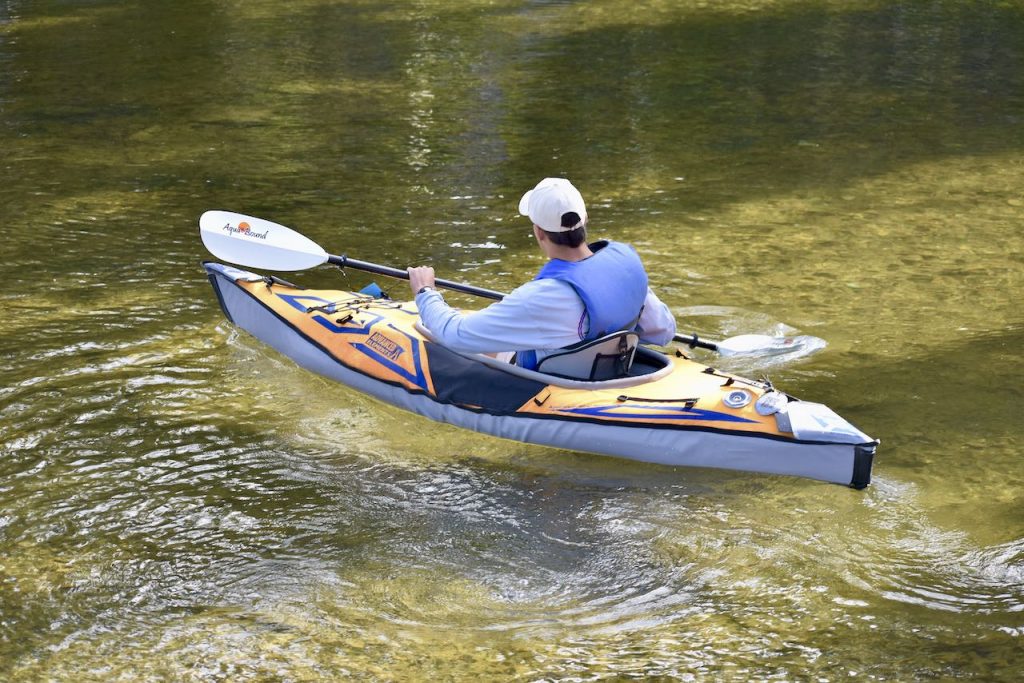 Any Disadvantages?
Yes, there are some disadvantages of using an inflatable kayak:
It Must Be Inflated
The biggest disadvantage is…you have to inflate it! And then you have to deflate it to get it back in your car or trunk. That takes a few minutes.
However, when you buy a reliable brand like Advanced Elements that specializes in inflatables, this is super easy. Go through the process a couple times at home first and you'll be able to get it done at the lake or river in no time.
AND any time spent inflating and deflating can't be much longer than the time it takes to strap/unstrap a solid kayak to the top of your car.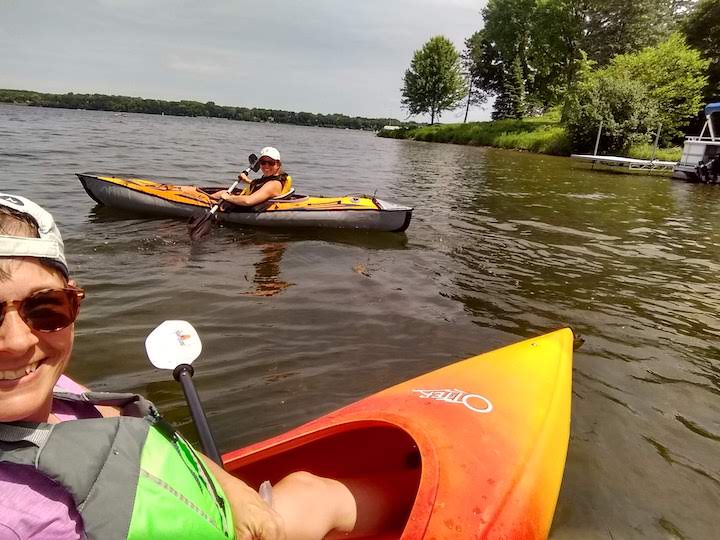 An Inflatable Kayak is Harder to Get Out Of
For me, at 55 years old and a few pounds overweight, this is the only real disadvantage. Getting out of this thing gracefully is a challenge! Because the sides are soft, there's not much leverage in pushing myself up. I always get a little wet, to be honest.
Consider practicing this without an audience a few times 🙂
You Need a Place to Dry It Before Folding It Back Up
This could be a disadvantage if you live in an apartment or townhouse without a yard. I always re-inflate my kayak when I get home, take out the seat and the floor, and let everything dry out well in my backyard before I pack it up for the day. You don't want mold to grow anywhere.
If you don't have a yard or outdoor spot for this, it could prove challenging.
If You Forget the Pump, You're Out of Luck!
Yes, I'm speaking from experience—don't forget to bring the pump along!
Where to Buy the Sport Inflatable Kayak
Advanced Elements inflatable kayaks, including the Sport model, are available through many different outdoor retailers that sell paddle sports gear. (Here's an option with free shipping.)
You'll like these, too…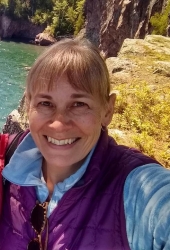 Latest posts by Sharon Brodin
(see all)