Eden Prairie/Hennepin County • No vehicle permit needed • On-site rentals
There's plenty of paddling to be had at Bryant Lake Regional Park, with kayak, canoe and SUP rentals on-site for those who need them.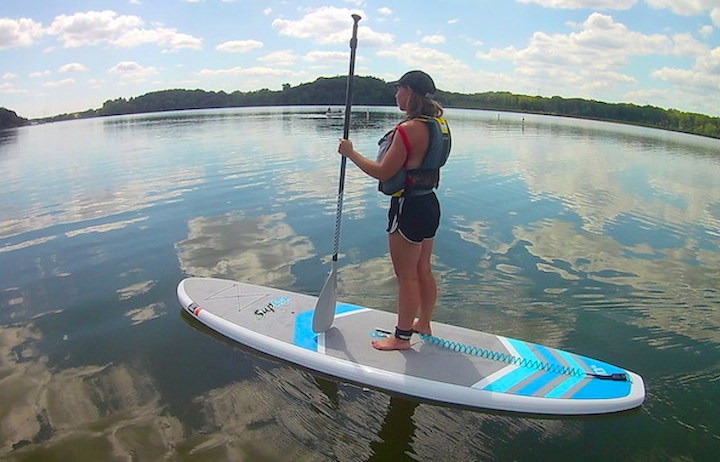 My friend, Emilie, and I spent a couple glorious hours on Bryant Lake recently on a nice hot late July day. It was the first time for both of us at the regional park and on Bryant Lake.
I'll definitely go back!
We intentionally chose a day with very little wind. And we chose a weekday, so we wouldn't have to dodge boat traffic and wake the whole time. Because of my inexperience on a SUP board, I needed as much help as I could get 🙂
Here's what we loved about our time there…
What's to Love about Paddling on Bryant Lake
SUP Rentals On-Site
Our excursion on Bryant Lake was only my second time paddleboarding. Emilie had SUPed several times before, but neither of us have our own boards or gear.
The rentals there at the beach were easy to reserve online through the Three Rivers website (in fact, starting in 2020 it's the only option). We showed up a few minutes before our 1:00pm time slot, and our boards were already down at the water ready to go. The friendly staff took good care of us.
(It's so convenient to just show up, grab the gear and then let someone else take care of it once we were done!)
We paid $20 each for 2 hours, plus tax. We thought that was a good deal. Rental hours are noon-7:00 pm.
You can also rent canoes, kayaks and double kayaks at Bryant Lake. Check this page for options. And even though the boat launch is closed this season for maintenance, it'd be easy enough to carry your own boat down to the beach area to launch.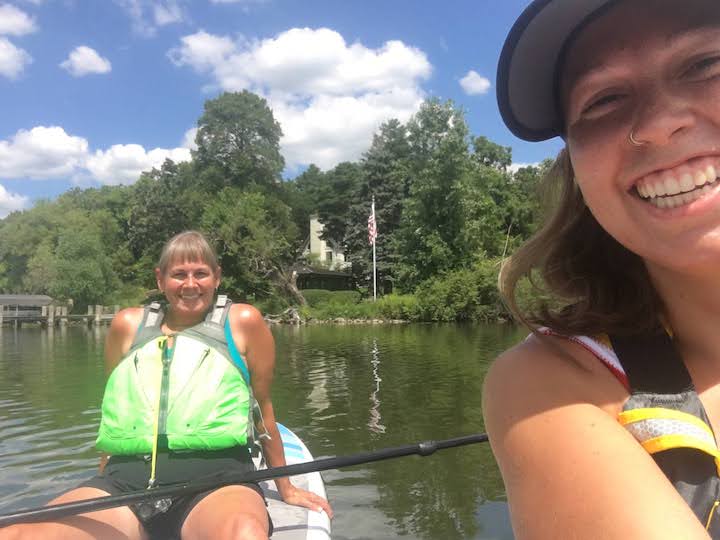 They also do paddling lessons there at the park. A group of teens was out with an instructor on SUP boards while we were on the water.
Bryant Lake's Size
Bryant Lake is 161 acres in size. Big enough to get in plenty of paddling, but small enough to not have to work too hard to manage it in the 2-hour rental time you get.
We made it around the whole lake, with stops to swim and enjoy the local fauna.
Great Swimming
Like most of the lakes in the Twin Cities, Bryant has plenty of weeds around the shorelines, and isn't super clear. But the water temps were so refreshing!
We stopped a couple times out in the middle to go for a swim. One of the huge advantages of paddling a SUP board over a kayak or canoe—they're relatively easy to climb back onto!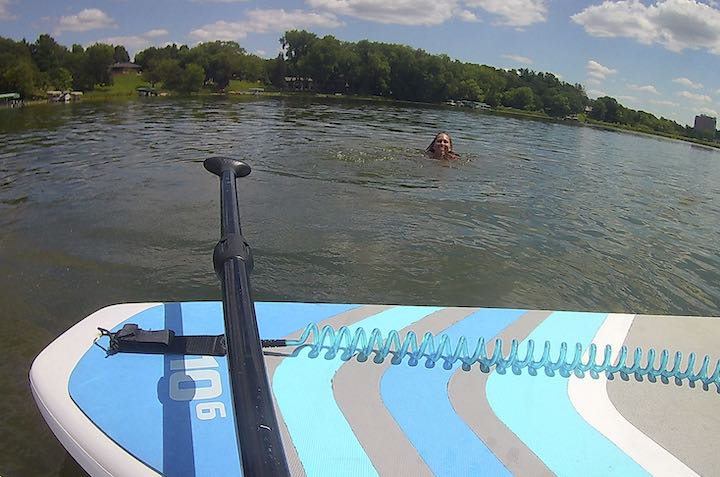 There's also a really nice beach at the regional park, which plenty of families were taking advantage of (with social distancing, of course!).
Large Patches of American Lotus
As we paddled around the lake, we noticed large patches of what looked like big yellow water lilies. Neither of us had every seen anything like them. They were magnificent!
Both the flowers and the lily pads (leaves) were enormous, and when we were among them, a lovely smell surrounded us.
After I got home, I did an online search for them. I ended up contacting Nine Mile Creek Watershed District and received an answer before too long: Those patches are American Lotus, a native North American aquatic plant.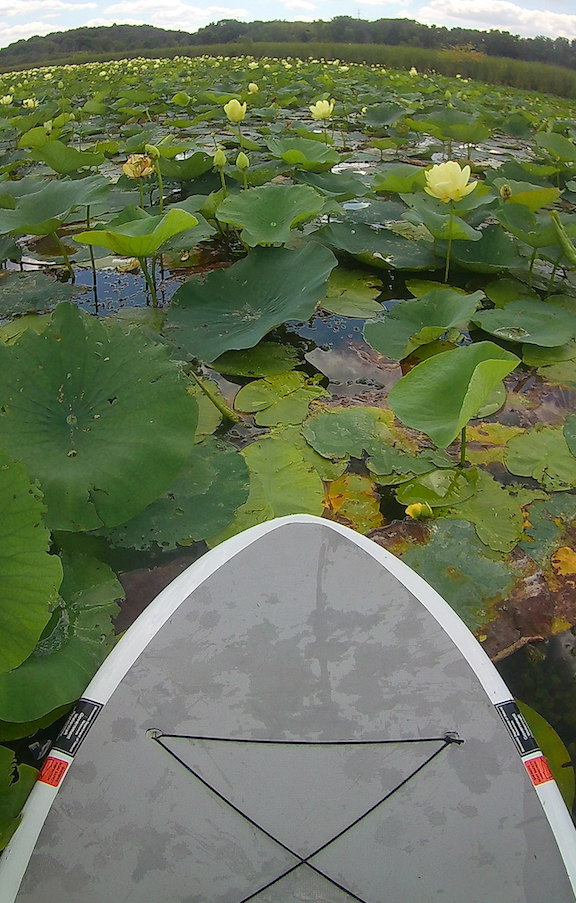 I've always loved water lilies, and now have a new variety of water plant to love!
Jaw-Dropping Lake Homes
We couldn't help noticing the gigantic and beautiful lake homes on Bryant Lake's shores. Quite above our middle-class touch, but fun to see! Since they all had one or more boats and lake toys, we were glad we chose a week day! I'm sure the lake gets super busy on the weekends.
With real estate so exclusive in that area, it's even better news that there's also a nice public park so the rest of us can enjoy it, too.
Other Activities at Bryant Lake Regional Park
Besides paddling sports and the swimming beach, Bryant Lake Regional Park offers 12 miles of bike trails, both paved and natural-surface hiking trails, a 9+ acre off-leash dog park and disc golf.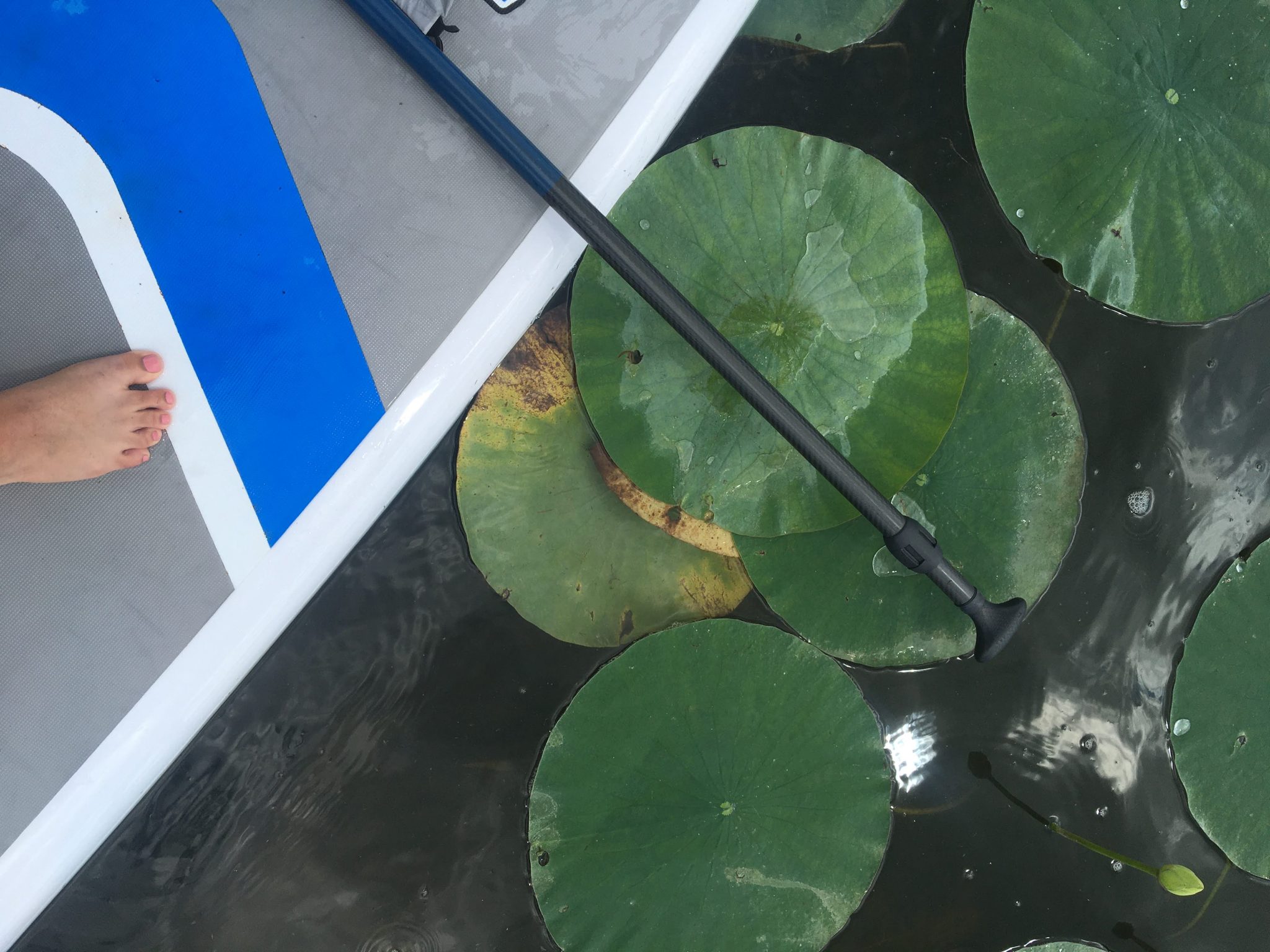 How to Get There
The park is at 6800 Rowland Road in Eden Prairie, just a few minutes off Highway 212.
You'll like these, too…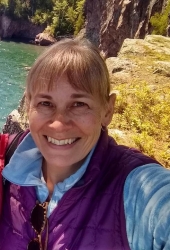 Latest posts by Sharon Brodin
(see all)