I've been using Aqua Bound's Sting Ray Hybrid kayak paddle since 2019, and can tell you—I know why it's their best-selling kayak paddle.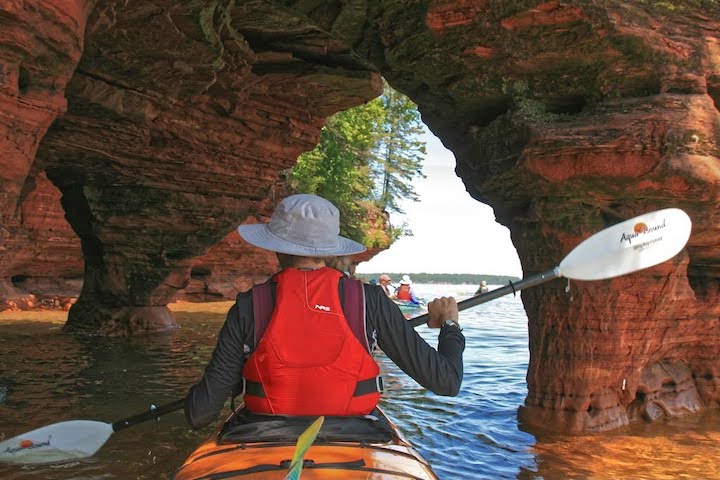 Before I go any further, you should know I'm a content writer for Aqua Bound. I can't pretend to be unbiased, nor would I want to be. I've used many of their paddles, own two of them (both of which I paid for) and have enjoyed a terrific working relationship with them since late 2016.
So one of the reasons I love Aqua Bound paddles—besides getting paid to write for them—is because of the people. They're a great crew who are truly committed to making the best products possible and providing the best customer service in the industry.
Besides that, they're almost local—their headquarters are just across the St. Croix River in Osceola, Wisconsin.
So, on to my review of the Sting Ray Hybrid…
Aqua Bound's Best-Selling Kayak Paddle
The Sting Ray Hybrid with their Posilok® ferrule system is Aqua Bound's best-selling kayak paddle.
It's the ideal combination of high-quality materials, light weight and comparatively affordable price point.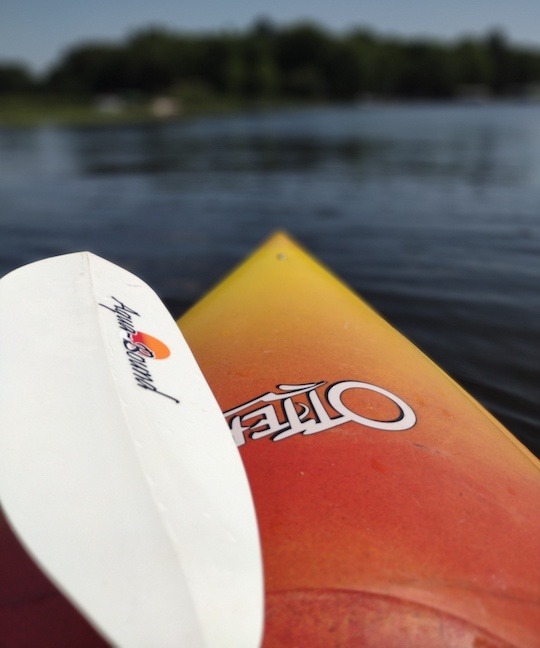 The Sting Ray Hybrid has a carbon shaft that, like all Aqua Bound's paddles, is slightly ovalized to fit your hands comfortably. The white blades are fiberglass-reinforced nylon. The entire paddle weighs just 30.5 ounces.
A kayak paddle's ferrule system is the way the two halves of the paddle connect together in the center. The Sting Ray Hybrid comes with two ferrule options: the standard snap-button ferrule and Aqua Bound's Posilok® ferrule system.
Even the snap-button model features a snug, tight-fitting ferrule. But the Posilok ferrule is worth the few dollars extra. It's super easy to feather your blades to any angle you choose (feathering means to offset the blades slightly, which helps when facing a stiff headwind).
It comes in a standard 2-piece model as well as a 4-piece model, if you plan to take it along traveling with you. The 4-piece breaks down to even fit inside a checked suitcase if you fly.
Why a Good Paddle is Worth the Price
I didn't always use a good paddle. For the first, oh, 15 years of my recreational kayaking life I used a cheapo aluminum paddle I found at a local sporting goods store. I didn't appreciate what a difference a good paddle makes!
First, my Sting Ray feels about a pound lighter than my cheapo paddle. A pound may not seem like that much of a difference, but having that lighter "swing weight" means I can paddle longer without getting tired. At 57 years old, that means something!
The blades are designed specifically for a style of kayaking called low-angle. They're long and slim, made for touring—being on the water for extended periods of time with little effort. They're shaped with efficiency and effectiveness in mind.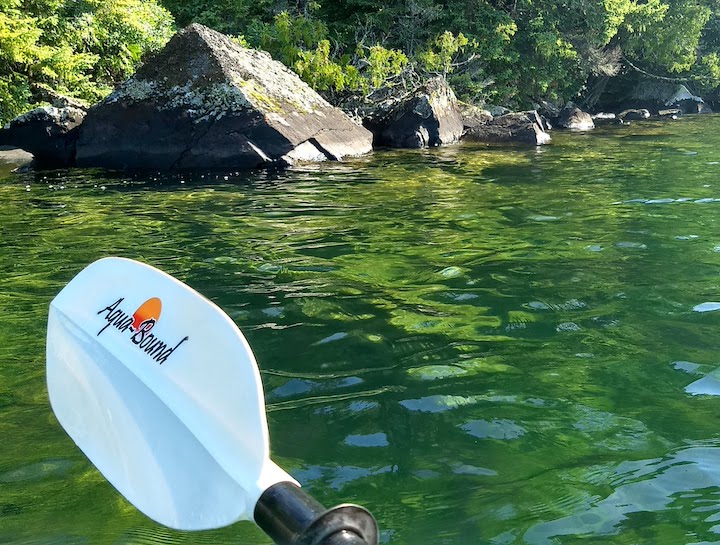 The carbon shaft feels so comfortable on my hands, especially after years of using that cold aluminum. On hot days it's not a big deal, but if I'm out when it's cooler or rainy, it makes all the difference!
Remember, your paddle is the extension of you providing the power to move your kayak. When you think of it that way, it makes sense to spend real money on one. Not just get by with the cheapest one you can find.
If you're looking at a pretty good budget for your kayak paddle, I even recommend stepping up to either the Sting Ray Carbon—which is even lighter—or their Tango kayak paddle, lighter yet. The Tango features translucent fiberglass blades in super cool designs 🙂
Anything I Don't Like about the Sting Ray Hybrid?
Sure, the white blades aren't real inspiring…especially after seeing the gorgeous blades on the Tango! Haha. But white is good for visibility when I'm on the water, which is a plus. The Sting Ray Hybrid only comes with white blades.
(It's a significant price jump to the Tango because each blade is hand made one-by-one—that's how they can be so gorgeous and durable at the same time!)
Also, I chose the 4-piece model so it'd be easy to take along places. I made the mistake, though, of not taking it all the way apart every so often. The center ferrule works easily, but the blades don't come off easily anymore, because I never take them off.
So if you buy a 4-piece, take it apart every so often to keep it easy.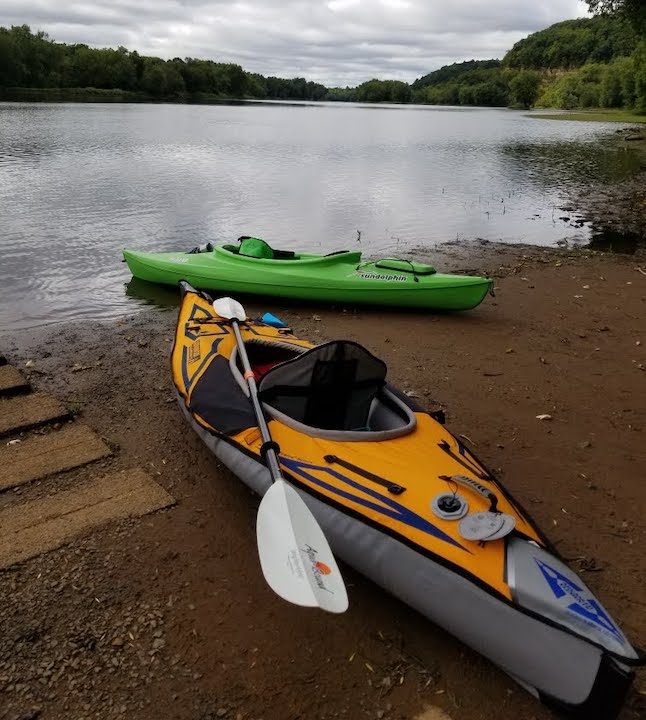 How to Size a Kayak Paddle
Most new kayakers don't realize the length of their paddle makes a big difference. It's like fitting a bike, or a pair of skis—when it fits you properly, it's much easier to use.
At its most basic, the length of your paddle is determined by your own height and the width of the kayak you have, or plan to buy. Have a look at Aqua Bound's Kayak Paddle Sizing Guide to size one for you.
Mine happens to be 240 cm long, based on my height of 5'6.5″ and the width of my rec kayak, which is pretty darn wide.
Last summer I went on a sea kayak trip with some friends, and my paddle was too long for me because sea kayaks are much narrower than rec kayaks. So I handed off my paddle to my friend who's a little over 6 feet tall and it was perfect for her. I used a shorter paddle for that trip.
Where to Buy the Sting Ray Hybrid
Because it's such a popular kayak paddle, the Sting Ray Hybrid is available from many different retailers. Locally, you can find Aqua Bound paddles at REI, Hoiggard's, Midwest Mountaineering and Joe's Sporting Goods.
You can also buy it directly from Aqua Bound's website. As of 2022, it retails for $174.95 for the 2-piece and $184.95 for the 4-piece.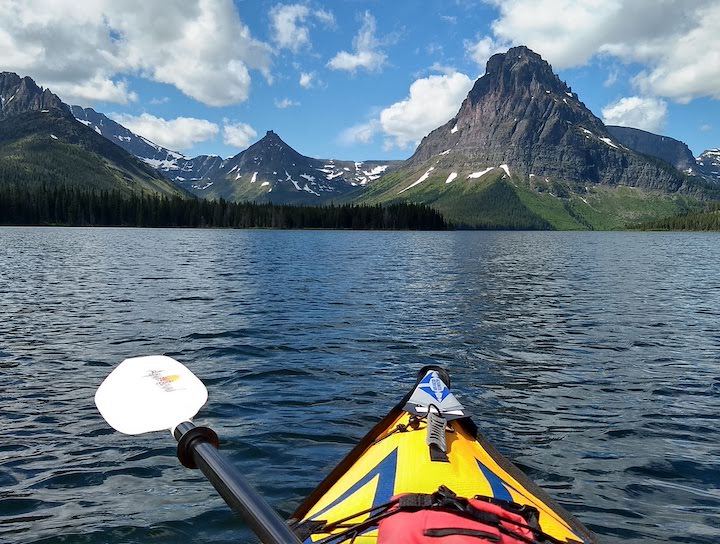 Here's more…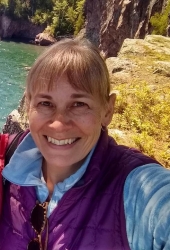 Latest posts by Sharon Brodin
(see all)