Below-zero weather isn't at all uncommon here in the Twin Cities during our winters.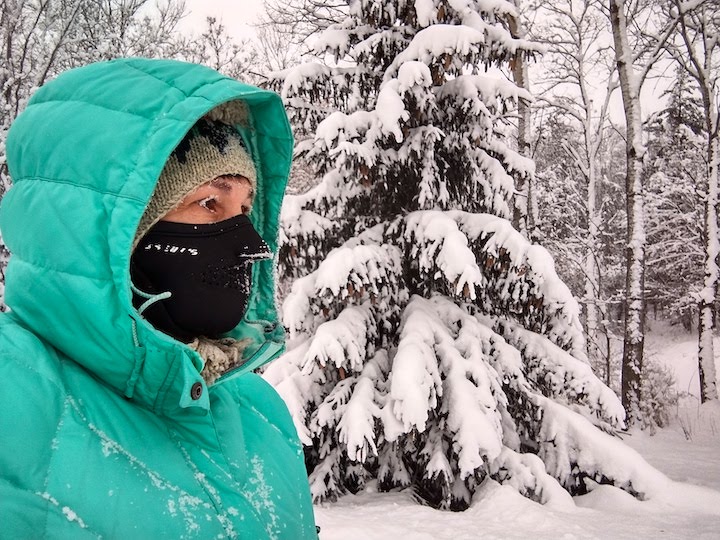 These temps are especially not fun when we go to work, shop, run kids around and do our errands around town. But there's no reason we can't keep up our outdoor activities in below-zero temps when we dress for it.
I thought I'd give you a play-by-play of what I wear for my daily neighborhood hike on a typical below-zero day. I hope it helps you choose what works for you, too!
(NOTE: What I share here is for low-intensity activities like walking, hiking and snowshoeing on level trails. It would be much too warm for cross country skiing, trail running or intense snowshoeing.)
Temperature and Wind Chill are Not the Same
We make a big deal here about wind chill factor. And we should—it's a big deal for exposed skin.
Something I've learned, though, is that 20º below zero and a 20-below wind chill don't feel the same when I'm out hiking (and I've hiked in 20º below zero temps!).
In the past, I've over-dressed by choosing gear based on wind chill rather than straight temperature. Now, I always dress for temperature, not wind chill.
Here's what I mean: Most of the photos in this post are from our cold snap a couple weeks ago. I was out in about -3º if I remember correctly. There was very little wind that day, so wind chill wasn't too much of a factor.
This morning it wasn't much warmer—about zero once I got outside. But there were 20-below wind chills. I didn't dress any different for today's walk than I did for my walk a couple weeks ago, though.
The key with wind chill is exposed skin. I had to keep my hood up and tighten it down more to keep that wind off my face today. But I still wore the same gear.
Wind is the reason we stress wearing windproof or wind-resistant materials so much. And those materials work whether we have a 5º wind chill or a -25º wind chill.
What to Wear on Your Head and Face
The photo below diagrams my go-to frigid day head gear: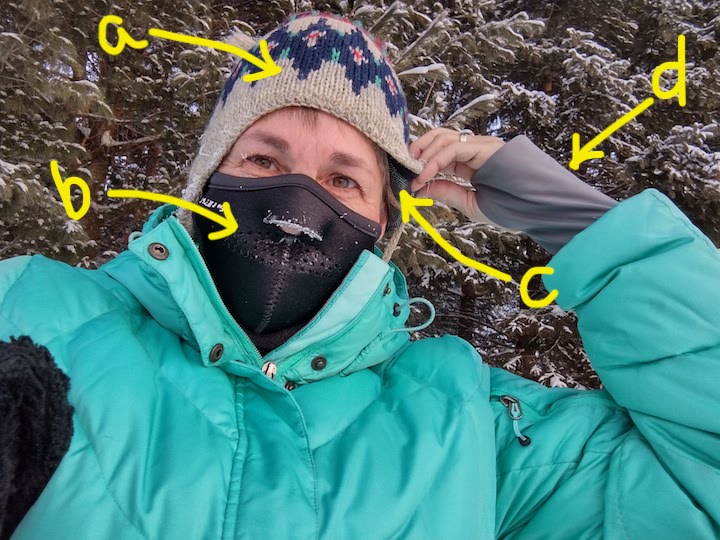 A is my wool hat. Wool is really warm, even if it should get wet in the snow. It isn't wind-resistant, though, which is why I pair it with C.
B is my Seirus NeoFleece® ComboScarf. This provides both warmth and wind block for my nose and lower face. I write all about that here.
C is Columbia's Omni-Heat® technology. Mine happens to be a thin nylon beanie that fits under all my hats. Amazingly, this beanie keeps out the wind!
D (for my hands, not my head, but since it's part of the photo…) my down coat has these attached hand thingies that work great when I have to take my mittens off for anything. They provide a bit of warmth and wind-blocking for a few minutes at a time.
When the wind picks up and the wind chills plummet, I always wear my hood along with my hat (as you can see in the photo at the top). It's incredible how much your hood will keep the wind from blowing across your face.
Upper Body Warmth
My personal favorite insulator for below-zero weather is down. It's so light and so warm, and provides natural wind-resistance.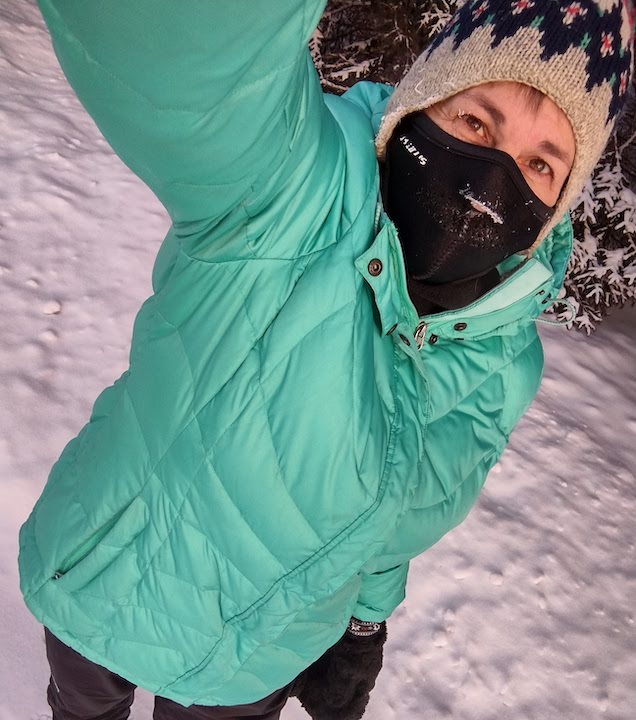 Buy a down coat from a quality manufacturer (mine is from Lands End) and you also get a water-resistant shell, a great fit, fleece-lined pockets, zippers that work, a coat that'll last you for years.
A coat that covers your hips will be warmer than one at waist-length, FYI.
Underneath my coat, I'm wearing a thin short-sleeve workout tee and a mid-weight fleece quarter-zip pullover.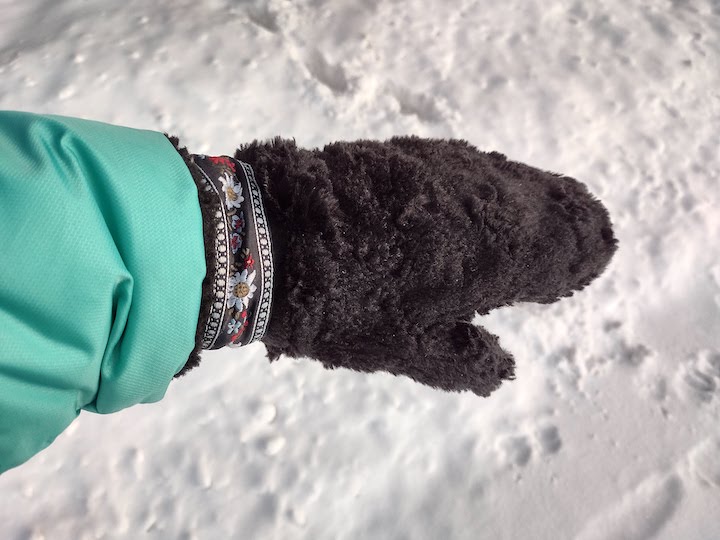 For these cold, cold days I go with my Polar Mitts for my hands. While not technically windproof, the fleece used in these is so wonderfully thick that a 20-below wind chill didn't matter.
These particular ones I own are made of faux fur and lined with Polartec 200, I believe. Love the Alpine trim!
Lower Body Warmth
Honestly, I can't remember what I wore a couple weeks ago on my lower body. But I go with one of two options when the temps are below zero.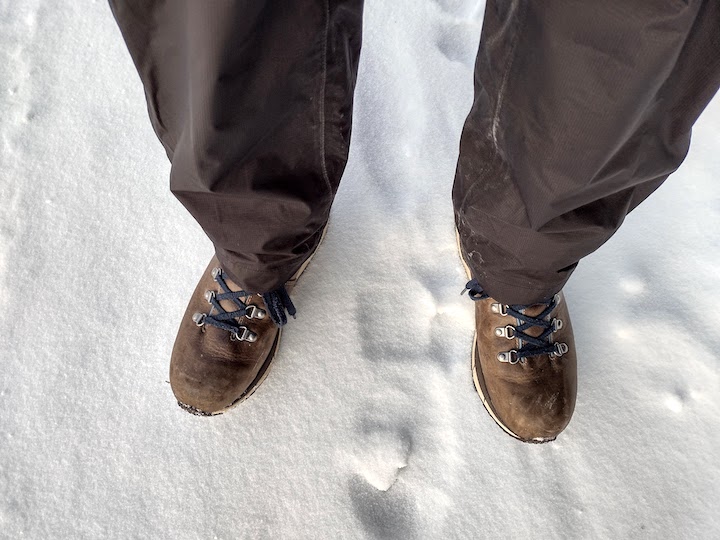 I wear either:
Cuddle Dud leggings (very thin) with fleece pants (I think they're a Polartec 200 weight) and Gore-Tex rain pants. The fleece provides the warmth and the Gore-Tex shell provides the wind block.
Winter running tights under my downhill ski pants. The ski pants provide most of the insulation and all of the wind block.
What to Wear on Your Feet
For my feet, I always have wool socks on. Preferably one of my pair of Icebreakers!
The boots in the photo above are LL Bean's Alpine Hikers. They're made for walking, are VERY comfortable, ankle-high and made with waterproof leather. No wind is getting through them.
As long as my feet are warm before I leave the house, they stay warm in these boots, even in these temps. I also have noticed that if my legs stay warm my feet also tend to be warm.
What About When the Temps are -15-20?
When the temperature itself falls to around -20º, not just the wind chill, about all I change are:
I love to head north once or twice a winter—the Gunflint Trail, preferably. Everything I've described here works for me up there, too, with those two small changes.
You'll like these, too…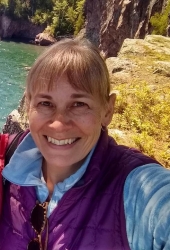 Latest posts by Sharon Brodin
(see all)