I personally saw my first electric bike a year ago, in Tel Aviv, Israel. I thought, "That's not exercise, that's cheating!"
But after sitting down with Bjorn Selander, co-owner of Afton's Velo du Nord (2023 update: no longer in business as a bike rental shop, unfortunately!), and receiving my short education on electric bikes—and especially after riding one—I'm now a believer!
The Scoop on Electric Bikes
Electric bikes have been around since 1993. The Japanese, not surprisingly with their large cycling population, were early pioneers.
While there are e-bike models with a throttle—meaning you can go from providing all the pedaling power yourself to letting the bike take all of it—Bjorn's favorites are the pedal-assist models.
These are the closest thing to riding a "real" bike. You'll have to pedal, but the more you push, the more is assists you. The adjustable modes mean you can work as hard as you like, but can have assistance when you need it.
You can charge the battery whether it's on or off the bike, and it takes about 5 hours to reach a full charge. How many miles you get per charge depends on the bike and model, but 70 miles is a good average. Some can get 100 miles or more per charge.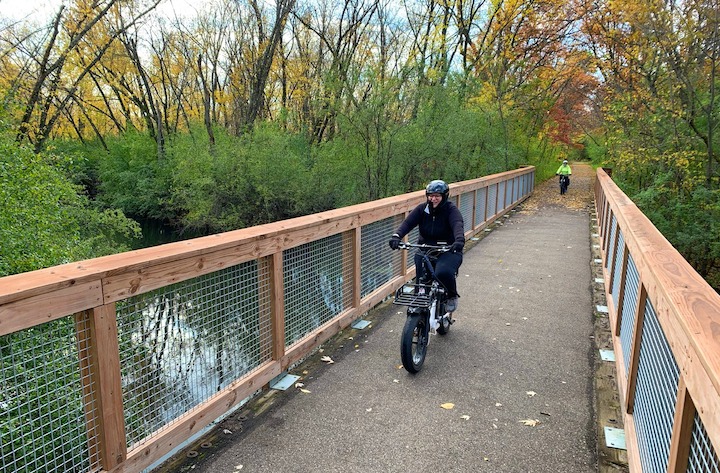 Of course, it's all dependent on how you ride. Lots of hills and lots of pedal-assist and you'll use more battery than flatter with less assist.
My Personal Experience on an E-Bike
Last week Bjorn took my friend, Kirsten, and me out on a two-hour bike tour of the Afton area, where his shop is located. After sizing us, asking our preference for performance and giving us a quick briefing of adjusting the assist modes and gear shifting, we were off.
Kirsten loved the Sykl Power Bike she rode. She and her husband ride motorcycles, so she loved having a throttle, and also the idea that this bike can fold in half for easy storage or moving.
I rode a model with almost-fat tires and no throttle, but pedal-assist levels from ECO (the bare minimum) to Turbo. In the Turbo mode I could handle a long incline even at the end of our two hours.
Anyone who knows the Afton area (or any area along the St. Croix River) knows there are lbig hills…and lots of them! Bjorn says that's why so many serious cylists go there to train.
But for two 50-something women who only bike occasionally, this was the most amazing way for us to enjoy this beautiful area by bike and live to tell about it!
There's NO WAY I could've handled these hills on my own bike. In fact, that's one of the main reasons why I don't bike as much as maybe I should in our Twin Cities area—the hills (and wind!).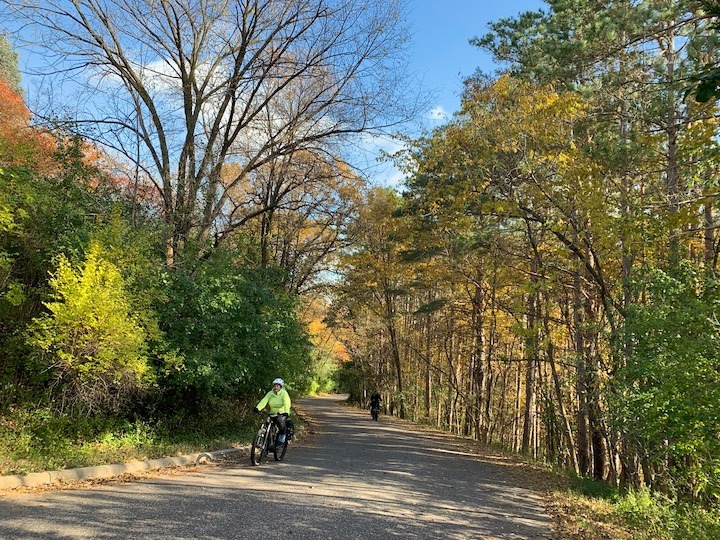 And yet I still got a major workout. Here's how I could tell: As I was taking the scenic route home through Stillwater, I thought, "I'll just swing by Fairy Falls and see if the leaves are still good on the trail…"
When I started up the steep uphill climb after the footbridge, my legs felt like jello! I actually turned back and said, "Not today!" So yeah, good workout!
Who's a Good Candidates for an E-Bike?
Bjorn is firm in his belief that e-bikes are great for the cycling world:
"Some people think they're a disgrace to cycling. But this is just another tool for someone to get out and ride a bike. Who cares if it's an e-bike? They're still riding a bike, and that's what matters to me. Mom is a perfect example. She's 61 and has wanted to ride to work so many years, but never did. I got her an e-bike and she rides to work all the time now!"
Here are just some of the folks who would benefit from an e-bike:
"Commuters who want to get to work a little bit faster but still want a workout." (E-bikes are rated to 20mph. Anything over that is considered a moped and needs to be licensed as such.)
People with heart issues are prime candidates for e-bikes. Bjorn has a friend who used to be a pro cyclist, then developed a heart issue. "E-bikes have changed his life. Now he can still ride with groups on 100+ mile rides and protect his heart."
Someone who wants to ride an e-bike. They're fun! "I've yet to see someone ride one without a big grin on their face!"
People who don't like biking up big hills (like me!).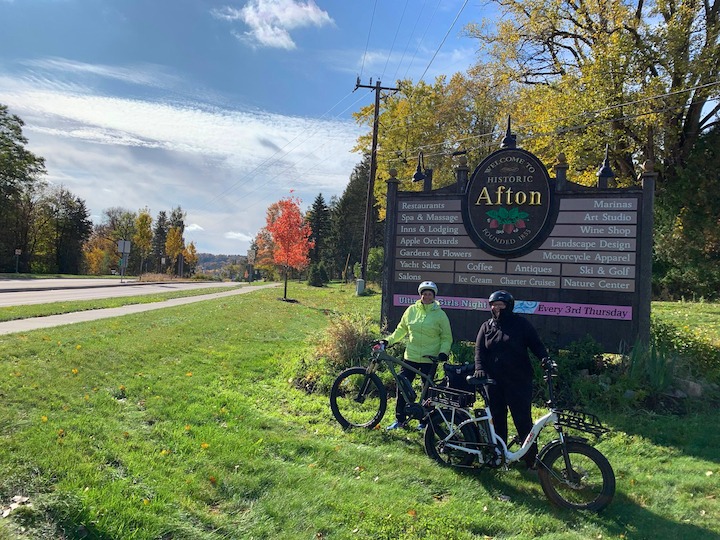 What Will You Pay for an Electric Bike?
Bjorn suggests Bosch, Yamaha, Sykl and Kona as brand names you can trust to deliver a quality product that'll last for many years.
The Yamaha base model retails at $2,399, while their mid-model with several more features reatils at $2,999. Others on the higher side—$4,299. Specialized and high-end e-bikes can run up to $13,500! The smaller Sykls are under $2,000.
You'll also find them in the big box stores for under $1,000, although Bjorn warns "You get what you pay for." One of the reasons he likes Yamaha is their excellent customer service—something you'll need when it comes to replacing parts or making repairs.
There's an E-Bike Style for Everyone
The brands are very different with different drive motors and a different feel. So definitely try any e-bike before you buy it. Go to a rental shop like Velo du Nord and rent one for an hour or two, and ride it on varying terrain. Do that with a few different brands before making your decision.
Pretty much any style bike is available as an e-bike these days, including 3-wheelers, cargo bikes, mountain bikes, fat tire bikes and road bikes—and more are being developed every year.
What about Winter Riding?
E-bikes run on a lithium battery, so you can't leave it outside in the cold. The battery pack is removable, though, so bring it inside during our Minnesota winters for charging and when you're not riding.
Next Step: Try One!
Head on over to a bike shop that rents e-bikes. I highly recommend trying it out in an area with hills so you can really feel the boost it gives you. I'm pretty sure you'll love it!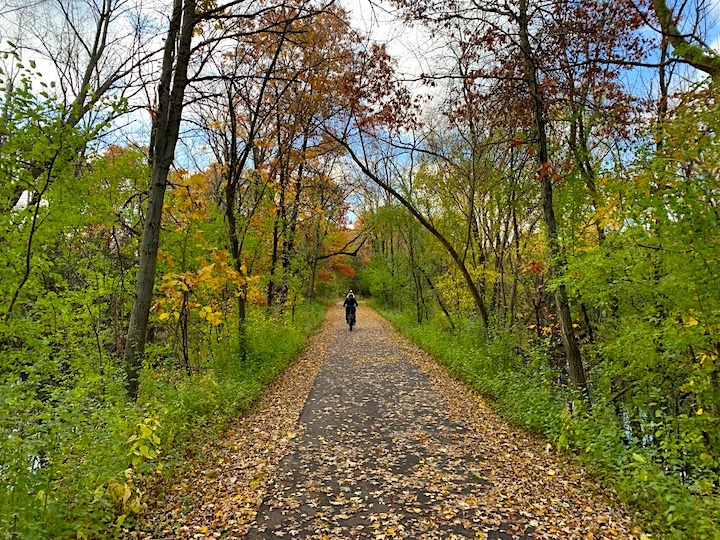 (All photos courtesy of Bjorn Selander)
You'll also like…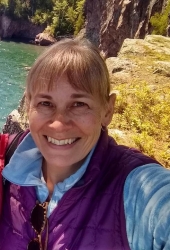 Latest posts by Sharon Brodin
(see all)