Late snow, early snow, almost any kind of snow—snowshoeing is a guaranteed wonderful experience. It is one of the safest, cheapest, easiest and most enjoyable activities to embrace Minnesota's cold winters.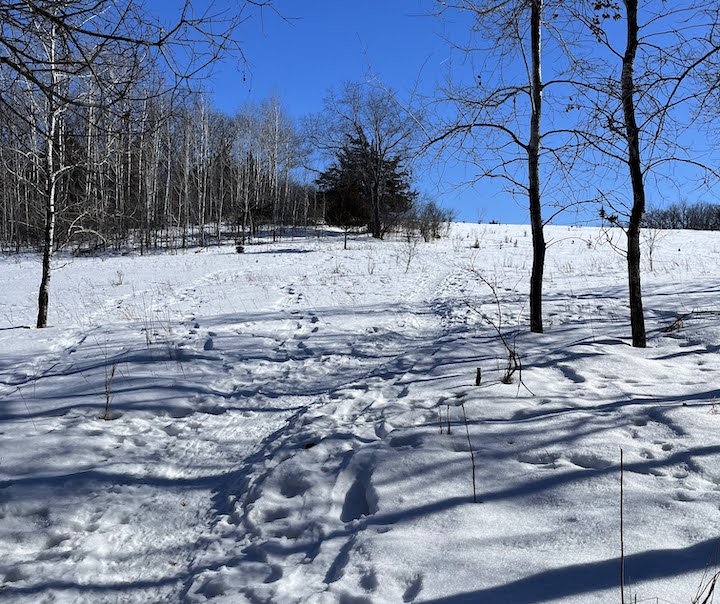 One of my favorite snowshoe trails is "Deer Valley Loop" at Afton State Park.
The loop is described in the state park's brochure as "steep terrain, narrow trail, up hills and down ravines, climbs to the top of a bluff and a wide open prairie with expansive views." I found this to be an accurate description.
Twin Cities Ski & Shoe Guide
Published in 2021, our 55-page digital Ski & Shoe Guide is the easiest way to find cross country ski and snowshoe trails in all seven counties of the Twin Cities metro area.
About Deer Valley Loop Trail
To experience this loop you need to park at the office. Strap on your snowshoes on the packed trail just west of the parking lot. The trail runs parallel to the road and down about a half mile to a wooden bridge.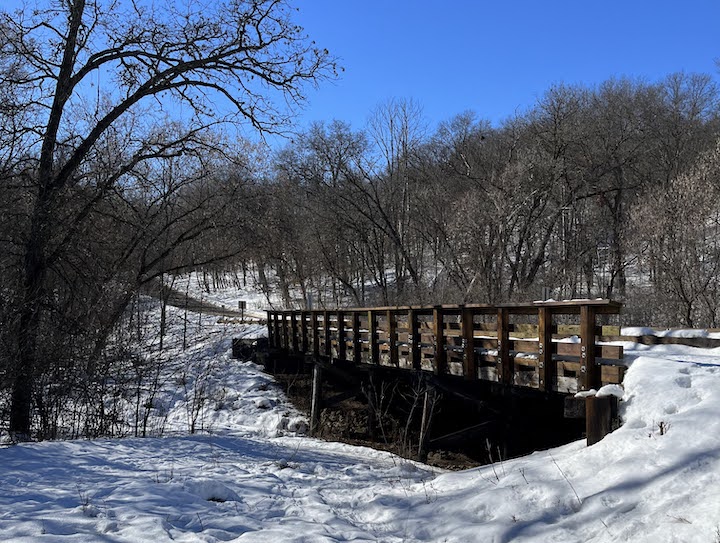 Deer Valley Loop begins at the wooden bridge. It's a 2.25-mile loop. Once at the bridge, keep to the right. The trail winds up and down the north ravine along the creek. It then crosses the creek, continues up the south ravine to the top of the bluff and out onto an open prairie. It heads back into the woods, down the ravine and along the south side of the creek.
There are a few steep inclines through the woods leading up to an open expanse just before Intersection D. The trail heads back towards the bridge and then climbs back up to the park office. Total distance to the bridge, Deer Loop and back to the office is about 3.25 miles. It took me 1 1/2 hours (including stopping to take pictures).
True to the name of the trail, I came upon two deer that didn't seem to mind me in the least. They studied me with mild interest and soon continued on their way.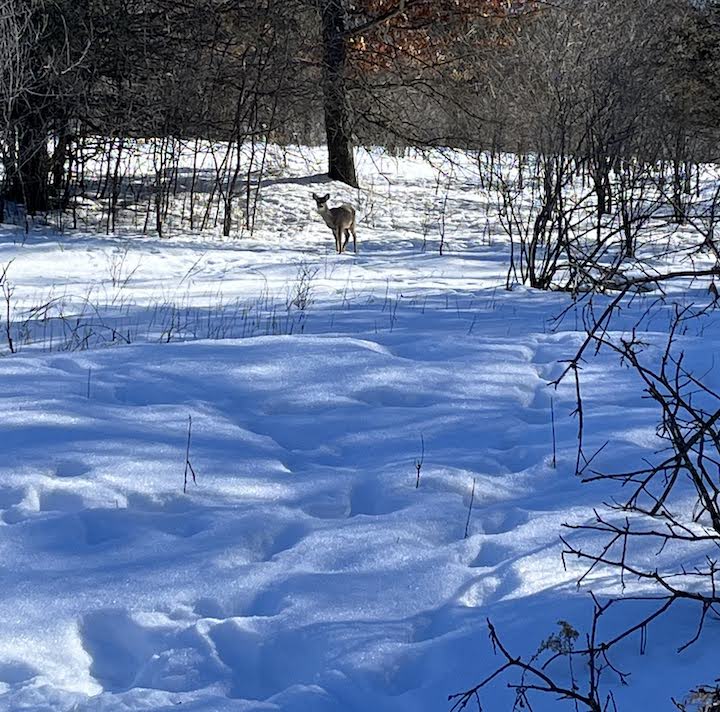 Why Snowshoe?
Minnesota is a fantastic state to live in and has an abundance of things to do outdoors. Most people embrace activities in the warm weather, but many are hesitant to explore activities in the cold winter months.
Winter can be very long if you spend the entire season indoors. There are many cold weather activities one can participate in, but most require special equipment or can be costly.
Snowshoeing is an option that most people overlook, but can be enjoyed by everyone despite most physical limitations and/or budgets.
Admittedly, I never considered snowshoeing an activity to embrace routinely. It was more of a novelty to do once in awhile. The type of snowshoes I was familiar with were long and cumbersome. They were designed for deep snow and required a great deal of stamina.
Recently, though, I've been introduced to the newer version of snowshoes. These extend just a short distance beyond the toe and heel. They're easy to walk in and designed for trails that are packed down. They strap easily to your winter boots and away you go.
As I get older I've learned to be more cautious. Injuries can set me back a long way. Many people like me can become fearful of activities that may cause injury. Over time we may become more sedentary which can also lead to injury.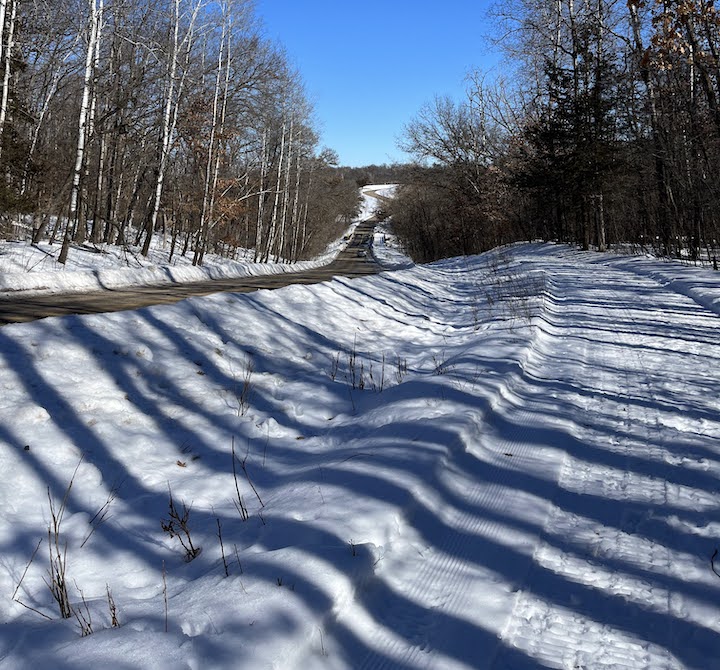 We're told that the only way to keep moving later in life is to keep moving each day. I can't think of another winter activity as safe and enjoyable as snowshoeing.
Snowshoeing is a fantastic workout whether you're on a lake or a challenging trail. I guarantee that, no matter what terrain you chose, you'll warm up quickly and will be able to enjoy the beauty around you. I promise, you will wish you had done this sooner!
The Benefits of Snowshoeing
Extremely Affordable
You can rent snowshoes at state parks (and many regional parks and nature reserves) and need only a vehicle parking pass for the day.
Ease of Walking
Terrain that's normally more challenging in warm weather can be easier on snowshoes.
Why? Snow is evenly packed over uneven rocks, tree roots, slippery mud and loose gravel. Because the trails are packed, the ease of walking is a great option for those who have coordination issues.
Trails are Easy to Navigate
It's easier to look around when walking without fear of falling or tripping on rocks and tree roots. You can add trekking poles if you like for extra stability.
I experienced this first hand when I completed the loop with a set of used poles I purchased at a second hand store for $9.99. I had enjoyed snowshoeing without poles, but I think I enjoy it even more with poles. I felt extremely stable going up and down very steep inclines.
Pick Your Own Pace.
You can choose slow and steady for enjoyment or brisk for a cardio workout.
Consistent Experience
Trails are trails no matter what the conditions. Unlike skiing, you don't need groomed tracks.
Your experience is consistent regardless of snow conditions. It can be sub-zero temps or 40 degrees. Snow can be icy, fresh or old. Your snowshoes have teeth that bite into the ground and keep you stable no matter the conditions.
No Skills Needed
The design of the snowshoe is built so you can walk normally in your boots, so it takes no extra skill or knowledge.
How to Dress
It's easy to overdress when snowshoeing. I recommend dressing in layers that can be removed and carried in a backpack with you or tied around your waist as you warm up. Cotton will get and stay wet if you sweat, which makes you colder.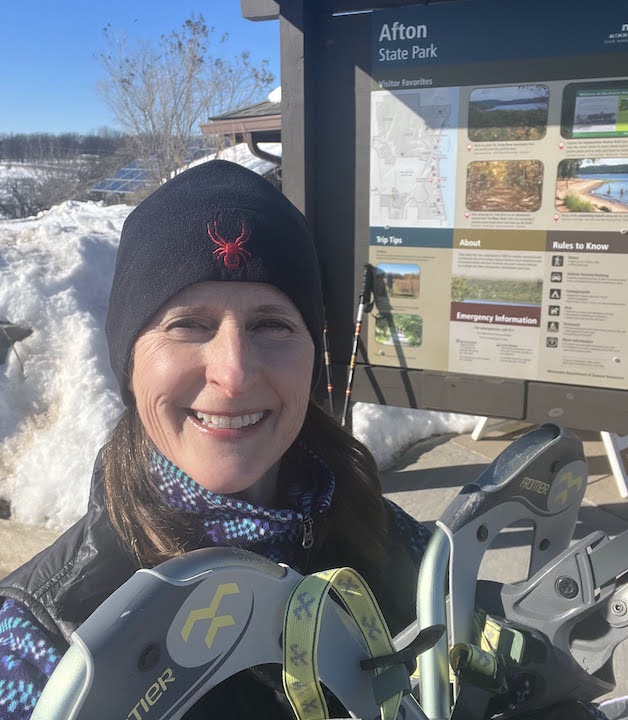 Here are my recommendations:
Upper Body:
Base layer: moisture wicking (polypropylene)
Next layer: a light fleece zip-up or pullover.
Third layer: polypropylene vest to keep your core warm
Top layer: a simple windbreaker.
Bottom Half:
Base layer: Polypropylene leggings
Top layer: Wind pants, preferably water-resistant or waterproof (snow pants are great but may be too warm)
Feet:
Socks that are wool blend, not cotton
Waterproof footwear: Either hiking boot, winter hikers or snowboots
Head:
Hat that covers your ears or fleece headband and hat
Neoprene face mask or balaclava if windy or very cold
Eyes: Sunglasses to cut the glare from the snow if it's sunny. [Tip: Walmart has cheap sunglasses with readers so you can read your map or phone easily!]
Fanny pack or small backpack to carry your phone, camera, sunglasses and any apparel you need to remove. If you plan to be out for more than an hour or two, consider a water bottle and protein snacks.
How to Get to Afton State Park
Afton State Park is in southeast Washington County. The address is 6959 Peller Avenue South in Hastings, MN.
The parking area for Deer Valley Loop snowshoe trail is next to the Park Office right at the park's entrance. You'll need a daily or annual Minnesota State Park permit for your vehicle.
Snowshoe rentals are available at the park office during office hours (Saturday/Sunday 9:00-4:00; weekdays please call for hours: 651-201-6780) for $6. First-come, first-served.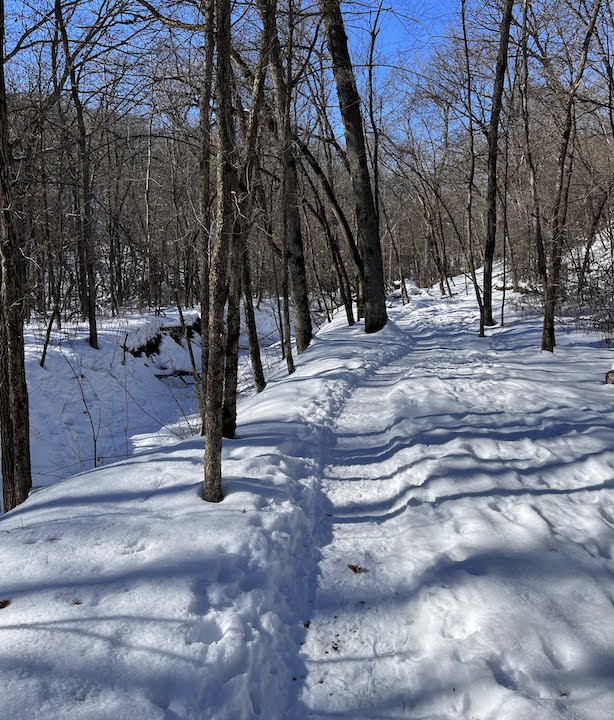 All photos courtesy of Rochelle Kaehne.
You'll like these, too…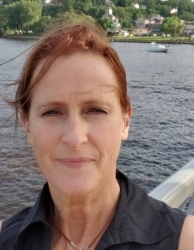 Latest posts by Rochelle Kaehne
(see all)