We have many options to cross country ski in the Twin Cities, and one of my favorites is Lake Elmo Park Reserve.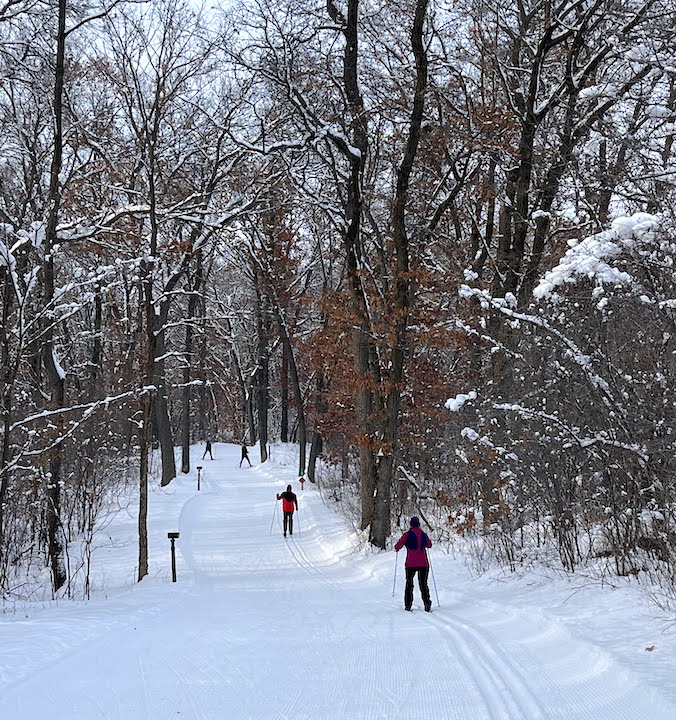 Cross country (or Nordic) skiing is a fantastic winter activity to enjoy, either as a fun outing or as an incredible workout.
Whether you ski for fun or exercise, you'll warm up quickly and can enjoy winter "Minnesota style." There's nothing I like better than quietly gliding over the snow on skis while enjoying nature.
What's Great about Skiing at Lake Elmo
Lake Elmo Park Reserve is well maintained and has a number of conveniences that enhance the overall ski experience.
Here's what I like most about skiing at this park:
They groom the trails regularly. Poorly-groomed trails can make for a frustrating experience. You can find trail updates on the park's Twitter page and/or SkinnySki.com.)
Some of the trails are lighted which gives us the option to ski after dark.
Trails and maps are marked with numbers and letters to aid navigation on the east and west sides of the park. They are also "directional"—which helps us avoid collisions with other skiers.
The park provides ample parking.
The Nordic Center is heated with bathrooms, showers and lockers (bring your own lock).
There are plenty of ski racks to store your skis upright just outside the building.
Most designated ski trails begin at the Nordic Center located on the East side. On the west side of the park is Eagle Point Lake Loop. I used to prefer this loop, but it's now a multi-use trail. It's still a great loop, but many hikers walk directly on the ski trails. If you're not serious about a workout this can still be a great loop.
Most trails are groomed for both classic and skate style skiing. Although you will need to skate single file with your group instead of side-by-side, you have the option to lift one ski out of the trail for better control downhill or around a curve if you need to.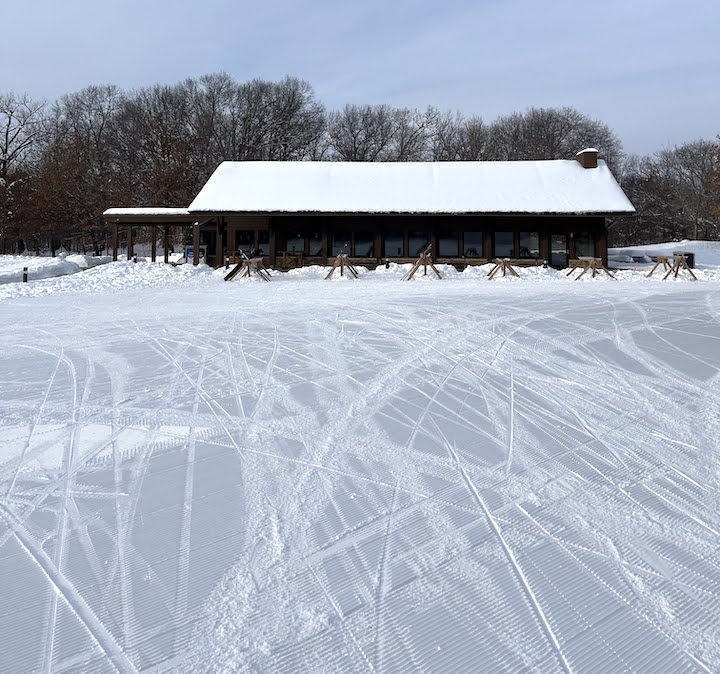 If you don't own your own skis, rentals are available for adults for $10 and children for $5 (3-hour time slots). Your regular boots strap into the skis just like snowshoes. You can call ahead to check availability. (They also rent snowshoes at the Nordic Center.)
The only negative I can think of would be if a race or event is taking place and parking and trails are crowded. You can easily avoid this as events are posted on Lake Elmo's Twitter page, along with trail conditions.
Best Lake Elmo Ski Loops for Casual Skiers
I prefer ski trails that provide a variety of terrain and scenery with moderate rolling hills, with no extreme climbs or steep downhills.
My favorite loops in the park are all located on the East side. These include Savanna, North, Prairie and a small portion of the Hills loop. The combined distance is about 3-1/2 miles.
Start at the Nordic Center and head towards the 14E intersection. Be careful as you cross over the oncoming skier track.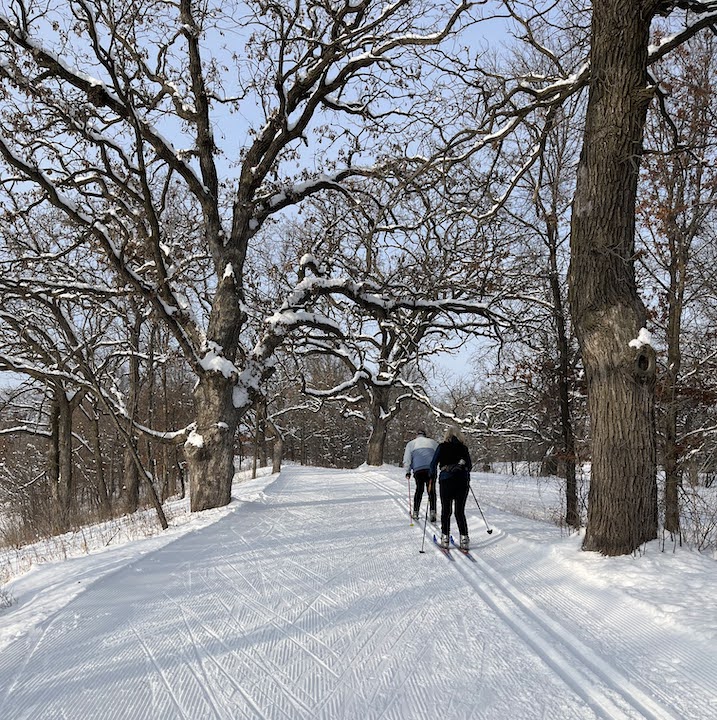 Then head north on the Savanna Loop. You'll cross over a wooden bridge separating two bodies of water and will then wind through the woods.
On the north end of the loop you'll exit at 20E onto the North Loop. This loop crosses over open spaces near the swim pond, curves down towards the lake and then continues along the shoreline through the woods. The curve down towards the lake is where I usually lift my left ski out of the track to slow down my speed.
The North Loop merges back onto the Savanna Loop. Continue to 18E and then to 15E. At 15E you'll cross over the oncoming ski trail and take a left towards 16E. 16E is at the top of a hill.
You can either go right towards 13E through the woods a short distance back to the Nordic Center, or you can go left onto the lighted Prairie Loop. At 17E you can again or right. Left continues the lighted loop back to the Nordic Center.
(At this intersection there's a sign that states "skier wrong way." This is incorrect. It's a very short multi-directional connecting trail to the Hills Loop.)
If you turned right, in a few hundred feet you'll reach 11E. To avoid the extreme hills, take a right to 12E and back to the trailhead. There are some hills, but nothing extreme or too curvy.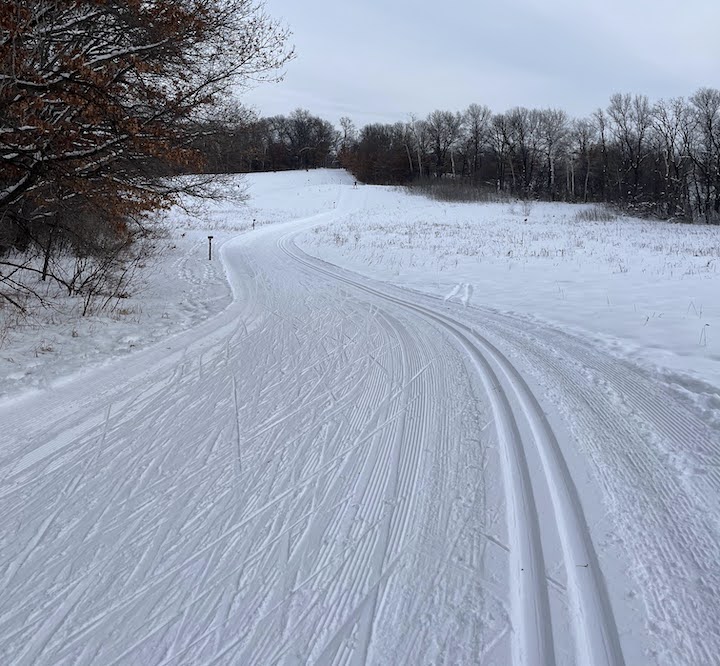 The one steeper downhill just before the Nordic Center is easily managed with a snowplow. Or you always have the option to remove your skis and walk down the hill.
Skiing Lake Elmo Park Reserve is a great opportunity to experience what makes Minnesota beautiful in the cold winter months. Give it a try!
Permits and Passes
Washington County Parks, including Lake Elmo Park Reserve, require a vehicle parking pass (daily for $7 or annual for $30). This pass is also good for the Anoka County Park system, and vice-versa.
You'll also need Washington County's ski pass, which is $6 a day or $30 for the season. (The Great Minnesota Ski Pass is no longer used there.) You can buy either in the park office or at an outside kiosk, if the office is closed. You can also purchase one online.
You'll find several different park maps on this page, including two with winter trails. The same page includes contact info for the park.
Lake Elmo Park Reserve is located at 1515 Keats Ave Lake Elmo, not far from the intersection of Interstates 694 and 94.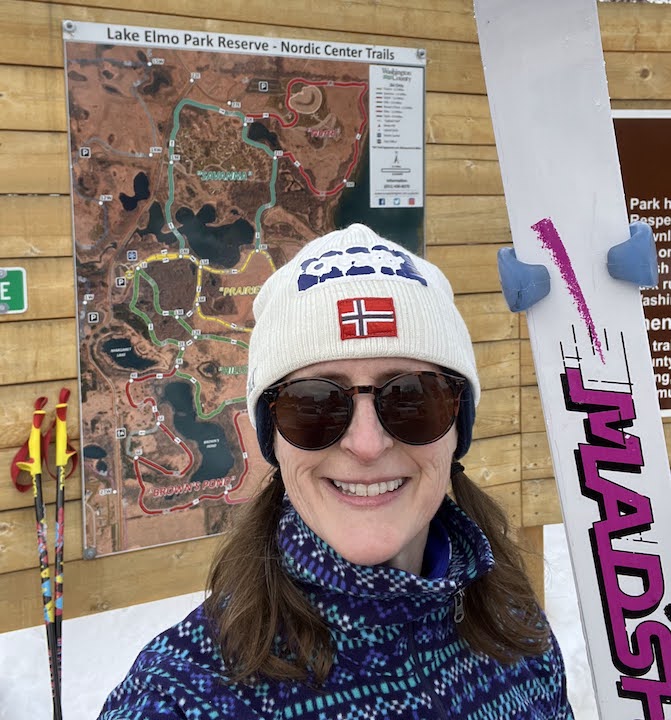 (All photos courtesy of Rochelle Kaehne)
You'll like these, too…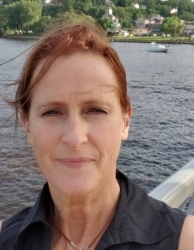 Latest posts by Rochelle Kaehne
(see all)