Spring is a special time to get outdoors for some local hiking. We don't think of it as the prettiest time of year, but it has it's own beauties!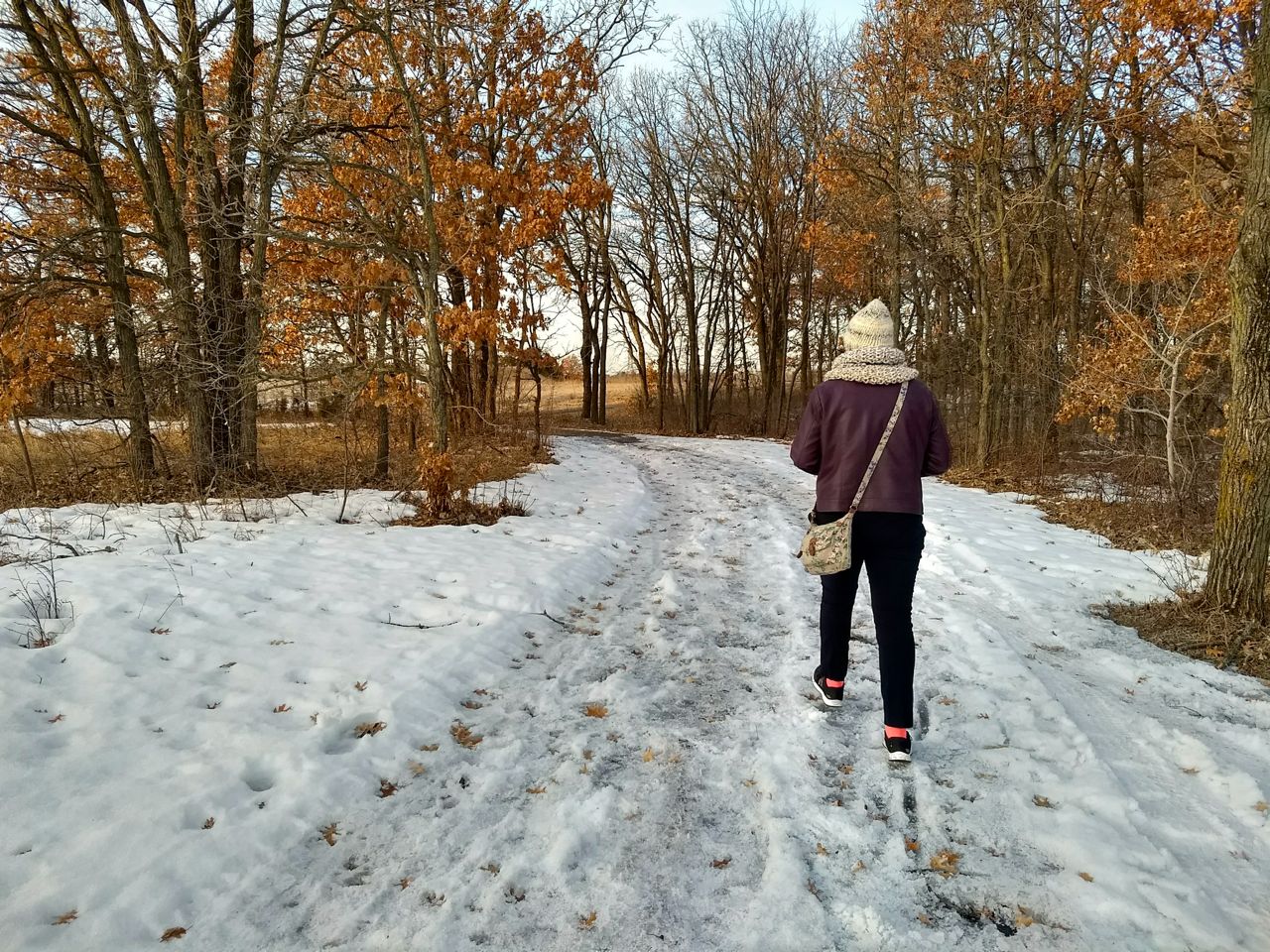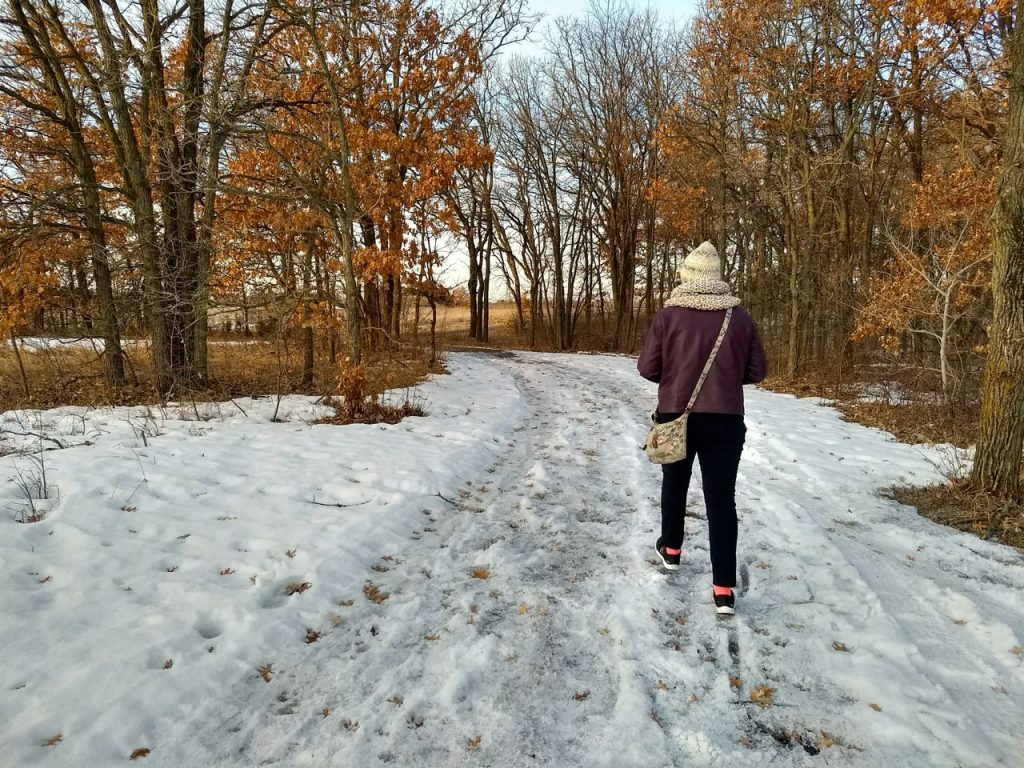 After the snowiest February in Minnesota's recorded history, March has been mostly unusually warm and sunny. And now Spring is officially here—and a great time to get out on our local hiking trails!
I used to think early spring wasn't very good for hiking. Brown grass…no leaves yet…muddy and slushy…just not very pretty.
But now I know better!
I've been hiking in the spring more often in recent years. And while, yes, early spring isn't as pretty as other seasons here in Minnesota—there are some major benefits to spring hiking:
Nature has Some Beauty in Every Season
I don't know about you, but I love living where we have four distinct seasons.
Every season has some beauty. We just have to look for that beauty differently. Sometimes it's hidden a little.
One of the advantages of hiking over faster activities like biking is that it's slow. It gives us time to look around, stop when we want to, enjoy our surroundings.
It's easy to spot nature's beauty here and there when we look for it, like the patterns in the thin ice covering this puddle: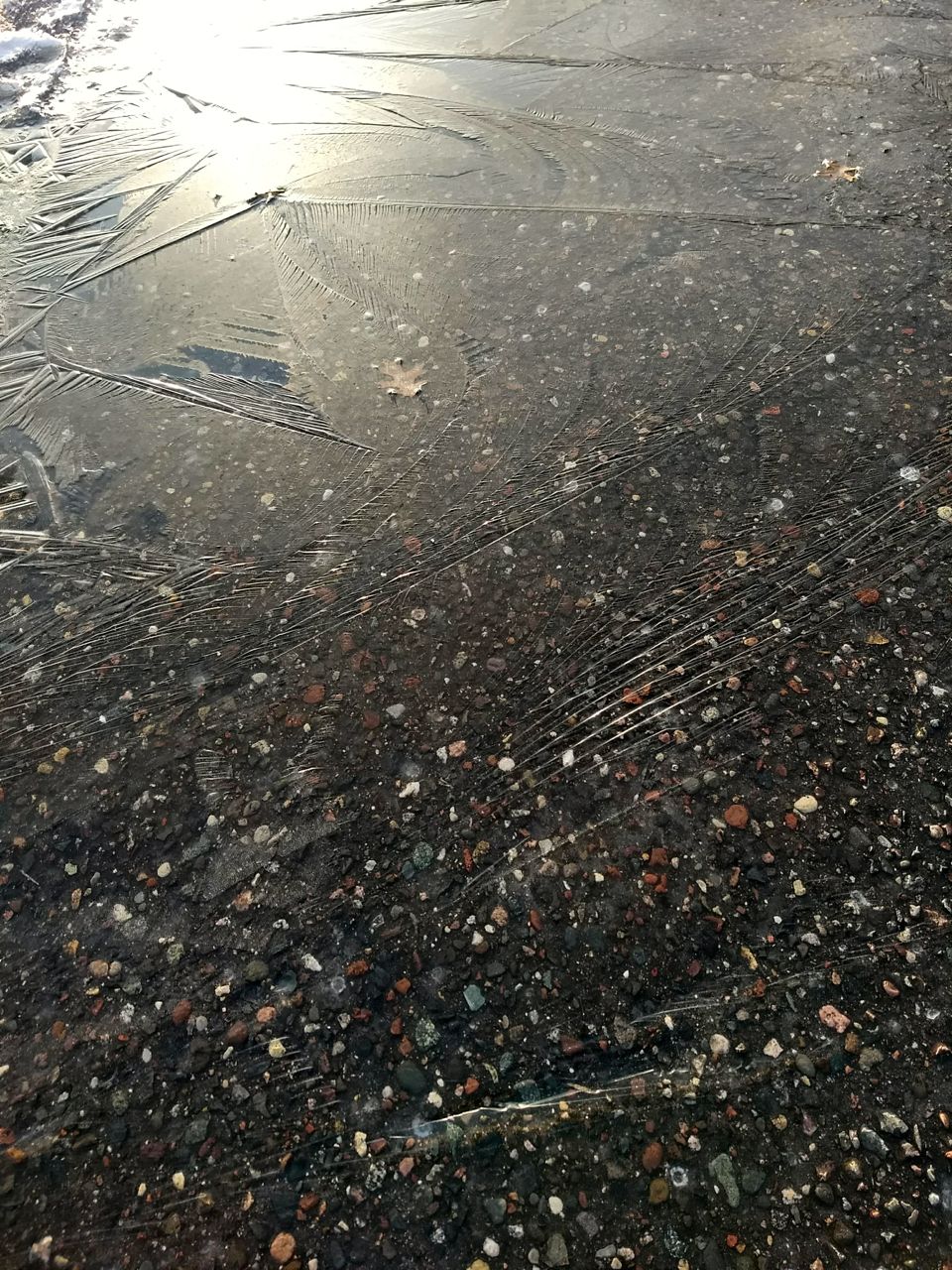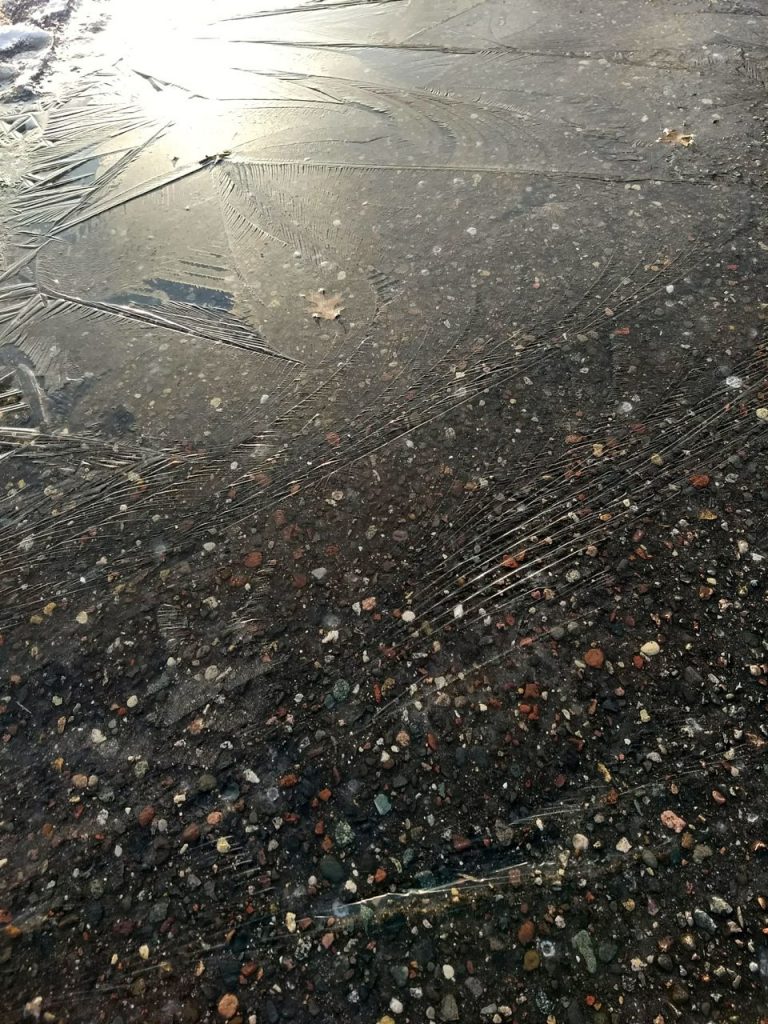 One great thing about spring hiking before the leaves come out? We can see through the woods!
It's easier to see animals, to see the terrain, to see the trees themselves.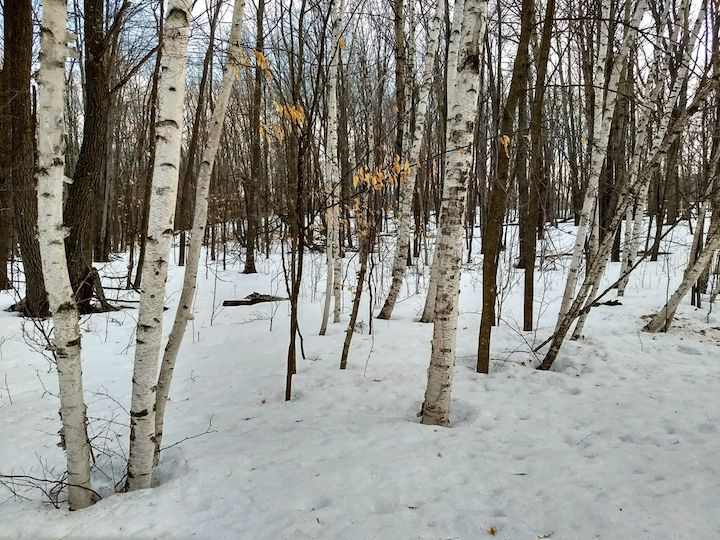 When there are still patches of snow on the ground, that adds some variety, too. And in our spring, the snow can come and go even up through April, as anyone knows who's lived here for a few years 🙂
But that gives us a chance to get out hiking in the snow without having the bitter cold temps we often see during the winter.
And since the ski and snowshoe season is largely over by this time, hiking still gets us outside, in the woods and on the trails.
The Sun Feels So Warm after a Long Winter
I walk all winter long—the cold doesn't bother me like it does some people. I've learned how to dress for it.
But even I'll admit the sun feels SO good after a long winter. 40º in March feels so much warmer than 40º in November. I don't know if it's just because we've been used to colder weather, or if it's a scientific fact. But the spring sun feels glorious!
So we can shed some layers in the spring…sometimes even our jackets and hats. It feels wonderful, less cumbersome, more free.
Mornings and evenings can still be chilly, if not downright cold. But daytimes are usually pretty mild.
No Bugs Yet!
This is one of the best benefits of early spring hiking! No swatting, no need for bug dope, no annoying buzzing around our heads. Morning, noon or night…it doesn't matter.
That's really wonderful!
Personally, the older I get the more I like to take advantage of the no-bug seasons to get outside.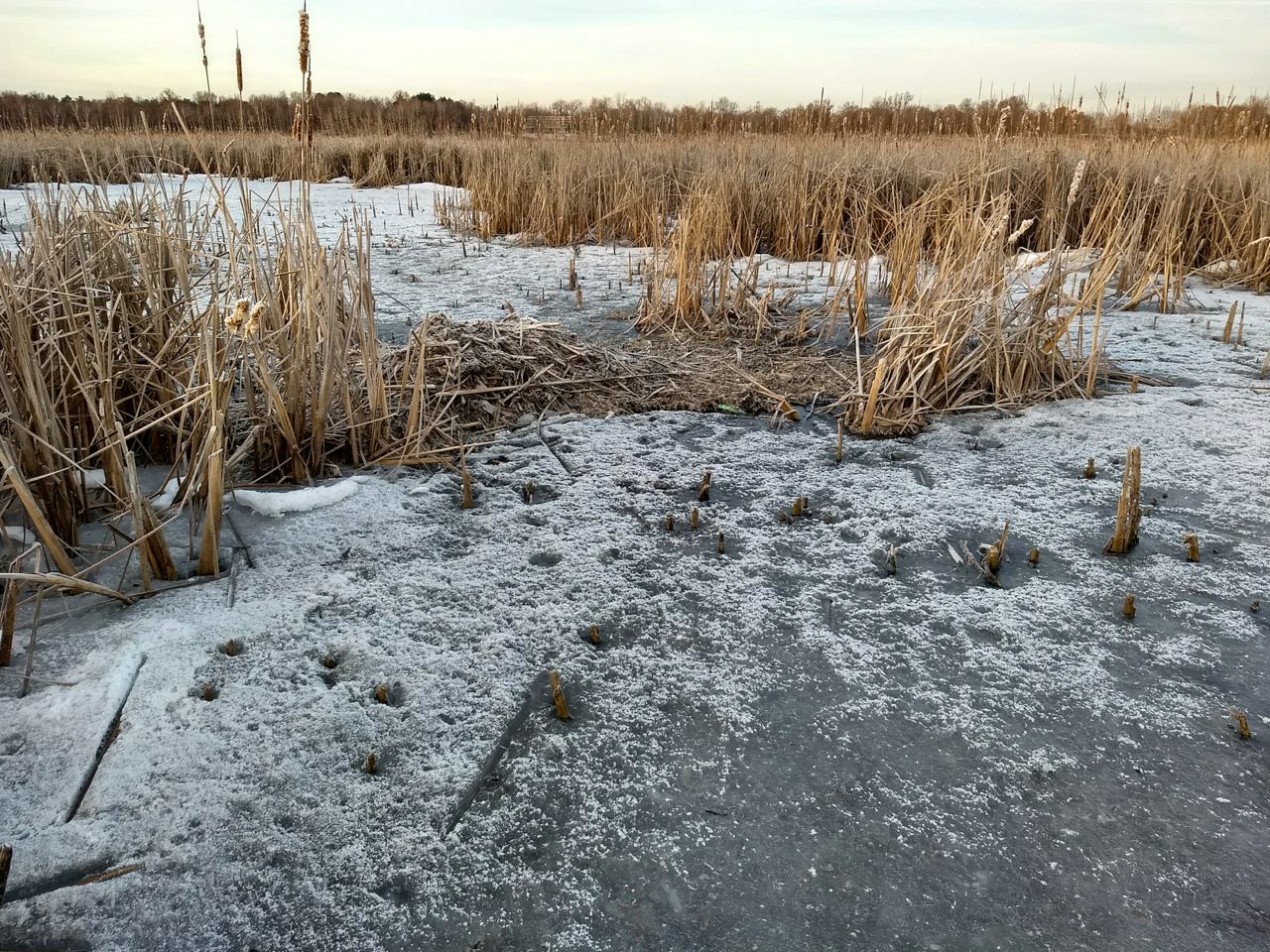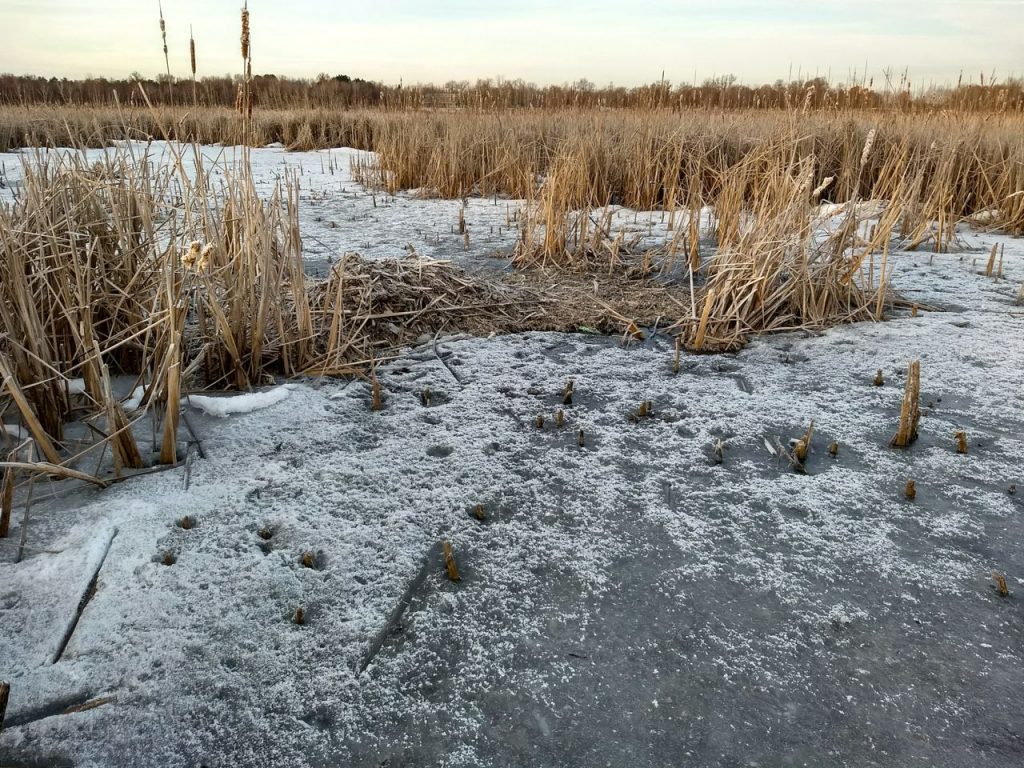 Fewer People on the Trails
Even on the weekends, there are fewer people on the trails in the early spring. That may or may not be an advantage for you, but we introverts don't mind it!
One big advantage: fewer people on the trails means fewer cars in the parking lots. That can be a big deal in some of our more popular parks like Fort Snelling and Afton, especially on the weekends.
Dealing with the Mud and Slush
Dealing with mud, slush and ice can be a nuisance with spring hiking. But don't let it stop you from getting out on the trails.
If you stick to paved trails you won't have to worry about mud, but slush can be an issue on trails that haven't been maintained through the winter.
The key is to have and wear the appropriate footwear to handle it. Waterproof trail runners or hiking boots work great. And don't be afraid to get your (waterproof) shoes or boots wet and dirty—embrace it as part of the season!
If you hike early in the day while the temps are still below freezing, the mud and snow will be harder instead of oozy. Hiking isn't so messy then.
Just watch yourself on ice—we don't want any injuries! Mud can be pretty slippery, too, so be careful out there.
As spring progresses there will be less of both mud and ice, the leaves will start budding and everything will start getting green again. Lovely!
It's fun to hike the same trails throughout spring and witness nature come alive again over a few weeks.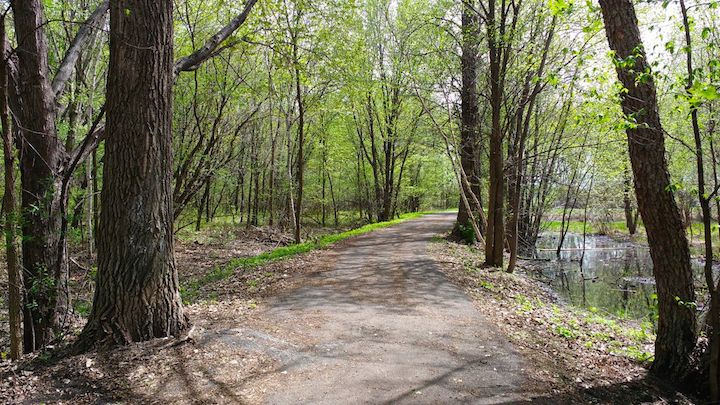 Where to Hike in the Spring
Really, anywhere! All the parks we list here on Twin Cities Outdoors have trails appropriate for spring hiking.
One of my favorites for spring, though, is along lakes and rivers where the leaves often hide the water views during the summer.
For example, my first time at Schaar's Bluff was in early spring, with amazing views of the Mississippi River. Hikes along the St. Croix River are other examples, in some of our local state parks.
It's kind of nice to be able to see the water better before the leaves come out, not just peeks of it here and there among the leaves.
You'll also like…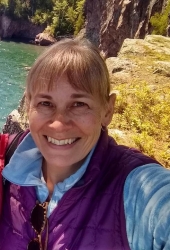 Latest posts by Sharon Brodin
(see all)