Fridley, Anoka County • No fee
Springbrook Nature Center is a 127-acre reserve surrounded by urban development—both neighborhoods and businesses. This little pocket of wetlands, native prairie and forest has 3 miles of hiking trails open year-around.
Springbrook's Hiking Trails
Springbrook is great for young families. Not only because most kids can handle 3 miles of trails, but because of the variety of landscape, the chance to see wildlife and, of course, the floating boardwalk.
If you have a weak stomach, that might not sound fun to you! But being able to walk right across a pond is pretty cool.
The trails are well-marked, but if you'd like to bring your own map, you'll find it here as a PDF download. Young children would probably enjoy using it to navigate as it has pictures of some of the natural landmarks.
Springbrook and its trails get a lot of use, especially on the weekends and during the warmer months. But plenty of people like to hike it even in the winter. It'll be beautiful no matter what season you go.
Bring Your Binoculars
Bring your binoculars and camera—Springbrook is known for its wildlife, especially the wide variety of birds. It's a designated Important Bird Area by the Audubon Society. Deer, otter, fox and coyote have all been seen in this urban natural area, too.
Besides hiking, there's a brand-new Interpretive Center at Springbrook, with hands-on exhibits and a few live reptiles.
There's also a "nature-based play area." It's like a playground, but with objects of natural structures instead of swings and slides. It's open year-round.
How to Get There
Springbrook Nature Center is between Highway 47 and East River Road in Fridley. The main entrance is off 85th Avenue NW, just west of Northtown Mall.
(All photos courtesy of Cheyenne Peden)
Here's more…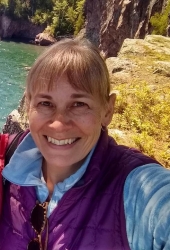 Latest posts by Sharon Brodin
(see all)