Hastings/Dakota County • No vehicle permit needed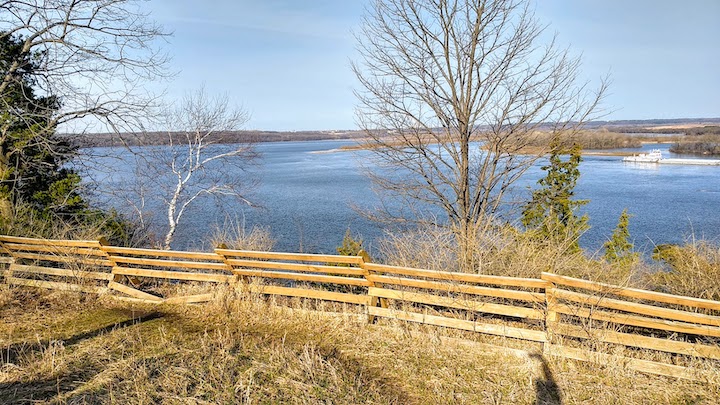 The Schaar's Bluff trail system in Spring Lake Park Reserve offers lovely wooded hiking with beautiful overlooks of the Mississippi River.
What's to Love about Schaar's Bluff
Spring Lake is a widened area of the river, hence the name of the park reserve. But most people know this eastern end of the reserve as Schaar's Bluff. There's a network of a little more than 3 miles of mostly dirt/natural surface trails there for hiking.
These are groomed for cross country skiing in the winter months, with some set aside for winter hiking and snowshoeing.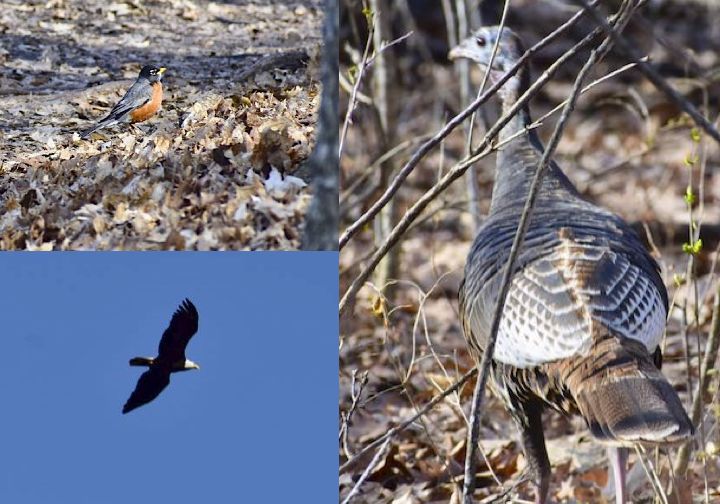 Mature woods…plenty of wildlife (birds, especially)…many overlooks of the Mississippi River—all combine for a very satisfying hike. I hiked the area circled in blue, below:
Because it's still early spring, none of the trees had leafed out yet. That left clear views into the woods around me and over the river.
While early spring, admittedly, isn't as beautiful as other times of the year, I've come to appreciate spring hiking for that reason. Well, that—and no bugs yet!
The paved trail that connects the east and west ends of the park reserve is just over 3.5 miles one way. It's a beautiful bike ride for families or an out-and-back 7+ mile run.
I look forward to returning to Schaar's Bluff during the summer or fall.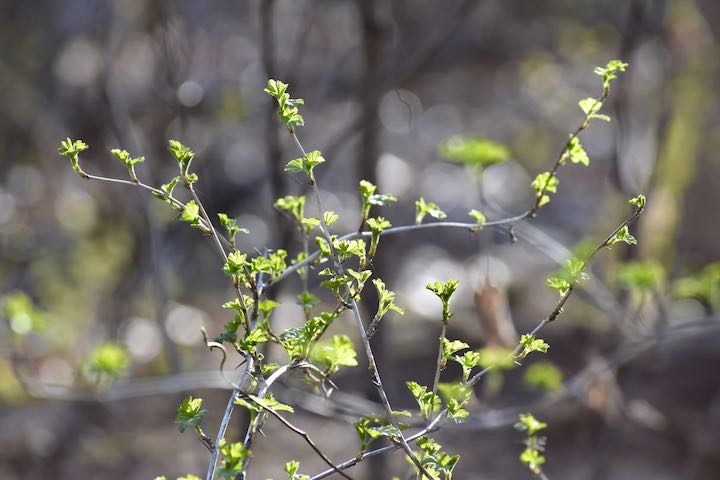 History of Schaar's Bluff
I messaged Dakota County Parks through their Facebook page to ask the history behind the name of the bluff since I couldn't find anything on the website. I received a response quickly:
"The Schaar family sold the land that is now Schaar's Bluff in Spring Lake Park Reserve to Dakota County. They had a farm on the land. You can still see the silo as you enter the park. When the Gathering Center reopens, stop inside. There is an interpretive panel that has images of the farm, and the family."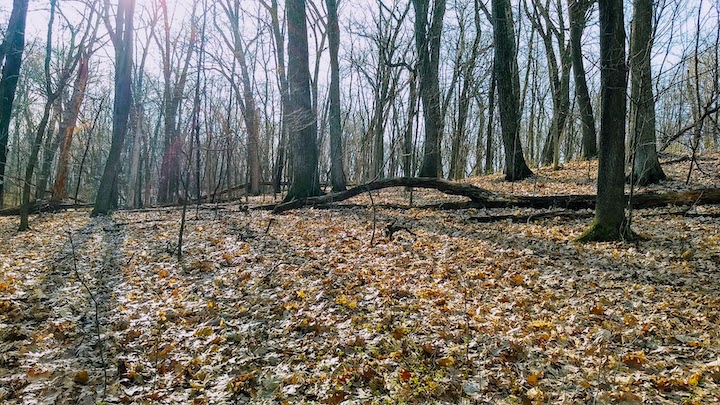 What Else is at Spring Lake Park Reserve?
There's a beautiful picnic area at Schaar's Bluff with lots of mature shade trees. Otherwise it's mostly known for the trails: hiking and biking in three seasons, and cross country skiing and snowshoeing in the snowy months.
On the west end (Lower End) of the park reserve is the Archery Trail with targets. The trail has two loops with 14 stations on each loop. It's open seasonally, and you'll need your own archery gear and a permit (either daily or seasonal, for ages 18+).
How to Get There
The address for Spring Lake Park Reserve is: 8395 127th Street East, Hastings. Follow the signs to Schaar's Bluff off Highway 55 on the west side of Hastings.
You'll like these, too…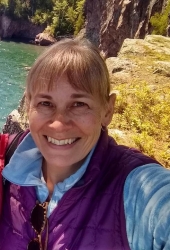 Latest posts by Sharon Brodin
(see all)