Maple Grove/Hennepin County • No vehicle permit needed • On-site rentals
Fish Lake Regional Park is one of the nicest paddling spots in the Twin Cities. There are many reasons I think that, after spending a couple hours on it recently with my daughter.
We rented paddleboards from the Three Rivers boathouse at the beach and thoroughly enjoyed our time. Here's why:
Clear, Refreshing Water
Some of the lakes in the Twin Cities get to bathwater temps in the summer, especially when it's been as hot as this one has been. We were on Fish Lake in late July after plenty of 90º days and the water was completely refreshing—cool but not cold. Depths of up to 49 feet help with that, I'm sure.
The reason that was important to us is because one of the best things about paddleboarding on a hot summer day is jumping in the water! SUPing and swimming are a wonderful combination 🙂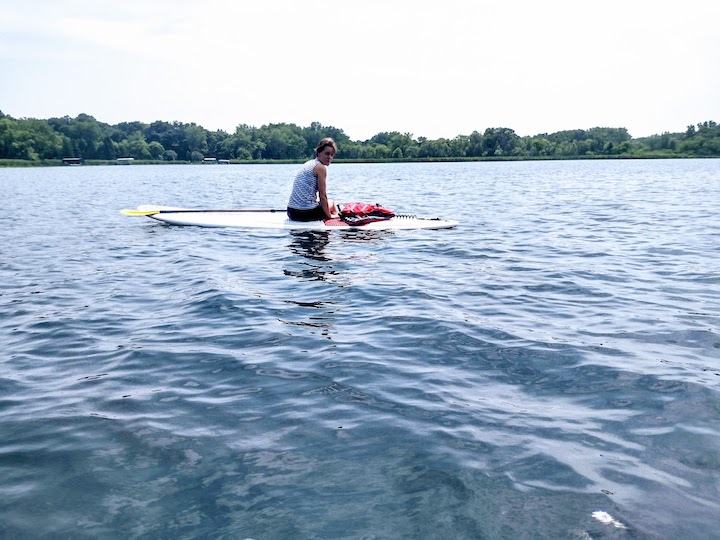 No-Wake Zone at the Beach
If you're just learning to SUP, the bay where the Fish Lake Park beach is located is a great place to practice because it's a no-wake zone for motor boats. You don't have to deal with boat wake as you're getting used to balancing on your board.
That could also be a great thing for families with young children, especially if the kids are keen on paddling themselves in a kayak or canoe.
Rentals On-Site or Bring Your Own Boat
Three Rivers Parks, including Fish Lake, are some of the few places in the Twin Cities where you can rent kayaks, SUP boards and canoes. Rentals are available Memorial Day weekend through Labor Day.
To be sure there's one available at the time you want, reserve what you need online. You can also walk up and rent a boat if there's one available.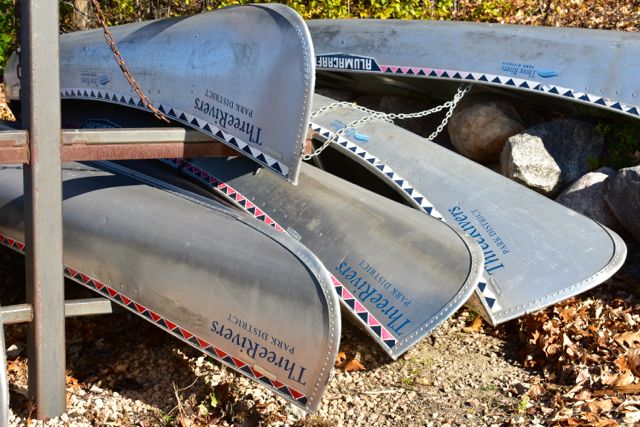 We rented paddleboards. Unlike Bryant Lake Regional Park, there were no bungees on the boards we rented, so there was no way to tie down the dry bag I had planned to bring along on the water. The girls working in the boathouse were happy to hold mine for me inside while we paddled, though.
Of course you can bring your own boat, too. If it's easy to carry from the parking lot, you can launch at the beach, or the boat landing is nearby for launching, too.
Easy Access and Plenty of Parking
Fish Lake Regional Park is close to the intersection of Interstate 494 and Bass Lake Road in Maple Grove. Head west on Bass Lake Road and look for the sign for the park on your right in a mile or two.
You don't need a vehicle permit to enter the park.
There's a nice big parking lot near the beach and boathouse. If you tow a trailer, there's parking for you at the boat landing.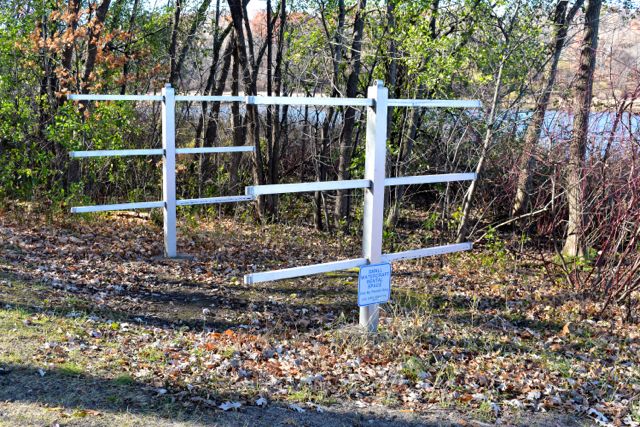 244 Acres of Paddling Water
Fish Lake isn't too big and it's not too small. It's long and narrow with the park sitting at the south end. Other than the park, the lake is surrounded by residential homes and lots of mature trees. It's a very pretty lake.
We were there on a Wednesday, so there weren't a ton of motor boats running around. There were plenty of people enjoying the beach and paddling on our end. Weekends get pretty busy, I'm sure, as most of our lakes do.
Since we wanted to relax and do some swimming we didn't get too far from our end. But it'd be a beautiful paddle to take a canoe, kayak or SUP along the entire shoreline of the lake.
For more information see the Fish Lake Regional Park page on the Three Rivers Park District website. There's also biking, hiking, an off-leash dog park and snowshoeing in the winter.
You'll like these, too: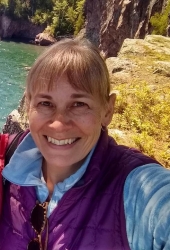 Latest posts by Sharon Brodin
(see all)