Minneapolis/Hennepin County • No vehicle permit needed • On-site rentals at Bde Maka Ska
Minneapolis' Chain of Lakes is hugely popular with kayakers, canoeists and stand-up paddle boarders—and for good reason. It's a beautiful urban setting for paddling with lots to love about it.
What's the Minneapolis Chain of Lakes?
The Minneapolis Chain of Lakes has been part of the city's park system for over 100 years. It's the focal point of the city's Chain of Lakes Regional Park.
It's mostly known for its network of paved trails around these beautiful lakes used by thousands of walkers, runners and bikers. But it's also a spectacular paddling spot in the heart of Minneapolis.
The Chain includes four lakes (from south to north): Bde Maka Ska (recently renamed from Lake Calhoun), Lake of the Isles, Cedar Lake and Brownie Lake.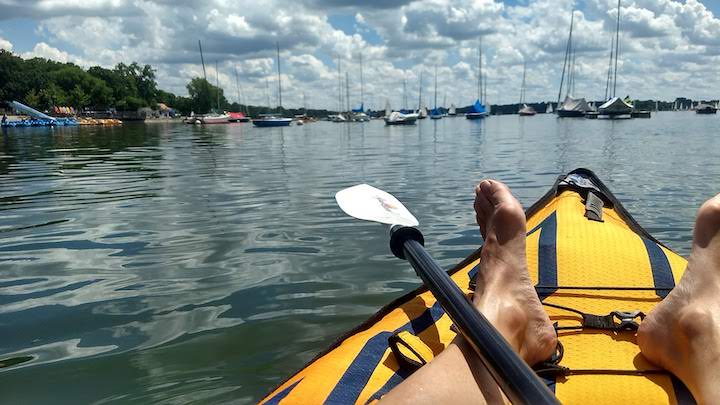 Where to Launch & Park
According to the Minneapolis Parks & Rec website, Brownie Lake has a canoe launch on its north end. That's where we planned to launch the other day when my friend, Kathy, and I headed out.
We couldn't find it! GPS took us to an office building off Wayzata Blvd. To make things more confusing, lots of the residential streets and parkways around the lakes are closed during COVID so bikers, runners and walkers have more room.
(I did an online search and found the answer: there's a dirt trail near the intersection of Wayzata Blvd and Theodore Wirth Pkwy just northeast of Brownie Lake. But no signage and no parking!)
We ended up at the Cedar Lake Canoe Launch by accident. Kathy looked at the map on her phone and directed me to what we thought was the beach. It's on the west side of the lake at 2100 Cedar Lake Pkwy.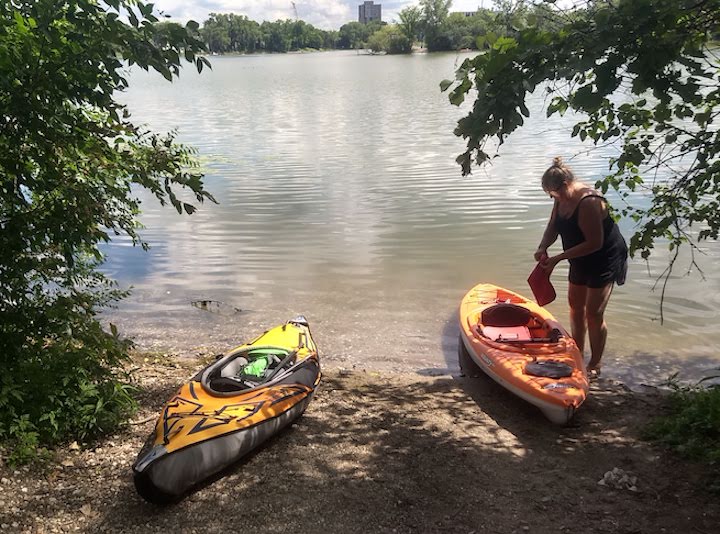 You can also launch at the north end of Lake of the Isles off W Lake of the Isles Parkway (which is one-way, going counter-clockwise). My iMap says 2372-2380 W Lake of the Isles Pkwy.
Or launch at Bde Maka Ska:
There's a dedicated canoe/kayak launch at 2715 W Lake St (north end)
The North Beach lot is right next door to that launch
Thomas Beach is on the south end of the lake at 3700 Thomas Ave S
There's very little parking near any of these launches for the amount of people that use these lakes. So if you're limited to weekends, get out early or wait until the late afternoon or evening and give it a try. Some of the parking lots in the Minneapolis park system require payment, just FYI.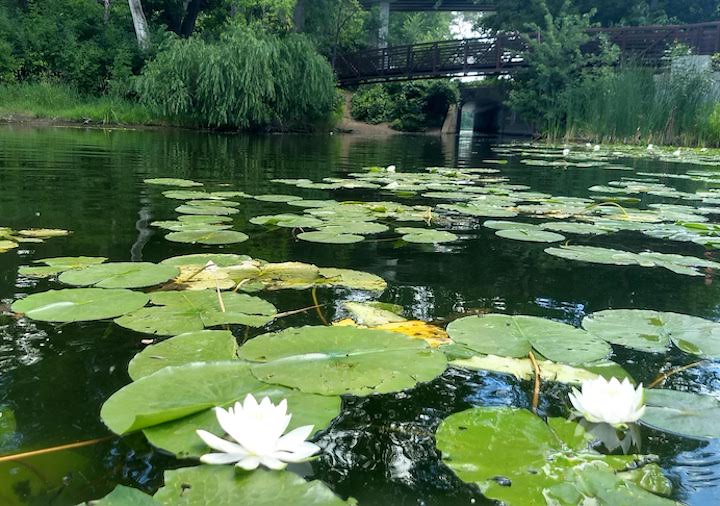 Where to Rent Canoes, Kayaks and SUPs
On the day we went, lots of people were out paddling with rented kayaks, canoes and SUPs from WheelFun Rentals on Bde Maka Ska. They have a great location just off the canal coming from Lake of the Isles.
It's also next to the marina where a ton of little sailboats are, so it's a busy spot. Take care and be aware!
If you want to paddle the whole chain, go with the half-day rental and that should give you plenty of time.
Highlights of the Paddle Route
Here's the route we did (the red pin is our launch point, more or less):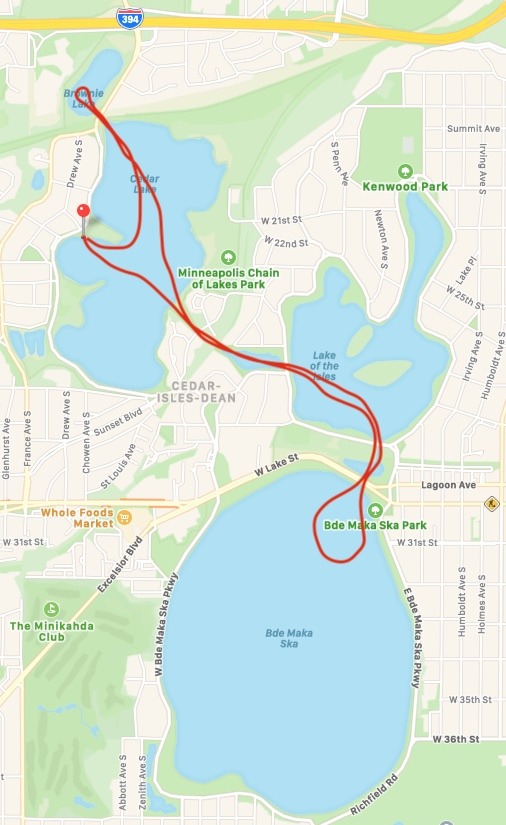 Kathy and I kayaked from the launch at Cedar up into Brownie, then back to Cedar, through Kenilworth Channel to Isles and just into Maka Ska and back. It took us just under 2 hours of leisurely paddling.
Here's what we liked best:
The Unique Character of Each Lake
Each of the four lakes has its own unique character:
Brownie Lake is the smallest and quietest of the four. Lots of lily pads and water lilies with just a tunnel-like channel into Cedar Lake.
Cedar Lake is residential and also on the quiet side, with quite a few enjoying the three beaches the day we were out.
Lake of the Isles is super scenic with beautiful bridges on each end of the waterway, its two islands, and a clear view of the Minneapolis skyline towards the northeast.
Bde Maka Ska is the busiest of the four and has the most urban feel. We didn't paddle out too far on it, but you'll also have a nice view of the city's skyline once you've paddled out far enough to see it above the trees.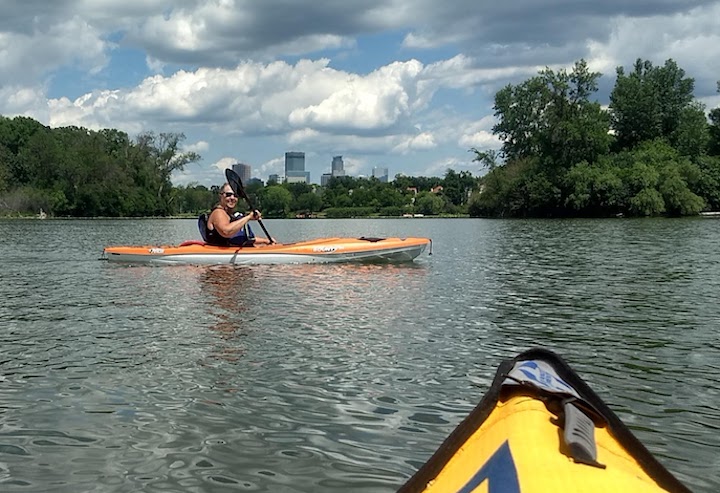 The Bridges
As I've mentioned in other posts, I have a thing for bridges. It's fun for me to paddle under them, whether they're for vehicles or foot/bike traffic.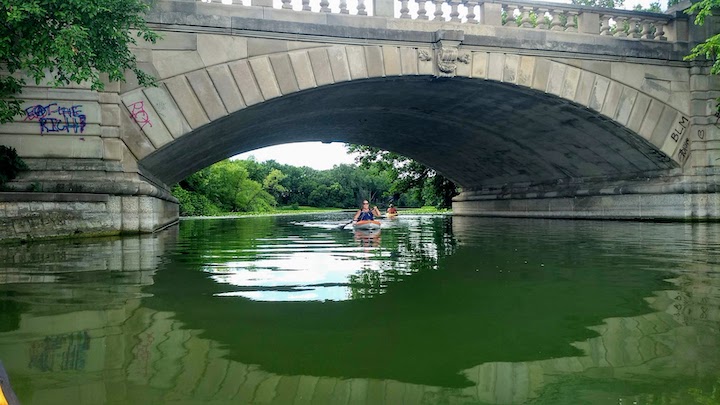 There are several bridges on this route of different character and function—even one old rickety wooden one that's in the middle of being replaced.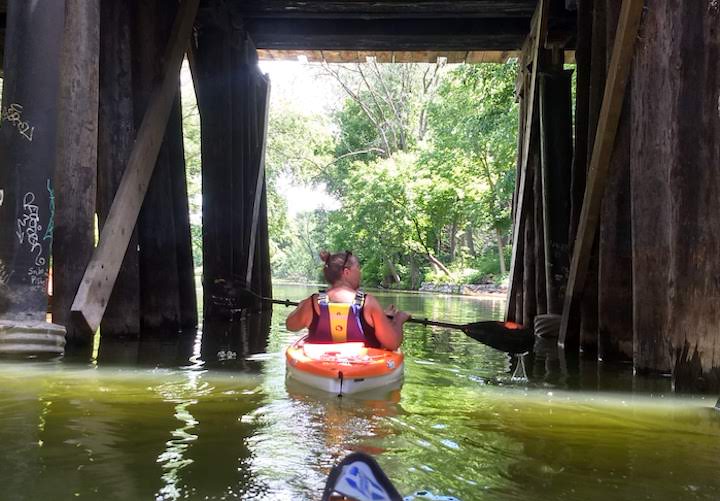 Kenilworth Channel between Cedar and Isles
One of my favorite parts to paddle was Kenilworth Channel that connects Cedar Lake and Lake of the Isles. It's quite long and very scenic.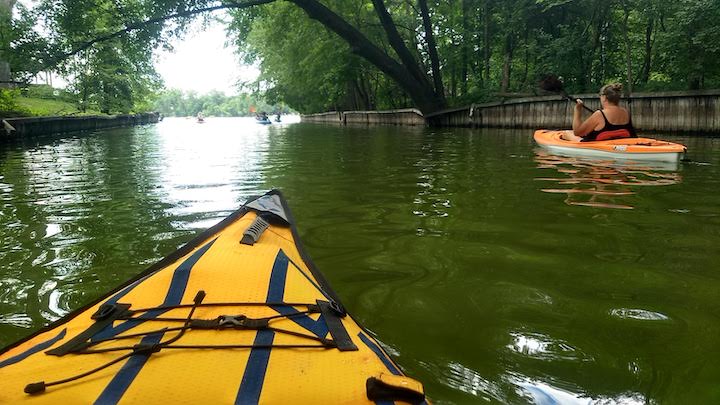 There are several very nice homes along the channel that are fun to see, as well as lots of trees, ducks, lily pads and plenty of other paddlers enjoying the water trail, too.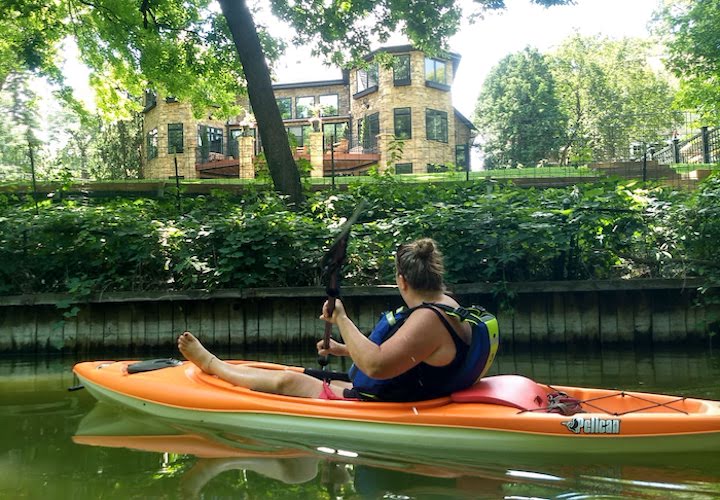 (2022 update) The channel enjoyed an upgrade in the fall of 2021, with the removal of the decades-old wood walls. The shoreline is now naturalized with stone, soil and plants. The channel re-opened in December.
Seeing So Many People Enjoying the Lakes
I loved seeing so many folks out enjoying the beautiful weather and taking advantage of these lakes.
Even on a Monday afternoon, no holiday in sight, there were many families, couples, friend groups and singles paddling canoes, kayaks and SUP boards.
Wrapping It Up
If you're a kayaker, canoeist or SUPer and haven't been on these lakes you're missing out!
Even if you mostly love more quiet and even wilderness paddling (which I do), it's a fun change to get into the city once in awhile and see it from a different perspective. The lakes are a great way to do that.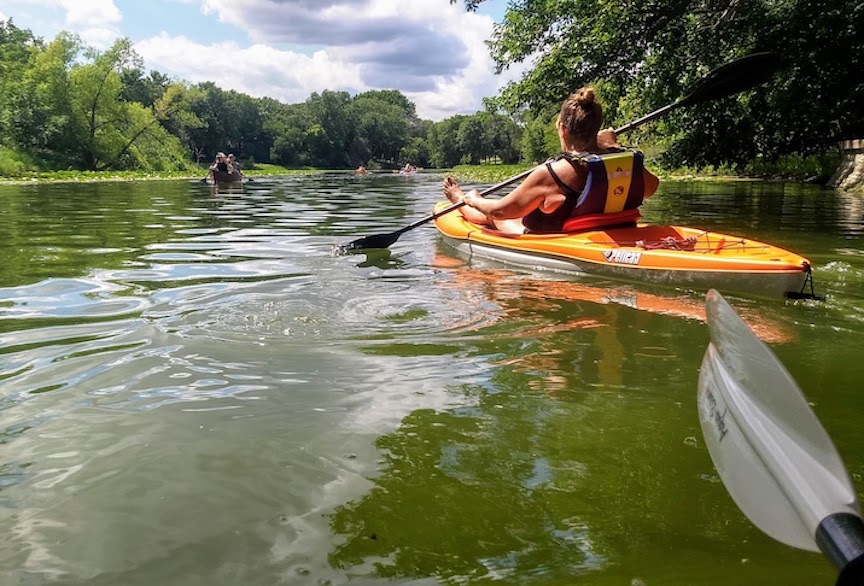 You'll like these, too…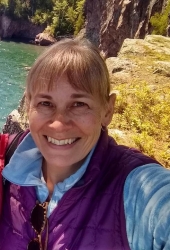 Latest posts by Sharon Brodin
(see all)