Saint Paul/Ramsey County • No vehicle permit needed • On-site rentals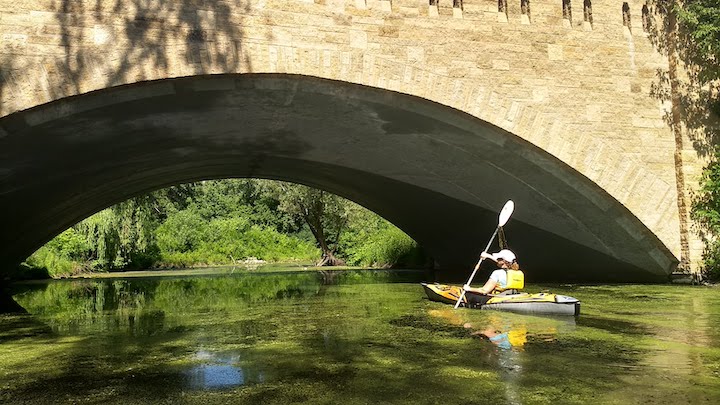 One of the paddling gems in the Twin Cities is the lake chain through Phalen and Keller Regional Parks. We recently kayaked there on a beautiful Saturday morning and discovered much to love about this urban waterway.
What We Loved about Kayaking from Phalen Lake to Keller Lake
OK, I'll admit I'm a lake snob. I've canoed and kayaked so much in the Arrowhead region and Boundary Waters that the murky, weedy water in most of the lakes here in the Cities makes me cringe a bit.
But that's the only thing about this area I didn't like. Here's what we liked:
A Lovely Setting
Lake Phalen is ultra-popular and very busy. It's within Saint Paul city limits in a large population center, and it's a very beautiful setting. Lots of mature trees, picnic areas, a paved trail around the lake, fishing piers, a swimming beach and more.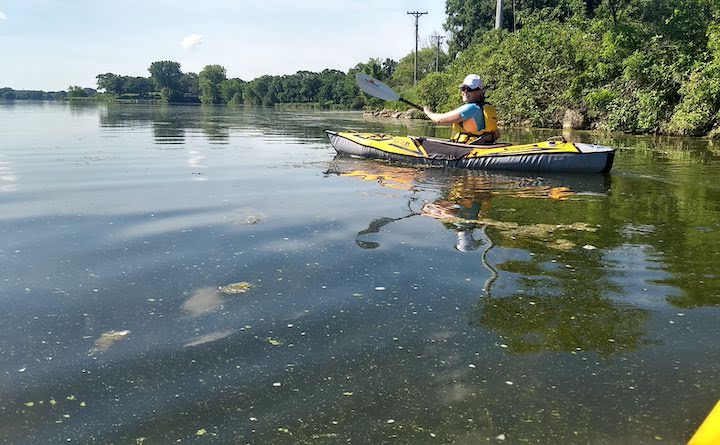 The waterway into Round Lake and then up Keller Creek into Keller Lake is equally lovely, making this chain a must-do paddling destination.
The Bridges
I have a thing for bridges—both on trails when I hike and bike, and over rivers and creeks. There are several bridges to paddle under on this route. Some are for foot and bike traffic, some for vehicle traffic. Both Frost Avenue and Highway 61 cross Keller Creek—I wonder how many of those who drive over it know of the beauty below them!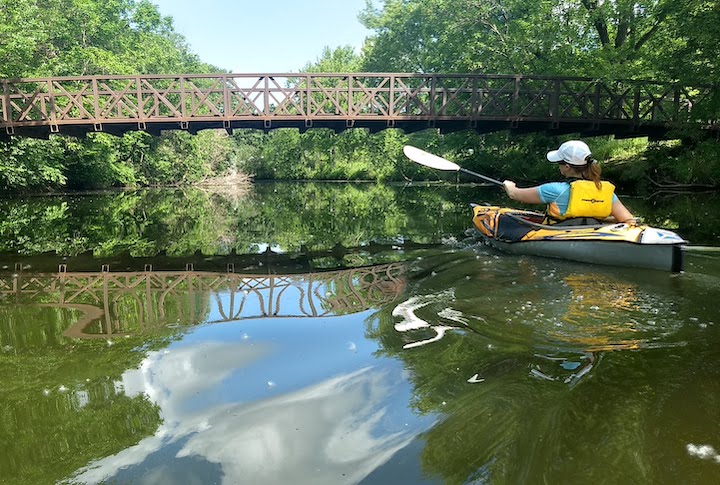 Keller Creek
It's worth doing this chain just to paddle Keller Creek! It's a lovely waterway. I've discovered since I was there that it was under a 4-year restoration project that wrapped up in late 2018:
"To put it mildly, Keller Creek has been transformed. Four years have gone by since restoration work began on this important wildlife and recreational corridor located in the heart of the Lake Phalen Chain. More than 100 species of Minnesota native plants now thrive along nearly a mile of the creek, thanks to the tireless efforts of District staff, partner organizations and volunteers." (the original source material is no longer published, but you can see more info on this project here.)
The creek spills into Lake Phalen next to the west side Fishing Pier. Going upstream isn't hard, so paddle up towards Round Lake and continue on the Creek as it heads north into Keller Lake.
Or you can access it on the northwest corner of Lake Phalen through a narrow tunnel that's not shown on the map. It's just north of the boat launch on that end. But paddle through Round Lake either on the way up or back—you won't regret it.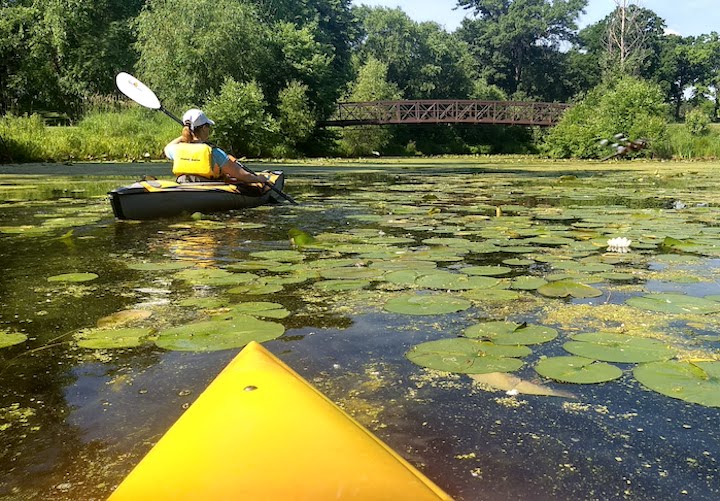 What to Know about Paddling in Phalen Regional Park
It's always nice to get a little heads-up on some key details:
Wrong GPS Instructions
There are a couple places you can launch your canoe, kayak or SUP board on Lake Phalen—the boat launch on the northwest end or the beach on the southwest side.
Because I hadn't been to the park before, I mistakenly plugged "Phalen Regional Park" into my GPS. But you can't access the boat launch parking from the park's main road.
In order to park and launch up at the boat launch, you have to plug in "Phalen Lake Boat Launch." Then your GPS should take you to Frost Avenue and E Shore Drive.
If you need to rent a canoe or kayak, then head down the main park road to the beach area and you'll launch from there.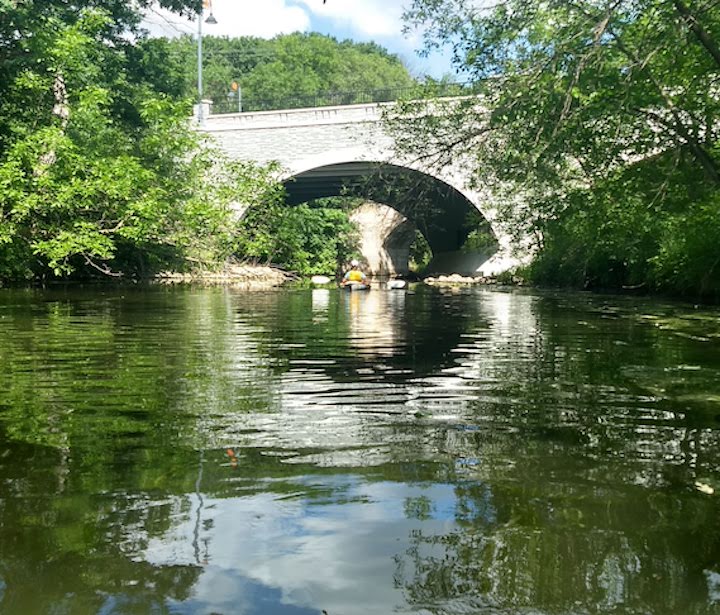 Lots of people!
My sister-in-law, Rochelle, and I met at 9:00 on a hot Saturday morning—and the park was already full of people! We were both fortunate to find a parking spot not too far from the launch, but the parking lot itself was full.
If you want to paddle on a beautiful summer weekend, either get there earlier than 9:00 (7:00 would give you lovely morning light) or later in the day. If you can go on a weekday or weekday evening there's likely to be far fewer people.
Another great time to paddle would be in mid-to-late spring before the summer season fully begins, or late summer and early fall once school starts up again.
This is the kind of environment that would be fascinating to paddle in all the different seasons to see how the water and plant life changes throughout the months.
The Weir on Keller Creek
We were caught by surprise by the weir on Keller Creek. A weir is a low-head dam that might require a short portage to get around if the water is low, like it was the day we kayaked. A stone portage has been built that makes it easy to get up and around it quickly.
This page has more info and a few photos of the area and the weir, as well as the portage.
It wasn't until we encountered the weir that we saw the current in action. I'm sure it's stronger in the spring after the snow melts or after heavy rains, but isn't normally an issue.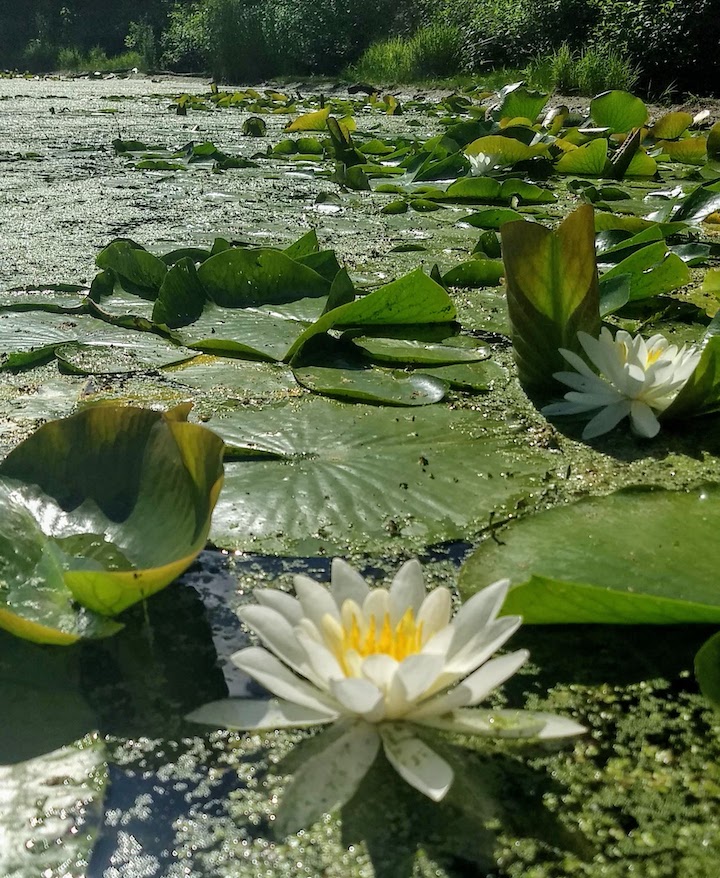 Wrapping It Up
We didn't paddle all the way through Keller Lake and into tiny Spoon Lake. If we had, the whole trip might've been a couple hours if we had kept our leisurely pace.
There are normally canoe and kayak rentals available at Phalen Lake Beach. Check ahead to be sure there's something available before you count on it, though.
This urban lake chain is definitely a keeper for kayakers, canoeists and SUPers.
You'll like these, too: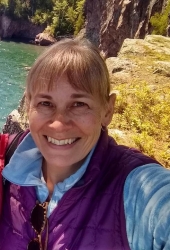 Latest posts by Sharon Brodin
(see all)