Sandstone/Pine County • State park daily or annual pass needed
Banning State Park is just under 100 miles from either downtown Minneapolis or downtown Saint Paul. This 6,200-acre park is bisected by the beautiful Kettle River and hosts 17 miles of forested hiking trails.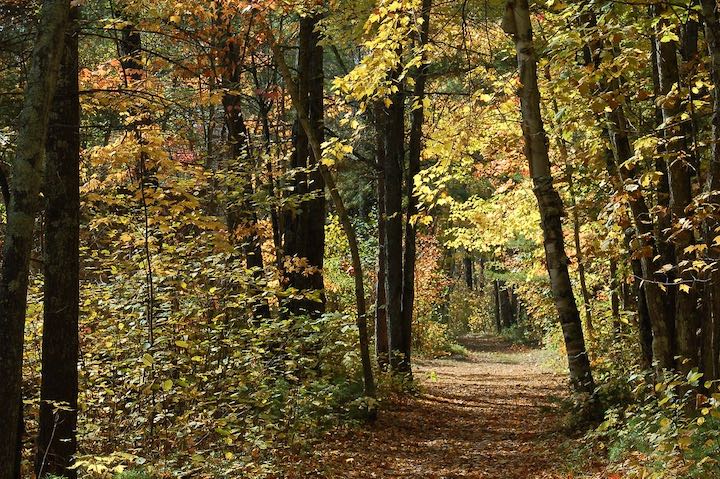 In both my day trips to Banning, we followed the Quarry Loop Trail along the river, then headed over to Wolf Creek Falls on the High Bluff and Wolf Creek Trails. It was all just beautiful in the mature forest with its wide variety of trees and regular overlooks of the water.
Why Banning is Worth the Trip
Stunning Fall Colors
My first foray into the park was in peak fall color season—and wow!! A stunning array of yellows and reds.
For some reason Banning peaks earlier than the rest of middle Minnesota, so it's nice to get in some early color without having to go too far up north.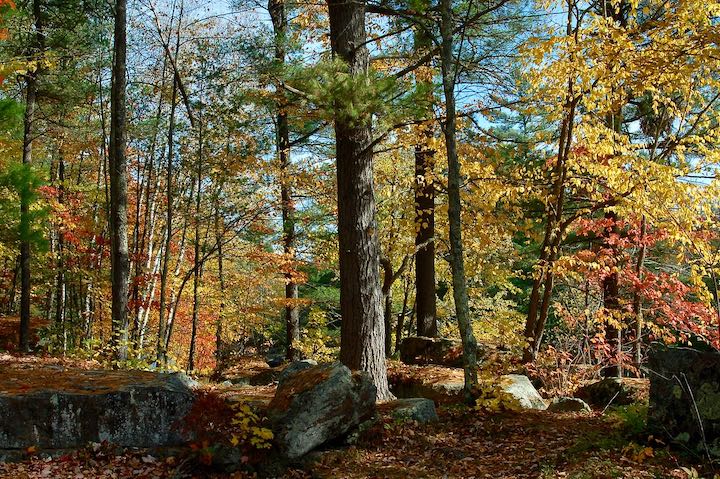 (Follow the DNR's fall color map for the best timing for Banning and the other state parks)
High Water in the Spring
My next trip to Banning was in May, before the trees leafed out. This is when the Kettle River is at its finest with the snow melt and spring rains.
That high water makes is awesome to hike along, with plenty of rocky spots to sit along the shore and enjoy the views.
(More on the Kettle a bit later.)
Nice Variety of Hiking Terrain
There's a nice mix of hills and flat. Nothing terribly difficult, and plenty of distances to choose from. Camping here would give you more time to check out the different loops, so we definitely recommend that.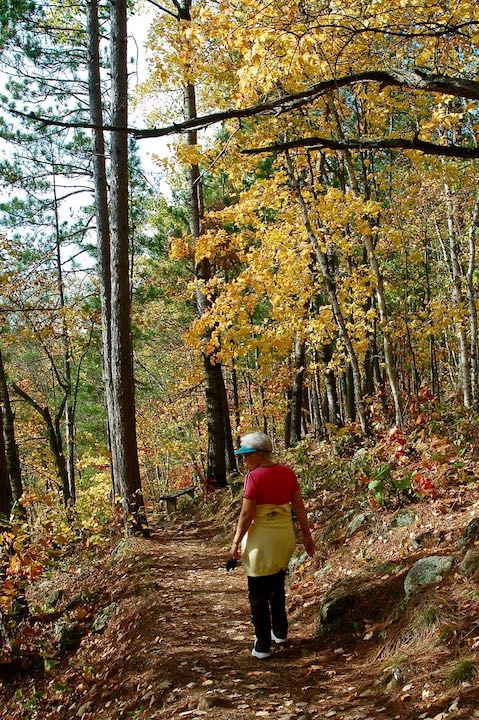 Trail running here would be amazing, too. Beautiful scenery, mixed terrain and enough mileage available for a long run.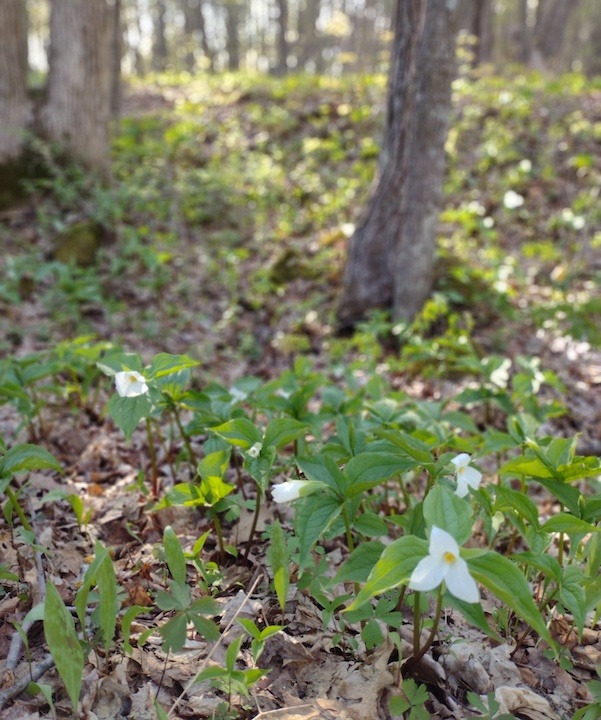 There are several spots along the river that would make great picnic or sitting areas, either with hammocks or camp chairs. There are no picnic tables, but just beautiful views on large rocky outcroppings.
The Kettle River
The Kettle is a designated Wild and Scenic River and one of Minnesota's major whitewater kayak destinations. There are a handful of Class II to Class IV rapids with names like Blueberry Slide, Mother's Delight, Dragon's Tooth and Hell's Gate.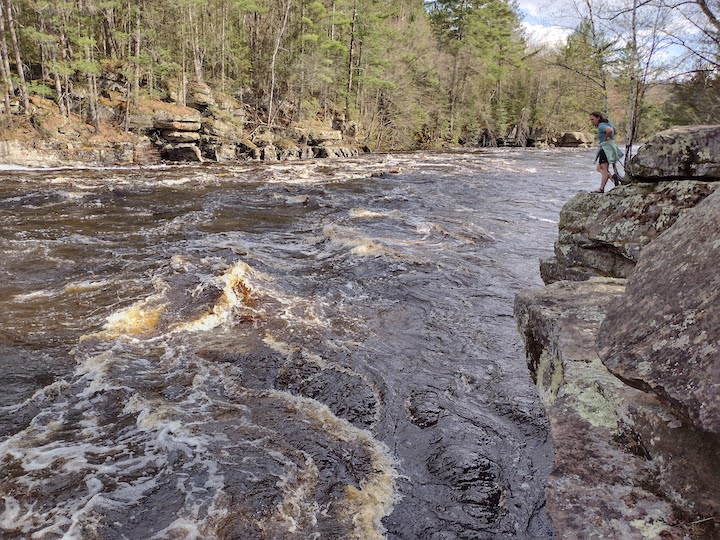 When the water is high enough you can see kayakers as well as whitewater rafters cruising down the river.
There's plenty of hiking in Banning right along the river, which means plenty of photo ops, too.
Wolf Creek Falls
"Impressive" isn't the right word for Wolf Creek Falls—maybe "picturesque." Wolf Creek dumps over a 12-15 foot rock ledge just before its confluence with the Kettle River.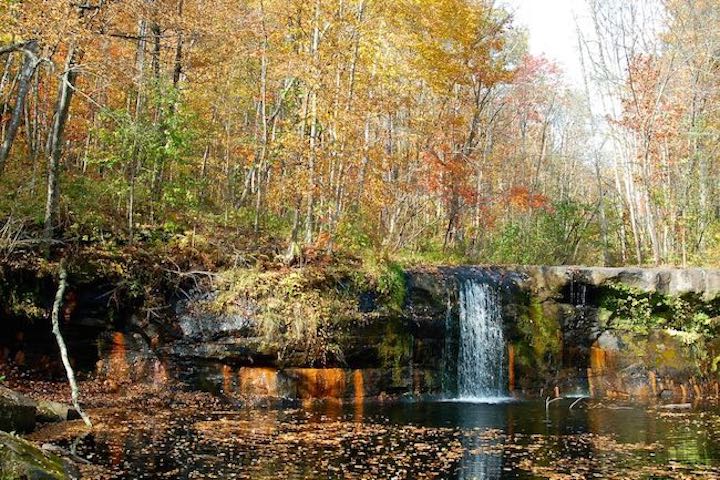 The falls aren't high or broad, but the setting is what makes them beautiful. The deep woods surrounding them, the pool they pour into. Charming.
As with all waterfalls, the water is higher—and therefore the falls are more impressive—earlier in the spring or after a lot of rain.
What Else is at Banning State Park?
As mentioned already, there's a 33-site campground with direct access to three of the hiking trails. 11 of the sites have electricity. There's one group camp for up to 50 people, five canoe campsites along the river and one seasonal camping cabin.
Biking isn't really a thing here. There's technically a 1-mile paved trail, but it just leads out to the highway, so not much there.
In the winter the entire park is open to snowshoeing, which would be amazing. There are 13 miles of ungroomed cross country ski trails, too.
Also as already mentioned, if you're an experienced whitewater kayaker you probably already know about the kayaking here. If not, this would be a great place to try whitewater rafting. Hardwater Sports does tours and they're right in Sandstone.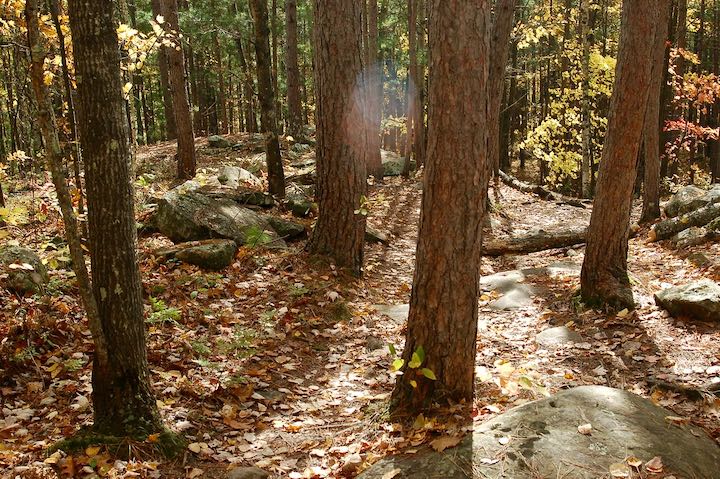 How to Get There
Banning is extremely convenient, being just minutes off Highway 35 a bit north of Sandstone. It's an easy day trip from the Cities, just an hour and twenty minutes from downtown Minneapolis, an hour and fifteen from downtown Saint Paul.
Or it's a very nice side adventure on your way to or from Duluth and the North Shore.
Take Exit 195 off Highway 35. It's called Banning Junction so it's hard to miss. Head east on Highway 23 and you'll soon see signs for the park on your right.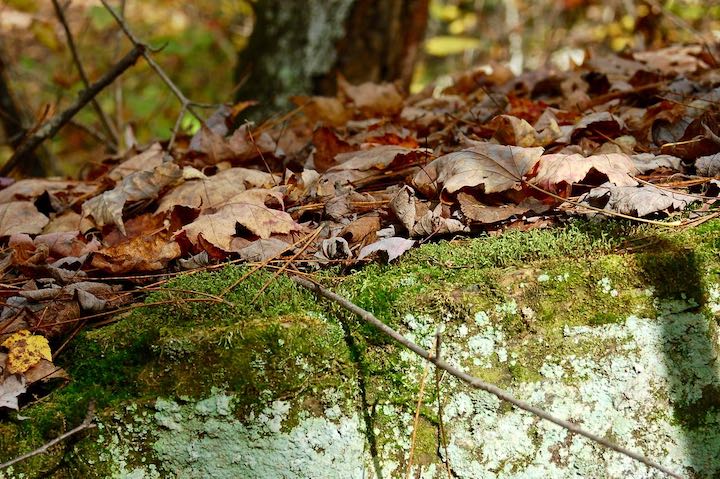 (This post was first published in September 2019 and has been updated.)
Where to go next…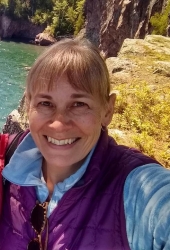 Latest posts by Sharon Brodin
(see all)