Want to know where the fall colors are peaking around the Twin Cities and even statewide?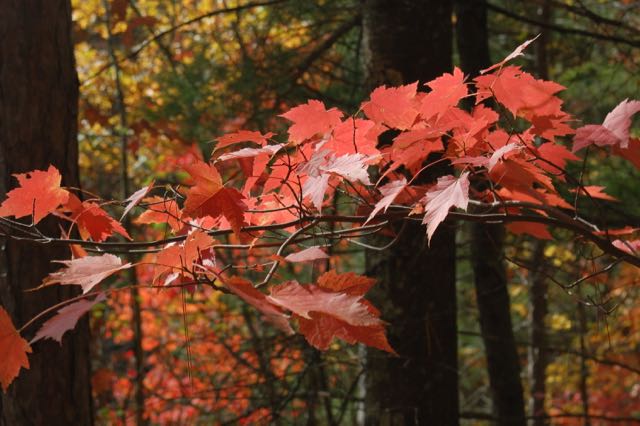 The best online resource we know of to keep tabs on the fall colors in our state is the Minnesota DNR's Fall Color Finder.
No matter which part of Minnesota you're in, this should be your go-to source for where and when to find the best of autumn's blaze.
Here's an example of the map you'll see when you go to the DNR's Fall Color Finder page: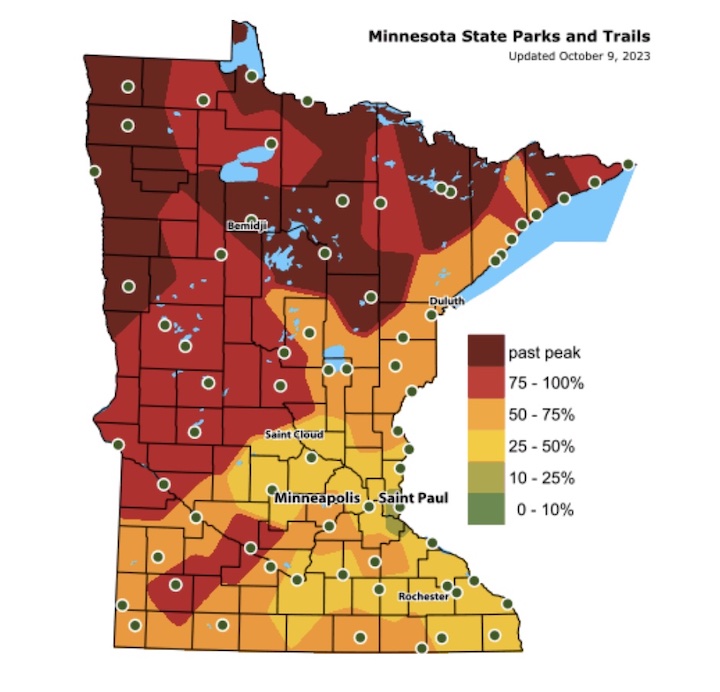 Minnesota DNR's Fall Color Finder
You can see in the screenshot above where color was already at peak (the red splotches), where peak color was approaching (orange), and so on. The darkest red/brown is past peak already, but that doesn't mean the color is necessarily gone—just past its most brilliant.
Not only is this map updated daily this time of year, the web page also gives a running list of all the state parks, their level of fall color peak, trail updates and photos sent in by park visitors.
Here's a screenshot of a few of the state park updates from the same day as the above map, October 15, 2018: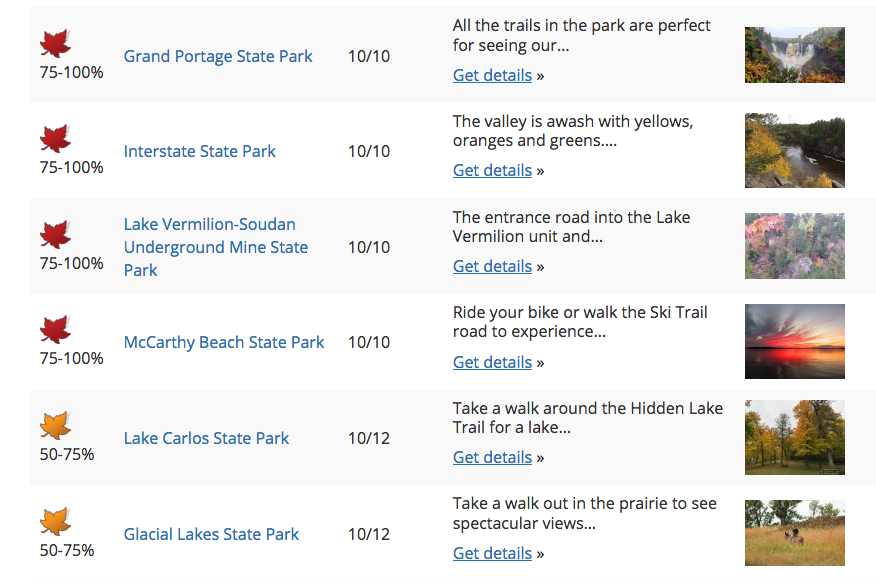 Each of the location names in blue is a live link to that park's page. You can see exactly where it is in our state and get more details for trails, camping and more.
Click on the "Get details" link and you'll see more photos and comments sent in by that park's recent visitors. Some of the comments even target specific trails. It's so helpful!
There's also an option to choose a specific region of the state if you want to key in on just the state parks in that area.
It's truly a wonderful collaborative effort by the DNR and Minnesota outdoor lovers.
What Influences the Fall Colors?
This page on the DNR's website gives us a pretty detailed explanation of why leaves change color in the fall, and when typical color happens in Minnesota.
(If you notice from the Fall Color Finder map, though, "typical color" and "actual color" can be pretty different! And the color can vary from year-to-year depending on the weather, too.)
To sum it up, it has to do with four biochemicals:
Chlorophyll—What makes leaves green through spring and summer. This breaks down in the fall, allowing the other colors to start to show up.
Carotenoids—These are responsible for the yellows and oranges we see when the greens disappear.
Anthocyanins—These produce the reds and purples we love so much.
Tannins—Think "boring" (at least I do)! These are the leaves that just turn brown and then fall off.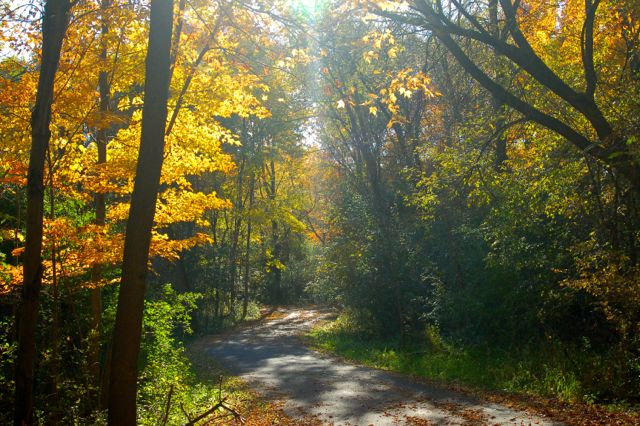 The best prescription for super fall colors is bright, sunny days combined with crisp nights in the 30s-to-mid-40s.
Maples and More
Maples are the most famous of our fall color beauties. Many of our Twin Cities' parks are loaded with maples, so it's not hard to find a colorful hike surrounded by their yellows, oranges and reds. They're one of the earlier trees to turn.
Aspen and birch leaves turn bright yellow. Those are plentiful around us, too.
Oak leaves aren't as bright—more rusty oranges and reds. They peak later than the maples, generally.
Did you know there's a tree here in Minnesota that looks like an evergreen but doesn't act like one? It turns bright gold and loses its needles each fall. It's the tamarack (they call them larch out West).
You can see in the photo below how gorgeous they look next to the dark, rich colors of the true evergreens:
Now…go find those leaves!
(This blog post was first published in September 2018, and has been updated.)
Here's more…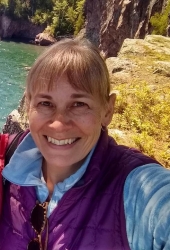 Latest posts by Sharon Brodin
(see all)