"Rail-trails" are multi-use trails built on former railroad beds. Here in the Twin Cities, we have an entire network of rail-trails that are popular for biking, hiking and other activities.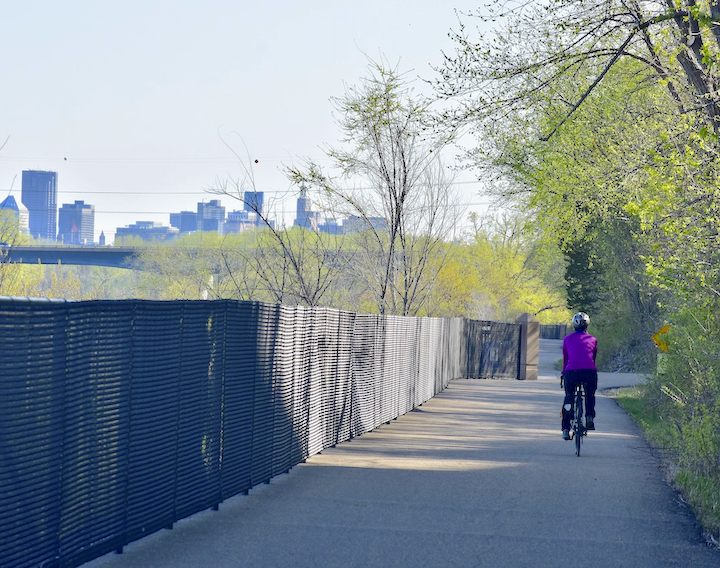 These now-unused railroad routes make ideal foundations for bike trails for a couple of reasons: They have a gentle grade and they're already a pathway.
The Rails-to-Trails Conservancy (RTC), a national organization headquartered in Washington DC, exists to see these unused corridors turned into usable public spaces. They work with local governments to help find and fund these potential trails. (More on RTC below)
Rail-trails are usually paved, but sometimes covered with crushed gravel (or aggregate).
The easiest way to find the rail-trails in our metro area is to head to RTC's map on TrailLink.com.
You'll see a "Filter" button on the top left—click that, go down to "Type" and choose "Rail-Trail" to see the ones closest to you. Zoom in as much as you need to for your location: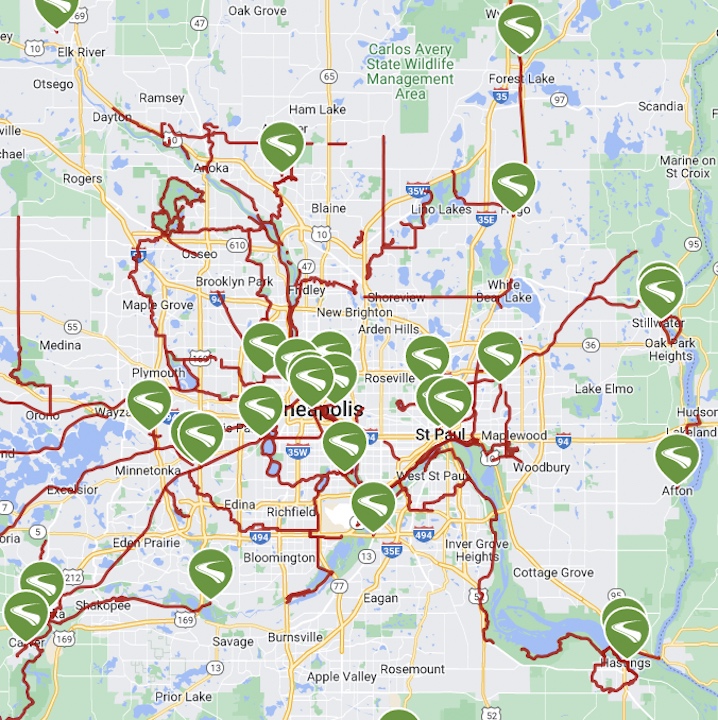 Rail-Trails in the Twin Cities
There are a few dozen rail-trails in the Twin Cities, from .8-mile Stone Road Trail to 73-mile Luce Line Trail. Here are some of the more popular ones:
Bruce Vento Regional Trail in Saint Paul is 7 miles long so far, with another 7 or so in the plans.
Gateway State Trail is 18 miles long. Its west end is in downtown Saint Paul. It heads northeast to Pine Point Regional Park near Stillwater, in Washington County.
The Greenway in Minneapolis is a combination of several different trails, including some rail-trail segments.
Dakota Rail Regional Trail is 26.6 miles long, beginning in Wayzata at Lake Minnetonka. Its western end is Lester Prairie in McCleod County.
Lake Minnetonka LRT Regional Trail is 15 miles long between Victoria (Carver County) and Minneapolis.
Luce Line Trail is 72.9 miles. The eastern 30 miles is in the metro area, beginning in Plymouth. It heads west into Carver, McCleod and Meeker Counties. Its surface is crushed gravel, asphalt and grass, depending on the segment.
Minnesota River Bluffs LRT Regional Trail is 19.9 miles, with a couple sections in Carver County.
Minnesota Valley State Trail includes 27 miles of biking trail. It begins near the Wilkie Unit National Wildlife Refuge in Hennepin County and heads west along the borders of Scott and Carver Counties.
St. Croix River Crossing Loop Trail is short—just 5 miles—but super scenic. You can start and end in downtown Stillwater or off County Rd E in Wisconsin. You'll cross the St. Croix River twice—on the new Highway 36 bridge and the historic lift bridge in Stillwater.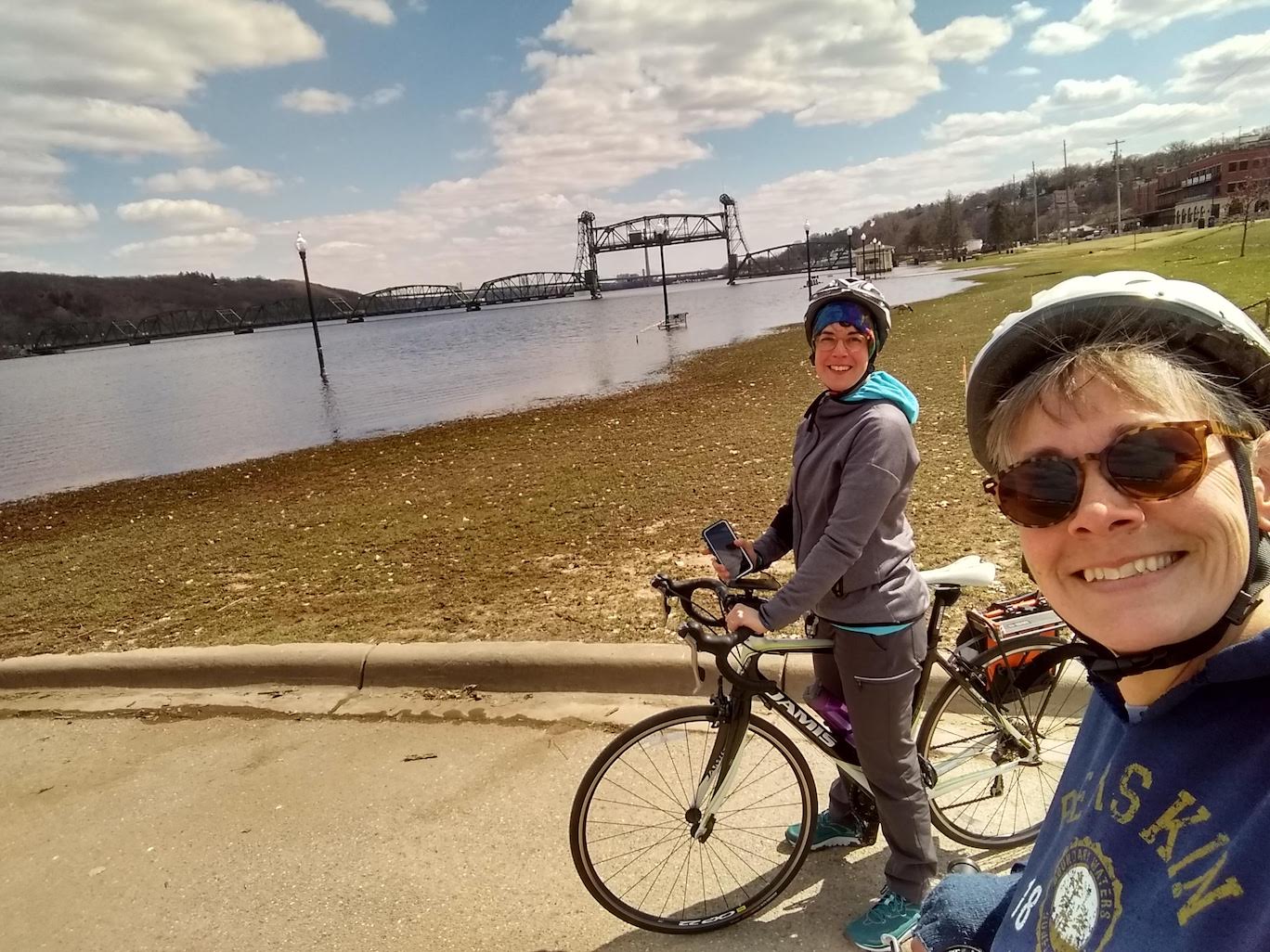 West River Parkway Trail is 9 miles in Minneapolis with plenty Mississippi River views.
There are quite a few shorter rail-trails, too, so be sure to check the map!
Rails-to-Trails Conservancy and Their Work
Rails-to-Trails Conservancy, as I already mentioned, is an organization that works with communities across the nation to turn these unused railroad corridors into usable trails for the local population.
Here's their stated mission:
"At Rails-to-Trails Conservancy, we are building a nation connected by trails. We re-imagine public spaces to create safe ways for everyone to walk, bike and be active outdoors."
They're the folks who run the TrailLink website for both desktop and mobile devices. It's easy to download their mobile app (via Apple Store or Google Play) that includes trail maps with photos and reviews. You'll have access to over 40,000 miles of trails across the country.
It's free to register on TrailLink. To get full access to all the benefits, you can subscribe to their Unlimited Plan for just $29.99 for the year. If you're out biking and/or hiking all the time—and especially if you love exploring new trails—it's well worth it.
Great American Rail Trail
One of the really cool projects RTC has been working on with local communities from Washington DC to Washington state is the Great American Rail Trail. When it's complete, this trail will stretch 3,700+ miles through 12 states.
It takes advantage of over 150 existing trails. RTC, local communities and dozens of volunteer groups will gradually fill in the gaps between them. It's about 53% complete to date.
Unfortunately, the Great American Rail Trail (GART) doesn't go through Minnesota! But take a short drive to Iowa and you can head east or west toward either coast.
I was in Casper, Wyoming, in May 2022 for an outdoor writer's conference. Casper has a segment of the GART and a crew from RTC was there at the conference. They, along with a local biking club, hosted a 3-hour bike tour around Casper, including these sections of the rail-trail. I did that one morning and had a beautiful ride with several others from the conference.
It was really fun to hear the story of this cross-country trail and know I was riding on part of this history-making project.
We have plenty of rail-trails to ride here in the Twin Cities metro, and 130 of them in Minnesota altogether. Once you've biked them all in our state, you can begin on the Great American Rail Trail 🙂
Happy biking!
You'll like these too…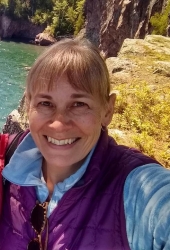 Latest posts by Sharon Brodin
(see all)